Spring is here, but before you can venture out into your garden and start planting, you may need to re-organize your backyard garden shed! If you're dreading entering your garden shed after a long winter season, you're not alone. That's why we've come up with a game plan to help with your garden shed organization so you can get to planting seeds and creating your very own outdoor oasis!
Step 1: Remove Your Items From Your Garden Shed
The first step to achieving a more organized backyard space is to organize your backyard garden shed. To do this, you'll first need to take everything out! We know, it's the painful part. Removing all your items and spreading them out and onto your lawn space might seem like a daunting task – particularly if you have a large storage space – but it will be worth it. Do you have more than one bag for fertilizer? Can you combine these? Are empty bottles, cans and items taking up too much space? Taking everything from out of your garden shed will give you a clear view of what you had stored the previous year, and will allow you to determine whether some items can be consolidated or eliminates to make way for more space.
Step 2: Clean Surfaces Inside Your Garden Shed
Now that everything is out of your garden shed, it's time to clean it! Whatever brand garden shed you own, you'll probably want to turn to the official product manual for information on how you should clean your garden shed.
How to Clean a ShelterLogic Garden Shed
When cleaning your ShelterLogic garden shed you'll want to use a mild soap or detergent and water, and you'll want to wipe the inside and outside of your cover from dirt, grime and residue. Dawn detergent (or any other mild detergent), warm water and a soft scrub brush are great tools to help clean your cover. For tougher spot treatment like tree sap spots you can use rubbing alcohol and a soft cloth. Never use solvent based and ammonia detergents to clean your shed as it can damage the materials.
How to Clean an Arrow Garden Shed
Clean the entire surface with a mild detergent and water, using a cloth or rough sponge, and then rinse the surface with a garden hose. Allow the metal to dry and inspect the surface for damage or persistent dirt. Wash any persistent dirt again until the surface is completely clean. Learn more about how to maintain your garden shed or garage on our
support page
.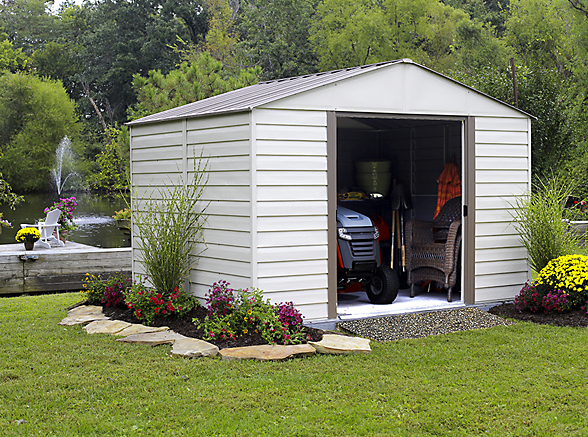 Step 3: Organize Your Stuff: Group Similar Items Together
So you have your items spread out on your lawn – what's your next step? For some of us the actual organization of your outdoor garden shed can be the toughest part. The first step to ensure you work effectively is to group similar items together. For example: lawn fertilizer and lawn seeds are both lawn care items, so group these together. Hedge trimmers, rakes and shovels are gardening tools meant to trim and manicure your outdoor space, consider grouping these separately. In the end, you'll want to take inventory of your items and group them together in a way that makes the most sense to you.
Step 4: Make The Best Use of Your Space
If you have an Arrow Shed or a ShelterLogic garden shed you may want to consider installing a shelving system inside of your shed space. Shed shelving will help you stay organized and allow you to group items together more easily and in a way that makes items easier to find when you need them.
ShelterLogic
and
Arrow Sheds
offer shelving units that are easy to install inside your garden shed unit. Check them out in the links below.
Organizing the items inside your ShelterLogic garden shed has never been easier! Create instant storage space with a shelving kit that has durable zinc plated steel brackets. Fits frame sizes 1 3/8", 1 5/8", 2", and 2 3/8".
The Arrow Attic Work Bench Kit makes installing shelving within your Arrow Shed unit easier than ever. This wide, versatile shelf frame can be installed at counter height within your Arrow garden shed for a handy work bench, or elevated for storing items closer to the roof.Need more space?
Check out our garden shed shop page
and get an upgrade. And if you're looking for additional uses for that
portable outdoor shed
? Check out this recent blog post on
4 Great Uses for Portable Outdoor Sheds and Tarp Buildings
. As always, customer service is here to answer any questions you may have, so don't hesitate to
drop us a line
.