Whether you live in an urban neighborhood or own a smaller home, your backyard is probably too small to accommodate a large storage solution. Still, you likely have many items to store and a bulky structure would just crowd the outdoor space you do have. What you need is a practical and compact storage option. A compact storage shed allows you to store gardening tools, outdoor equipment, and more right where you need it without sacrificing precious yard space. These smaller yet functional structures let you tuck items away while still maximizing your outdoor space. We'll show you a few storage solutions that effectively store what you need, even in modest backyards.
Small Storage Sheds for Every Backyard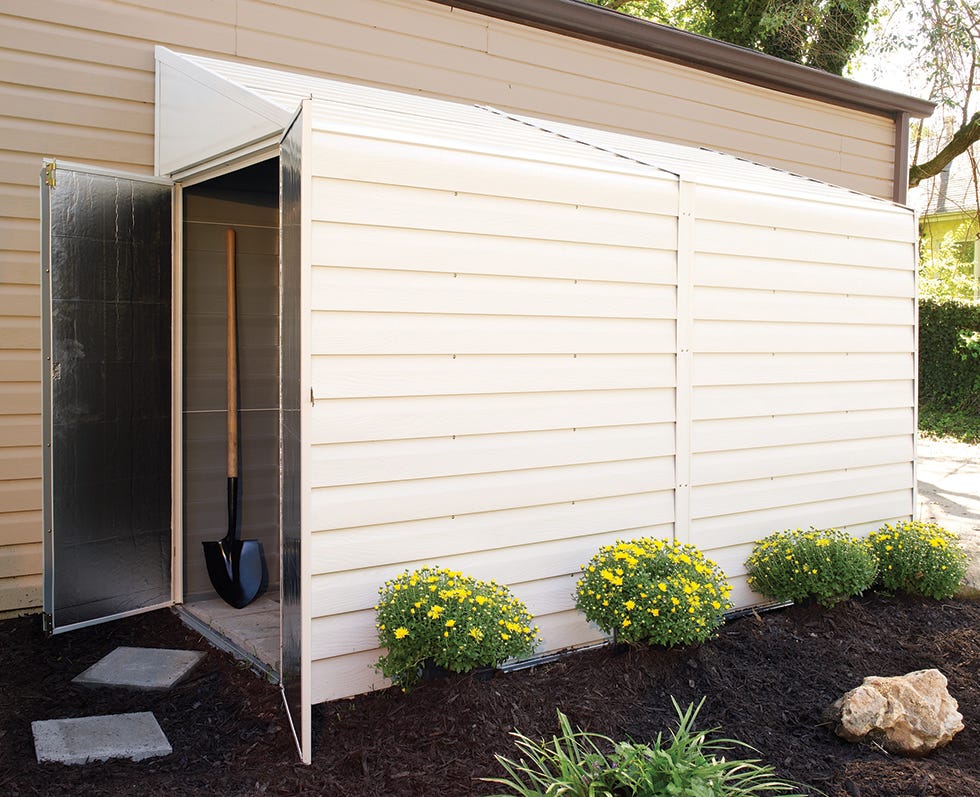 The Yardsaver Shed delivers on its name by offering compact storage that easily fits into almost any outdoor space. The lean-to style allows you to squeeze this structure into narrow, hard-to-fit areas or "lean" comfortably against walls or fences. The Yardsaver offers easy DIY assembly, ample head space, and UV/corrosion resistance. Use this convenient solution to store bikes, lawn equipment, and more.
The Designer series offers useful storage space with a very small footprint. Featuring superior corrosion resistance, 15% thicker-than-average steel panels, and a lockable door, this shed securely and effectively stores items for years to come. The attractive Designer Metro Shed comes in
multiple size options
to perfectly blend into any outdoor space. Place in your garden or yard to conveniently store items without sacrificing curb appeal.
Looking for a compact
and
portable option? The ShelterLogic Shed-in-a-Box allows you to store mowers, snowblowers, ATV's, and more in a waterproof and UV-treated fabric storage solution. The Shed-in-a-box typically requires no building permits and offers space-saving multi-purpose storage you can move whenever you need to. This structure is perfect for storing larger motor-powered equipment to easily free up space in your garage or backyard.
Another great lean-to option, the Euro-Lite Shed offers wide storage space that's extremely easy to incorporate into any space. Double doors and natural lighting provide easier accessibility while a sloped steel roof reduces pooling water.  The Euro-Lite offers a modern design in a small footprint that looks great standing on its own or leaned against your home.
Last but not least, meet the EZEE Shed: the ultimate compact, easy-to-assemble, and tough outdoor storage solution. With patented Snap-It Quick Assembly and all-steel materials, this innovative option provides durable storage you can use sooner rather than later. The EZEE Shed guarantees secure storage from inclement weather to intruders with its pad-lockable handles and zero exposed panel ends. Utilize compact storage without sacrificing quality or aesthetic appeal in this spacious, ventilated, and attractive solution.
Find More Compact Storage Sheds with ShelterLogic
Here at ShelterLogic, we offer a wide range of storage solutions so you find the right one for your needs. With plenty of sizes and styles to choose from, you'll find a structure that effectively stores items without compromising or minimizing your backyard space. Check out our entire list of storage sheds, and contact us for help determining your ultimate storage solution.