When investing in an
outdoor storage solution
, you want it to last for years to come. That's why it's important to maintain your shed to ensure the belongings inside are safe through rough weather. One of the most important things to do is to make sure you have a solid shed foundation. Without one, you are leaving the base, walls and valuables vulnerable.
Before Creating Your Shed Foundation
Before you decide what type of material you want to use as the shed foundation, you should consider purchasing a
base kit
for your Arrow shed. They come in multiple sizes, and allow for a level start. Other Arrow base kit benefits include:
Constructed with durable galvanized steel
Easy installation
Keeps building off the ground
Pro Tip: Arrow recommends installing a continuous vapor barrier 6 mil. thick between the ground and the base to keep moisture to a minimum.
Popular Shed Foundation Materials
How do you know what type of material to use for your shed foundation? It depends on your particular needs. According to
Zac's garden
, the most popular foundations are:
Gravel- This type of foundation is not only cost effective, it is relatively easy to install. If you are planning on ever moving the finished shed, a gravel foundation is easier to move than other options.
Pavers- This choice is for more compact sheds, and are simple to secure at a fraction of the cost of other choices.
Wood- This is a simple and durable choice that provides a strong platform for your shed.
Concrete- This type of base is an ultra-strong and durable choice. It won't shift, and acts as a permanent foundation for your shed.
If you've decided to go with a base kit, all you have to do from here is finish up with your chosen flooring which you can purchase separately. If you're investing in an Arrow Storage Products shed, we recommend that you check out our informative section on foundations to help you set your own shed foundation,
here
.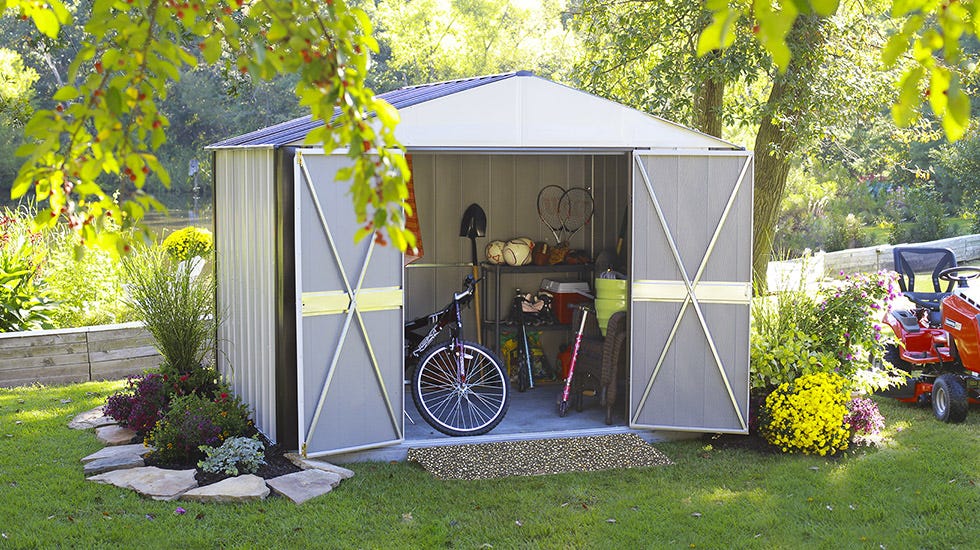 When to Use a Floor Frame Kit
Many people ask the difference between a
floor frame kit and a base kit
. Think of the base kit as a framework that you put together before you build your shed foundation. It helps you to create your level base. So, what is a floor frame kit? It is considered the last step, and gives you the framework for finishing shed flooring with exterior-grade plywood. You don't necessarily need a floor frame kit when you are using a base kit, although you could still consider one. The floor kit provides quick assembly and ensures your flooring is ready to be installed. The floor frame kit should not be used as a form for concrete.
Pro Tip: Check for base and floor kit compatibility with each shed. EZEE Sheds have their own floor kit here.
Why Not Build on the Ground?
It might seem tempting to skip all the steps outlined above. After all, your back yard seems relatively level and you may not think your shed needs the extra support. But you're much better off making the extra investment and making that extra time investment now, rather than a few years down the road when your shed isn't sitting properly. Besides the structural security of your shed foundation, building on the ground will make your shed dirty and your floor wet. That can lead to
condensation
, and that's another problem in itself. When in doubt, use a base kit and floor kit for your shed foundation and enjoy your storage solution for the long haul! Still have questions? Click below to learn all about creating the right foundation for your Arrow shed.