A carport mainly provides practical shade and weather protection for your vehicles (as mentioned in our
What is a Carport
blog). However, these versatile structures can serve many more purposes than just vehicle protection. Utilize versatile shelter and check out five unique uses for your carport.
1. Outdoor Workspace.
Fixing your car? Building something for the home? A carport provides a shaded and weather-protected workspace for your outdoor projects.
These structures cover ample ground space to fit large supplies or workbenches and keep electrical equipment or power tools dry while you work. Whether you're welding, woodworking, making mechanical repairs or enjoying a creative hobby, you and whatever you're working with will stay dry and protected.
2. On-site Office Pavilion.
Looking for a better lunch break spot? A carport can provide your business location with a much-needed shaded area so employees can enjoy lunch or their next office party outdoors. Not only will workers love a comfortable new picnic area, but providing an outdoor space at the workplace can be very beneficial. In fact,
Business Insider
suggests it can reduce stress, sharpen thinking, and boost creativity.
These structures are simple to erect on virtually any property and require minimal maintenance for an easy shade option with plenty of benefits for everyone.
3. Public Shade.
Apartment complexes, public parks, bus stops and outdoor refuge areas, as well as other municipal locations, could use shaded areas or vehicle protection for residents. Luckily, our
Arrow Steel Carports
withstand outdoor elements (and are wind and snow load rated!) for practical, long-term use. In fact, with its 10-year pro-rated warranty this unique structure makes for a great investment that will provide reliable shade year after year. Encourage your community to spend more time outdoors with a shaded oasis in your location.
4. A Great Garden, Deck or Patio Cover.
Want added shade or shelter in your backyard? A carport keeps beaming sunshine or inconvenient precipitation away from your deck or patio.
Get reprieve from the hot summer sun with a reliable shade, perfect for nearly any space in your backyard. Add a carport to your garden and create a shady spot where you can enjoy your plants and flowers. Or, assemble a carport to your deck or patio to provide much-needed shelter for your next backyard event or party. Whatever you decide, you'll find our carports to be durable and reliable multi-use structures that offer excellent shade season after season.
5. Extra Storage.
Store more than just vehicles under your carport. These structures can easily shelter bulk storage, ATV's, motorcycles, tractors, and other seasonal or outdoor items. Clear up space in your garage or storage shed with an open-style structure that's extremely low maintenance, durable, and complements any outdoor space.
Discover Carports from Our Brands
Ready to invest in quality shade and shelter? Check out a few Carport options from ShelterLogic and Arrow Storage Products.
All-steel wind and snow-load rated. Tough enough to withstand winds up to 100 mph and a snow load of 35 PSF.
Rounded heavy-duty galvanized steel roof with rounded eaves that shed the elements.
Slip-fit frame connection with self-drilling screws for convenient and fast assembly.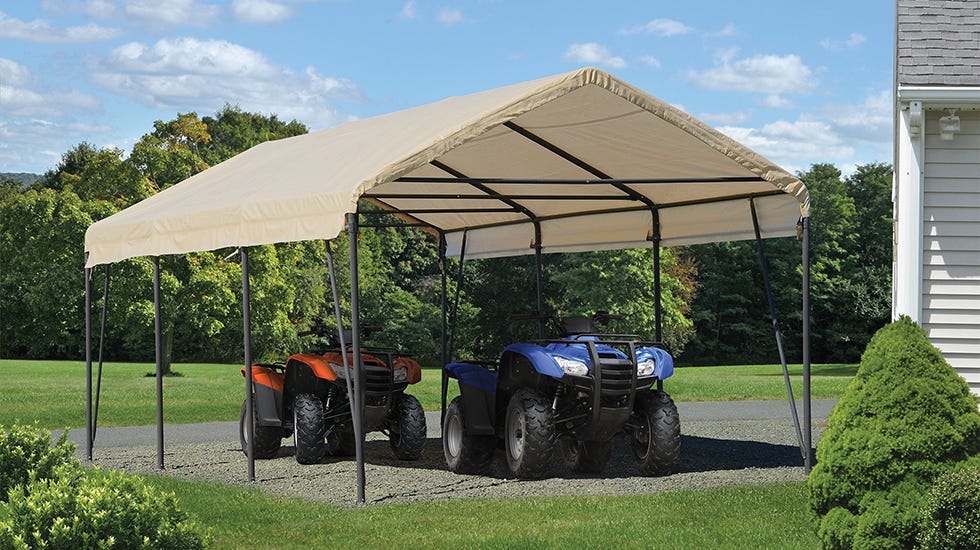 All-season. durable, strong, and weather-resistant.
Heavy duty wind braces for added frame strength and heavy-duty powder-coated frame to resist peeling, rusting, chipping, and corrosion.
Great for seasonal protection and shade for boats, vehicles, ATV's, and bulk storage.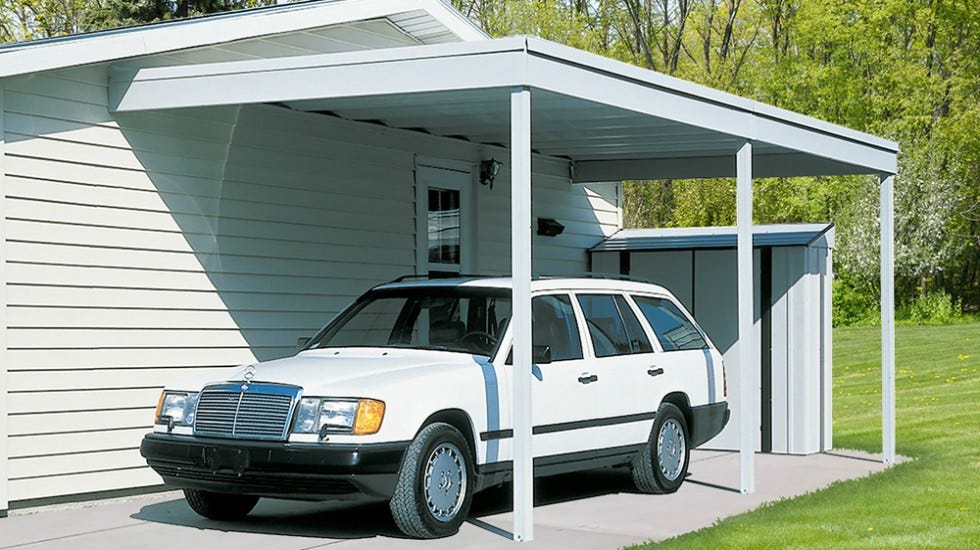 Attached patio cover/carport made with vinyl coated HDG steel for exceptional corrosion resistance.
Attaches to house or trailer home for additional storage space or shelter from the elements.
Also available in a free-standing style.
Find more shade and shelter options with ShelterLogic. Feel free to contact us for more information.