Getting organized is a great New Year's Resolution to have, and it's also one of the
most popular
. However, actually getting organized can be a daunting task– and organizing your backyard space can be even more difficult if you don't have a plan.
Make Organization Your New Year's Resolution: Turn Your Backyard Space into Your Personal Sanctuary
Most of us spend our time working, which is why it's so important to have a comfortable, pleasant and organized space to come home to. If your backyard space is full of clutter, it will be hard to find comfort and relaxation. In the spirit of the new year, here are four tips to help you organize your backyard and keep up with your New Year's Resolution!
Tip #1: Plan Your Backyard Zones
The first step in achieving your New Year's Resolution is to plan the layout of your backyard. When you have multiple people living in one home, it's easy to have items everywhere. The best way to stay away from clutter is to organize your yard in a way that keeps things in order for the long term. To create harmony between all the different interests in your household, pinpoint areas that will house specific items. Keep the kids toys or playground to one side, and position your greenhouse or garden tools in another. Utilize your patio only for dining or entertaining friends, while still keeping your
storage shed
close enough to grab all your tools and outdoor entertainment objects.
Tip #2: Have Storage Options for Every Season
Now that you have an idea of how you want your backyard organized, you'll need to get the tools to organize it. Your New Year's Resolution of staying organized will be off to a great start if you have plenty of storage on your property.
Sheds
are one of the best items for backyard organization because they provide a secure place to keep all of your equipment, tools or excess items. Not only do they protect your belongings, but they can be customized to your storage needs. Add
shelving
to keep your tools organized by season or a
tool hanger
to utilize all of your space. Some sheds are even compact enough to store away seasonal items or
conceal recycling and waste bins.
If you need storage on your patio, a
deck box
is a great option. You'll be able to fit all of your patio items or outdoor gear in an easily accessible storage bench.
Tip #3: Keep Your Firewood Properly Stored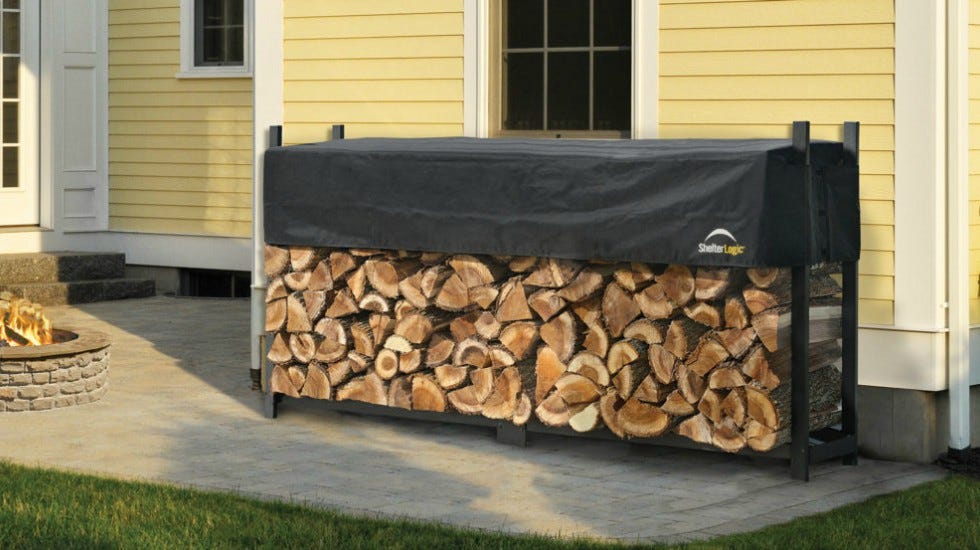 If you use firewood to heat your home, or if your house has a fireplace in your living room, you likely have a location on your property to store your wood. But do you know how important it is to have
proper
firewood storage? When your firewood is tossed into your yard, it makes a mess and your firewood becomes less efficient. By keeping firewood at a higher level with a
firewood rack
, you're less likely to have infestation problems in your wood and you'll also keep your firewood organized and easily accessible during the winter months.
Tip #4: Routinely Clean Your Backyard
Your New Year's Resolution won't be complete without a little cleaning. The number one reason for clutter in the backyard is due to simply forgetting to clean. It doesn't matter what season it is, there's always the need for a clean sweep every now and then. During the winter, you won't need to maintain your yard as much, but you should be careful of what is in your yard. Forgetting to pick up patio furniture or large objects can create large
dead spots
causing problems for your lawn later in the spring. For the rest of the year, you'll need to maintain the upkeep of your yard by mowing, raking and the occasional watering. You can't forget about your storage shed either. You'll need to keep it clutter free and orderly so that you won't have any hassle with finding equipment. We hope these backyard organization tips inspire you to keep up with your New Year's Resolution. If you keep them in mind, you'll also go into every new season with an organized mind. If you have any questions about any our storage solutions, feel free to contact us
here.
Need more tips on how to organize your backyard? Check out our blog post on
Tips for Dealing with Clutter and Shed Organization.