It is common for many shed owners to keep pool cleaners, pesticides, or even fuel in an outdoor shed. It can be a convenient place to store some of these more harmful chemicals to keep them away from children and pets. But there are some safety tips you should think about when you're storing chemicals in a
shed
.
Storing Chemicals in a Storage Shed
First, let's point out that storing chemicals in your shed shouldn't be a long-term practice. It could
cause deterioration
and a shorter life for your shed. But if it's something you are planning to do in the short term, there are safety measures to take to minimize the risk. First, experts recommend storing chemicals in a dry place out of the sun. If you are looking for a steel shed, the
Admiral Series
is a roomy choice with an attractive look. This shed also gives you a number of customizable options; you can add hooks, shelves, and even a lock. A lock is certainly an added bonus when you are storing hazardous chemicals and you have children or pets nearby. The Admiral shed also includes:
Scratch-resistant hot dipped galvanized steel construction
Reinforced roof strengthening brackets
Decorative trim, ornamental hinges, and embossed gable for added style
If you'd rather have a fabric shelter,
Shed-in-a-Box RoundTop
is an option to give you plenty of storage space without a large footprint. When properly anchored and assembled according to the instructions we provide, your shed has a better chance at protecting whatever you store inside from sunlight, rain, and other inclement weather. The polyethylene cover is waterproof, and UV-treated inside and out. When storing chemicals, you want to make sure they are exposed to as little sunlight as possible. As with all our sheds, long-term storage of hazardous chemicals is not recommended; but the Shed-in-a-Box could be a good short term solution.
Pro Tip: The Shed-in-a-Box isn't just durable and cost effective. It features easy assemble and is a portable, durable storage solution.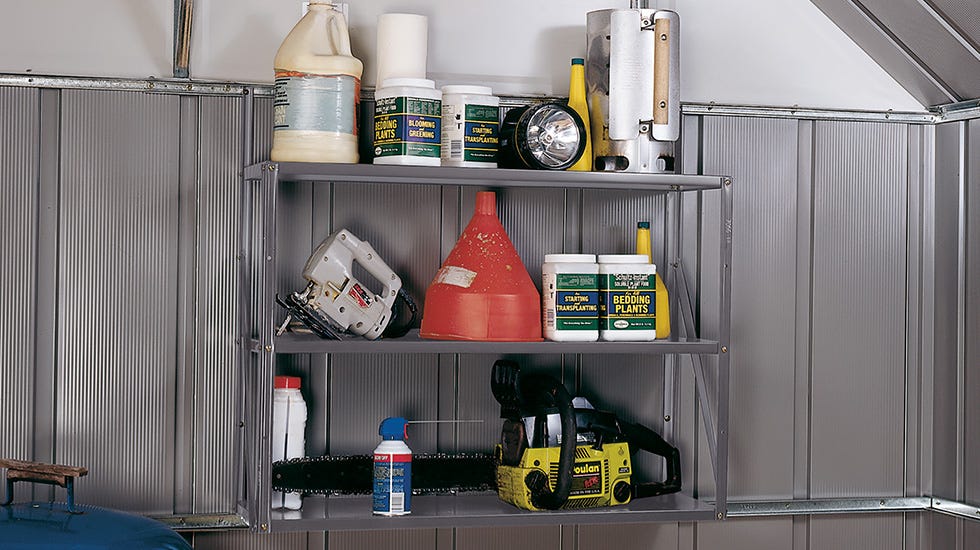 Stay Organized to Stay Safe
The very first thing you should do when you store chemicals is
take stock of what you have
, according to Texas State University. You will want to
keep certain chemicals away from each other
to avoid reactions. Without knowing what you are storing, you can't minimize the risk. Once you're ready to store, make sure to
keep chemicals out of reach of children and pets
.
Store chemicals in their original containers
, too. If you store hazardous material in something familiar like a soda bottle, a child could get confused and that could have grave consequences.
Growing a Greener World
also suggests not to store any animal feed in your shed along with those chemicals. You can also store chemical containers inside of another storage container for added safety.
Store like chemicals next to each other
. Do not stack different chemicals near or on top of each other, which could cause a reaction. Finally, for extra precaution,
keep your chemicals under lock and key
.
Accessories for Safety
If you have a fabric shelter like Shed-in-a-Box, adding ventilation when storing chemicals is important. The
Autovent Automatic Shelter Vent Kit
is the ultimate choice for your shed. It automatically opens and closes based upon the interior temperature. It will reduce humidity and moisture buildup, which is incredibly important when storing chemicals. Adding
shelving
is another cost-effective and simple way to organize any chemicals you are keeping in your shed. It's important to keep certain types of chemicals away from each other. Shelves will organize your storage and also allow you to keep them higher off the ground. When it comes to storing chemicals, you should never plan to keep them in your shed indefinitely. They can contribute to the deterioration of your shed. But if you must store chemicals for a short time, these simple tips will keep you organized and safe.