So you've assembled your Arrow steel shed or garage, but how do you make the best use of your extra storage space?
Organizing your shed can be easy – if you have the right accessories. That's why we've developed great items to help you keep your storage shed organized. Check out some of these great Arrow products and start making the best use of your Arrow steel shed or garage!
Add Shelves to Your Steel Shed
Need some tips on organizing the inside of you steel shed or garage? Arrow Storage Products makes organization easy. It's simple to keep everything in its place and avoid clutter with Arrow shelving. By keeping items off the floor with our shelving systems, you maximize your space, organization and efficiency, and help keep small children and pets safe. Consider ordering a shelving system at the same time you purchase your shed before you begin to move items in.
Choose from the following shelving kits:
Shelving Kit
Shelving Kit to keep everything better organized inside your shed. Four brackets and telescoping wall braces to make shelves any length.
Shelving material not included
HDG STEEL® technology – steel undergoes a hot dipped galvanization process providing superior corrosion resistance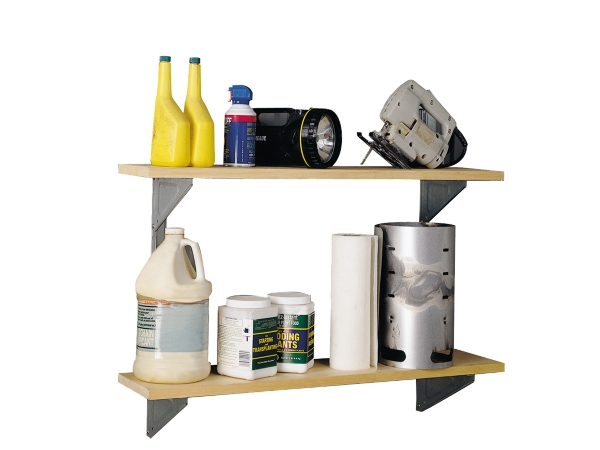 Three Tier Shelf Unit
This wall-mounting unit consists of three large shelves.
Dimensions: 30″ W, 29 1/2″ H, 12″ D
Holds up to 85 lbs. (even weight distribution)
Made of electro-galvanized steel
All necessary hardware included
Color: Gray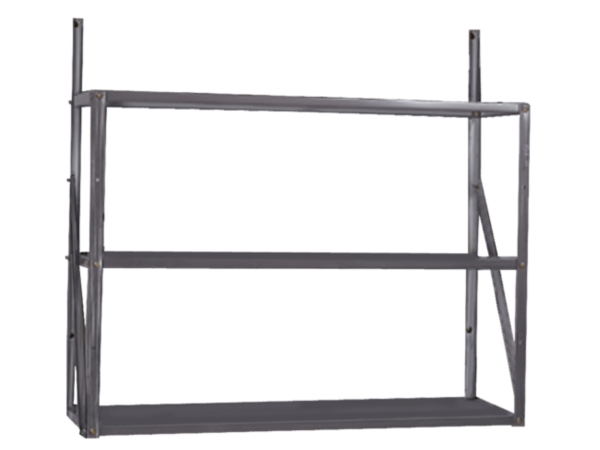 Hang Tools for Easy Access
To give yourself easy access to the tools you need, and organize them within your shed, we've developed an easy to install Tool Hanging Kit for optimal organization.
Tool Hanging Rack
Extend the life of your tools by keeping them inside and off the ground. This hanging rack can be easily mounted on a wall in your shed, garage or basement to accommodate long-handled tools and organize smaller tools, such as screwdrivers, pliers and other hand tools.
Two 25-1/2″ channels
Five separate large-tool holders that snap into the channel
One small-tool holder that snaps into the channel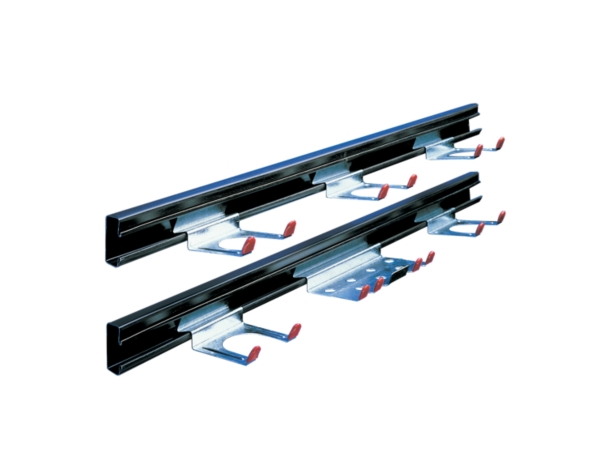 Create a Practical, Organized Shed Work Station
Need to make your shed a place for storage and for work? Our easy to install attic/shed workbench makes it easy to give yourself a space to work on your projects, or an extra reliable shelf to make organization easy.
Attic / Workbench Frame Kit
Increase your space by an additional 25 square feet to accommodate more storage or to create a large workspace within your shed. Just install a versatile Arrow attic/workbench frame kit, adjustable to five heights. Then add the top, not included, that best suits your storage or working needs. If you use wood as the top, choose exterior-grade plywood. If finishing with wood, use exterior-grade plywood.
Fits any 10-foot-wide Arrow building (except EZEE Shed, Commander Series, Mountaineer Series buildings, or Yardsaver® 4 x10 ft.)
Holds up to 250 lbs (even weight distribution)
Made of electro-galvanized steel
All necessary hardware included
Color: Gray