Looking for a quality shelter or storage solution for your vehicles? Carports and garages offer convenient and practical added space to stash cars, tractors, or other motor-powered equipment. But what's the better option when it comes to a carport vs. garage? Find out more about these distinct structures to choose the best option for you.
What's a Carport?
A carport is a semi-covered fabric or steel structure that attaches to your home or stands freely anywhere on your property. These open-style structures simply consist of a roof supported by posts or beams.
What's a Garage?
Unlike a carport, a garage offers a completely enclosed structure – with walls, roofing, and a doorway or entrance. Speaking strictly about detached garages (ones that aren't part of your home), these structures are typically made of fabric or steel and can be portable or permanently fixed in one location.
Carport vs. Garage: Consider These Factors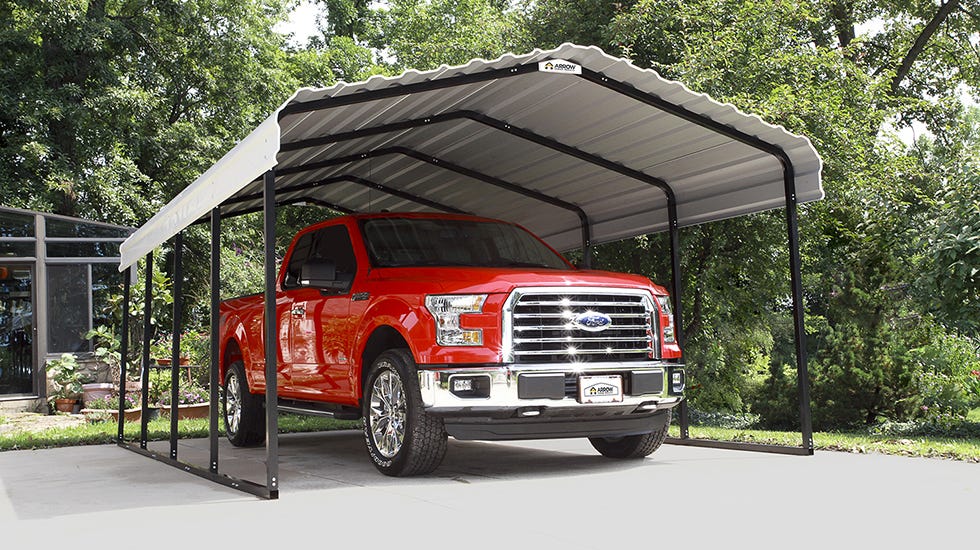 Now that you understand what each structure consists of, let's look at some key factors and benefits each structure provides to find the best options based on your needs.
Uses
Both carports and garages offer versatility and multi-purpose use. Portable garages, such as the ShelterLogic Garage-in-a-Box are great for equipment protection, bulk storage, or offseason gear storage. And, our garages make great workspaces when you include a ShelterShelf in your fabric garage or shelving kits for your steel garage to store tools and other equipment nearby. These structures are easy to assemble and utilize on multiple outdoor surfaces for convenient and practical use however you need it.
Besides vehicle storage, carports make a great shade solution for a number of needs. Use a carport for shelter over your deck and patio, outdoor workspace, as a DIY pavilion, and more. Both garages and carports make great shelter or storage solutions for more than just cars, including boats, tractors, ATV's and more.
PRO TIP: Looking for the perfect outdoor shade solution for your home? The vinyl-coated HDG Steel Attached Carport (also available in a freestanding style) makes for a great awning to protect your home's entrance, driveway, or patio area. Available in both 10×10 ft. and 10×20 ft. options in both styles.
Carport vs. Garage: Protection and Durability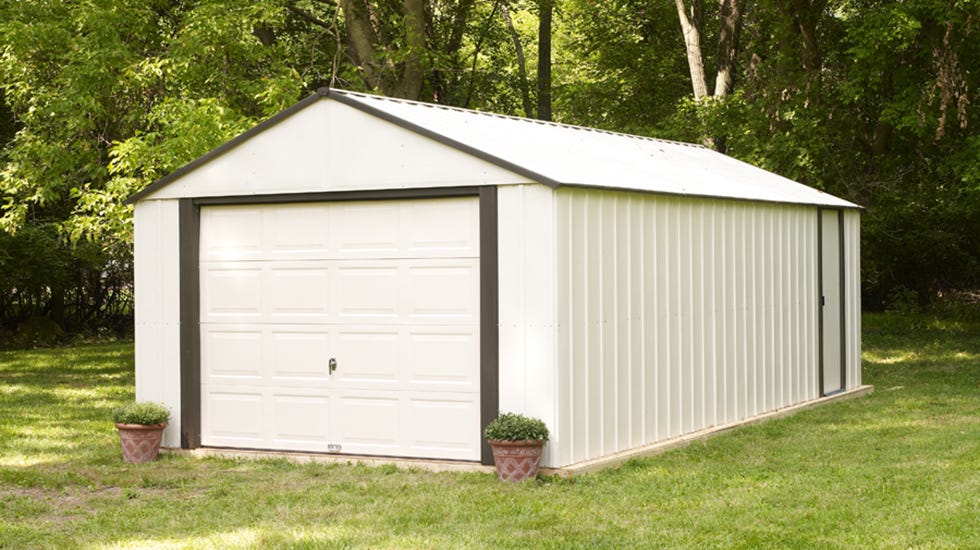 Do you live in a region with unpredictable weather? Do you need seasonal storage or year-round protection from weather, theft, or both? While both structures can accommodate most of these needs to some degree, here's what to consider with either.
Based on structure style alone, a garage typically offers more coverage, concealment, and protection of your vehicles. All-weather fabric garages such as the ShelterTube boast a competitive wind and snow rating with standard, heavy-duty, and ultra-duty waterproof covers to choose from. Durable vinyl-coated steel garages include lockable doors for ultimate theft protection. Depending on the material, anchorage, and maintenance, you can easily find a garage that supports either short-term or long-term use.
While carports offer a more open-style structure, they can still provide vehicles with a level of protection against rain, snow, ice, or sun exposure. For example, the all-steel Arrow Carport is built to take on tough weather including winds up to 100 mph and a snow load of 35 PSF (see all sizes here).
PRO TIP:In order to meet wind and snow load rated expectations for both carports and garages, we highly recommend anchoring your shelter. See our anchor guides and manuals on our support page for more info.
Your Capabilities
Permanent or fixed structures may require adhering to local ordinances or building codes in your town or city. Not to mention, price, property space, and intended use should also all be considered. To save you a major headache, it's best to know what structures you're even capable of erecting before choosing.
It's possible to consider a ShelterLogic garage as a "temporary structure", due to its ease of assembly, and mobility. However, a ShelterLogic building can be used as a more permanent structure, too. One of the advantages of fabric garages is that they are extremely portable – no foundation, ground excavation, or installation required.
If you are interested in incorporating a more permanent structure, all-steel garages offer a high-quality and long-term solution. Keep in mind, renovation costs and property taxes may apply to this kind of structure.
Like garages, a carport's price, permanence, and usability are largely dependent on the materials. The Carport-in-a-Box offers easy shade and storage space at an extremely affordable ticket price. Materials and size often can often increase your carport price. Either way, understanding your city's building codes prior purchasing is essential.
Similar to steel garages, steel carports are heavier in weight and composition than their fabric counterparts. But these structures can easily be disassembled and moved when necessary to meet your changing needs.
Find Carports and Garages at ShelterLogic.com
In terms of a carport vs. garage, which solution is best for your needs? Regardless of what vehicle storage solution you choose, ShelterLogic brands offer plenty of sizes and styles to fit your needs. See our entire selection of carports and garages and feel free to contact us for questions or more information.