Everest Steel Garage, Wind and Snow Rated Storage Building Kit
Jump to a section...
Accessories
Product Overview
Specifications
Manuals/Schematics
Do you have questions about this product? Our Customer Service team is here to help!
The Everest Garage Series is a stylish, premium garage from SOJAG. The Everest is made strong and is made with tough Galvalume steel that's aluminum, zinc and silicone plated for exceptional corrosion resistance. The unit features a wind and snow load rating, a stylish premium paint textured finish, and is expandable up to 100 feet long.
Garage Door Handle
The sectional garage roll up door handle allows you to lock and unlock the door from the outside of the garage.
Side Entry Doorway Lockable Handle
The sturdy side entry doorway features premium brushed metal hardware with a secure key lock handle.
20-Year Limited Warranty
The warranty period for the garage is 20 years from the date of purchase. Refer to the Owner's Manual for proper installation.
50 Years of Manufacturing in Illinois, USA
Arrow Storage Products manufactures reliable, durable, and attractive outdoor shade, shelter, and storage solutions in the United States.
Side Entry Door
The durable and sturdy side entry doorway is 28 inches wide and can be installed on either side of your garage.
Brushed Metal Door Handle
The premium brushed metal door handle features a key lockable deadbolt for the security of your valuables.
Ultra-Strong Galvanized Truss System
Our truss system and frame help achieve a 35 psf ground snow load rating with a wind speed rating of 100 MPH. *Wind and snow loads given are for reference only and assume a securely anchored frame according to local building codes and ordinances. These have been calculated using combined snow and wind load provisions in accordance with ASC 7-05.
12-ft. Wide Garage Bay
All Everest garages feature a 12-ft. wide bay with ample room to enter vehicles on both sides of the garage.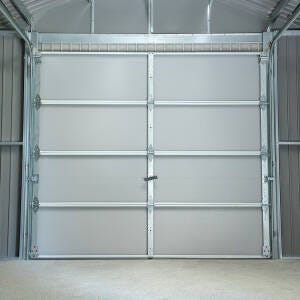 Full-Size Garage Door
The 8 ft. wide x 7 ft. high sectional roll-up garage door allows access to vehicles or wide equipment.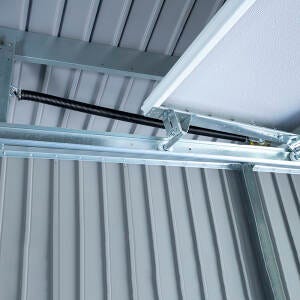 Roll up Garage Door
The full-size garage roll up door gives you the maximum height to accommodate tall vehicles or equipment.
Specifications
Product Details
SKU
EVEREST
Specifications
Assembly Manual
Download (PDF)
Side Door / Entrance Width
28.3 in.
Product Overview
Manufacturer
SOJAG
Series
Everest
Style
Peak
Material
Galvalume Steel
Color
Charcoal
Door Type
1 Sliding Front Roll-Up Door, 1 Side Swing Door
Assembly Required
Yes
Storage Bag
No
Included Items
Steel, Hardware, Garage Door, Manual, Fasteners
Dimensions
Assembled Exterior Dimensions Width
146.13 in.
Assembled Exterior Dimensions Height
123.48 in.
Assembled Interior Dimensions Width
141.13 in.
Assembled Interior Dimensions Height
122.23 in.
Door / Entrance Width Bottom
95 in.
Door / Entrance Height Outside
83.66 in.
Side Door Opening Height
78.25 in.
Wall Height
94 in.
Peak Height
28 in.
Warranty/Certifications
Warranty
20 Year Limited
Wind and Snow Rated
Yes
Wind Speed Rating
100 MPH
Snow Load Rating
35 PSF
Proposition 65
No