Fall is that perfect time of year where the temperature is so comfortable, everyone wants to be outside. It's a great time to get to all those DIY backyard projects before the chilly weather starts to roll in. Before you get started on your to do list, here are some essential products you need to make your tasks that much easier.
Organizing Ahead of Winter
One of the most popular DIY backyard projects is organizing your storage solution ahead of winter. That means it's time to stow away your lawn mower, maybe even your gardening tools before the snow and ice takes over. It may be the last few weeks you're raking leaves and mowing the grass to make sure your lawn is perfectly manicured before the first snow. You need a durable, multi-purpose storage shelter that will stand up to the elements and store your goods safely. The Versa Shed is the perfect place to keep your trash cans hidden, along with any of your outdoor tools. This option also includes:
2-point locking system for added security, including a lockable lid
Manufactured with high quality galvanized steel
Wide swing doors for easy access
Pro Tip: For an extra level of organization, add shelving to your storage solution.
Storage Solutions for Larger DIY Backyard Projects
If your fall clean-up project means more than just raking leaves and storing gardening tools and trash cans, you might need to upgrade your shed and find something with extra space. Perhaps you're looking for a place to work on your motorcycle when the chillier weather hits, or maybe you want one central place to store your yard decorations or pool gear over the winter. A roomier choice is the Admiral Steel Storage Shed. The door openings are wide, giving you easier access when you need it. The reinforced roof strengthening brackets also give you a snow load rating of 25 lbs. While this choice gives you an ultra-durable way to keep your belongings safe, it's also easy on the eyes. The painted hardware is complemented with decorative trim and ornamental hinges.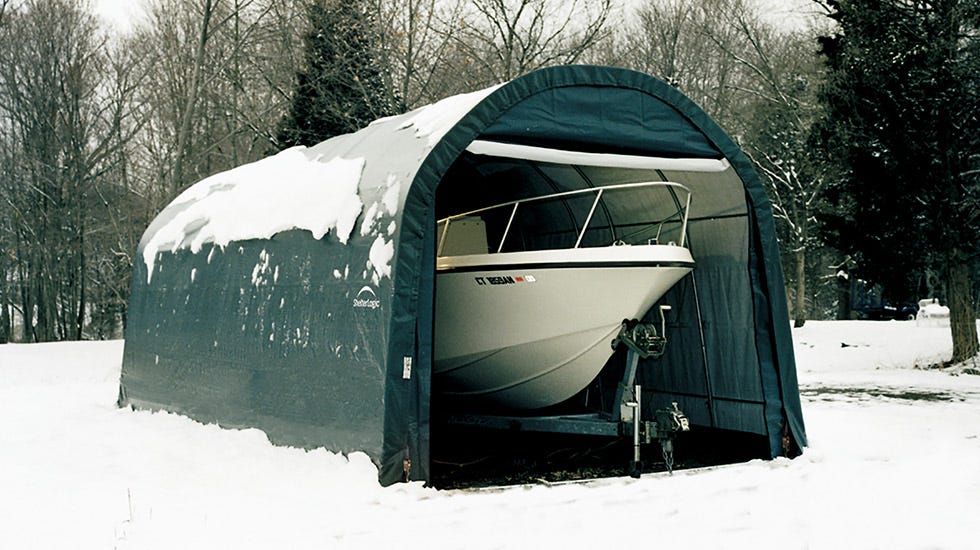 Storage for the Ultimate DIY Backyard Projects
Now that the weather is changing, your biggest projects might be to figure out where to store anything from your boat to your ATVs.  Now might even be the time you're figuring out your bulk storage plans. For the greatest number of size options and roof styles, ShelterTech SP Series Shelters are the ultimate choice in backyard storage. The strength is unbeatable, and installation is easy. Made in the USA, these shelters are manufactured with galvanized steel and feature heavy duty, wind and snow rated covers. When you're looking for the most reliable storage solution at a great price to quality ratio, ShelterTech is the perfect choice.
Create a DIY Garden
Now that you've organized your backyard, you might be ready to get your green thumb this fall. If you'd like to get started now growing herbs and vegetables through the winter, a mini greenhouse is an ideal way to give your crops light while protecting them from the impending cooler weather. This will extend your growing season, and also keep a compact footprint in your backyard. This option can even be set up in less than 20 minutes, thanks to quick snap assembly! The GrowIt 4-Tier Mini Greenhouse also includes:
Powder coat finish that resists to chipping and corrosion
Sturdy wire mesh shelves
Double zipper door panels for easy access
Your Fall DIY backyard projects will be a snap with these attractive outdoor essentials. Now you can look forward to organizing and making your backyard the envy of the neighborhood!