Whether you're large-scale farming or you're a hobbyist looking for more durable farming solutions, Growers across the country are looking for ways to increase crop yields. One way to achieve that goal in large-scale farming is to invest in a high tunnel greenhouse. Whether you want to extend your growing season into the cooler months, get a head start on growing crops, or you simply need more greenhouse space to properly grow plants and vegetables: a High Tunnel Greenhouse could be the right solution for you. Protect anything from tomatoes and strawberries to herbs and flowers from the harsh weather, while creating the perfect environment for them to thrive. This option also allows you to extend your growing season with minimal investment.
Large Scale Farming with a High Tunnel Greenhouse
If you're looking to grow bigger plants at a faster pace, the ShelterTech High Tunnel Greenhouse is your answer. One of the biggest innovations behind the High Tunnel Greenhouse is, in fact, its unique cover. Unlike many greenhouse covers on the market today, the ShelterTech High Tunnel Greenhouse features the trademark Illuminate fabric material that has been proven to effectively and more efficiently grow produce in a side by side study.
PRO TIP: Did you know: Our greenhouse covers are more effective in growing plants and vegetables than the competition? Results from a side-by-side study show the benefits of our 5.5 oz., rip-stop polyethylene greenhouse cover compared to other standard clear covers on the market.
The durable eco-friendly polyethylene fabric cover is proven to retain heat and grow your crops more efficiently by reducing the amount of water that is used to grow plants and vegetables. It also diffuses the light, providing more even distribution to plants and vegetables while many other popular brands do not.
Customization is Key
Unlike many large-scale greenhouse solutions, farmers and growers often have to invest in a complete structure if they want to purchase a building. However, with the ShelterTech High Tunnel greenhouse unit, customization is possible. Rather than purchasing a complete unit, farmers have the option of choosing only the elements that are pertinent to them and that they need. Meaning if you are not interested in a complete unit, just the frame, its possible to purchase it alone.
You begin by choosing the shape of the building you desire, followed by the bundle of your choice. Then, configure your greenhouse building to the size specifications you desire and you're good to go.
Here are your bundle options:
Frame
You can choose from a greenhouse frame as small as 8 x 8 ft., or as large as 38 x 15 ft. You can customize your length up to 100 feet.
Frame + End Panel Frame
The convenient end panel frames allow you to install a fan or air vent at either end, helping you to control the environment for your crops. The end panel frames attach to the main greenhouse frame.
Frame + Cover Kit
In a side-by-side study, these greenhouse covers have proven more effective in growing plants and vegetables versus the competition.
Full Greenhouse Kit
The full kit includes the frame, end panel frames, and the polyethylene greenhouse cover.
These custom greenhouse options are the perfect solution for large-scale farming because the greenhouses can be configured up to 100 ft. in length. With the flexibility of so many size options, shapes and elements, it's no wonder why so many farmers choose ShelterTech for their large-scale farming needs.
Minimum Investment, Maximum Return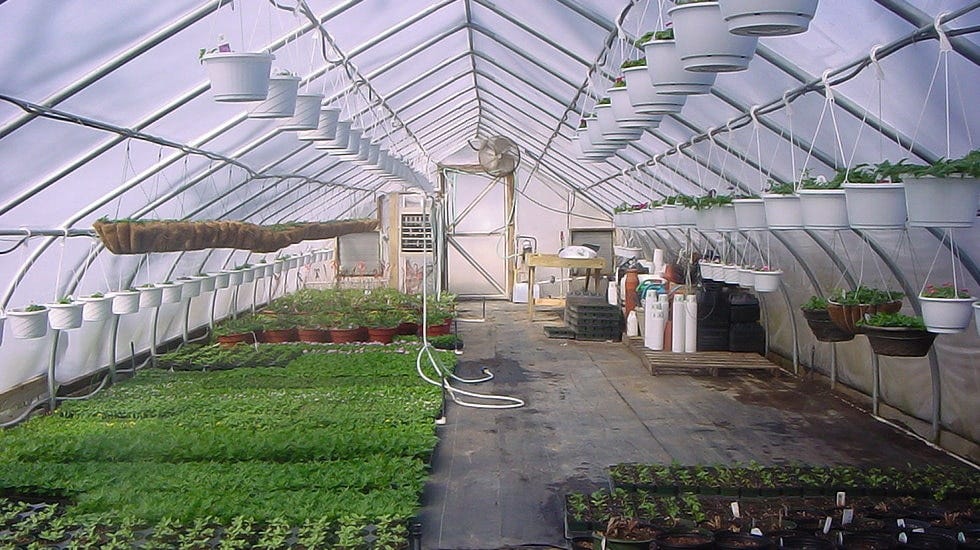 High tunnel greenhouses are so valuable in large-scale farming because you have more control over your crops. Your plants grow faster, and your farm becomes more efficient. They can even reduce the need for pesticides! But did you know the government can help you offset the cost of your investment in a high tunnel greenhouse? It's called the Environmental Quality Incentives Program. If you qualify, that means your initial investment becomes even smaller, while you still get to enjoy those higher returns. High tunnel greenhouses can be better for the environment, and better for your bottom line. Still have questions about how the High Tunnel Greenhouse could be an excellent solution for your large-scale farming needs? Contact us today for information or to place your order.