Whether utilizing your backyard shed for storage or a quiet getaway in the middle of nature, it's imperative to have all your items arranged properly to keep valuables safe and in working order. Organizing a shed can be a daunting task, but well worth it when you know where to find anything from gardening tools to holiday decorations at a moment's notice.
You should put some thoughts into arranging your storage solution because it will save time and aggravation throughout the year. If you've ever scrambled to find the shovel on the morning of the first snow, you know how crucial it is to keep outdoor items in their place. Here are 4 garden shed organization ideas that will save you time and money.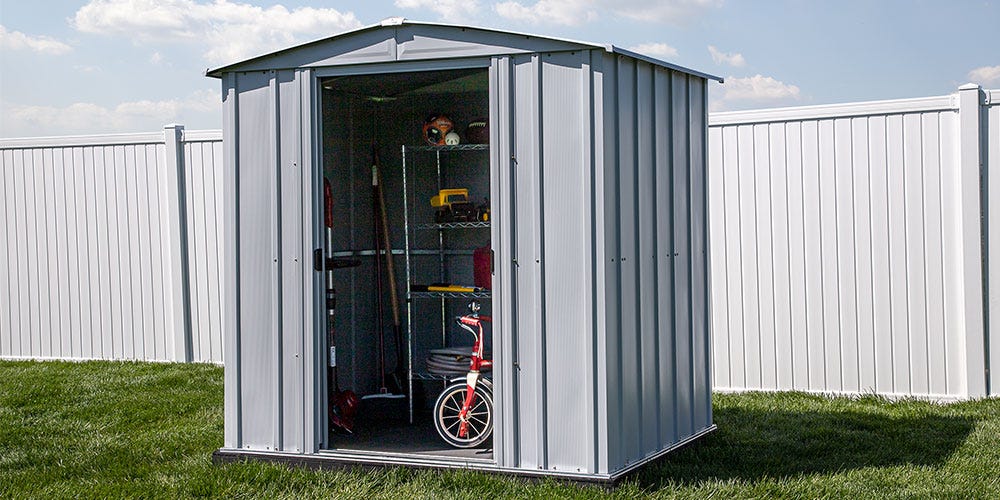 1. Remove Everything from Storage
While this may seem counterintuitive, start the organization process by removing everything from the shed. This is one of the most important steps when organizing a shed because it allows you to take stock in your belongings to figure out if there's anything to throw away or donate.
If you remove containers with items inside, take everything out of those as well. Evaluate what you can keep, and what to throw away to make room for something new. Toss anything that could cause a fire or safety hazard, or items like pet food that may attract unwanted pests.
Before deciding what to put back in, give the entire shed a deep clean. Start by sweeping, and then use a garden hose with a nozzle to get rid of dirt or other debris that may cause maintenance issues in the future. Gently get rid of any mildew buildup, while keeping an eye on any mold that could present structural issues for a shed down the road. If you find advanced mold or mildew issues, there are special solutions to buy at the store to ensure you get rid of them before putting belongings back inside the shed.
If you have a fabric shed to clean, it's crucial to make sure the cover remains taut to stave off tearing. Make sure to use a broom instead or other soft tools to remove debris in order to keep the cover in good shape. Avoid harsh products like bleach, instead opting for soap and water that will be gentle on your building.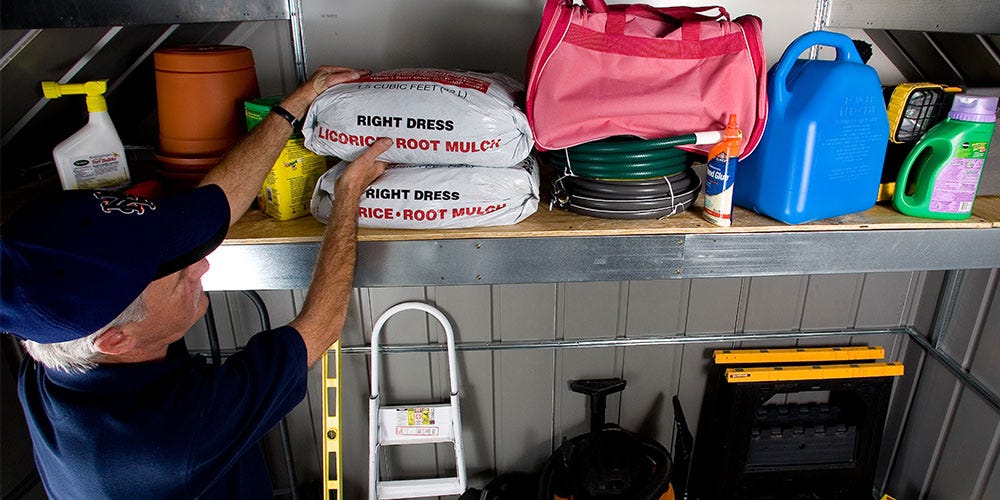 2. Organize Belongings for Accessibility
It may be tempting to start piling items back into the shed once it's clean and ready to use. But taking some extra time to plan before organizing a shed will make a huge difference in this process. It may seem like one of the more mundane shed organization ideas but grab some pen and paper and make a blueprint for where you want to keep all your items, especially if you spend a lot of time in your outdoor space. Some shed organization ideas include:
Separate by season
Create areas for specific times of the year when you'll need easy access to garden tools and other outdoor supplies. Think about snow shovels, salt, and other snow-related materials for the winter. Make sure they are stored in a different area than summer gardening tools and pool supplies. Having designated areas for each season will make it simple to find what you need without the hassle.
Organize by size
If you live in a warmer climate where seasons don't have a huge impact on where you store gardening tools and other outdoor necessities, coupling your belongings by size might be your best bet. Storing smaller tools like wrenches, shovels, and screwdrivers in one spot while keeping larger equipment like lawn mowers in another space will allow you to know exactly where everything is based on size.
Arrange by function
Depending on how often you utilize the items you store, arranging them by function is another simple way to know where to find what you need in a snap. Stow away all your gardening supplies in one side of the shed, while using another area to store things like pool supplies or children's toys you want out of the yard.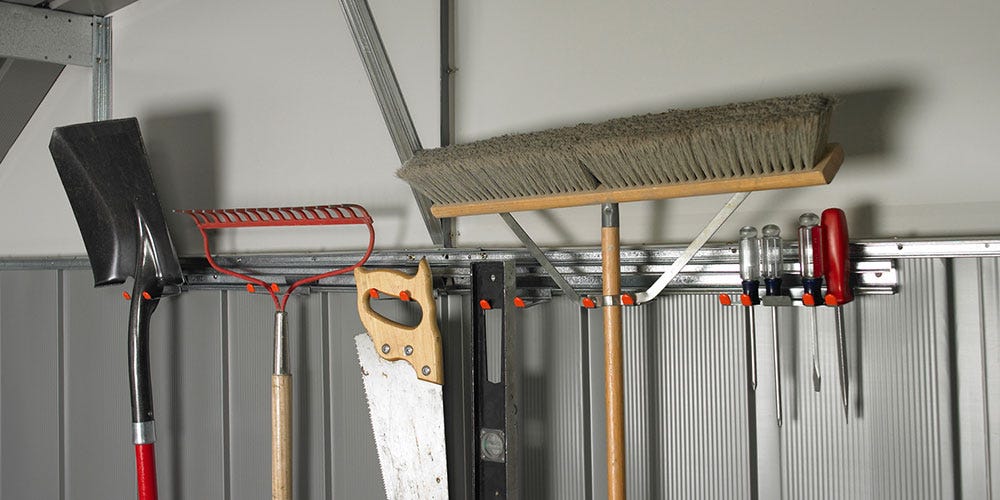 3. Add Accessories for Ease
One of the most popular shed organization ideas is loading up your storage space with added accessories. Think of your shed as a blank canvas. Add extra storage space by getting creative with where and how you keep items. Utilize every inch of space you have for the best results.
Start with creating a place to sit if you plan on potting plants or toying in your shop. A workbench not only utilizes the area in a smart way, but it will also make your shed a more relaxing place to be while you're inside. Then, take stock of what tools you want available at a moment's notice. Install a track to store your gardening equipment, screwdrivers and other odds and ends you need at your fingertips. To save money, you can even get creative and make your own screwdriver rack with an old table leg or spare piece of wood.
Don't limit yourself with where to add shelving. Use doors, interior walls and even the outside of the shed if needed to store things like hats and gloves. Pegboards are another cost-effective way to increase storage area for odds and ends, making it simple to know where your tools are when you need them. Drawers are another way to keep everything tidy while maximizing your shed space.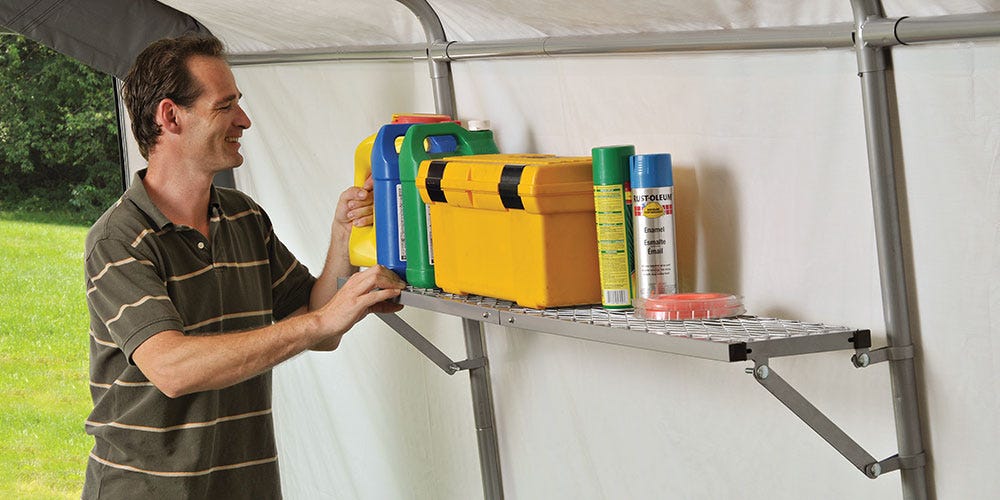 4. Label Everything
Now that your shed is clean and items are properly stored, you can take organization to a whole new level by labeling anything and everything you store. Start with the easy stuff: label storage bins where you plan to stow belongings away for a season or more. You can take a piece of tape and write the contents of the bin on the piece of tape. Whether it's holiday décor or pool toys, you won't have to sift through your shed searching for anything with a simple labeling system.
Take it a step further with labeling items like a parts drawer or even your seeds so you're ready for gardening every season. Standard tape labels are easy and cost-effective, but you can always spring for chalkboard contact paper which allows for erasing and rewriting from season to season.
Organizing a Shed: A Simple Timesaver
While these shed organization ideas take time to coordinate and complete, nothing compares to the amount of time and frustration you will save year after year by following these straightforward tips. Keeping the shed clean and free from mold and debris is the first step to ensuring the shed remains strong and in working order.
Take time to think about how you want to utilize the shed before planning out where to store items. Finally, accessorize and label to take advantage of every ounce of space your shed offers. Organizing a shed does not have to be difficult and tedious with creative labeling and accessorizing. You'll never have to wonder where your rake or shovel is again with these simple suggestions.