Watching your garden flourish is one of the greatest feelings you can have as an avid gardener. The main benefit of greenhouse gardening is seeing the seedlings you so lovingly planted grow into healthy, bountiful plants.
Whether gardening is a hobby or a profession, a greenhouse can provide the ideal environment for more efficient gardening, extended growing options and growing across seasons. A greenhouse not only helps you to grow and sustain beautiful greenhouse plants and flowers throughout the year but also discover the deliciousness of growing your own fresh vegetables and fruits from your own garden.
Types of Greenhouses
Depending on the kind of crops you want to grow and the space you have available, there are quite a few options when it comes to selecting a garden greenhouse.
Cold frame greenhouses rely on natural heat from the sun to create a microclimate for your plants that is warmer than outside. They are useful for extending your growing seasons especially in the transitional weeks from one season to the next when the weather can be unpredictable.
Portable greenhouses can range from mini compact greenhouses that can easily fit on a balcony to easy-to-assemble and disassemble garden greenhouses that provide enough space to grow as you want without restricting you to one place.
Raised bed greenhouses are perfect if your space is limited or if you don't need a lot of growing space. These small and portable greenhouses are a great way to start your garden. Be sure to choose one with roll up covers for better temperature control.
Translucent fabric covers are great for evenly diffusing light, blocking UVA and UVB rays and protecting your plants from burning with the added benefits that your plants will need less water. Triple layer covers provide waterproofing and UV protection.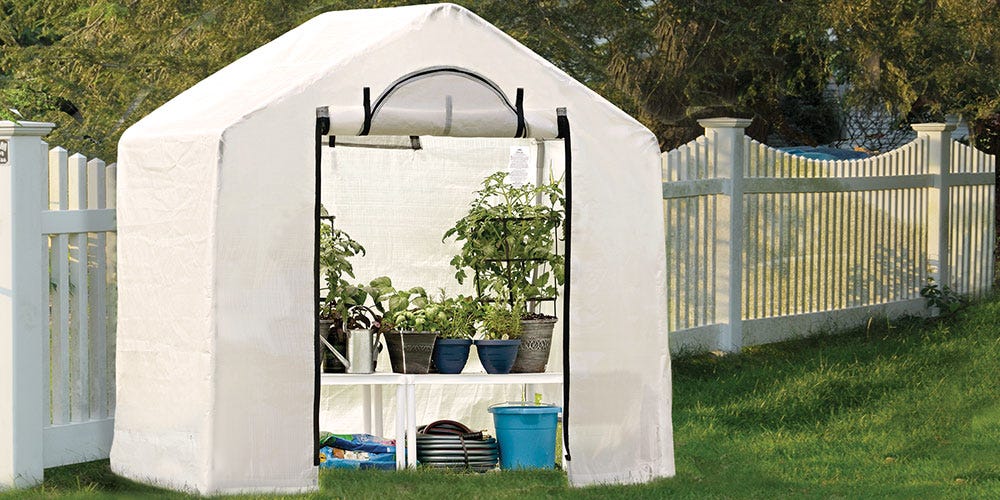 The 5 Top Benefits of a Greenhouse Explained
Although there are plenty of reasons to start a greenhouse garden, these five benefits of greenhouse gardening are exactly why you should try a garden greenhouse in your own garden.
Extend growing seasons with greenhouse plants.
A garden greenhouse offers better pest prevention.
A garden greenhouse that is portable and customizable.
The benefit of greenhouse additional growing options.
Weather protection for greenhouse plants.
Extend Growing Seasons with Greenhouse Plants
One of the greatest benefits of a greenhouse is that you are no longer restricted in what to grow and when. A garden greenhouse can effectively extend your growing seasons to accommodate your desire to plant just about anything.
Garden greenhouses create an all-year warm climate for warm weather plants that thrive no matter the temperature outside. They also shelter your plants from other weather conditions like wind or too much rain. On the other hand a cold-frame greenhouse is useful for growing plants that need a cooler climate at any time of the year.
With a garden greenhouse you have control over the temperature and growing environment which allows you to also plan your planting earlier or later in the planting season and still enjoy a good crop.
Some greenhouse plants that you can grow throughout the year are:
Strawberries
Peppers
Beans
Summer squash
Cucumber
A Garden Greenhouse Offers Better Pest Prevention
As a gardener you will know how devastating it can be when pests take control of your crops. Planting in an open garden allows plant pests like animals, insects, and other bugs easier access to your plants. One of the biggest benefits of greenhouse growing is that pests have a harder time getting to your garden.
It is also easier to manage pests and pest prevention with a garden greenhouse. One of the best ways to do this is to keep your greenhouse neat and clean. These greenhouse cleaning tips will get you started in creating the best greenhouse environment in your garden.
Growing in a greenhouse makes pest management without the use of harmful pesticides or chemicals more manageable. Trying organic and pesticide free gardening practices can be fun with a greenhouse from simple solutions like planting beneficial crops alongside each other to using non-chemical and biological alternatives.
A Garden Greenhouse That Is Portable and Customizable
A major benefit of a greenhouse is that you can easily move or change the layout of your garden without much trouble. Because greenhouse plants grow in pots and not the ground, you have more freedom to move them around as needed. You may also choose to use your garden greenhouse to plant, nurture and grow seedlings and move them out of your greenhouse when they are ready. The possibilities are many.
When choosing a garden greenhouse, consider choosing a portable greenhouse that you can move and reposition depending on the season, light or any changing needs. This also means being able to find the best growing environment for your plants without needing to uproot or replant.
Customizing your greenhouse is easy with roll up covers and side and end panels, allowing you to choose how much ventilation you want and when. And if space is an issue, you are now able to find a garden greenhouse of all sizes from raised bed and tiered greenhouses to larger tunnel greenhouses.
The Benefit of Greenhouse Additional Growing Options
With the benefit of greenhouse environment and temperature control you can now choose any of the plants you have wanted to grow. While you are no longer limited to growing certain foods in just one season, you also have the freedom to expand your garden greenhouse repertoire to include some more unusual seeds or fruits, vegetables or flowers that are not native to where you live.
Weather Protection for Greenhouse Plants
Greenhouse plants love the stable environment a greenhouse provides, so they can grow strong and healthy. Too many weather fluctuations or changes in temperature can put the delicate nature of your growing plants off balance and threaten their survival.
Whether you live in a place with erratic weather changes or somewhere with a less than ideal climate for the types of plants you want to grow, a garden greenhouse could be the answer. With a more predictable environment, your plants are given the chance to really grow.
Forget about damaging winds, excessive rains or too much direct sunlight, your garden greenhouse keeps everything consistent, and makes it easier to grow what you want.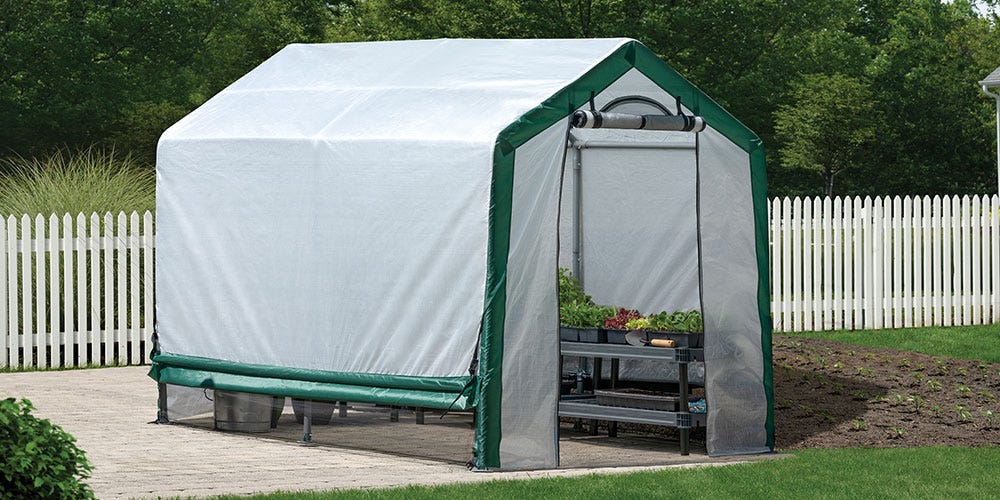 Gardening Just Became a Year-Round Hobby!
These additional growing options means you will finally be able to grow those roses or orchids you have always admired. You can experiment with unusual vegetables and fruits and delight your family with new, exotic yet homegrown meals from your garden. Your garden greenhouse gives you full control over what you grow from seedlings and bulb plants to melons and figs.
A garden greenhouse can be either small and compact for smaller gardens, and perfect for growing and germinating seedlings, to large enough for planting a range of plants or crops with plenty of space to move around. With a wide range of options, cultivating a cross-seasonal, thriving garden is much easier to achieve.