No matter the season, an outdoor pop-up canopy is a must-have accessory for any outdoor adventure. Outdoor canopies for shade provide comfort, convenience, and most importantly protection from harmful UV-rays. It's important to find a dependable product that fits your needs whether you're on the go, on the job, or on vacation.
When deciding which outdoor pop-up canopy is right for you, first think about how much shade you need. Will you be covering a larger group, or just yourself and a friend? Then decide on other features like slant leg or straight leg options for a little extra strength. These shade solutions are versatile enough to bring just about anywhere. Here are 5 ways to use your shade canopy to transform your next trip outside.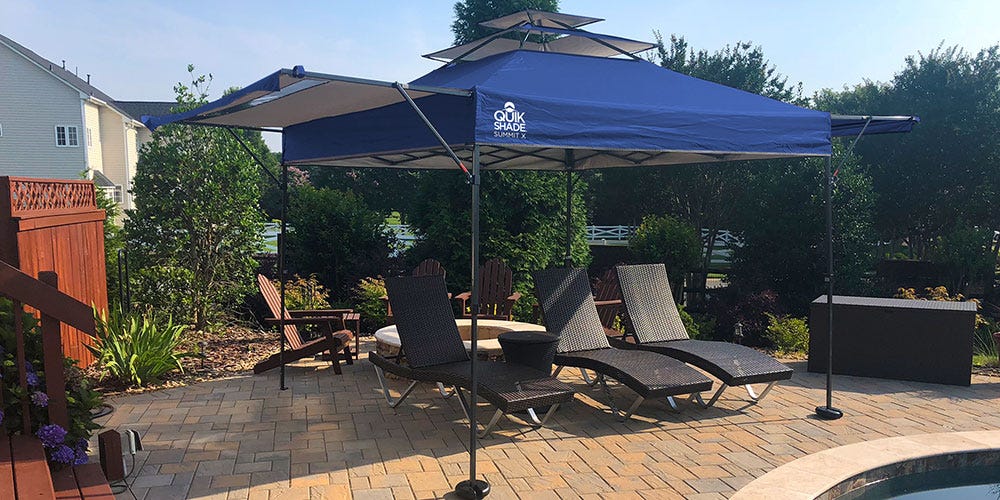 1. Bring Shade to Any Backyard
While you may think an outdoor pop-up canopy is just for an exciting trip to the beach, remember to bring coverage from the sun on an average day in your backyard. Add outdoor canopies for shade while watching your family splash around in the pool or for a respite from grilling at a family cookout. Choose a larger outdoor pop-up canopy to provide shade to your guests while serving food or simply taking in the great outdoors.
Outdoor canopies for shade are also ideal for avid gardeners. Utilize your pop-up while tending to your plants. It can protect you from rain and sun all while preparing seedlings or tending to weeds. These types of shade solutions provide a portable way to create a safe place in the sun in just minutes.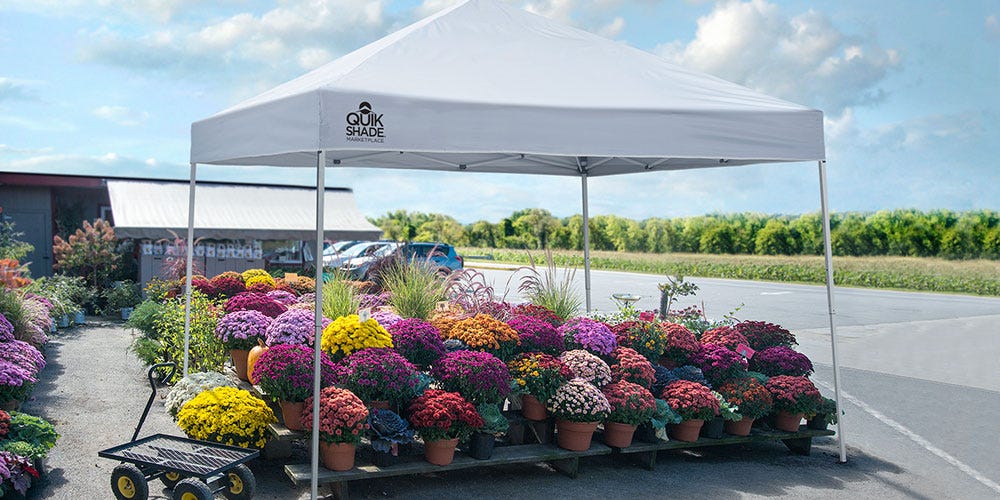 2. Outdoor Canopies for your Business
Whether you're a small business owner or part of a corporate community, outdoor markets are a popular way to connect with customers. From tiny neighborhood flea markets to large-scale events, an outdoor pop-up canopy keeps both employees and customers comfortable in the elements.
There's no need to worry about rain or sunburns when you bring along a shade solution that can set up in a snap. A pop-up won't waste hours to set up and tear down because of its simple construction. It not only provides shade, but also a touch of professionalism when you have an enclosed area at a trade show or other business event.
Outdoor canopies for shade are also perfect for protecting your investment. If you're selling delicate items like produce or baked goods, they can easily spoil in the sun or rain. Purchasing a shade solution will give extra assurance that your property, employees, and customers stay safe from harmful UV rays.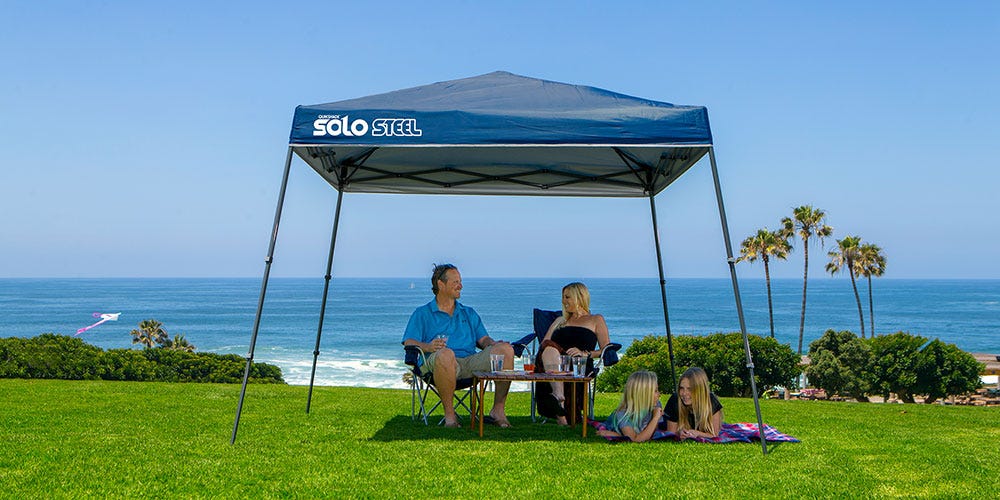 3. Picnic and Party in Style with an Outdoor Pop-Up Canopy
As more people than ever are enjoying fresh air, it's also important to remember to take precautions against skin cancer. The easiest thing you can do is seek shade when you're outdoors. Spending time outdoors with family is much more enjoyable when you can stay cool and kick back under a tent.
A portable outdoor pop-up canopy will transform a sweaty lunch outside into a cozy picnic in no time. Chill out while enjoying food and drinks with your friends without having to worry about overheating or dangerous sunlight spoiling the food or your party. You can even bring it to the playground to keep an eye on your children while giving them a place to cool off during a break.
When the sun goes down, an outdoor pop-up canopy can also be incredibly useful for outdoor concerts. Don't let a little rain spoil your fun when you have simple and affordable coverage that can set up in just minutes. Tents provide shade and protection for outdoor family events day and night.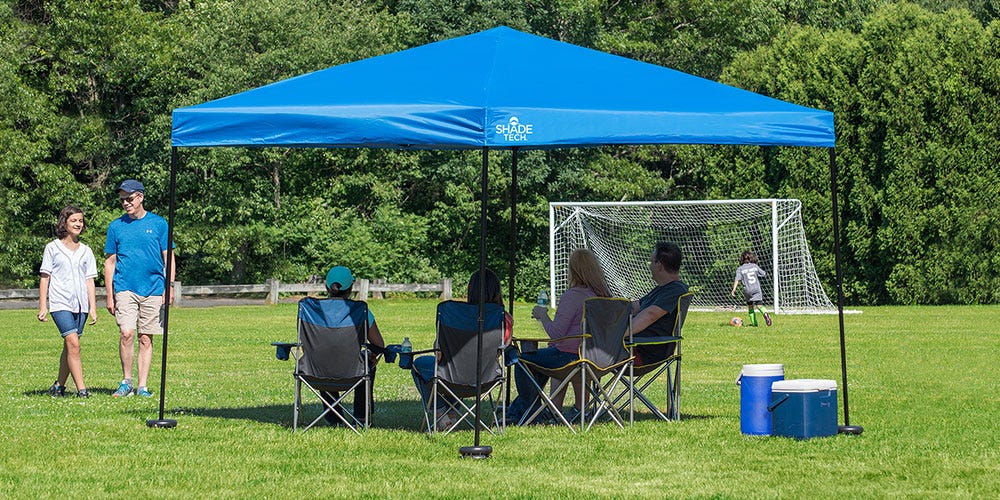 4. Add Shade and Function to the Sidelines
There's nothing like spending the weekend cheering on your favorite team. Whether it's your child's soccer game or professional baseball, taking in a sporting event is much more enjoyable when you have your own secluded area to relax. Utilize outdoor pop-up canopies for shade anywhere from the sidelines to the parking lot tailgate party.
Is it your turn this week to be scorekeeper? Make sure to add shade to make the day a breeze. A pop-up tent is also perfect for before and after game huddles with your team, or even after- game snacks. And a canopy is an ideal place to take in the game without sweating or suffering on the bleachers. Create your own comfy hideaway without the hassle with an outdoor pop-up canopy that's both easy to set up and tear down.
Even if you can't make it into the big game, the tailgate party can be just as much fun when you have a sweet spot to kick back in the shade. Set up a spot to sit next to your barbecue grill and enjoy the parking lot atmosphere in style with a pop-up tent sure to bring the function and the fun.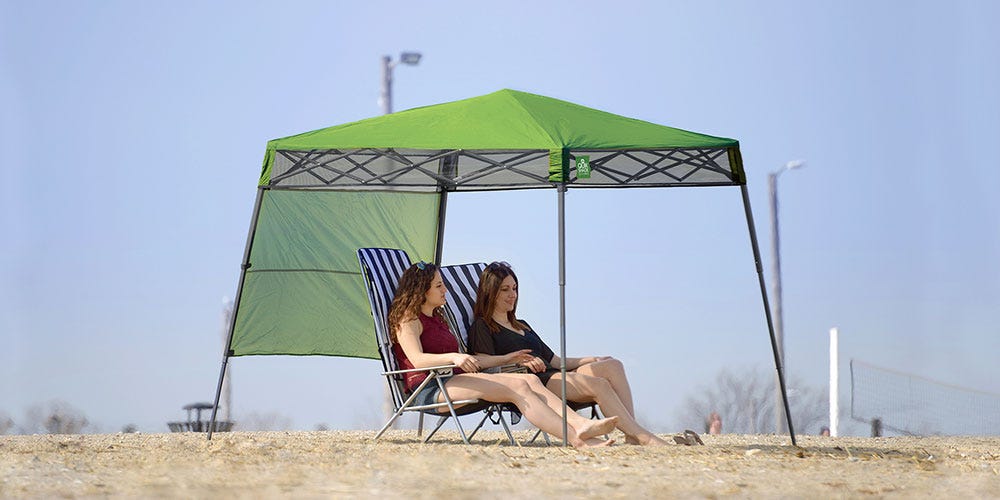 5. Stay Cool and Comfortable at the Beach
When you think of powerful UV rays and sunburns, the beach may be the first place that pops into your mind. Bringing a reliable shade solution to the beach is not only convenient, it's absolutely crucial to protecting your skin and health at the beach.
Outdoor canopies for shade at the beach are ideal to keep little ones safe in the sun while they build sand castles or play with friends by the water. It's important to provide shade for your children immediately upon arriving at the beach, especially if you go midday. A pop-up tent is a simple way to keep them comfortable and safe.
Even if you have your toes in the sand reading a magazine, don't forget to utilize a shade solution before it's too late. In fact, sunburn can occur in as little as 15 minutes out in the sun. It is well worth it to spend a few minutes setting up a canopy before laying back to enjoy your day at the beach.
Shade Solution Ideas for Every Occasion
Now that you know the many different ways a pop-up canopy can transform your time outdoors, it's time to decide which one is right for your budget and lifestyle. Here are some affordable and attractive options for year-round sun protection.
Quik Shade Canopies
Standard: When you need a quick shade solution for the sidelines at the soccer game without breaking the bank, Shade Tech pop-up tents are a perfect blend of quality and convenience. The telescoping legs make it easy to set up, and these also rank high in portability.
Superior: These high-quality canopies provide endless possibilities for adventure from the campgrounds to the cookout. Quik Shade's superior options are ideal for everyday events. The Expedition, Weekender, and Go Hybrid series are ready at a moment's notice, with durable construction and Easy up technology for effortless setup and tear down when you need it.
Premium: When you're in the market for something with a little extra strength and durability, Solo Steel has a number of options whether you're an avid hiker or just love spending time in the fresh air. Choose from slant leg or pop-up, and even options with an extra awning and built-in Super Vents for increased airflow.
Commercial: For ultimate shade at a corporate gathering or farmer's market, choose from Commercial canopies with a 300D heavyweight cover and Aluminex protective coating. The rolling storage bag makes packing up a cinch.
ShelterLogic Canopies
ShelterLogic outdoor pop-up canopies come in a variety of colors to match your style and price points to fit any budget. HD Series pop-ups provide efficient sun protection in both straight and slant leg options built to stand up to the elements with a set up time of less than 15 minutes. The water-resistant polyester cover will keep you dry while 50+ UPF sun protection keeps harmful rays away all day long. Other amazing features include:
Powder coated to resist rust and corrosion
Wide-based feet for simple anchoring
Storage bag with wheels for simple transport
For a stronger commercial-grade option and with an addition wind and wall kit, Alumi-Max brings the brawn at an affordable cost. The 500 Denier fabric is treated with fade blockers to keep your shade solution looking new while protecting you from the heat. This option also includes:
CPAI-84 fire retardant fabric
Zippered side panels to increase airflow
Sewn in hook and loop fasteners to keep panels looking neat
If you just need quick and efficient shade in a snap, the Quick Clamp Canopy attaches to any standard picnic table and fits most tables up to 10 feet long. It adjusts vertically and tilts in either direction so you can move it along with the sun for fully customizable comfort.
Don't Forget to Anchor Outdoor Shade Solutions
Anchoring an outdoor pop-up canopy takes only a few minutes and will ensure an added layer of safety when setting up your pop-up. Follow a few simple steps when deciding how to anchor your tent:
Identify the type of surface where you'll be placing the tent. For example, you'll choose different methods in sand then you will in packed soil.
Confirm the number of legs your pop-up canopy has to secure the correct number of anchors.
Select the correct anchor. This easy guide

will help identify the type of anchor that works best for your shade solution.
Properly anchoring your outdoor pop-up canopy will ensure it stands the test of time and keeps you safe. From the beach to the barbecue, these stylish and dependable shade solutions will bring you years of enjoyment and protection from the elements.