From needing to move things out of your home for a remodel to looking for a way to protect your inventory, equipment, or other items, there are many reasons why you may find yourself in need of a temporary shed storage solution. While you could load everything up and take it to a storage unit, placing a temporary shed on your property is a far better option.
Temporary storage buildings offer a reliable, affordable, and low-maintenance space where you can safely store your valuables and other belongings. They can be used for a wide range of storage needs, and since they're portable, they don't require any long-term commitment.
What types of temporary storage solutions are available, and why would you want to put one on your property? We're glad you asked! The following guide will tell you everything you need to know - so let's get started.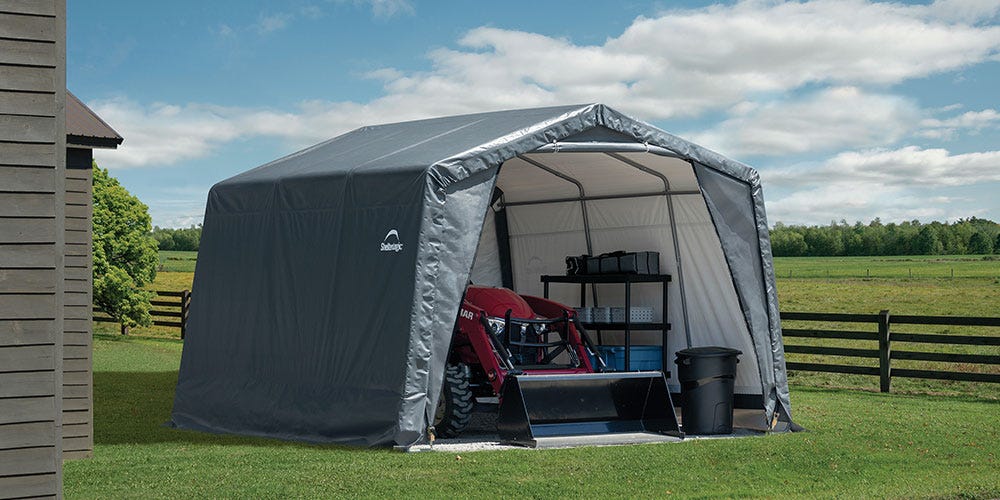 Types of Temporary Storage Solutions
A temporary storage building is typically made of a sturdy, all-steel frame and a durable fabric (or "tarp") that's held onto the frame with ratchets or heavy-duty strapping. There are many different types of temporary storage buildings, making them ideal for a wide variety of storage needs. The right temporary storage shelter for you will depend, among other things, on what you plan to use it for and the space you have available. Here's a quick overview of the primary types of temporary storage solutions available.
A temporary shed is one of the most common solutions for homeowners. They're typically smaller in size and will easily fit in the average backyard. They're often used for storing things like landscaping supplies and equipment. If you want to protect larger items, like your vehicle, boat, or RV, and you don't have a permanent garage on your property, then a portable garage is an excellent solution.
For storing multiple vehicles, commercial storage needs, and other large-scale projects, there are also a variety of larger temporary storage shelters available. These are often expandable, allowing you to easily adapt as your needs change.
Other creative uses for temporary buildings include using them as firewood seasoning sheds or as corral shelters or run-in sheds for livestock.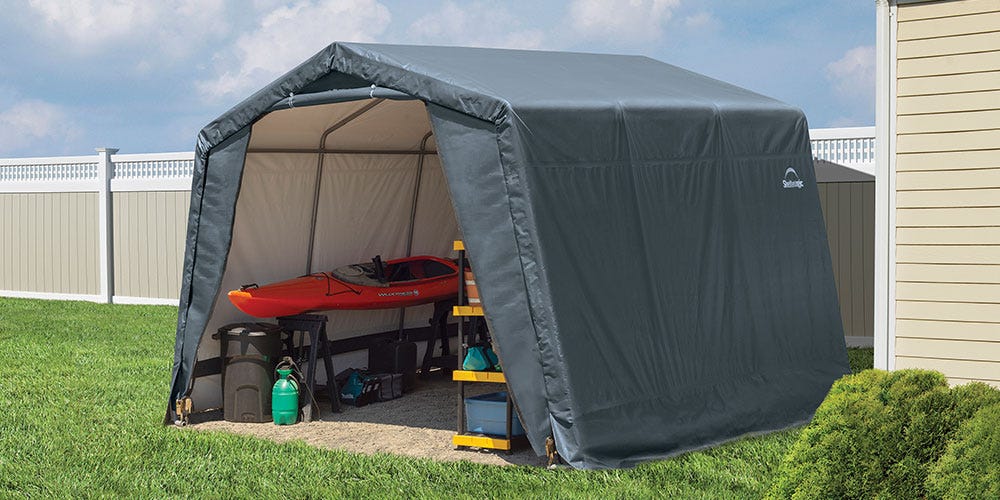 Benefits of a Temporary Storage Shed
There are many reasons to consider adding a temporary storage building to your property. Here's a closer look at the top six benefits you'll enjoy.
1. Versatility
One of the biggest advantages of temporary storage solutions is that you can use them for a wide variety of purposes. For example, a temporary shed is perfect for storing patio furniture and pool toys during the winter months. When the weather warms up, you could pull your lawn equipment and summer sporting gear out of the garage, attic, or basement and relocate it to your now-empty shed for where you and the family can easily access it all summer long.
Commercial users also appreciate the versatility of portable buildings. They can be used to hold excess inventory during the holidays, additional equipment during the busy season, or even files and documents that are cluttering up the main workspace. In addition, some businesses turn their temporary storage buildings into on-site workshops, a seasonal retail space, outdoor break rooms, and more. When it comes to finding ways to use your temporary storage building, you truly are only limited by your imagination.
2. Portability
Temporary storage buildings are made of lightweight materials, making it easy to move them from one location to the next. This allows you to bring your temporary storage shed to a job site, set it up at a fair or other seasonal location, or bring it with you if you have to move. Not only does this give you the ultimate in flexibility, but it also ensures that you won't lose your investment if you buy a new home or have to relocate your business.
It's also easy to move a temporary storage building around on your property. This allows you to rearrange them as needed and to put them where they'll be most useful during different times of the year. For example, you may put a temporary building near the front of your home to serve as a farmer's market stand during the harvest season, then move it to the backyard to store your tools and equipment during the winter months.
If your storage needs change, you can take down the unit and put it away or add more units to your property if you need additional storage capability. Since there's no long-term commitment, this is the perfect way to adapt to seasonal changes.
3. Minimal Maintenance
Another major advantage of temporary storage solutions is that they're very easy to maintain. As long as you choose a high-quality product and assemble it correctly, your structure should last through several seasons. To avoid water damage, you'll want to make sure it's is on a flat, level surface with sufficient drainage. It's also important to anchor your structure to maintain its wind and snow ratings and ensure the fabric is tightly secured, as this will help reduce the chances of tearing.
Other than that, you'll need to occasionally wash your cover with mild soap and water and perform some simple winter maintenance tasks. This includes doing a pre-season inspection, proactively fixing any problems, and keeping debris and snow off the roof.
4. Easy Assembly
While erecting a permanent shed or garage on your property could take weeks or even months, temporary storage buildings are easy to assemble and take very little time. Adding one to your home doesn't require any ground excavation or property renovations. You won't have to worry about local building codes and likely won't even need a zoning permit.
Your portable building kit will come with just about everything you need, with the exception of a few common household tools. As long as you have a flat surface for your structure, decent weather, and at least one other person to help you, putting together your temporary shelter should be quick and painless. In fact, most people can complete assembly in just a few hours.
5. Affordability
Adding a permanent structure to your property can be expensive. Not only does a temporary structure cost less to purchase, but you also won't have to spend money on things like building a foundation and dealing with permitting. There are also fewer costs associated with ongoing maintenance.
While temporary storage buildings are far more cost-effective than permanent structures, they're still very durable. Many are made with rust and corrosion-resistant materials and are built to withstand the sun's harsh UV rays. The higher quality structure you choose, the longer it will last. Some temporary structures also offer an extended warranty, ensuring you'll get your money's worth.
Storing items on your property is also typically far less expensive than renting an off-site storage unit. For commercial applications, adding a temporary building can help you avoid the significant cost associated with buying additional property or remodeling your building to accommodate your growing storage needs.
6. Convenience
Last but certainly not least, adding a temporary storage building to your property is far more convenient than using an off-site storage unit. With this solution, you won't need to drive back and forth to store and retrieve your items. You won't have to worry about safety issues if you need something late at night and you won't have to concern yourself with whether your storage unit is open at the time you need an item. You'll also have the peace of mind that comes with knowing your items are safely on your property, where you can keep an eye on them.
This may be even more important in a business setting, where time is money and every minute counts. Going back and forth to get machinery, documents, or key materials can be a major drain on your business. Keeping items on site allows you to have them at your fingertips when you need them. This can help maximize both productivity and output every workweek.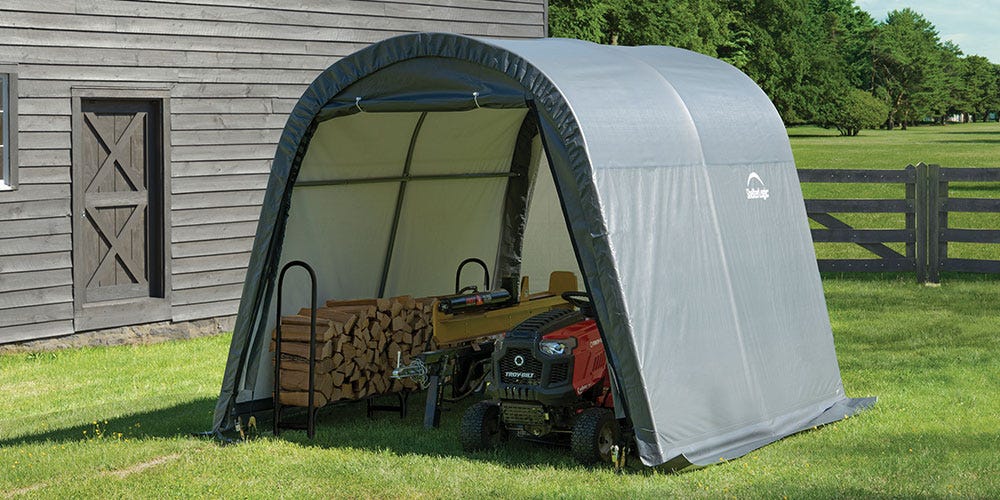 Shop for Temporary Sheds Today!
Once you experience the many benefits of temporary storage solutions, you'll wish you had purchased one sooner. Whether you're looking for a temporary shed or something larger, you'll find exactly what you need at ShelterLogic.
All of our outdoor storage buildings are durable and built to last, offering you incredible value for your money. Take a look through our inventory today and don't hesitate to contact us with any questions. Our experienced sales staff is happy to help you weigh your options so you can choose the perfect temporary storage solution for your needs.