Has the weather been chasing you indoors? It can be hard to enjoy your backyard when it's too sunny or too cold. If you're tired of fighting with the elements, building a sunroom addition is a stylish way you can make the most of your yard. A sunroom addition can transform your backyard. Building a sunroom will enable you to enjoy your yard year-round and relax outdoors without worrying about the weather. With a sunroom kit from SOJAG, you can easily add style and value to your property. Read on to learn how to build a sunroom addition in your yard, and get ready to spend more time outside.
Advantages of Building a Sunroom on Your Property
A sunroom addition brings incredible value to your property. They're designed to let in natural light while still protecting you from the elements. Sunrooms, also called solariums, provide endless possibilities for backyard fun and entertainment. Let your imagination run wild with a sunroom addition. You can easily create an outdoor living room, reading nook, or craft room. You can host a family dinner under the stars, or enjoy a relaxing evening with the perfect view of the garden.
Expand Your Living Space
A well-constructed sunroom is the perfect addition to any home. A solarium will expand your living space by giving you a versatile room in your backyard. Turn your sunroom addition into a home office, a workout room, or even an outdoor entertainment room. With a sunroom kit, you can easily make the most of the outdoor season without worrying about the heat, cold, rain, or bugs.
Enjoy Greater Convenience
A sunroom addition provides shelter the whole year, and you can leave your outdoor space set up year-round. You won't need to pack up your patio furniture in the fall or put it up again in the spring. A sunroom also protects your furniture from the elements, so you won't need to worry about the cushions getting wet during an unexpected storm.
Increase the Value of Your Home
An outdoor space adds flair to your yard and increases its curb appeal. A premium sunroom kit from SOJAG will help you transform your outdoor space into a backyard oasis that will increase the value of your home. Sunrooms and solariums add square footage to the property. A versatile outdoor space makes your home more attractive to future buyers, improving your property value. A sunroom addition is a simple project that doesn't require a large investment or any major construction.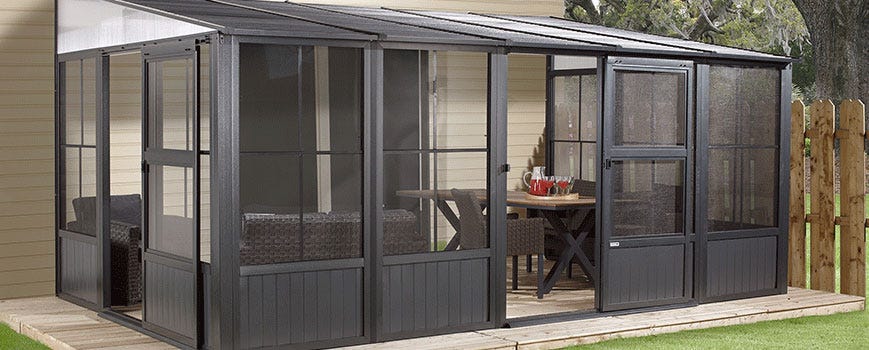 Types of Sunroom Additions
SOJAG sunrooms are made with a durable aluminum frame and galvanized steel roof panels. If you're wondering how to build a sunroom on your property, it doesn't get any easier than purchasing sunroom kits from SOJAG. Clear PVC windows and mosquito netting will protect you from the elements while giving you a floor-to-ceiling view of your yard. There are two main types of sunrooms.
Freestanding Sunrooms
Freestanding sunrooms can be placed anywhere in the backyard. These sunrooms are the perfect outdoor space for creating a relaxing meditation room or for sheltering your hot tub. Building a sunroom will transform your yard by adding a premium, stylish living space. Freestanding sunrooms can be built away from the house. They have a durable, four-wall design that will create an inviting interior space in your backyard. Sliding windows and large doors can be opened or closed to suit the weather.
Wall-Mounted Sunrooms
Wall-mounted sunrooms are secured to an exterior wall of your home. They're often installed on a wooden deck or concrete pad. Wall-mounted sunrooms have three walls, and the exterior wall of your home creates the fourth wall. These sunrooms can be a perfect addition to your back deck. Building a sunroom in front of your sliding back door extends your living space into the backyard, and you'll be able to walk from your back door directly into the sunroom. Solarium wall units from SOJAG create an intimate space where you're protected from the elements. You can choose from a selection of styles and materials to match the exterior of your home.
Gazebos, A Third Option
You can also transform your backyard with a gazebo. These outdoor shelters will protect you from the sun so that you can spend your Saturday afternoons sipping iced coffee in the shade. There are hardtop gazebos and soft top gazebos available in a variety of wonderful styles and configurations.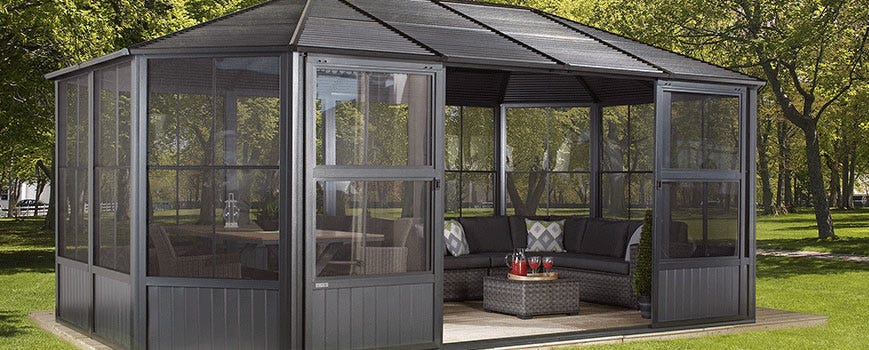 Choosing the Right Sunroom Addition
With so many fantastic options available, how to build a sunroom that blends seamlessly with your life can be daunting. Not only does it need to be easy to build and functional for your family, but it also needs to look great in your backyard. When it comes to choosing the right sunroom, look for a durable structure that's built to last. These are some of the factors you need to consider when choosing a sunroom.
Year-Round or Seasonal Use
First, decide if you're going to use your sunroom year-round or seasonally. If you plan to use your sunroom only during the summer months, you can opt for a temporary structure you can take down at the end of the season. Lightweight solariums and gazebos are great for fair-weather seasonal use. For year-round use, you'll want to consider permanent options that are sturdy and durable. There are both freestanding and wall-mounted options that are great for year-round use. You can even use a gazebo all year long. Using a gazebo cover during the winter months will protect your gazebo during cold and stormy weather. This enables you to use your gazebo in the winter or to transform your gazebo into an outdoor shed to protect your patio furniture.
The Size of Your Sunroom
Before you choose the right sunroom addition, think about what size of outdoor space you want to create. If you're going to make a small relaxation or yoga room, you should choose a smaller sunroom. If you plan to create a large outdoor dining room to host family holidays, you'll need a larger sunroom.
The Size of Your Yard
You'll also need to consider the size of your yard, and make sure the sunroom fits in the space you have without looking out of place. For wall-mounted sunrooms, measure the wall and find a sunroom that looks great in the space.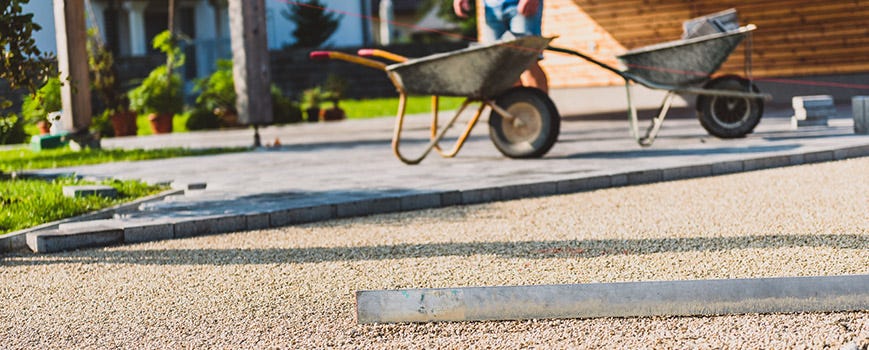 How to Build a Sunroom Addition
Building a sunroom doesn't have to be complicated. In fact, SOJAG sunroom kits are easy to build. You won't need to alter anything on the outside of your home or build onto your existing home structure.
Where to Build the Sunroom
First, deciding where to place your sunroom is important. When you're ready to build the sunroom, start by deciding exactly where you want to place your sunroom. Consider the time of day you will use your sunroom, and what part of your yard gets the most sun. You'll also need to make sure the ground is level under the sunroom, and that the area has good drainage.
Laying the Foundation
A great sunroom starts with a firm foundation. If your yard is level and dry, you may be able to build your sunroom directly on the lawn. However, placing your sunroom on a good foundation will provide better support for your furniture, and allow for proper drainage. Depending on the kind of sunroom you're building, you may choose to build a wooden deck or pour a concrete foundation. This provides a great base for a year-round sunroom. Laying a good foundation is especially important if you're building a wall-mounted sunroom against your house.
Anchoring Your Sunroom
You have several options when it comes to anchoring your sunroom or solarium. For example, you can use drive anchors, easy hooks, auger anchors, or even spikes. You'll need to consider the kind of sunroom you're building, as well as the soil or foundation under the sunroom. You can use our anchor guide to find out which anchors will be the best for your sunroom and location. Remember that these are general suggestions about anchoring your sunroom. You will need to research your options carefully to ensure you're using the right anchoring system.
Setting Up the Sunroom
Once you have a firm foundation and know how you're going to anchor your sunroom, all that's left is building the sunroom! Sunrooms from SOJAG have prefabricated panels that are easy to assemble, so your sunroom will be up before you know it. After building the sunroom, you can focus on decorating your new favorite room. Finding the right furniture will set the mood and transform the sunroom into the perfect outdoor space. You can create an outdoor kitchen, make a playroom for your children or grandchildren, or design the perfect outdoor dining room.
Get Started on Your Sunroom Addition
Modernize your home with a contemporary sunroom that makes the most of the natural light. Building a sunroom on your property will add style and value to your home, giving you an amazing outdoor living space you can enjoy all year. Find an attractive sunroom from SOJAG to create a perfect outdoor space in your yard.[/vc_column][/vc_row]