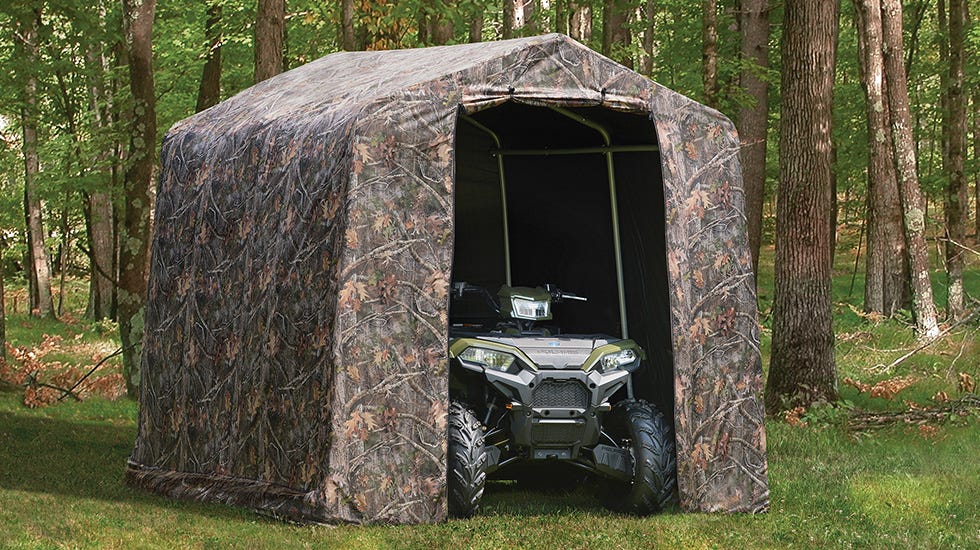 With summer coming to a close, one could argue this might be a hunter's favorite time of year. It won't be long before you're enjoying the crisp, fall air at the top of your tree stand. Whether you're tracking deer or turkey, a camo hunter shed is a must-have item for any serious hunter. Adding a portable storage solution to your land can only up your hunting game!
Our Camo Hunter Shed: A Hunter's Secret Weapon
You already know
how useful your shed can be
in your own back yard. But stop for a minute and think about what you can do with a camo hunter shed when you're on the prowl for deer. If you're looking for a place for additional woodland storage that won't break the bank, Shed-in-a-Box Camo is your answer. This peak-style shed is a durable option when you need a place to store your decoys or hunting wear. Benefits include:
A fabric cover to keep your valuables dry and safe from rough weather, made with genuine TruTimber camouflage print
Water-resistant and UV treated inside and out to resist fading, mold, and mildew
High grade steel frame
Shelterlock Stabilizers for added stability
Double-zippered front door
Store Anything on the Fly
When you plan on hunting for hours on end without a storage solution nearby, you can only utilize what fits inside your vehicle. By adding a camo hunter shed to your property, you open up a new world of possibilities. Now, you can store your hunting gear right where you need it. Not sure which decoy will work best? Bring multiple choices, and store your extras in the shed.
More than a Storage Option
If you think outside the box, your camo hunter shed can be more than just a place to store your hunting gear. If the quality fabric cover keeps your belongings out of the elements, it can act as a resting area for you, too! If you need a quiet spot to eat, recharge, or restock, this temporary storage solution turns into a temporary shelter and rest area for you. If the skies open up and you need a dry place to wait out the storm, your camo hunter shed will do the trick. If you're in a pinch, you can even use it as a blind. The only limitation is your imagination!
Your After-Season Answer
When hunting season is over, moving the camo hunter shed to your home to store gear in the off season, that's a great option too. If you'd rather leave your shed on the hunting ground, you can choose from one of the many
Shelterlogic sheds
to add to your yard for a dedicated place to store hunting wear.