Heavy duty portable garages from ShelterLogic Group are built with strength and durability in mind to keep your belongings safe season after season. Whether storing lawn and garden items, automobiles, or seasonal décor, a shelter solution can protect your belongings from rough weather and thieves.
While these heavy-duty portable garages can stand up to Mother Nature year-round, inclement weather and natural wear and tear can take a toll eventually. Instead of purchasing an entirely new structure, ShelterLogic replacement covers breathe new life into your shelter without breaking the bank. Here are simple ways to keep your shelter looking new for years to come.
Reasons to Purchase ShelterLogic Replacement Covers
Natural wear and tear: Heavy duty portable garages are manufactured to last year in and year out. But even a garage cover with incredible durability can suffer from natural wear and tear due to consistent exposure to the elements. If you find your garage cover looking dingy or appearing tattered, it may be time to look into ShelterLogic replacement covers for an updated shelter.
Weather damage: Perhaps the biggest threat to any outdoor storage building is inclement weather such as heavy rain, harsh wind, snow, hail, and even extreme heat. If the all-steel frame of your shelter is still in good condition, but there is a rip or tear in the garage cover, simply purchasing ShelterLogic replacement covers can elongate the life of your unit.
Additional protection: It's possible that your storage needs can change depending on your location, climate, or industry. Instead of purchasing an entirely new storage solution to increase protection, you can purchase thicker or thinner ShelterLogic replacement covers depending on the type of protection needed.
Warranty extension: When purchasing a new garage cover from ShelterLogic, you will be able to enjoy a warranty extension on your unit. This additional benefit will protect your purchase as well as elongate the life of your shelter.
New color: You may simply want to provide a new aesthetic for your new backyard by choosing to purchase brand new ShelterLogic replacement covers. Choose from a variety of colors for a stylish new aesthetic without having to purchase a entirely new storage solution.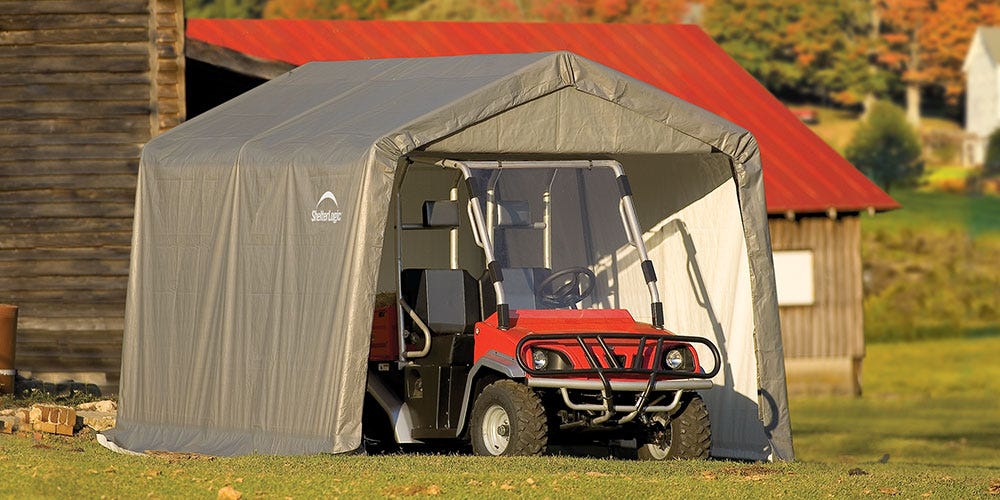 How to Order Replacement Garage Covers from ShelterLogic
Once you've made the decision to purchase replacement garage covers, the process is simple to order:
Find your cover number: The corresponding cover number is generally located on a white tag or sticker on the interior of the cover.
Enter cover number: Once you find the cover number, enter the reorder part number on this page. Make sure the number you found is on the cover itself, and not on any other part of the structure like the back panels.
Decide which cover to purchase: There are a variety of different choices when it comes to replacing the cover on your garage. Decide on which weights and strengths work best for your needs including:
Standard Cover
UV treated
100% waterproof
1-year prorated warranty
1-year warranty for panels
Heavy Duty 14.5 oz. Cover
UV treated
100% waterproof
10-year prorated warranty
3-year warranty for panels
Ultra Duly 21.5 oz. Cover
UV treated
100% waterproof
15-year prorated warranty
3-year warranty for panels
Ways to Keep Your Shelter Looking Like New
Purchasing a fabric outdoor storage building is an investment that can pay off for years to come if you properly maintain the structure as a whole. Here are several techniques to perform in order to ensure your garage stays in good working condition for as long as possible.
Conduct Frequent Inspections
You should always keep an eye on your structure no matter the season. That's because little problems can turn into costly ones if they aren't fixed in time. Always make sure to:
Look at the frame: Take a quick look at any tightening bolts or connectors to make sure they're in place. If you see any type of sagging or structural issues, address immediately.
Inspect the cover: The cover should be without tears or rips to keep belongings inside as safe as possible. Simple wear and tear can eventually turn into a larger problem if it isn't fixed.
Ensure perfect fit: If you notice any strain on the ribs of your structure, it could mean the cover is too tight. If the cover sags, it may be too loose. Make sure the cover fits snug like a drum for optimal performance.
Check Entire Structure Quarterly
Heavy duty portable garages need more than a once over following each season. This is an importance maintenance ritual because each season brings its own unique challenges to your structure. Before inclement weather or a change in seasons, always make sure to conduct a thorough check of the following:
Ratchets: Make sure the ratchet connections are properly attached. There should be no slack in the webbing, and if there is, you can give the ratchet a few clicks.
Rib connections: You should always check your rib connections to keep your structure in proper working order. If the cover is too tight, you may notice a strain on the ribs which could lead to tearing if you don't loosen the garage cover.
Bungees: Bungees can tear down over time as they contend with weather. If they are tearing or frayed, replace them as needed.
Prepare for Inclement Weather
When you know a storm is on the way, make sure to clear debris from the roof of your shelter to prevent further damage. Whether there are tree branches, leaves, or even snow accumulating on the roof of your shelter, it can only get worse with inclement weather. Make sure to remove anything from near your shelter that could turn into a projectile and damage your cover or the structure itself. Always make sure your shelter is closed and secure before any rough weather.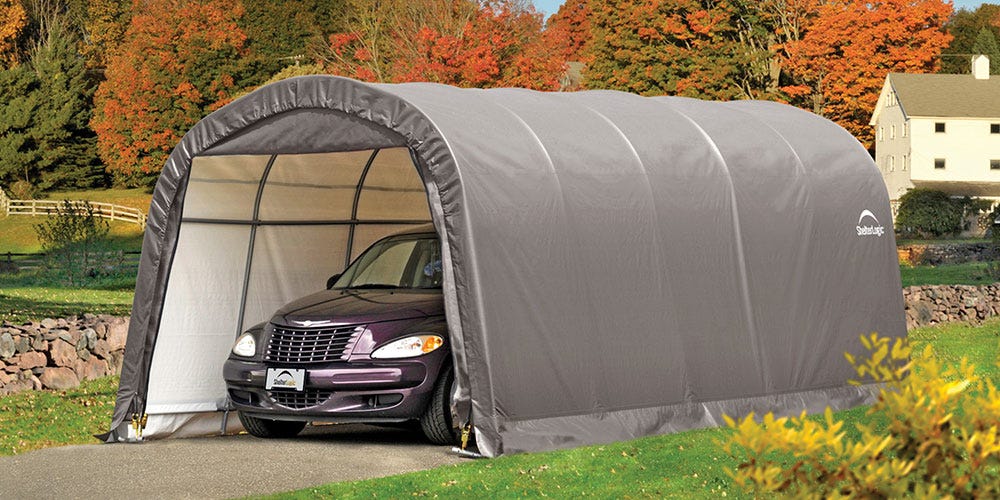 How to Properly Clean Your ShelterLogic Garage Cover
Keeping your shelter clean is one of the most important things you can do for the overall functionality and aesthetic of any storage solution. Here are tips to properly clean a garage cover for the best performance.
Clean inside and out: The inside of your heavy-duty portable garage is just as important as the outside. Make sure to properly clean both to combat mold and other environmental threats to the garage cover.
Avoid harsh chemicals: Ammonia-based solutions should always be avoided with fabric structures. A simple mixture of soap and water will get rid of mildew and other dirt buildup without damaging the fabric.
Avoid power washing: While power washing may seem like a quick way to clean your garage cover, it can do damage to the fabric. Instead, use a soft tool to gently wipe away dirt and rinse with a hose when finished.
If you follow a regular maintenance schedule and clean your storage solution properly, your fabric shelter should last for years to come. But when it is time for a new cover, there is no need to purchase an entirely new shelter when you can buy ShelterLogic replacement covers at a fraction of the cost of an entirely new building. Whether you have changing storage needs or need to give your shelter a renewed look, ShelterLogic makes purchasing a new garage cover easy and cost effective for years of convenient storage.