Come wintertime, having the perfect 
outdoor storage building
for your vehicle and snow removal equipment is invaluable. Whether you're storing your automobile or a snow blower, you can ensure your belongings will stay safe in a tarp building.
Strong, sturdy fabric garages and fabric sheds are excellent, affordable tarp buildings that can handle tough weather all year long. They're great for keeping vehicles and plows ready for action, as well as for storing your offseason gear and equipment.
However, it's important to make sure your tarp building is prepared for the possibility of snow or other winter weather. Before winter comes, fabric buildings need to be cleaned and inspected to confirm they are up to the task.
We recommend you take the following steps to make sure your tarp building stays in great condition this season.
Give Your Tarp Building a Full Pre-Season Inspection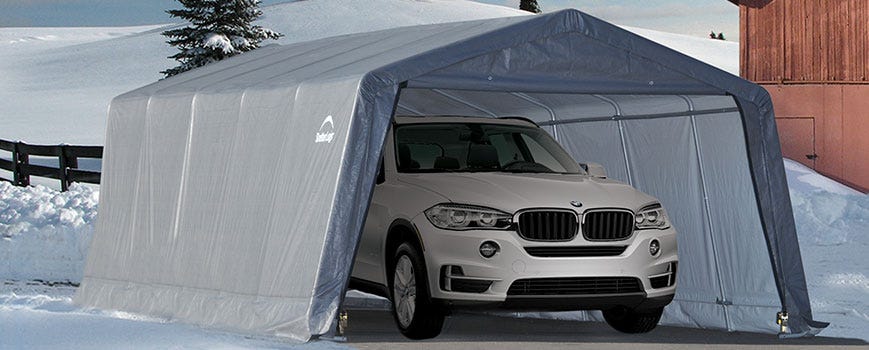 When you glance at your fabric shed or garage, it may look like it's in perfect condition. The cover may lay flat, the door may roll up and down, and the zippers may zip just fine. However, that alone doesn't mean your tarp building is ready to take on a potentially long, harsh winter.
At the beginning of each season, including the winter, you should do a full inspection on your tarp building. Before the first snow comes in, you want to check for any tears or structural issues with your building. This way, you can proactively fix any issues before the wintry weather comes and potentially make any issues worse.
We recommend you take these steps to ensure your automobiles, winter equipment, and more will be sheltered from the elements:

Start by Properly Assembling Your Tarp Building
Whether your tarp building is up year-round or just seasonally, proper assembly is crucial for ensuring a sturdy, safe structure.
If you are putting your fabric shelter in time for winter, then simply follow your
instruction manual
to a T. If you keep your storage unit up all year long, make sure the bolts on the frame are secure and the cover is taut to the frame.

We recommend that you give the cover of your shed or garage a quarterly inspection to ensure a proper fit. If the cover of your tarp building does not properly fit, the chance of it ripping or tearing will increase.
The cover should be taught like a drum, but not any looser or tighter.  A fabric shed or garage cover should not be attached too loosely or too tightly. If there is slack in the webbing or it has a baggy appearance, then the cover is too loose. If significant strain against the ribs of the shelter is evident, then the cover could be too tight.
Your cover may fit perfect in the summer, but fit snugger to the frame in the winter. There's a scientific reason for this, and it's called thermal expansion. When your fabric cover gets warm, thermal expansion increases and causes the material to expand. When the material cools off, the thermal expansion decreases and causes the cover to shrink.
Determine what type of tarp building you have and what kind of cover tightening method it has. Then follow these directions to loosen the cover in the winter (or to tighten it if it's too loosely attached):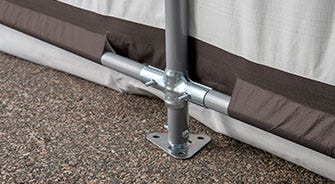 Sliding Cross Rails: 
Loosen the clamps on the cross rails and pull the cover taught against the ribs. Once the cover is taught, you can tighten the cross-rail clamps.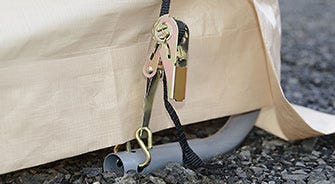 Ratchet Rails: 
There is a ratchet at every bay that connects the cover rail and ratchet rail. If the cover is too tight, unlock the ratchet to give it some slack. When the cover is loose, give the ratchet a few clicks until the cover is taught.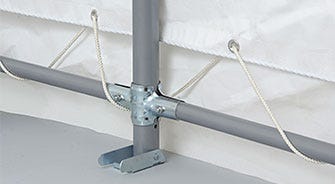 Lace Connections:
 Start at one end of the lacing and pull the rope in sections toward the other end. When you reach the end of the rope, untie it, pull the slack out, and re-tie that end.
Winter happens, and it's not always pristine and friendly. Fierce winter storms will hit, and temperatures can fluctuate. Because of thermal expansion, it's a great idea to give your cover a regular maintenance check during the winter.
Cover Repair or Replacement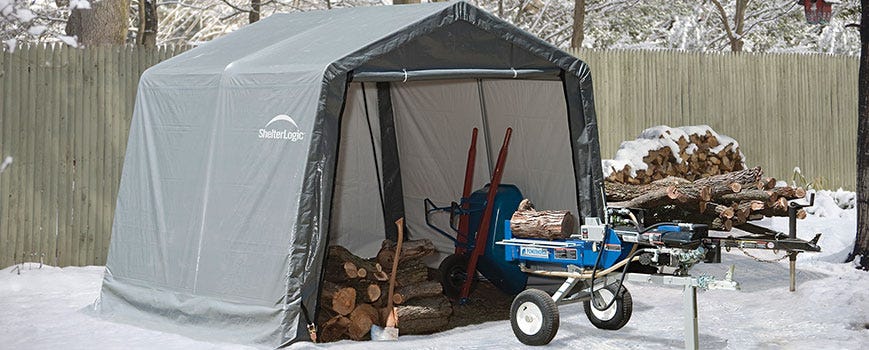 Although tarp buildings are built strong and made to last, years of rough weather could potentially cause damage to a fabric cover. If you notice a tear, puncture, or rip, it's important to fix it immediately.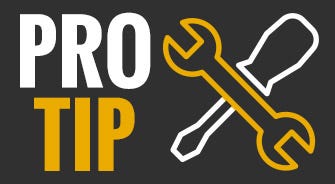 You don't need to order a new tarp building if your cover wears out, or you want a stronger cover. Replacement cover kits can be purchased for your ShelterLogic shed or garage.
Sometimes, some duct tape will fix a simple tear up to three inches long without a visible tape line. If you've had your structure for multiple years and you think it could benefit from a new cover, you can consider buying a replacement cover for your specific tarp building.
Choosing a Replacement Cover
Replacement covers for your ShelterLogic garage, shed, or storage building come in a variety of different cover weights and strengths. To help you choose the best replacement cover kit for your needs, we've created this comparison chart: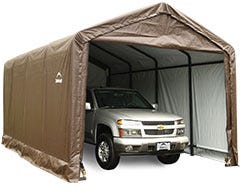 Standard
UV Treated
100% Waterproof
Weight: 7.5 oz.
1-Year Prorated Warranty
1-Year Warranty for Panels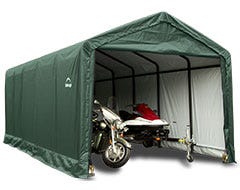 Heavy Duty
UV Treated
100% Waterproof
Weight: 14.5 oz.
10-Year Prorated Warranty
3-Year Prorated Warranty for Panels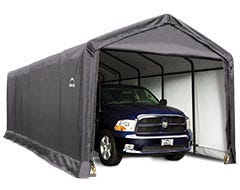 Ultra Duty
100% Waterproof
UV Treated
Weight: 21.5 oz.
15-Year Prorated Warranty
3-Year Prorated Warranty for Panels
Keeping Your Cover Clean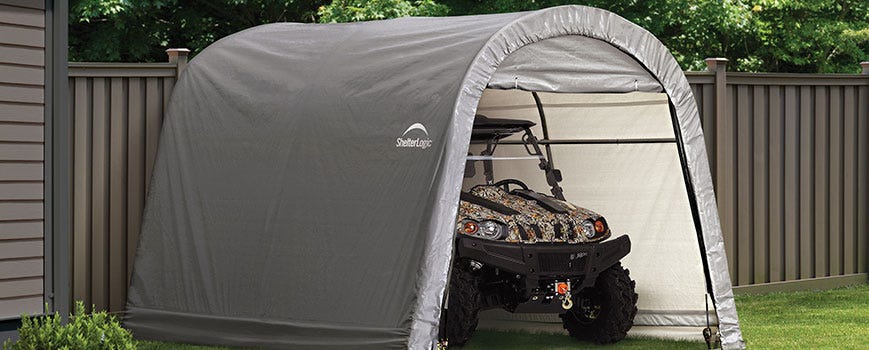 Cleaning the cover of your tarp building periodically will work wonders. Keeping the fabric free from debris will help elongate the life of your garage or shed.
When you keep the cover of your tarp building clean, it makes accumulation of rain and snow more difficult. In fact, snow, rain, leaves slide off a clean fabric roof much easier than it does a dirty cover. The more often you clean your tarp building cover, the less chance that mold or mildew will grow on it.

Pre-Season Cleaning
Whenever there is debris, dirt, mold, or other visible accumulation on the cover, you should clean your tarp building. At the very least, you should clean your tarp building when the seasons change, as you conduct your quarterly inspection.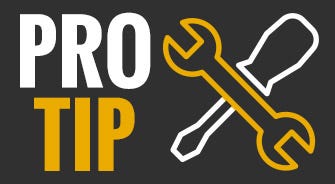 If you plan to dismantle your tarp building for the season, clean it while the cover is on the frame. This will make cleaning the cover of your shed or garage much more manageable. Let the cover and frame thoroughly dry before you store your tarp building.
Four tips to properly clean the cover of your tarp building: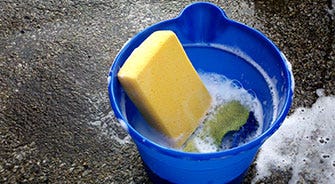 Use a Mild Cleaning Solution: 
Be gentle with your tarp building! We recommend you use a solution of dishwashing detergent and warm water to clean the cover of your tarp building. Do NOT use ammonia- or bleach-based cleaner, as it can cause damage to the cover. When you are done cleaning the cover, you can use a garden hose to rinse it off.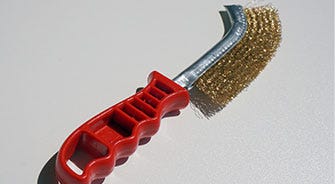 Avoid Abrasive Cleaning Tools:
 You don't want to puncture or tear the cover of your tarp building. Therefore, we recommend you use a sponge or a soft brush without sharp edges to clean it. Never use a pressure washer to clean or rinse the cover, as that can damage your tarp building's cover.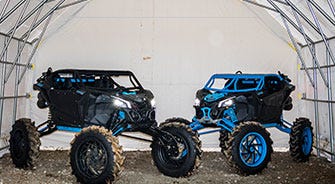 Clean the Cover Inside and Out:
 While more debris will be visible on the outside of your tarp building, it doesn't mean the inside isn't dirty. The inside of the cover is just as dirty! Plus, cleaning the inside will eliminate fungi, mold, and other pathogens that may not be visible to the naked eye.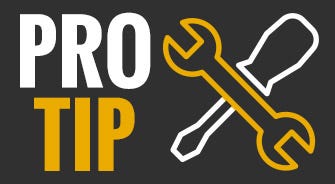 Keep Your Building Clear of Debris: Remove leaves from the cover of your tarp building as soon as you see them pile on or stick. Wet leaves can stain the cover of your tarp building. After you remove the leaves, you can spot clean the area with a solution of dish soap and warm water.
Keep Snow and Debris Off Your Tarp Building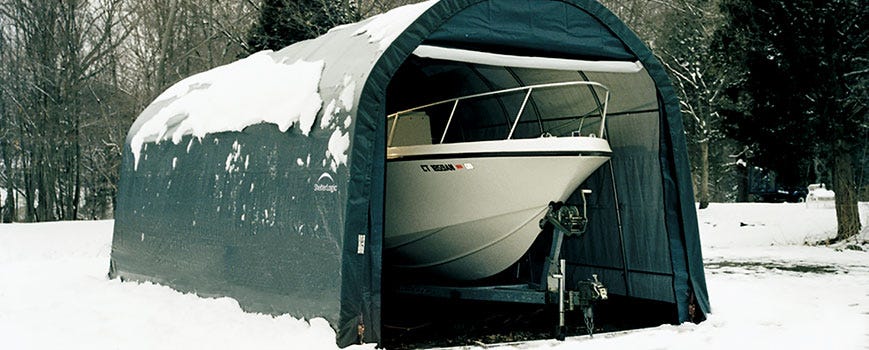 Even if your tarp building is snow-load rated*, snow and ice should be removed as soon as possible. While it may be tempting to use a roof rake, it may have sharp edges that can damage the cover. You should immediately remove the accumulated snow or ice from the roof carefully using only a soft sided broom, mop, or comparable tool.
When removing snow from your tarp building, it's also important to alternate sides as you go. For example: remove a small section of snow from the left side, then an equal section from the right side. If you just remove debris from one side at a time, it can strain your tarp building's anchors, and cause them to loosen.
Depending on the location of your shed or garage, twigs, branches, and tree limbs may fall on your tarp building. To avoid puncturing the cover, always remove these by hand. Even if branches or limbs are resting near but not on the unit, inspect the cover and frame for damage.
Always remove snow, ice, and other debris from the outside of the structure. If you try to remove debris by poking the roof from inside the unit, as it could damage the fabric.
Anchor Management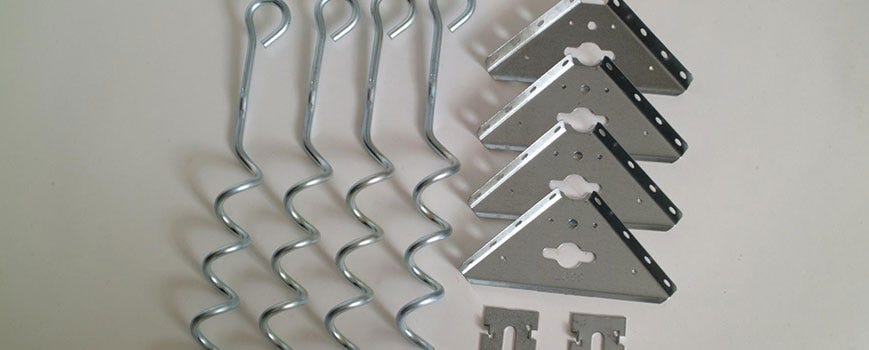 Correct anchoring of your tarp building is crucial for overall safety and performance. Anchors can come loose or go missing, and cause your tarp building to shift positions and even tip over. We recommend one anchor per leg of your tarp building.
If you are missing anchors, or your anchors appear to be wearing out,
you can order replacements here
. When you need to purchase anchors, you need a few bits of information. First, you need to know what sort of surface you plan to anchor your tarp building to. Then, you need to know what model structure you own, and how many legs it has.
You can learn more about selecting the proper anchor for your tarp building in our
Anchor Quick Guide
.
Proper Winter Care Will Make Your Tarp Building Last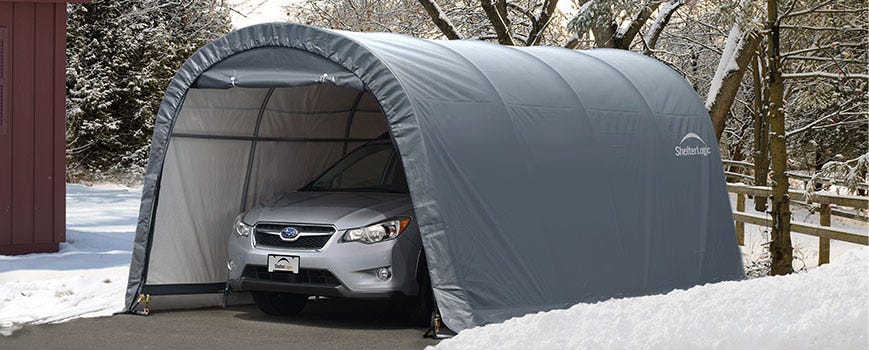 These proactive tips will help keep your tarp building safe through winter's fury. By always inspecting your building and stopping trouble before it starts, you can rest assured your storage solution will be safe through the chilly temperatures this season. For more on how to maintain tarp buildings year-round, 
click here
.
* Wind and snow loads given are for reference only and assume a securely anchored frame according to local building codes and ordinances. These have been calculated using combined snow and wind load provisions in accordance with ASCE 7-05. These calculations are based on an unoccupied, fully enclosed building. Local building code requirements vary by location; conformance to local codes is the responsibility of the purchaser.