Traditionally, carports are used as a protective covering for vehicles. The idea is that they can be a shelter without taking up too much space visually or size-wise and still offer you a way to keep your car safe in inclement weather. However, carports can do so much more than being a place to park for a while. If you have been wondering for a while, "how can I use a carport?" you might be surprised how many ways to use a carport there are.
If you have a carport that you want to do more with or are considering investing in one but want more bang for your buck once you do, then this is likely the article for you. You can look into the creative side of the carport and make it multi-functional in so many fun or practical ways.
What a Carport Does Best
First, let's cover the original and often predominant function of the carport. A carport is mainly used to provide a protective space for your vehicles. It offers shade and weather protection for them even if you don't want or don't yet have a garage. They can protect against various dangers for a vehicle.
These simple structures are much more versatile than you may think, though. You can utilize your carport for all kinds of things. This might be necessary if you have built another protective structure for the car, like a garage or another carport, or have recently gotten rid of your vehicle. Now is your chance to reimagine what your carport can become.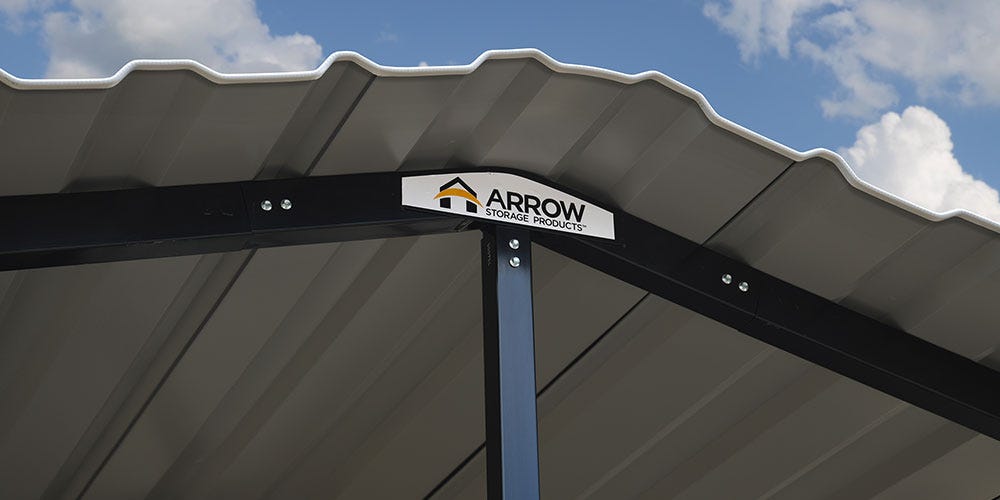 5 Unique Ways You Can Use Your Carport
The following five broad categories help you get an idea of which avenue you might want to follow while you change up the way you use your carport. We then go into a little more detail to further explore them.
1. Outdoor Workspace
There is rarely space inside the home for anyone to have a workspace involving big tools and even bigger projects. If you have always wanted an outdoor workspace, a carport is a great way for you to get one without having to build an entirely new structure that you might not even have room for in your outdoor space. A carport doesn't take up that much room, but it can be artfully used as a workspace.
If you are worried about the carport not having walls and allowing rain or dampness around your machinery, you can quite easily remedy this problem. For most steel carports, for instance, you can quite easily attach two sheets of galvanized steel to the sides so that only one or two sides are left open, depending on how you position it.
Types of workspaces that people have converted their carports into include spaces such as:
Backyard office space
Car repair workshops
Welding and fabrication workshop
Woodworking shop
Construction and repair workshop
Even if you don't see your preferred form of outdoor tinkering on the list, it is still likely that a carport can provide the cover and the space you need.
2. Office Pavilion
Another interesting option you can use as you try to diversify your carport's uses includes using it as an office and outdoor pavilion. Now more than ever, this option can hold even more value. As the COVID-19 pandemic saw restrictions of spaces for businesses and how we can interact with each other, outdoor areas became even more of a commodity than ever before. They represent a space that is easier and safer for people to meet whether they are on break or need to meet outside the office.
If you live in an area that frequently gets rainy or even very sunny weather and want to protect your staff members from the conditions or provide a more comfortable place to meet outside, consider using a carport. You can use it in an office-related setting as:
An outdoor break area
A space to hold outdoor meetings
Cover for an office party
3. Public Shade
As we have already seen, having a carport doesn't mean you need to keep it in a fixed space in your backyard until you can figure out what you want to do with it. There are many more creative ways to use a carport by bringing into the community or integrating it as part of a business.
You can uniquely use your carport by making it a piece of public shade. Many spaces need protection that functions well for the general public. Whether it be rain or shine, it is always nice to have a cool, dry place to sit. If you are considering using your carport to better your community, then consider using it as a:
Cover over or nearby a play area
Shelter for an open-space bus stop
Shade over a picnic area
Shelter over restaurant tables
Taxi ports and bus stops
4. Deck or Patio Cover
If you have a patio area and have yet to get a gazebo, or you want to repurpose your carport as a patio cover, then this is a great way to get more value from your carport shelter. Using a carport as a patio cover will create patio shade so you can enjoy a BBQ or to relax with friends and family outside in the warmth of the summer. If you want to use your carport as a patio cover in your yard, try:
Using it to create shade for your deck's grilling station
Provide sun protection for your patio or other outdoor sitting areas
Shade a portion of your garden to protect those plants that can get burned
5. Extra Storage Space
Maybe you don't have the desire to move your carport to another part of your yard or community but still want to use the space that it covers. Another unique way that is a little more passive and doesn't require much maintenance or movement is to use it for its storage space. If you are worried about dampness, rain, or other inclement forms of weather from getting in, or perhaps even prying eyes, you might want to add walls or join your carport to another building with a wall.
Since carports provide protection from both the sun and poor weather, you can easily use them to protect items from fading or the heat. If you want to store other materials that might be sensitive to the weather under an open carport, use sealed plastic tubs to store your material and keep them safe in the carport.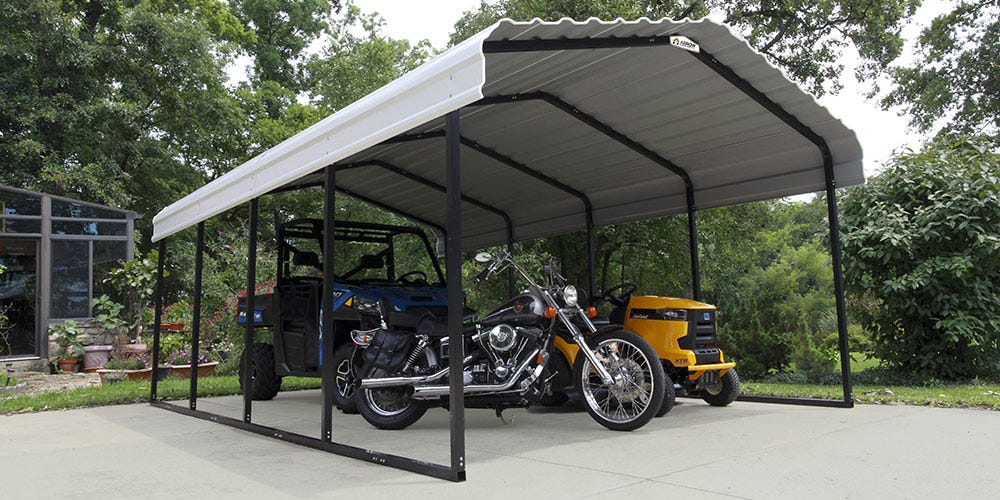 Carport Styles and Options
There are multiple types of carports that you can use for any of these purposes if you don't already have one. Since they have so many potential functions, the usage option you choose will partially determine the kind of carport you want. You also want to consider the kind of weather it will have to put up with to successfully and safely have it store or cover what you want.
Detached Steel Carport
A detached steel carport is one of the more common options for a carport. Its metal roof protects whatever you have underneath it from heavy snow and rain. Keep in mind that the steel roof might sound very loud if the rain comes down hard over the top of it and you choose to work or eat underneath.
Steel carports are heavier than other options so they will stay in position even through very windy weather. Some of them are bigger and bulkier and may take quite a bit of effort to move around if you want to take them from one place to another, but there are lightweight steel carports to choose from as well.
Detached Fabric Carport
Fabric carports are some of the most mobile options. They typically don't have as heavy a snow load capacity and might be carried off by the wind easier if you don't secure them well. However, picking them up and moving them around isn't as much of an issue as it can be with a heavy-duty steel carport.
Attached Carport
You can also choose between an attached and detached carport. The attached carports have a side that is meant to fasten securely into the wall of your home or other supportive structure. No matter the material, these are unlikely to move or to blow away.
Revamp the Carport
Whether you are looking for a new space for your workshop or simply don't want to waste the protective space that your carport offers after you rehome your vehicle, there are plenty of options for you to revamp your carport's purpose. If you are looking for a new carport to convert, there are always great product options just waiting for you at ShelterLogic.