Boats can be one of the best joys of life. The water, sun, and wind in your hair can create a fun and unique experience every time. The only drawback to owning a boat is finding a way to store it. Storage options for a boat tend to be numerous but expensive.
Dry-docking is perhaps the most recognized best option for boats, especially in areas where weather conditions can be poor throughout the winter months. The problem with that is you have to have a place that you can use that is safe and secure. While you could pay for a storage facility, those costs can be very high month to month. That is why you may want to consider creating your own storage at your home. Carports for boats could be a great solution for boat storage.
What Is a Carport?
A carport is a structure that is built to cover the boat. It can be used for vehicles and RVs, too. In short, the structure provides a covering over the top of the boat, and while it is not typically fully enclosed, it provides enough protection to keep the boat out of the way of harsh winter weather. There are various options to choose from, including those that are built to be more of a year-round system and those that can be taken down when your boat is in the water for the season.
Why Is a Carport a Practical Boat Storage Solution?
As a luxury vehicle, you want to protect the value of your boat, and a carport can be a viable solution for that. Carports are freestanding structures, which means they can be much more affordable to install and far less difficult to set up. They tend to have very durable roofs with steel or a wooden beam to create a supportive structure.
A carport is also a great choice because it can be more flexible in terms of storage needs. You can choose from a range of sizes to fit most boat sizes and types. As a flexible storage solution, carports can be an excellent choice.
Using a carport to store your boat is also a good way to keep your property neat and tidy. You can design them to hold more than your boat, depending on your size needs. That means that you can store your other watercraft and supplies in this space as well. As long as they can be exposed to the weather, a carport is the perfect solution for just about every type of storage solution you need.
What's more, with the carport, you can easily back in and position your boat within it without having to worry too much about striking the edges. You can even have enough room around the boat to work on it and under it.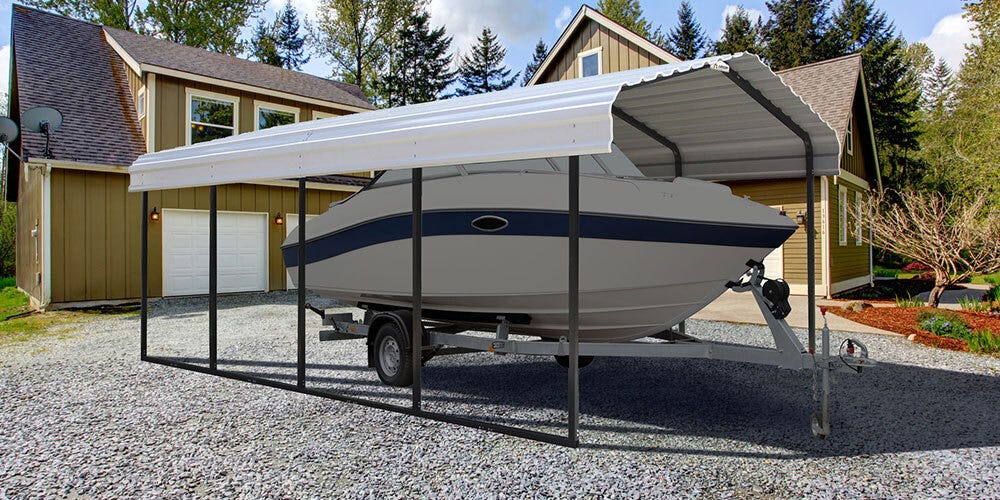 Is Carport Storage Better for Short- or Long-Term Storage?
As you consider carport storage solutions for your boat, think about what your needs are specifically. For those who need out-of-water storage of their boat, a carport works well. You can use it for as short or as long as you need. If you don't get your boat out into the water this season, it is likely that your report solution will continue to be an excellent choice for a longer period of time.
It is important to consider those long-term goals carefully, though. Since a carport does not have sides that completely enclose the boat, long-term use of it may not provide enough protection in some climates. That is especially true in cold, winter climates where ice and storms can be a problem.
When it comes to short-term storage, boat storage through carports is an excellent choice. It typically does not take a lot of time or hard work to get a carport set up, or at least not as much as other types of storage solutions. That means that you can get it ordered and installed within a short few days to weeks, depending on the help you have. If you have run out of storage solutions at the last minute and need to get your boat out of the water, carports work well.
can use it for short-term needs, too, such as dry-docking your boat so you can make repairs on it. Because it is a faster solution to install and it can be easily taken down when not in use, it works well for these types of short-term emergency needs.
Can You Enclose a Carport for Long-Term Storage?
There are a few options to consider here. First, if you want to create more long-term solutions for your carport, you may want to convert it into a garage-like space. Depending on the type you select and your overall goals for use, it may be possible to transform it by adding walls and other fixtures.
Depending on the type of carport you have, it may also be possible to simply enclose it without using traditional drywall walls. You can use metal systems to create a structure that is more durable that can work for long-term needs. This type of work could require a bit of creativity, but it can, in the long term, create a space where you can store your boat for years to come.
If you own a 10 x 15, 12 x 20, or 20 x 20 ft. Arrow Carport, you convert it into a fully-enclosed structure with a carport enclosure kit. The covers attach easily to the carport using supplied bungee cords and will protect your boat and other stored items from inclement weather.
How Do I Winterize My Boat Before Storing It in a Carport?
This type of boat storage provides overhead protection for your boat. It typically does not provide protection on all sides, which means your boat may be exposed to the elements. In areas where there are a lot of storms or high winds, be sure to position the carport in such a way that it is less likely to be blown down or place it close to another permanent structure that can provide some protection for it.
Knowing that some areas are exposed, it is important to winterize your boat so that it is less at risk for damage. Here are a few things you need to consider when it comes to winterization. Be sure to check with the owner's manual to learn as much as you can about the best way to winterize your boat (to make sure your warranty remains in place). These tips are just for some guidance to get you started:
Be sure to use a stabilizer in the fuel system. You need to run the engine after using it to help protect the engine.
Work to take steps to protect the engine itself. You may wish to fog it using a fogging solution. This helps to prevent corrosion. It is also a good time to change the oil and fill the engine block with antifreeze. Follow the recommendations of your engine manufacturer.
Be sure to pay close attention to the batteries and the water system on board. You will want to follow manufacturer guidelines in this area, too.
The cabin needs protection as well. Wrapping your boat will help to keep it dry, which is necessary since the carport you are buying is likely not to be waterproofed.
Do a deep clean on the boat before storing it. This helps to remove as much of the debris and materials from it that could cause damage over time.
Also, note that the carport may afford you more time to take on some of the repair tasks you need to complete. Taking care of these now may help protect your boat throughout the winter months.
How to Choose a Carport for Your Boat
When you've recognized the money-saving benefits that carport storage can offer to your boat, it is time to consider the options in purchasing one. Carports for boats have to be selected properly, based on the size of the boat as well as the overall budget you have. It is also important to consider the amount of space you have to dedicate to the boat storage.
You may want to choose a more durable option, such as metal carports or attached carports, since you are protecting a very valuable investment. Most of the time, these will provide protection on at least two sides, giving you ample protection for your boat. If you are in a warmer climate, fabric carports can be a good option and a lower cost but be careful in areas where there are high winds.
Finally, base the size of the carport you purchase on your boat. It is often better to choose a carport that is wider and longer than your boat, so you have room to store it and move around it with ease. Be sure to consider the height carefully, especially if you plan to elevate the boat enough so you can work on the bottom of it during the season.
Using a carport for the storage of your boat is a sensible and feasible option. For many people, it is an excellent choice because of the amount of money it can save you over time, especially if you have been relying on other storage solutions. Be sure to take a few minutes to choose the right carport for your boat to get it just right.