A wall-mounted gazebo is a terrific structure to get the most from your patio or deck even in the winter months. Whether it uses steel, polycarbonate, or fabric, a wall-mounted gazebo can allow you to use your patio or deck throughout the year. You might have questions about wall-mounted gazebos: What is a wall-mounted gazebo? Why would I want one? What's the difference between a hardtop and a soft top? Can I use it to drink hot buttered rum outside in the dead of winter? (Yes, yes you can.) Below, we answer all these questions and more.
What Is a Wall-Mounted Gazebo?
Just as you'd expect, a wall-mounted gazebo, sometimes known as an attached gazebo, is a gazebo that connects to the outside of your house. SOJAG offers hardtop and soft top 
wall-mounted gazebos
 with sturdy powder-coated aluminum frames. These structures provide excellent sun, rain, and snow cover so every day can be a good day to relax on the patio. SOJAG's wall-mounted gazebos also come with mosquito netting and curtains to provide extra coverage and privacy during buggy summer evenings or brisk winter mornings.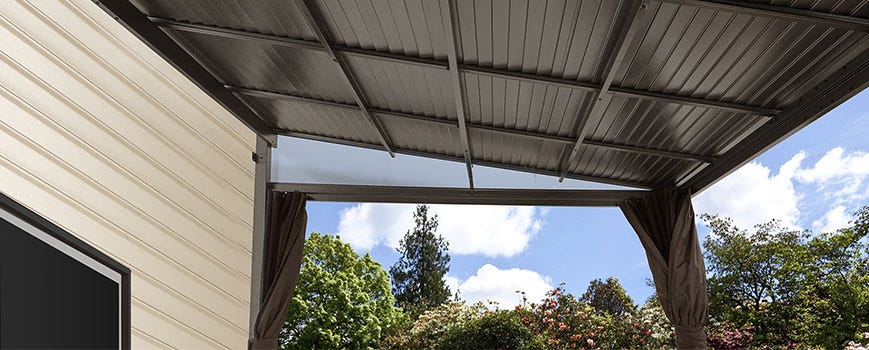 Benefits of a Wall-Mounted Gazebo
When you add a wall-mounted gazebo to your house, you add an additional living space where you can host guests or just enjoy your time outside. Sure, your patio may already be a well-used part of your house, but what happens when it rains? Chances are you aren't going out there with an umbrella to enjoy your breakfast. A wall-mounted gazebo means you can have your breakfast outside, rain or shine.
Extreme Versatility
With a wall-mounted gazebo, you can essentially treat the space as an extra sunroom or dining room. The durable structure will easily block rain, sun, and snow so you don't have to worry about your furniture getting wet or damaged by the weather. Make that space as plush, cozy, and unique as you want. Since the gazebo is right next to your house, you can easily include features that require electricity like a TV or projector without having to coordinate a whole extension cord ordeal like you would with a
freestanding gazebo
.
Close to the Kitchen
You know what they say: keep your friends close, and your snacks closer. A gazebo can help you accomplish both goals without having to truck all your food across the garden. With the gazebo just steps away from the kitchen, it makes cooking or hosting outside that much easier.
Easy Lighting
Dark winter evenings got you down? Your wall-mounted gazebo makes it easy to bring some extra light into your life with a simple patio light. With easy access to an outlet, you can decorate your wall-mounted gazebo with twinkle lights, lamps, or lanterns and enjoy the outdoor space all night long.
Great for Smaller Yards
Some yards just aren't meant for a full-blown freestanding gazebo because they're too small, but that doesn't mean you have to miss out on all the gazebo-related fun. Since a wall-mounted gazebo attaches directly to your house, you don't need as much space in the yard to make it look nice. It also means you can conveniently section off a medium-sized yard between the seating area and the garden.
Stylish Home Addition
This little structure isn't just useful, it looks amazing. Add some extra style to the outside of your house with a nice-looking gazebo that goes with your look. With SOJAG's range of colors, styles, and sizes, you can get a wall-mounted gazebo that you can be proud to show off.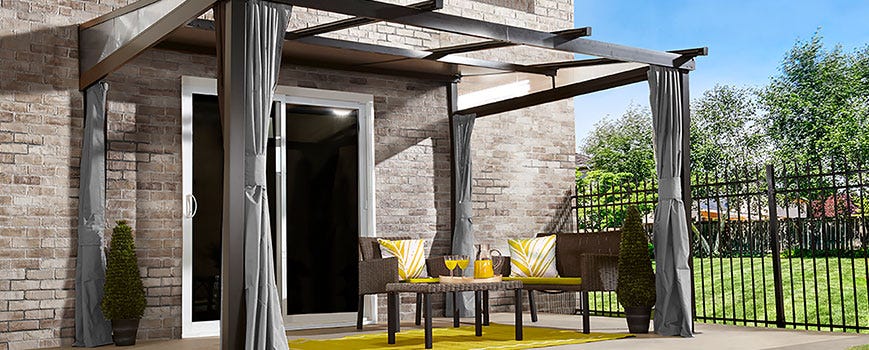 Types of Wall-Mounted Gazebos
When it comes to 
types of wall-mounted gazebos
, you've basically got two main types: hardtop and soft top. Both are great for different things so it's important to choose the best one for your situation.
Hardtop Wall-Mounted Gazebo
Durable, long-lasting, and stylish, a 
hardtop wall-mounted gazebo
 is the type of outdoor addition that's affordable and can potentially add value to your property. Hardtop can mean several different materials including aluminum, steel, and polycarbonate, all of which SOJAG can offer top-notch options.
Aluminum Composite Roof
This premium roof style offers durable protection from anything the weather throws at you. SOJAG offers the 
Budapest gazebo
: a unique wall-mounted gazebo with a retractable aluminum composite roof so you can fine-tune exactly how much coverage you want. Well-made aluminum composite panels can also easily last 50+ years.
Galvanized Steel Panels
Galvanized steel roofing is corrosion and rust-resistant. This means that you can feel confident leaving these charming house additions up all year long. The panels can protect you and your guests from harmful UV rays and inclement weather like light rain or even snow. Well-maintained galvanized steel roofing can easily last over 50 years.
Tinted Polycarbonate Panels
If you want a hardtop wall-mounted gazebo that straddles the line between affordability and structure, 
SOJAG's gazebo with polycarbonate panels
 is for you.
Polycarbonate
is a strong and resilient thermoplastic material that can last up to 10 to 20 years and is still cost-efficient. This hardtop option lets sunlight in while blocking harmful UV rays so you can have more natural light in your shelter.
Soft Top Wall-Mounted Gazebo
For a slightly more budget-friendly wall-mounted gazebo, a soft top option like 
SOJAG's Palm Springs
 is a great option. The soft top roof uses PVC coated spun polyester fabric which can last up to eight years and has a durable rustproof aluminum frame. Fabric roofs are not recommended for serious winter use though, so if you live somewhere that gets heavy snow and want an all-year shelter, we recommend getting a hardtop gazebo.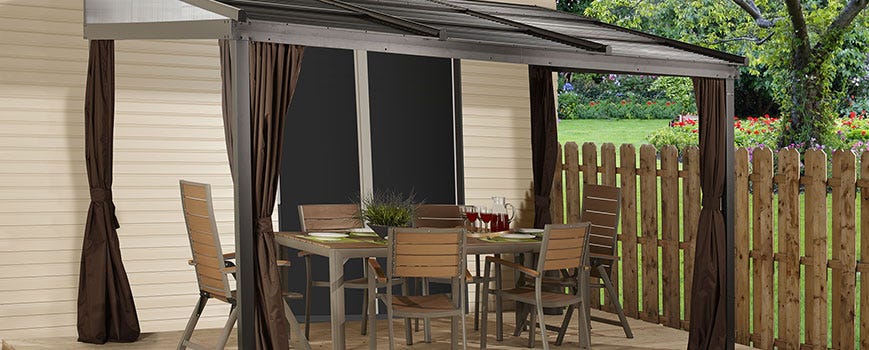 How You Can Use a Wall-Mounted Gazebo Year-Round
There are a variety of different ways you can use a wall-mounted gazebo to improve your house. From outdoor dining to a game room, here are some ways you can make the most of this outdoor space.
Outdoor Dining
Set up a dining table and some chairs under your wall-mounted gazebo and you've got yourself a lovely place to enjoy a meal with friends and family. The attached wall-mounted gazebo is close enough to the kitchen to make it an easy alternative to an indoor dining room that provides fresh air and time to unplug from electronics.
Outdoor Kitchen
Take your outdoor dining experience one step further and put the 
whole kitchen outside
. With overhead coverage, you can include a grill, counter space, or even a pizza oven to really get the party started even when it's raining.
Outdoor Viewing Room
Want to watch the big game or host a movie night? Mount a flat panel television screen to the side of your house covered by the
wall attached gazebo
and set up your patio chairs or furniture to view the TV. Suddenly, you've got your own personal theater. For extra ambiance, you can close off the curtains and get a more enclosed touch that feels private and cozy. During the winter months, snuggle up with blankets and a space heater and you can enjoy your outdoor theater in all types of weather.
Game Room
Whether you like bonding with friends around a pool table or a board game, an outdoor space under a wall-mounted gazebo is a perfect place for it. Add a pool table or a storage bench with all your board games ready to come out at a moment's notice for when friends and family come over. Hanging out under the gazebo, you can enjoy each other's company while taking in the fresh air and your beautiful garden.
Hot Tub Enclosure
Nothing says luxury like a hot tub. That is, until it's covered in snow. But don't worry. A wall-mounted
hot tub gazebo
has got you covered — literally. With a sturdy hardtop wall-mounted gazebo, you can relax in your hot tub while watching the snowfall without it filling up your hot tub.
Relaxing Reading Area
Even if you're more of an introvert, a wall-mounted gazebo can still offer a wonderful addition to your house as a relaxing reading area to spend time in peace and quiet. Deck out the space with comfy chairs, tables to hold steaming cups of coffee and cocoa, and twinkle lights to get a romantic, cozy atmosphere. This outdoor space can be your little oasis from real life where you can enjoy the outdoors and lose yourself in a good book.
How Will You Use Your Wall-Mounted Gazebo?
Do you have other plans for a wall-mounted gazebo? Add them to the comments below, we'd love to hear about them! If you have further questions about getting a new 
wall-mounted gazebo
, our customer support is available to help you find the best option for you. Call us at 1-800-560-8383 or 
email us
.[/vc_column][/vc_row]