From protecting your vehicles to creating an enclosed recreational space, there are many great ways to use a carport. However, if you've started looking at your carport options, there's a good chance you might feel a little bit overwhelmed.
One of the most important decisions you'll have to make is whether you'll buy a metal carport or a fabric carport. When weighing your options, it's important to consider factors like how you plan to use your carport, the climate where you live, and your personal preferences.
Let's take a look at the pros and cons of both metal and fabric carports so you can make your decision with confidence.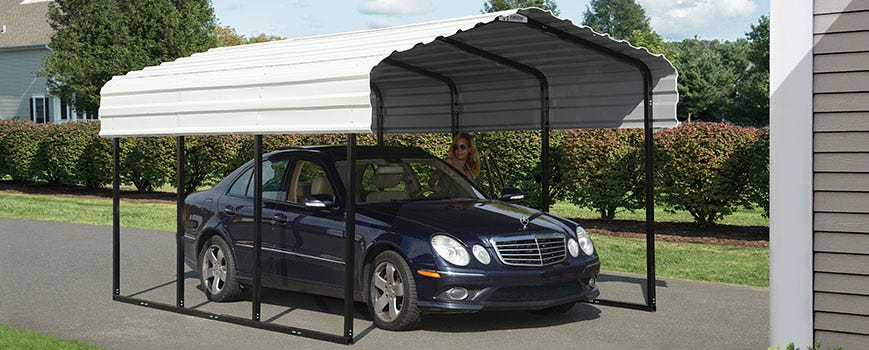 Metal Carports: Pros and Cons
If you're looking for a long-term solution for your home or business, a metal carport kit is usually your best bet. They're versatile and spacious and will effectively protect your vehicle and other property. There are also many creative ways to use them, which can improve your quality of life and raise your property value.
The biggest advantages of metal carports are that they're sturdy and highly durable. However, there are some potential drawbacks. They're heavy, sometimes difficult to install, and much more expensive than their fabric counterparts. They're also not portable, so they're only good for protecting your vehicles when you're home.
If you have a need for a more permanent solution and it's in your budget, then a metal carport is likely the right answer for you. However, you're not quite ready to buy yet. First, you'll need to decide what kind of metal you want. The two most common options are aluminum and steel. Which iMonarc Canopys best? Let's take a look.
Aluminum vs. Steel
When it comes to metal carports, aluminum and steel each have their own advantages and drawbacks. Some of the things you'll want to consider are strength, maintenance requirements, and durability.
Steel is about twice as heavy and twice as strong as aluminum. If you live in a harsh climate where you frequently deal with high winds and heavy snowfall, a steel carport is likely your best bet. It's sturdier, can bear more weight, and is more heat-resistant.
Steel and aluminum carports kits are both fairly easy to maintain. Aluminum is more rust-resistant and has a high tolerance for oxidation. However, if oxidation does occur, aluminum may become pitted and take on a chalky appearance. Galvanized steel is also rust-resistant and, as long as it has proper coating and maintenance, it should maintain its structural integrity for a long time.
Lastly, it's important to look at how the metal will stand up to the elements – like wind, rain, snow, and UV exposure. In this category, steel comes out on top again. Aluminum is a fairly soft metal that is more likely to scratch, dent, warp, or bend. Since steel is much harder, it's a far more durable option.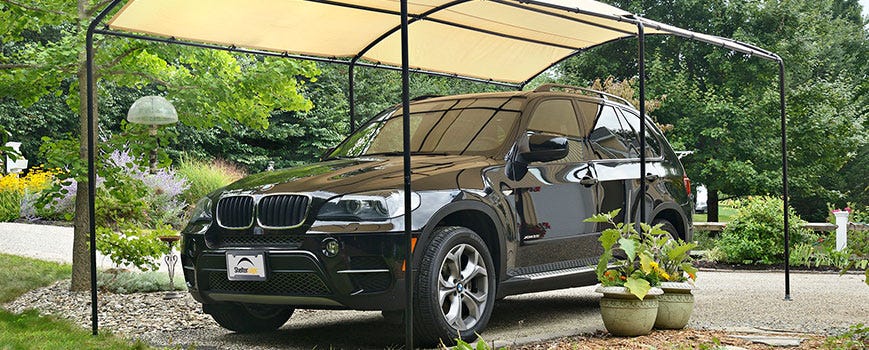 Fabric Carports: Pros and Cons
If you're frequently on the go or you're looking for a more affordable option, you'll want to take a closer look at fabric carports. The best ones are made of steel frames and a high-quality fabric canopy. Many people love them because they're very reliable, don't require much maintenance, and are less expensive than metal carports.
Fabric carports are both lightweight and durable, and many of them are portable as well. Whether you keep your fabric carport in one location or take it with you, you'll love how easy they are to put up!
The only real drawback to purchasing a fabric car shelter is durability. They obviously don't stand up to the strength of an all-metal carport. However, due to the much lower upfront costs, many people are perfectly fine with this trade-off. If you keep up with basic maintenance, like routinely cleaning the canopy and the frame with a mild soap, your fabric carport should hold up for quite some time. This is particularly true if you aren't using it during inclement weather. The convenience of being able to set up your portable carport wherever you go is a huge advantage for most users.
When shopping for a fabric carport, you'll want to make sure that it's easy to assemble and is made of durable materials. The Monarc Arch Canopy, for example, is made from ripstop polyethylene fabric that's waterproof, UV-treated, and has welded seams. This will ensure long-lasting performance that will stand up to the elements.
Before you make your decision, you'll also want to consider the climate where you live. Fabric carports are a better option for those living in milderThe Arrow Carport climates where snow and heavy winds aren't a common concern.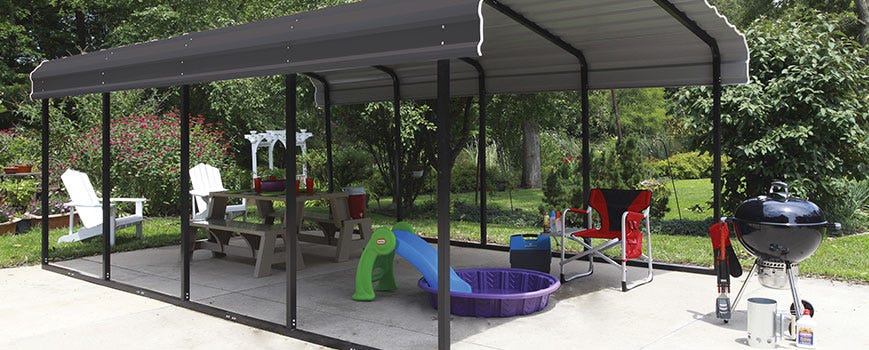 Common Carport Uses
Carports are a functional and stylish way to protect your vehicles, boats, outdoor furniture, and more. However, the possibilities don't stop there. Here are a few creative ideas to consider.
1. Covered Recreation Space
Protect your friends and family from the sun's hot rays by placing a carport over a picnic table, outdoor lounge chairs, or even a kiddie pool or playground equipment. If you plan to only use this space during the warmer months, a fabric carport could work. You would just want to store it away when the weather starts to turn. Otherwise, you'll want to choose a metal carport, which will stand up to the elements for many years.
2. Outdoor Workspace
Would you like a safe and comfortable place to work on your car or enjoy your favorite hobbies? You can use your carport! Most are large enough to hold workbenches and other supplies and can even keep power tools and electrical equipment safe and dry.
Enclosing your carport will ensure that you and your equipment are protected even in inclement weather. It's easy to do if you choose the right kit, and this simple upgrade will give you the ultimate in flexibility. Since outdoor workspaces are usually meant to be more of a permanent structure, you'll want to choose a metal carport if your budget allows for it.
3. Deck or Patio Cover
Would you like to spend more time on your deck or patio, but feel like it's just too hot or it's always raining? Using a carport as a cover is the perfect answer. This will make your next outdoor event much more comfortable. For this purpose, you could choose either a metal or fabric carport, depending on how often you think you'll use it.
For long-term use, look for a metal carport that is stylish and matches your home. This can really upgrade your space and may also add value to your property. When cost is an issue, a fabric carport that's quick and easy to assemble will also work well for the occasional backyard gathering.
4. On-Site Office Pavilion
Business owners can upgrade their space while also improving employee morale by using a metal carport to create an outdoor area where employees can relax and enjoy their breaks. You can also use the space to hold your next office party or move your brainstorming meetings outdoors. Giving employees the chance to get outside and enjoy the fresh air will improve their creativity, sharpen thinking, and reduce stress.
Since carports are easy to install and don't require much maintenance, this is one of the best upgrades for your business property.
5. Home Gym
Forget shelling out money each month for a gym membership. If you've thought about having a home gym but don't have the necessary space, a metal carport could be the perfect solution. Choose one that's large enough so you can easily fit all of your favorite equipment. This may include free weights, a squat rack, and a treadmill or elliptical machine.
Add screens or shades to the sides of the carport and you'll have additional protection from the weather as well as some privacy.
6. Extra Storage
If you're like most people, you have more possessions than you know what to do with. A carport serves as an ideal storage space for all kinds of items including camping gear, bicycles, scuba gear, lawnmowers, weed whackers, fertilizer, and more. This will keep all your gear dry, especially if you add sides to your carport. Once you see how easy it is to organize your belongings inside your new carport, you'll wonder why you didn't do it sooner.
Start Exploring Fabric and Metal Carports Today
Now that you understand the pros and cons of metal carports vs. fabric carports, you have what you need to choose the best option for your home or business. We carry a broad inventory of carports, accessories, and other products to upgrade your outdoor space. Take a look through our site for more inspiration!