When you need to declutter your house or find a place park a new ATV, motorcycle, or mower, garages and sheds are the ultimate storage solutions. But what if you're unsure of the difference between a
storage shed
and a
garage
, and which structure is best for your needs?
There are many things to think about before you choose between a
garage
and a
storage shed
. Your decision can't be based solely on what you need to store. You also need to consider the amount of space, and even your budget, before you choose.
Find out more about these distinct but similar structures, and which will be the best option for you.
What's the Difference Between a Garage and a Storage Shed
Garages and storage sheds are similar by nature. Both are
outdoor storage buildings
that are primarily used to store a variety of items. However, garages and storage sheds are not one size fits all solutions. Also, while each
building for storage
serves different purposes, they do have similar features.
Sheds
are small buildings used for storage and are usually positioned in a backyard or side yard of a residential property.
Shed storage
can be used to store a lawn mower, landscaping and gardening equipment, tools, and bulk items that don't fit in your house.
In general, a
metal storage shed
has one or two pad-lockable front doors that either slide open or swing open to provide access to stored goods. Some metal storage buildings, like garages, have a traditional roll-up door and a lockable side door. A fabric storage shed usually has a zippered front door panel, which is used to offer access or security to stored goods.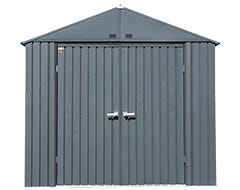 Metal Sheds
Size Options: From 4x3 ft. to 10x14 ft.
Items to Store Inside: Lawn mowers, garden equipment, landscape gear, tools, and bulk items.
Accessibility: Sliding or swining door.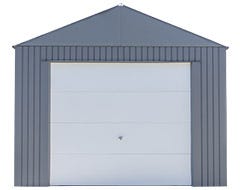 Metal Garages
Size Options: From 12x10 ft. to 12x100 ft.
Items to Store Inside: All that, plus a car, van, light truck, or an SUV.
Accessibility: Traditional roll-up door.
Both metal and fabric garages can be used to store the same above-mentioned items. However, they are also larger structures that are additionally designed to store motor vehicles ranging from cars and SUVs to vans and pick-up trucks.
How you enter each type of garage is also different. While a fabric garage does have a zippered front door, some models also include a zippered back door for easy drive-through capability. A metal garage has a traditional roll-up front door for vehicle access, and a secured rear door for easy access to stored items.
In general, garages offer more headroom than sheds. While some extra tall sheds do exist, usually it's harder to work and move around in a
backyard storage
shed, and it's also tougher to stack items high. Also, based on the height of a garage ceiling and the traditional roll-up door, it can be easier to back a ride-on mower into a garage than into most sheds.

How Much Room do you Have for a Storage Shed or a Garage?
It's not necessarily about the size of your yard: the amount of room you have will determine if a shed or a garage is the best storage solution for you. Your backyard may be a half acre, but if most of that is woods or a non-flat surface, your options could be limited to a shed. It also depends on what else you use your backyard for.
In general, a 12x12 ft. metal shed will
suit a backyard with a lot of space
, while an 8x10 ft. metal shed would work with less backyard space. If your backyard has tight space, you could get a lean-to style shed that leans up against your house or your fence. Also, if you are limited to putting a unit on a deck or patio, there are smaller
outdoor storage sheds
that can fit the bill.
If space is not an issue, then a garage of any size should do the trick. You can get a metal garage as small as 12x10 ft., as large as 12x100 ft., and many lengths in between.
For both a garages and storage sheds, it's important that you have enough room to easily gain access. The rule of thumb is that if you put either near a fence or a property line, leave at least 18 to 24 inches of space on each side or the rear. This guarantees easy access installation of both garages and sheds as well as any future maintenance.
Also, if you plan to use a shed or a garage to store a riding lawn mower or a motor vehicle, then you'll need space in front of the unit to drive it in. Also, consider the doors of your shed. If it has swinging doors, then you will need room for them to properly open.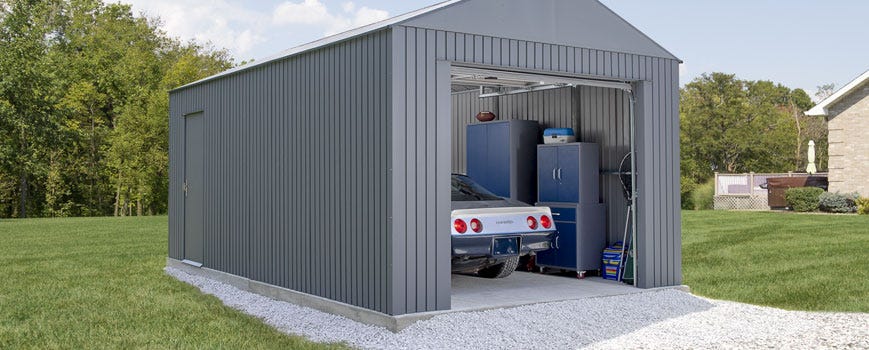 What Do You Need to Store?
How do you plan to use your
backyard storage shed
or garage? Will you use it to store an ATV, a motorcycle, or a riding mower? Is it for storage of products you don't use regularly, such as lawn furniture, sports equipment, holiday décor, or seasonal clothing?
Little things can add up. No matter what you plan to store, it's always good to plan for expansion. For example, if you think you'll need a 4x3 ft. shed for a few gardening tools and a watering cans, and you have the space, you should consider upsizing to a 5x4 ft. or a 6x4 ft. unit. That way, you'll have the room you need if you want to also store a spreader, a lawn mower, rakes, and other landscape items. If you're planning to use a shed to store a motorcycle, ATV, or woodworking tools, you may want to go with a garage instead. This will allow you enough room to also use the unit as a workshop.
Is it for Temporary or Permanent Storage?
Do you plan to use a shed or a garage for year-round storage, or will it be used as temporary swing space while you renovate your home? Is the shed or garage going to be used on residential property, will it be used at a place of business?
Fabric garages and sheds can be excellent alternatives to off-site self-storage facility. Temporary storage solutions provide a
portable, reliable, and low-maintenance storage space
for your valuables and belongings.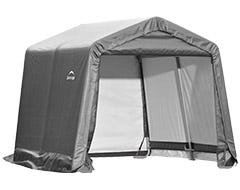 Fabric Buildings
Construction: Steel frame with a powder-coated finish, and a triple-layer, ripstop, waterproof Polyethylene cover.
Assembly: Depending on the size of the building, it can take as little as a few hours to put up fabric garages and sheds.
Portability: Can be used as a permanent backyard shelter or moved from one location to another based on your needs*.
Budget: Based on materials, a temporary shed or garage can be purchased at a fraction of the cost.
Metal Buildings
Construction: Made with top-of-the-line galvalume steel, which provides exceptional corrosion resistance.
Assembly: Erecting ready-to-assemble metal garages and sheds require excavation and a foudation, which makes it a weekend job.
Portability: A metal shed or garage is a more permanent solution that often requires a foundation or base prior to assembly*.
Budget: Metal sheds and garages are made completely from steel, which adds to the overall cost of the building.
If you are looking for a storage unit that you'll keep up in your backyard or driveway all year long, then your best bet is to get a metal shed or garage. Both metal garages and sheds are designed not just for strength and durability, but to blend in with most backyard aesthetics and home exteriors.
Although they can be used as a permanent structure, a fabric garages and sheds are designed with portability in mind. These portable structures are simple to set up and use virtually anywhere you need it. This allows for more accessible storage on multiple kinds of surfaces, including grass, pavement, gravel and more.
A fabric storage unit is built tough to keep up all year long. However, since they can be disassembled just as easily as they are assembled, they make excellent temporary storage solutions. Also, they are light-weight enough to un-anchor and move, with assistance, from one part of a backyard to another. Or, if you're using a portable shed or garage for business, it can be dismantled and moved from one location to another.
Find Garages and Storage Sheds at ShelterLogic.com
In terms of a garages and storage sheds, which storage building is best for your needs? Regardless of what storage solution you choose, ShelterLogic brands offer plenty of sizes and styles to fit your needs. See our entire selection of garages and sheds and feel free to contact us for questions or more information.
SHOP OUTDOOR STORAGE BUILDINGS
* We always recommend a properly anchored garage or storage shed. Please reference your manual for anchoring best practices or check out this anchor guide.