A gardening shed is a must-have tool for any avid gardener. It acts as a home away from home during long days tending to your outdoor space. Most importantly, it's a safe place to stow your belongings to shield them from the harsh weather.
While a storage solution is convenient, it can also turn into a hassle if it's not organized properly. It's easy to misplace small tools, gloves, and other must-have accessories that make your life easier in the garden.
To get the most from your shelter, here are 10 garden shed ideas that will transform your backyard space and your workflow.
1. Start Fresh
If you're looking to overhaul a gardening shed and need to reevaluate space, it's never a bad idea to begin by cleaning out your shed to analyze what you have inside. This will give you time to clean and make any repairs, which can increase the life span of a shelter. Once you've figured out where all your tools and belongings are located, make a storage plan. Whether you want to map this out in your head or on paper, figure out how to best utilize the space before placing items back inside. This will not only save time, but it could save money when you don't have to run to the store to buy the pair of garden shears you misplaced from last season.
2. Organize by Season
It's important to arrange items in your gardening shed in a way that will make the most sense to your way of work. One of the most popular garden shed ideas for optimum organization is to store items based on the season. For example, you may want to keep all your snow and winter tools and gear in one area of the shed so you'll know where to go as soon as the first snow falls. While some people may prefer to store items of the same size together, this method of organization will help lead you to the item you need without any confusion.
3. Accessorize Your Gardening Shed
Since a gardening shed offers limited space, it's important to maximize what you have. One of the easiest ways to store your belongings is to get creative with accessories. Two of the most cost-effective garden shed ideas for staying organized are pegboards and shelving. Pegboards are great for utilizing vertical space and allowing you to see gardening tools all in one spot. Shelving also maximizes space while keeping everything you need accessible and visible. You can purchase shelves or make them yourself if you have spare wood at the ready and some DIY know how.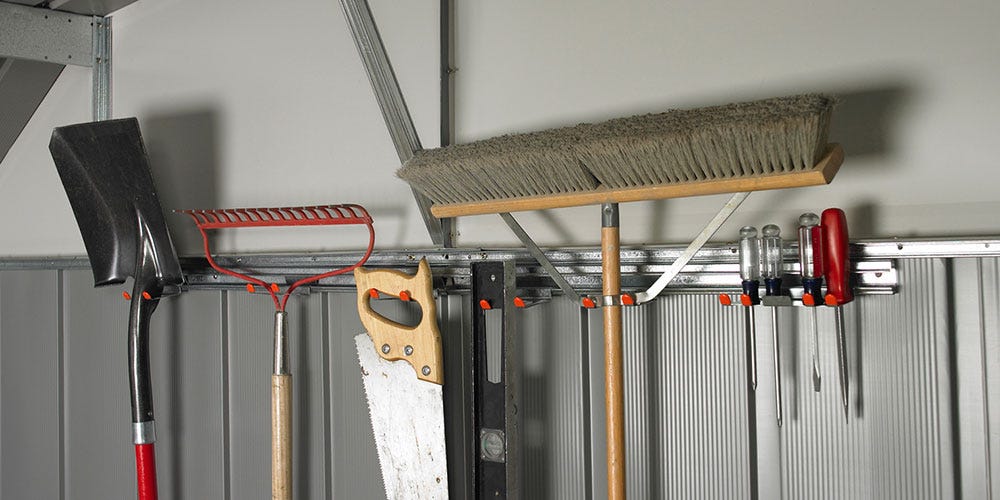 4. Reuse and Recycle
What's old is new again when utilizing spare wood or old storage containers in a gardening shed. Perhaps you have storage bins that were formerly used to organize children's toys. Now, the same item can be used to keep odds and ends like gloves, hats, or even outdoor pool toys you want tucked away. Or if you're an advanced DIYer, create your own storage drawers out of old wood for a unique and completely personalized organization system. Use plastic or metal bins you may keep in the house in your shed instead for arranging smaller items that may get lost in the shuffle. Keeping odds and ends out of the way will create a cleaner looking space and allow for a more seamless workflow in your gardening shed.
5. Stow Away Seasonal Items
While a gardening shed is generally used to organize outdoor tools to make planting easier, if you have a larger outdoor shelter, why not use it to store seasonal items? A beautiful garden cannot be truly highlighted if your outdoor space is cluttered. Transfer your deck box from the pool area into your gardening shed during the winter and store furniture cushions, pool toys, or any other items you won't need until next season.
6. Don't Forget the Exterior
One of the most overlooked garden shed ideas that really utilizes all the space your back yard has to offer is decorating the exterior of the shelter. Spending time making the inside your own is important but adding plants and pavers is a simple way to dial up the style and beautify your outdoor area. You can even create a patio or add a statue to give the gardening shed a homey feel. This doesn't have to cost a lot of money or take a lot of time to achieve.
7. Utilize Each Part of a Gardening Shed
Using accessories like storage bins and shelving are a no-brainer when it comes to easily stowing away items in a gardening shed. But when space inside your storage solution is at a premium, don't forget to use every inch of area available. Try hanging lawn equipment and other items on the interior wall, or even the front doors of your shed to increase storage space and convenience. This will open up other space in your shed for additional storage or seating.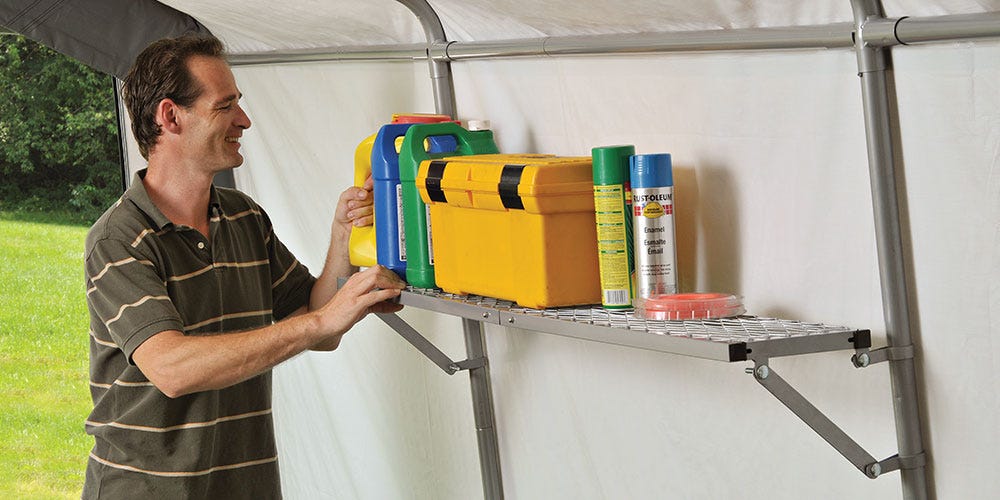 8. Create Multiple Potting Benches
Now that you've created extra space within your gardening shed, there's plenty of room to use one or more potting benches. A potting bench is an essential piece of a gardening shed, providing a comfy spot to prepare your seeds, pot plants, or perhaps just to relax in the shade. You can even create your own potting bench with extra shelving to store gardening items. This is a simple garden shed idea that can transform the way your storage space looks and feels.
9. Protect Your Belongings
Make sure to choose the right gardening shed for your climate and security needs. Summer time temperatures can wreak havoc on the items inside your shed. Some Arrow gardening sheds feature gable vents, which increase airflow and minimize humidity within your shelter. You can also pick a shed from Arrow's Classic line with pad lockable doors, providing an extra layer of security for the items inside your storage solution.
10. Keep a Calendar in Your Gardening Shed
Every gardener knows the importance of timing when it comes to cultivating the best plants or crops. That's why it's so crucial to stay on schedule by keeping a calendar in your gardening shed. Use a traditional wall calendar if there's space or get creative with hanging calendars using clothing pins and seeds. The most important part of your calendar is making sure to stay on time when it comes to seasonal tasks.
Garden Shed Ideas to Create Comfort and Organization
Gardening sheds are as unique as our homes. Considering how much time gardeners spend in this outdoor getaway, it's important to take your time when designing the perfect backyard oasis.
The best garden shed ideas make use of every corner of your shelter to contribute to a clutter-free atmosphere. The key to the perfect shed is organizing it to best fit your needs. Start by taking stock of everything you have inside and create a plan that fits your workflow and design aesthetic.
Whether you're looking to make a relaxing outdoor space complete with seating and décor, or a simple spot to tuck away pots, seeds, and tools, organizing your space will transform your backyard and create a cozy atmosphere for you to enjoy year-round.