When the sun is too hot or if rain threatens to cancel your plans, a shelter like a gazebo can keep the outdoors enjoyable. However, hot weather and storms aren't the only threat to a good time outdoors. Summer weather also brings out the bugs and hot sun, which can seriously put a damper on an outdoor soirée.
Beat insects and blistering temperatures at their own game by outfitting your structure with gazebo curtains. This expands your entertainment options by giving you the ability to block out any excess wind and sunlight on all sides.
Gazebo curtains also serve as an additional barrier against pesky mosquitoes, wasps, and other nuisance pests. This guide will explain how curtains can make outdoor time more enjoyable and give you some fun gazebo ideas for your next social event.
Why Gazebo Curtains Matter
Gazebo curtains add an extra layer of protection from outdoor elements. While most Sojag shelters come with tinted bug screens, these barriers are perforated to allow the open fresh air breezes. Bug screens grant you more exposure to outdoor elements — which is excellent when you're in the mood for full sun and wind. However, sometimes you want more privacy or protection from events such as a mild rainstorm or a day that is particularly hot.
This is why Sojag makes summer curtains that you can add to your gazebo. They are useful accessories for a shelter that needs coverage beyond bug protection. They add more privacy and shade from the sun and can block wind-driven rain.
When you have both bug screens and curtains, you get the best of your yard while leaving out all the elements that make it difficult to sit outside long-term. You don't need to slather on bug repellent or sunscreen every time you enter a gazebo with double curtains because you're entering a protected space.
Why Sojag Shelter Curtains Stand Out
While many types of curtains can be installed in outdoor shelters, they are generic and not specifically made to fit a Sojag shelter. On the other hand, Sojag curtains are made specifically for a certain Sojag shelter model and size. This makes the installation easy since each curtain set comes with panels and hooks that fit right onto your shelter.
Sojag gazebo curtains are also made of durable spun polyester which is resistant to wear, rot, and tears. Cheap curtains from a third-party source can tear, snag, and deteriorate quickly because you can't be sure if they are made for all-weather situations. However, by getting curtains made just for your Sojag shelter, you can be sure of the quality of this simple addition.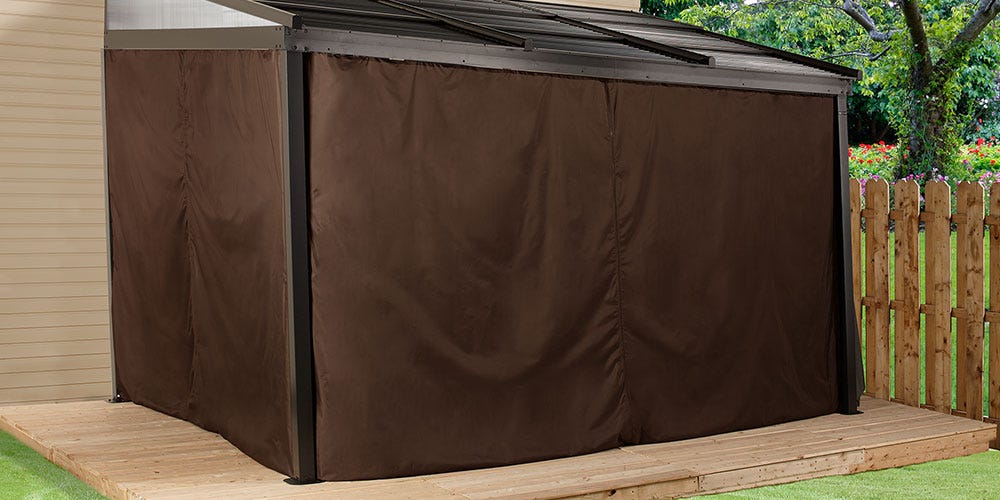 5 Ways to Use a Gazebo with Curtains
There are many ways to use a gazebo with curtains. Overall, they enhance the value, comfort, and versatility of your outdoor structure. Homeowners enjoy the additional privacy and lighting control that curtains offer. They also can be positioned to create different moods such as a 2-walled or 3-walled intimate seating area. With so many fun gazebo ideas out there, curtains offer plenty of design and comfort value to your outdoor living environment.
1. Host an Outdoor Birthday Party
If hot weather stops you from having outdoor events in the height of summer, a set of curtains can solve that problem. Hosting a birthday party outside is possible when you have a shelter that provides substantial shade. By blocking out intense sun rays from the top and side of the gazebo, so you can stay outside comfortably.
By keeping a couple of sides of the gazebo open, the structure can still remain ventilated. These optional curtain walls can also become places to mount decorations and backgrounds to make the birthday party more festive.
2. Have a Game Night
Game night inside your house is fun, but a game night out in the cool night breeze and with a camp-like feeling takes it up a notch. A gazebo with curtains can set up the mood for an intimate event while allowing you to leave other sides open with bug nets. This lets the refreshing night air in while closing off a few sides to create the ambiance of a game room.
Being outdoors makes it easier to be loud and let loose — especially if you're worried about waking up other people in your house. Having this game room away from your home (or distanced far enough in an attached structure) gives you the freedom to choose exactly how you want to spend the evening. To make things convenient, get some outdoor storage containers and keep some favorite games and decks of cards in your gazebo. This makes game time spontaneous and a snap!
3. Create a Private Yoga Studio
A free-standing shelter like the SOJAG Moreno gazebo makes an ideal yoga escape. Sun salutations and savasana poses are all the more relaxing when you can feel the morning breezes on your skin— and its bug screens can keep you adequately protected from biting insects. Getting additional curtains for the Moreno gazebo can also shelter you from abrasive winds and provide privacy for your morning zen.
4. Make a Cigar Room
Letting down some opaque curtains in your gazebo can provide the intimate ambiance that is iconic of smoking rooms. Simply leave a couple of sides open and draw two curtains down to create an angled enclave where deep conversations can happen. A proper cigar room should have an outdoor furniture set with side tables and other accessories to help you and your guests feel comfortable.
5. Cover a Playset
Outdoor play areas can be pleasant in the spring and fall but may be too hot to enjoy in the summer. Hot slides and swing sets can cause mild burns and prevent active kids from having a good time in their own yard. To keep a play area safe all year, put them under some shade. For instance, move small structures inside a gazebo, such as a sandbox or a plastic toddler slide and stairs set. This will keep high-touch surfaces shaded and not leave metals exposed to direct sunlight all day.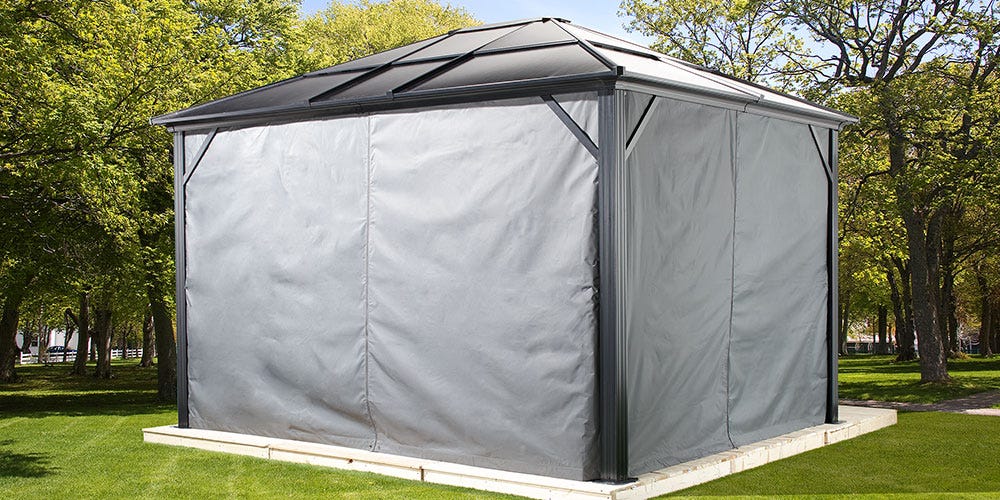 Other Fun Shade Solutions for the Backyard
If you don't want to install a gazebo on your property, there are other fun shade options to give you relief from the heat. These solutions will enhance the curb appeal of your home and boost the functionality of your outdoor living environment. Whether you want to have a cookout under some partial shade or create the ultimate haven for your hobbies, these options can meet your needs.
Pergolas
Pergolas are structures that allow some sun to peek through a roof made of spaced slats or latticed materials. They provide a custom level of protection from the sun while allowing more of nature to take over. For instance, gardeners like to grow vine produce like beans, peas, and small gourds along a pergola to maximize vertical gardening spaces.
The extra foliage also fills in the spaces naturally and provides more shade during the summer months. If you're not a gardener, you can also add more shelter by weaving a curtain between the slats. This will keep any sun from penetrating the roof in months when the heat is extreme.
The addition of curtains to a pergola would be a custom job. This adjustment can control where the sun hits during the day, allowing you to keep shade or two drawn to provide an aesthetic backdrop to an outdoor sitting area. This custom "walling" option allows you to select your level of sun protection and privacy at all times.
Storage Sheds
Storage sheds can also be used creatively if you need another place to socialize or a secure place to store your belongings. For example, they make excellent man caves and she sheds where blissful solitude and hobbies can be enjoyed. Also, if your current outdoor storage option or garage is bursting at the seams, a shed can offset the load and get you organized again.
Sheds don't need any curtains because they have four solid walls, so they are excellent for security, especially with the extra locks and side door. They also come with ventilation near the top to offset condensation, but it's a good idea to explore low-maintenance insulation options like radiant barriers and foam boards.
Sun Shades and Shade Sails
In the hottest seasons, the sun can feel hot from even the side of an outdoor shelter. Whether you have an attached or freestanding structure, having shade sails installed on the sides of an existing structure can play a large role in your comfort. Sunshades and shade sails are available in a variety of sizes so you can cover areas that require custom shapes.
If a nook near your patio is hard to cover, then a shade sail can provide a solution for you. They are also easy to install and are affordable. Shade sails can attach to trees, the side of a building, or on securely mounted posts. Shade sails come in ready-to-install kits with all the hardware you need to set up your shade immediately. Whether you need extra shade for patios, a children's park, decks, pools, a sandbox, or a dining area, this solution offers some cover for areas that are left exposed to full sun.
What Fun Gazebo Ideas Can You Come Up With?
Find a gazebo to make your outdoor living area a convenient and enjoyable place to relax and socialize. Grab a set of matching curtains while you're at it to maximize your sheltering options. Shop for SOJAG gazebos today!