People who love the beach don't ever want to see the summer come to an end. It means putting those RIO and Tommy Bahama beach chairs away and preparing for the fall.
But there are a few things you need to do before you hang your beach chairs on a hook in your shed, garage, or closet. Proper cleaning and storage of your beach chairs at the end of the season will keep them looking great for years to come.
Take a look at these beach chair maintenance tips:
Clean the Fabric and Frame
Start by removing any beach sand or debris from the fabric. A quick vacuum or shake should do the trick. Then, use a sponge and a solution of water and a gentle soap to clean the fabric and frame, and use a garden hose to rinse it off, and let the beach chair air dry.
Once the fabric is clean, rinse it off with fresh water and allow it to air dry completely. Next, move on to the frame. If it's made of aluminum, you can simply hose it down and dry it with a towel. For other materials, like wood or plastic, you may need to use a mild soap and water solution. Once the frame is clean, be sure to wipe it down with a dry towel to prevent rusting or fading. With just a little bit of care, your beach chairs will stay looking like new all season long!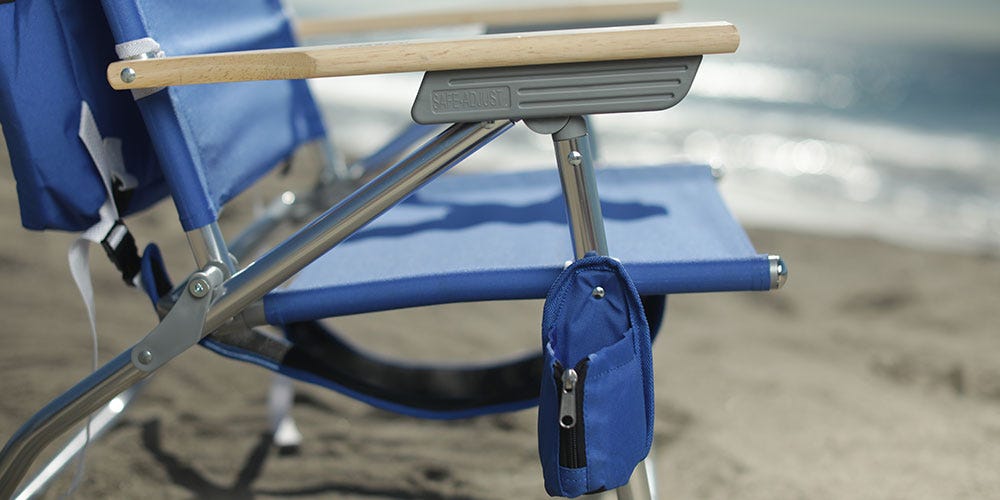 If Applicable, Apply Wood Oil to the Arms
Applying wood oil to your beach chair is a great way to keep it looking like new. Wood oil helps to protect the wood from moisture and dirt, and it can also give the furniture a beautiful sheen.
Tips for Oiling the Wood Arms:
Make sure the wood is dry: You can test this by placing a drop of water on the surface of the wood; if it beads up, the wood is dry. If it soaks in, you'll need to wait a few more days.
Don't apply oil in high humidity: The oil will take longer to dry in these conditions, and there's a risk that it will never fully cure.
Apply oil in the shade: Direct sunlight will cause the oil to dry too quickly and may result in an uneven finish.
Reapply the oil within 48 hours: As long as the first coat is dry, you can apply a second coat of oil.
Store Your Beach Chairs in a Dry Place
To avoid corrosion, mold, or mildew, it's important to store your beach chairs in a dry place. In most cases, that would be in your closet.
However, if you need to store your beach chairs in your basement, a shed, or a garage, consider storing them in a plastic storage container with some silica gel.