Adding a metal shed to your outdoor living space is an easy way to declutter your yard while creating a hideaway for gardening, relaxing, or storage. Whether you plan to spend hours on end in the shed potting plants and preparing seeds, or just want to keep it in great shape, investing in an insulated shed is a great option.
Insulating a shed can be done professionally, but with a little DIY know-how, you can learn how to insulate a metal shed to keep your belongings safe from the elements by controlling the indoor temperature of the shed. We're also here to provide you with step-by-step instructions on how to insulate your metal shed roof.
Before beginning this process, it's important to learn more about how an insulated shed can benefit your property by providing a dependable outdoor storage solution.
Benefits of Insulating a Shed
There are multiple reasons why an insulated shed is ideal for your backyard. Here are a few benefits to consider when deciding on insulating a shed:
Combating Humidity
Humidity can wreak havoc on not only your shed, but the belongings inside. When temperatures fluctuate, it can cause condensation, which can have a damaging effect on the structure, causing rust that can ruin the building over time. An insulated shed stabilizes the temperature which in turn combats issues humidity can cause.
Decrease Noise
Are you planning on using any noisy tools inside your shed? Your neighbors may not love the way it sounds, and neither will anyone inside your house. Adding shed insulation will cut down on the noise level, which may be something to think about if you live close to your neighbors.
Keep Pests Out
If storage is one of the main reasons why you have a metal shed, an insulated shed is key. Whether storing furniture, seasonal items, or children's toys, pests can invade if you're not careful. Insulating a shed will help keep your belongings safe and keep you from having to perform costly pest control methods.
Temperature Control
If you are planning on utilizing your shed to garden or just to relax in your outdoor space, you may be spending an extended amount of time inside. In the hot summer months or cold winter months, the metal shed is a great conductor of energy. This means it will stay very hot, or very cold depending on the temperature outside. An insulated shed can help to stabilize the temperature, creating a more comfortable atmosphere while you toil away at your plants. As an added bonus, this means anything you store inside will also be safer from extreme temperatures.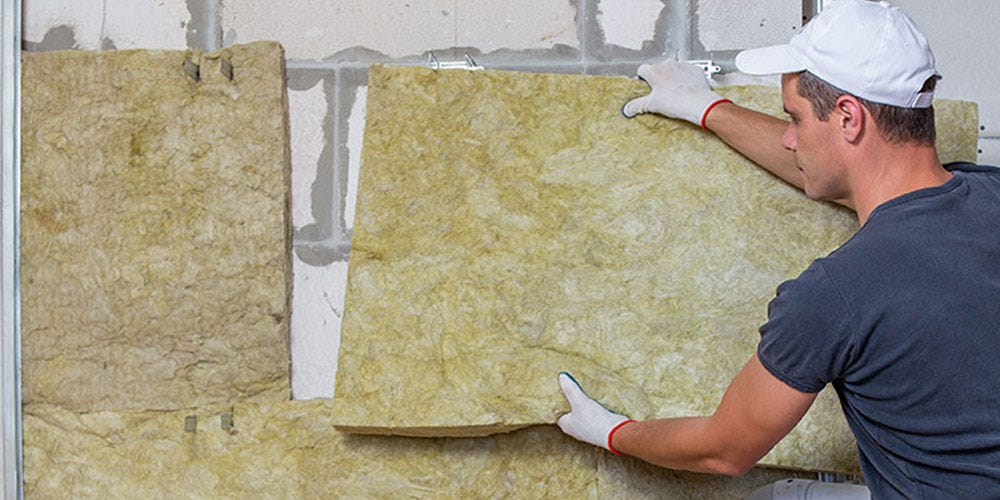 Choosing Materials for an Insulated Shed
There are multiple ways to install insulation for metal buildings. First, you should know the most popular options before learning how to insulate a metal shed.
Fiberglass batts: This method of insulation is made of plastic reinforced by glass fibers. While it may have a low cost, it will not insulate as well as other options.
Spray foam: This insulation is made of a polymer and is generally installed professionally because of a high difficulty level. It is a fantastic insulator but is also the most expensive option.
Blown-in cellulose: This product is essentially made from paper, so the biggest drawback is its lack of fire resistance. Although it is cost-effective, it isn't great at combating moisture.
Foam Board: This option provides a perfect mix of value and performance. It is inexpensive compared to spray foam, but still gets the job done and can without professional installation.
Which Material is Right for Your Insulated Shed?
When it comes to choosing which insulation is right for your metal shed, consider these three important factors:
Cost: If budget is your top priority, make sure to compare insulation options before committing to one. Fiberglass batts are the least expensive option, followed by blown-in cellulose, foam board, and finally spray foam being the most expensive insulation.
R-Value: The R-Value of any insulation product essentially measures how well it will insulate or maintain temperature within the dwelling. The "R" stands for resistance and refers to the resistance the product has to temperature changes. You'll want to choose something with a high R-Value that also fits within your budget. If you're curious about how the most popular insulation for metal buildings rates in R-Value, here is a ranking from highest R-Value to lowest: Spray Foam; Foam Board; Blown-in cellulose; Fiberglass batts
Ease of installation: If you plan to install insulation yourself, picking a product that does not require a professional might be your best bet.
When budget and ease of installation are top priorities for your insulated shed, foam board is a perfect blend of both worlds. It has a high R-Value but is still simple enough to install with a little DIY know-how. While spray foam has better R-Value, it is more expensive and quite difficult to apply without a professional. For this reason, you should learn how to insulate a metal shed with foam board if you are planning on doing the job yourself.
How to Insulate a Metal Shed Roof and Walls Using Foam Board
Once you've decided to insulate your metal shed with foam board, it's time to get started with the simple process to ensure the temperature is regulated within your shelter.
Step 1: Begin by measuring the roof and walls of your shed. It's important to know exactly how much foam board you will need to purchase prior to starting the job.
Step 2: Cut the foam board based on the height and length of the areas you need to cover. Foam board is easy to cut, so you'll be able to customize the boards based on where you need insulation.
Step 3: Apply aluminum tape adhesive to the back of each foam board and place the boards on the area of the shed you want insulated. If you see any gaps as you go, simply cut a new piece of board to fit the gaps to ensure the entire shed is covered. When applying boards to the roof, make sure there is an air gap between the roof panels and the foam board
Step 4: Cover the board with a fireproof vapor barrier for added safety. Because foam boards can absorb water and are not fire resistant, this is an important step to help prevent condensation and prevent damage from a fire.
After installation, it is important to keep an eye on the foam boards from time to time to make sure they are not peeling. If you notice any breakdown, simply install a new one in the area you notice the wear and tear.
How to Insulate a Metal Shed Without Breaking the Bank
Metal sheds are a smart investment when it comes to creating extra storage space along with decluttering your yard. It makes sense to protect your investment by preventing condensation and rust by installing insulation. It's a cost-effective and simple way to keep your shed comfortable while protecting any valuable items you may have inside.
If you are comfortable with DIY projects, learning how to insulate a metal shed roof on your own will save you money and elongate the life of your shelter.