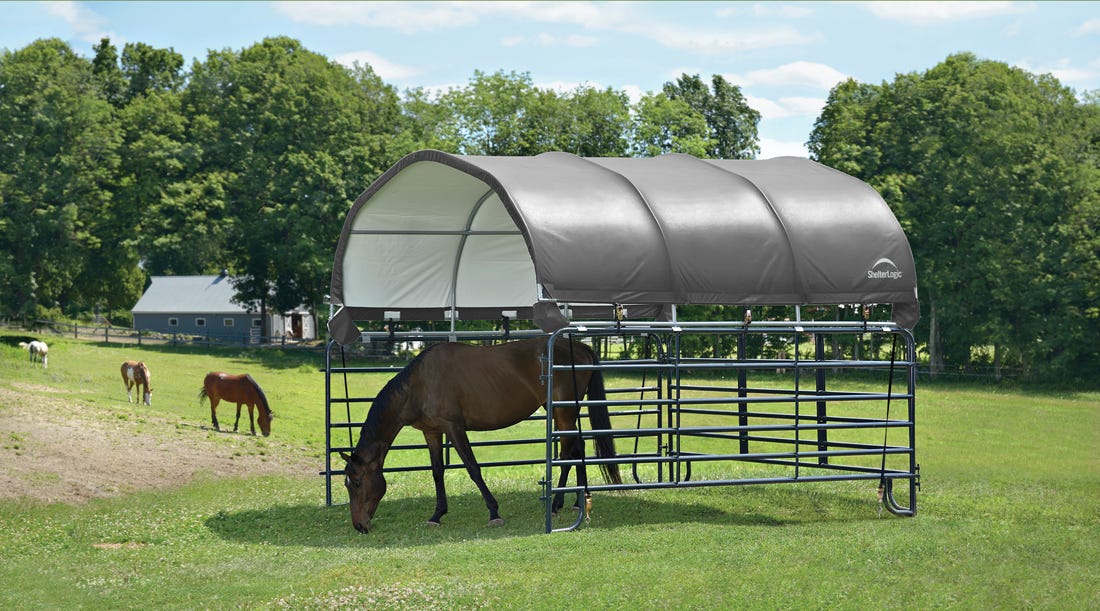 Get reliable shade and shelter where your animals need it most
We've studied the needs of livestock and equine ranchers, farmers and hobbyists, and found that one of the biggest challenges lies in the ability to provide reliable shade and shelter for animals
anywhere
in the field.
---
The Corral Shelter Livestock Shade: Innovation in Equine
Through the years ShelterLogic has manufactured a variety of equine shade and shelter products that provide reliable protection from the elements – but most of these have been designed to remain stationary.
Our latest initiative was to develop a shade that is functional, durable, and with increased portability: one that would be different from our line of
Run-In Sheds
, but would maintain the same level of quality engineering as our line of equine products.
We set to work to bring innovation in shade and shelter; and we're proud to announce the release of
the all-new Corral Shelter livestock shade.
---
Innovation in Design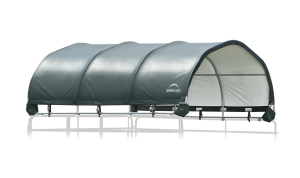 In order to create a more portable shade, we decided to incorporate existing materials and products that are found on most ranches already.

The goal was to build a product that could conveniently attach to the frame of most panels and gates. Unlike other equine shade structures, the Corral Shelter has been engineered to serve as an add-on to an existing set of panels and act as a cover for corrals and gates (not included).
With its convenient universal cover design (patent pending), the frame allows the shade structure to fit securely on most panel tube profiles – be they round, square or oval to provide adequate, reliable shade wherever your panels and fencing are located.
---
Increased Versatility
The Corral Shelter is also quite versatile. With its wider, more spacious arc rib profile, it is able to provide animals with more headroom and also increase your volume of overall storage. So whether you use the Corral Shelter as a protective covering to store hay and feed in the field, or use the structure to shade livestock like horses and alpaca that may require more headroom, the Corral Shelter is a convenient, multi-functional solution.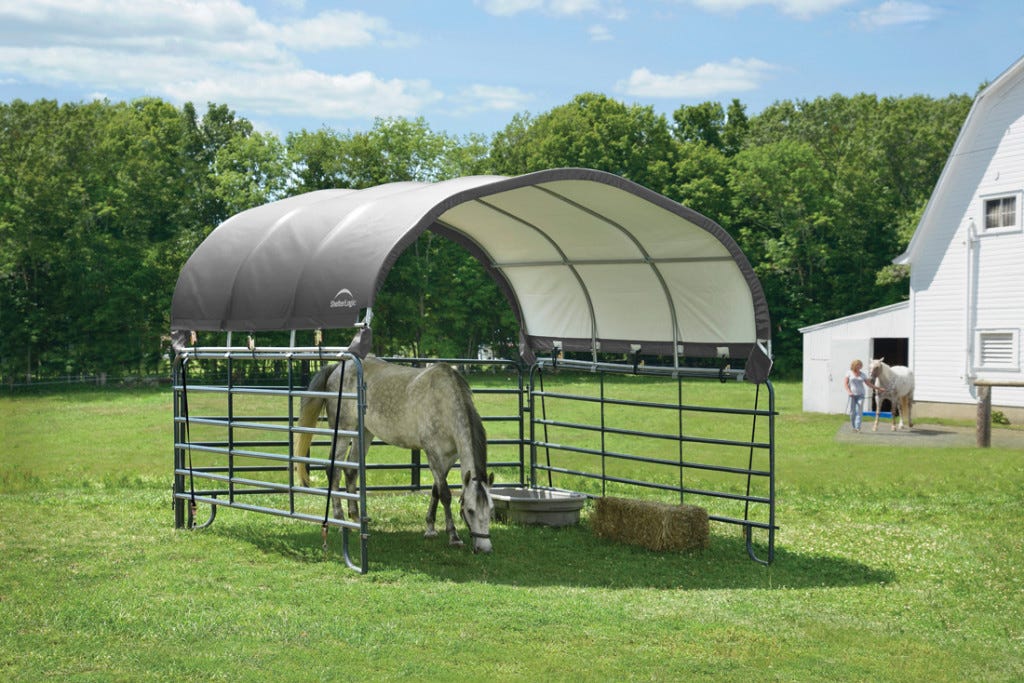 Innovation in Equine, Built in the U.S.A
The Corral Shelter is a 12 x 12 ft. livestock shade that will be available in a variety of strengths: the ultra-durable galvanized version, the heavy-duty premium powder coated version, and the standard retail version.
The ultra-durable galvanized Corral Shelter is made to order and is proudly manufactured in the United States. The unit's frame is made of 100% ASTM A500 galvanized steel and will be available to order in two cover weights: the Heavy Duty PVC 14.5 oz available in gray, green, tan and white; and the Ultra Duty PVC 21 oz available in green or white. The unit features patented ShelterLock Steel Stabilizers and anchors securely to the ground to provide reliable shade for livestock, horses, and agricultural storage.
Be on the look-out for the Premium Powder Coated Corral Shelter* and the Standard Retail* Corral Shelter's set to be released later this year.
*The Galvanized Corral Shelter is made in the U.S.A. of 95% U.S. made parts and materials. The Premium Powder Coated and Standard Retail versions of the Corral Shelter are manufactured in China.