Your days on the water are thrilling and relaxing at the same time. Nothing says 'me time' like the open lake or bay where you are totally removed from the busyness of everyday life. You take your watercraft to explore new places and spend time alone or with your favorite people. To enjoy many days like this, it's important to protect your boat throughout the year.
When it's time to choose boat storage for the winter, there are several choices. Whether you keep it at the marina or put it on land, how do you best keep it protected? Overall, storing your watercraft on land will preserve it the longest. This guide will explain proper winterization methods and how you can easily store your watercraft with affordable outdoor sheds and carports.
Watercraft Storage Methods
To protect your watercraft, you will need to follow a few important steps. The process may differ depending on the type of watercraft, your location, and storage method options.
Clean and maintain your watercraft during the season.
Winterize your watercraft at the end of the season.
Store your watercraft in a safe place.

In warm climates: The watercraft may stay docked at the marina after winterization for a seasonal fee.
In all climates: For the best results, the watercraft should be stored in an outdoor or indoor dry shelter.

Get your boat inspected and serviced after every season.
Your unique situation determines the methods you use, but you should always have a safe place to store your watercraft and a consistent maintenance plan. No matter what boat storage solution you choose, you must first winterize your watercraft properly.
How to Store a Boat (Winterization)
Boat owners should consult their watercraft's user manual and contact the manufacturer for specific instructions for winterization. However, the general process of boat winterization is as follows:
Replace the engine oil. Change all filters so that there is no debris left to settle over the winter.
Flush and drain the boat's freshwater plumbing system. This includes all heads, sinks, and tanks.
If you plan to keep fuel in the boat, put a fuel stabilizer in the tank.
Protect vital parts of the engine like changing the fuel filters.
Remove water from any other systems that contain water like the bilge pump or live wells.
Remove the drain plugs.
Grease and lubricate any parts that require lubrication.
Remove any damp items like life vests, towels, and take out any valuables.
Clean the boat's interior and exterior thoroughly.
Cover the boat. A professional shrink wrap is recommended.
How to Winterize a Jet Ski
Jet skis are less complicated to winterize than boats since they don't have as many specialized components. They still do require some key preparation before they can be stored to prevent any caking in the engine or damage to internal and external components.
Drain out any leftover water to prevent rust damage in storage.
Run antifreeze through the system if you live in a colder climate.
Put in fuel stabilizer and top up the fuel tank.
Lubricate any parts that require it like seals, cables, and any exposed parts.
Spray fogging oil on the spark plugs and in the carburetor.
Remove any valuables or gear in storage compartments.
Clean the interior and exterior of the jet ski and wax the exterior.
Remove the battery and store it attached to a trickle charger.
How to Winterize Kayaks and Small Boats Without Engines
Small boats that don't have any engines are the simplest to winterize since they don't have motors. You need to simply clean them and apply any protective sealants and lubricants. Then, they need to be stored in a safe area. It's best to store your kayak or boat in an elevated position such as on racks or pallets. This keeps them away from ground moisture or pests.
Covering your boats or simple watercraft is also a good method to block out any pests. Store paddles in a vertical rack and make sure all components like sails, ropes, and anchors are dry before stashing them away. If you want to protect these to the fullest, you can also professionally shrink wrap them.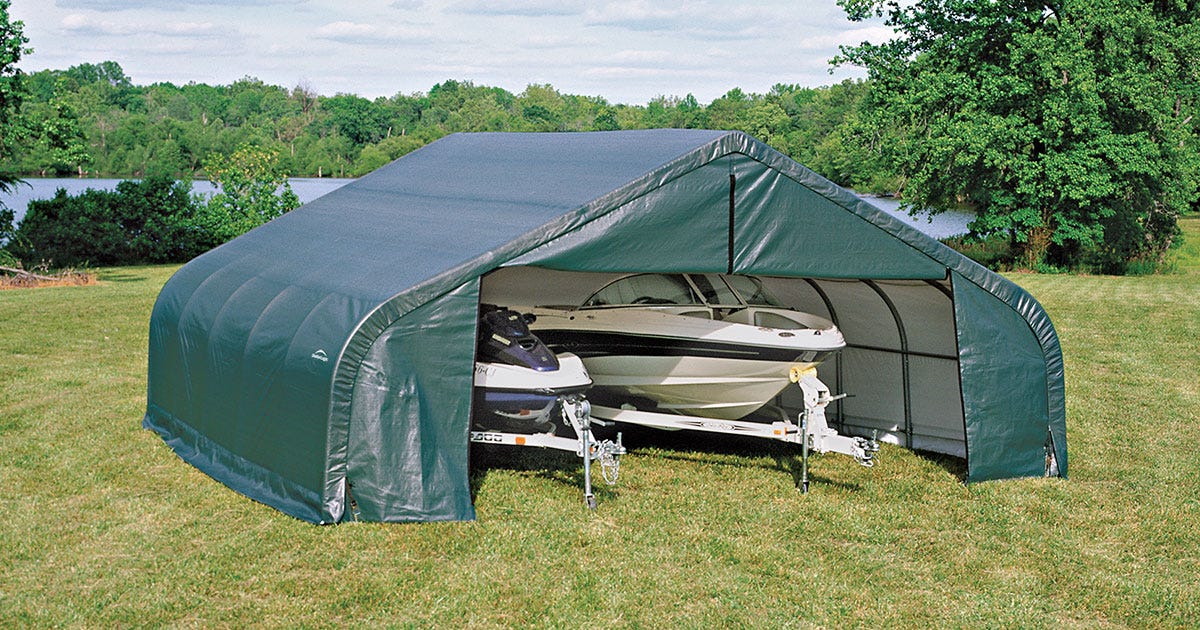 Where Can You Store Your Watercraft?
When it comes to boat storage, you have a few options. These are the three main options for long-term storage.
Outdoor, in-water storage (only suitable for warm climates)
Outdoor, dry storage (carports or "boat hotels" at a marina)
Indoor, dry storage (sheds, garages, or storage rental units)
What works for you is based on a few factors like how much you are willing to spend, your area's climate, the type of watercraft you have, and other aspects of your lifestyle.
Wet Storage
If you live in a warm area, you can keep your watercraft docked at a marina. When the temperatures don't fall below freezing, you can easily park your watercraft at the dock — for a substantial fee. You need to winterize your boat first and then add an agitator to keep water from freezing around the boat. The cost of water storage depends on the boat's size. Depending on the marina, you may spend $20 to $50 per foot of boat per season.
Indoor Dry storage
Indoor dry boat storage at the marina costs more than outdoor storage — between $50 to $200 per foot of boat. However, this high cost is because indoor storage offers the most protection. You can beat the system by purchasing an outdoor storage shed that you can use year after year. If you still want substantial protection but at even more savings, then outdoor dry storage can also work for you.
Outdoor Dry Storage
Dry outdoor boat storage also offers good protection for watercraft. It costs less than a new garage or shed but keeps the boat protected from the sun, snow, and rain. Installing a shelter without walls is also simple and a quick project.
An outdoor carport can be a good solution for areas where the water still freezes at the marina and you need a safe dry storage option. While marinas do offer outdoor boat storage, you have to pay for it every season. But when you own your own shelter, it's just a one-time cost. Plus, you get the bonus of 24/7 surveillance from the comfort of your home.
Storage Decision Considerations
In your storage decision, cost and convenience are two driving factors. Financially speaking, owning your boat storage pays for itself over the years. Carports are the most affordable on-site storage you can have for your watercraft.
However, indoor storage preserves the boat the longest by keeping it out of the rain, snow, and temperature fluctuations, thus helping your boat last longer. Storing your boat outdoors at the marina can be convenient if you live in an area where the water doesn't freeze, but it will cost you every year, and keep your boat outside without a shelter. By determining what you want to invest in, you can find the best solution for your needs.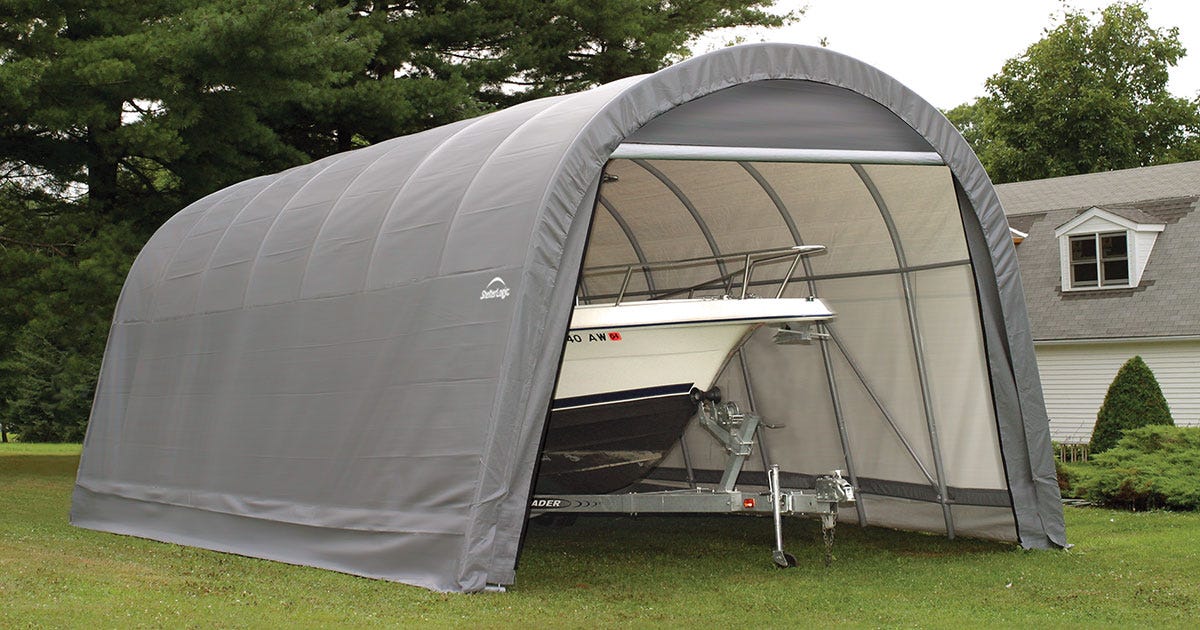 Which Storage Method Is Best?
When you store a watercraft, it's best to store it in a dry, secure place. Taking your boat out of the water allows you to service it and keep it away from harsh outdoor conditions. How you store your watercraft determines its life and the amount of maintenance you need to do at the start of the new season. Different sizes of watercraft require a shelter of various dimensions. These are the best dry storage methods for your typical watercraft.
Storage Sheds for Smaller Watercraft
Smaller watercraft like jet skis and kayaks can easily fit under a carport or in a medium-sized enclosed shed like an Arrow Classic Steel Storage Shed. These strong steel shelters can be secured with a lock and key and provide protection on all sides. This solution saves you garage space and keeps your seasonal storage areas tidy.
Garages or Carports for Medium to Large Watercraft
If you have multiple jet skis, a lot of seasonal boating gear, or a medium-sized watercraft like a speedboat, then you will need more than a standard-sized shed.
The ShelterCoat garage is a great storage solution for vehicles. Use this easy-to-assemble garage to protect valuable vehicles from sun damage and winter weather. ShelterCoat buildings offer the flexibility to choose from three building styles: peak, round or barn and from thousands of size options. They also come in a variety of colors that blend with your backyard aesthetic, and three cover weight options that can handle tough weather.
When you need even more open storage space, oversized carports are the answer. An Arrow Carport is wind and snow rated and made of sturdy galvanized steel. It's made to handle tough conditions and shelter large items like watercraft that can have difficulty fitting through even extra-wide doorways.
Shop Boat Storage Shelters
Owning a carport or storage shed for your watercraft allows you to offer the best and most affordable protection after winterization. Avoid the hassle of renting a unit when you can keep your boat, jet ski, and other recreational items in safe storage on your property. Find carports, storage sheds, and oversized sheds at ShelterLogic.