Keywords: prefab garages, metal garage, metal garage kits Before you commit to buying a detached garage, it's important to decide which material is better for you: a
prefab metal garage
or a traditional wood garage. Metal garage kits have become increasingly popular in the past 60 years due to their affordability and low maintenance, while wooden garages have maintained their niche as the best choice for custom projects. In this article, we will address the pros and cons of both materials so that you can make a confident choice between the types of prefab garages. Weighing factors like durability, attractiveness, environmental considerations, and more, you can discover the best
choice for your storage needs
.
Cost Considerations
When you're making a major purchase, money matters. A detached garage will benefit your home or business with extra storage and workspace, but the investment must make sense with your finances. Overall, if you need something cost-effective and convenient,
metal prefab garages are a good choice. The more construction you can do yourself, the more money you save as well.
Prefab Metal Garages
Prefab garages made of steel are more cost-effective and quicker to build than wooden garages. The majority of metal garages are
steel prefab garages
, so their main parts are already made in a factory. This reduces setup time and makes it easy for you or professional installers to get the job done efficiently. The size and quality of the
steel garage
will affect the ultimate price, as well as whether you choose to assemble the building yourself or with the help of a contractor. Our
Everest Steel Garage
starts at $2,299.99 per kit, which costs significantly less than a wooden detached garage project. The cost goes up if you need labor, which you can select at checkout.
Traditional Wood Garages
The average small wooden detached garage costs between $10,000 to $15,000 — and this when it comes from a kit. There is more time spent on construction because wooden frames need to be built on-site with a deep know-how of the process. If you need help with labor, this expense must be figured into the total cost.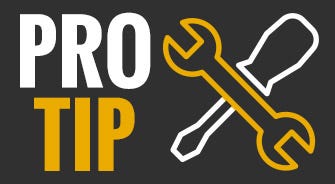 By building the garage and its foundation yourself, you can save between $6,000 - $10,000. However, this is provided that you have the tools and expertise to do everything safely and efficiently, otherwise, it's more cost-effective to hire professional installation services.
Attractiveness
There are quite a few instances in which the attractiveness of the garage matters, but as in all things, beauty is in the eye of the beholder. If you're seeking a contemporary and utilitarian look, then a metal garage is a fantastic option. Meanwhile, individuals that prefer a more traditional and custom look often prefer wooden garages. A metal garage is often handy when you need an affordable, durable place to store seasonal items, business goods, and bulk supplies. For these needs, you don't need a hand-crafted wooden structure that costs much more, but you need function, strength, and security for long-term use. On the other hand, wooden garages are useful for enhancing a residential property's curb appeal since it can be better adapted to the rest of the home's exterior design.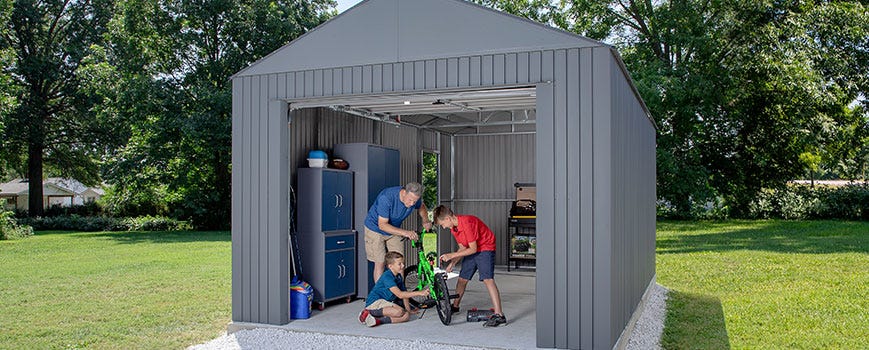 Usability
When you install a detached garage on your property, you will enjoy extra storage and recreational space, regardless of the material you choose. However, if you prefer to have a larger garage for less upfront cost, then prefab metal garages will give you more space for your money.
Climate Control Considerations
While both metal and wooden garages can be equipped with a climate control system if building permits allow, wooden garages stay warmer in the winter and cooler in the summer. This is due to wood being a natural insulator, which can be further enhanced with insulation. Metal garages can also be insulated well, so you plan on converting a garage into an extra room of the house where people will frequent, then you must consider this enhancement into the costs.Here's more on
how to insulate a metal garage
.
Security
Both metal and wooden garages can keep your belongings protected from harsh weather and intruders, but metal is the stronger material. Quite simply, metal is a more durable material than wood.
Metal can withstand high snow loads
and extreme weather, plus it takes a lot more effort to break into compared to wooden garages. For additional peace of mind, install a security system on your property. This measure will give you peace of mind and protect you no matter what type of garage you choose.
Local Restrictions & Zoning
Before starting any construction project on your property, check with your city or town first. Every area is unique and has different laws that dictate what you can build on your property. Much depends on your property's zoning, its relation to other buildings in your area, and more. If you get approval, then know that detached garages require a building permit. Take the time to acquire this necessary paperwork and to go through the permit process. It's also important to look before you leap because your property may not allow an addition, or there may be locales that prohibit steel buildings. It may be easier to install a
shed
or
carport
on your property if zoning becomes an issue and you need extra storage.
Environmental Considerations
When it comes to the environment, both materials do well, but steel garages have a slight edge. No matter what path you choose, do your best to recycle materials and reduce the amount of waste created in the construction process.
Metal Garage Kits
Metal garage kits have a lot of advantages when it comes to environmental considerations. Steel is a highly recyclable material, so you can recycle it later. Metal garages also last for many years so there is less need to replace them. Metal is a conductor on its own, so it can get cold and hot quickly, but it is easy to insulate to give it more energy-efficiency. If you need a workspace, then this adjustment can make the metal garage kit more comfortable.
Wood
Wood is a biodegradable material, so it will decompose after the wooden garage is no longer needed. Wood also comes from organic sources so it doesn't emit any toxins or is harmful to the environment. This material is a natural insulator, so a wooden garage can use less energy for heating and cooling. However, most detached wood garages are made with virgin wood instead of recycled materials, which takes trees away from forests.
Ability to Customize
A prefab metal garage
typically comes in limited selections, but you can usually choose among several colors and sizes. This simplicity contributes to the steel garage's affordability and ability to be mass-produced in a factory, which saves customers money and time. People who need a custom garage often opt for wood. With wood garages, you can choose a greater variety of colors, siding styles, roofing, finishes, and more. These types of projects are often built from scratch with custom plans from a contractor and are meant to blend with an existing property.
Time Needed to Build
When comparing the assembly of either material, a metal garage don't take as long to build — provided that experienced contractors or DIY builders assemble the structure.
Prefab Metal Garages
An
outdoor metal garage
requires minimal internal support compared to wooden garages. The entire step of building a time-consuming frame is skipped, which allows contractors to spend time doing other tasks. On the flip side, metal garage kits are harder to install for the ordinary person because they can require specialized tools. If you lack any technical expertise or tools, you can select professional
installation services
at checkout, which brings pros to your door.
Traditional Wood Garages
More DIYers are familiar with wooden construction methods, which don't require as many specialized tools. However, the wooden frame takes time to build, since it's being done from scratch. Wood garages don't have prefabricated panels like metal garage kits. Wood frames must be assembled set-up piece by piece, which takes more time and requires more labor.
Durability
Though both materials are attractive and strong, metal is undoubtedly a stronger material. However, with diligent care, either type of garage can be kept in good condition for many years.
Metal
This material wins when it comes to durability. Metal garage kits have an average life expectancy between 20-30 years, but many last longer than this with good care. This material is also resistant to damage like rot, termites, and fire. However, it's important to look out for water pooling or condensation, which can lead to rust. To prevent interior condensation damage, coat the walls of your metal garage with a special formulation to make them water-resistant.
Wood
Wood is a strong material, but it is less durable and has more caveats than metal. Wood is organic, which means that it needs to be taken care of well to prevent damage from rotting, pests, mold, or fungus. Wood needs to be stained or painted to keep its beautiful appearance. Wood requires regular maintenance to prevent rotting, fungus, or insect infestation. Wood also needs to be painted or stained every few years. However, it doesn't need to be treated for interior condensation like metal garages.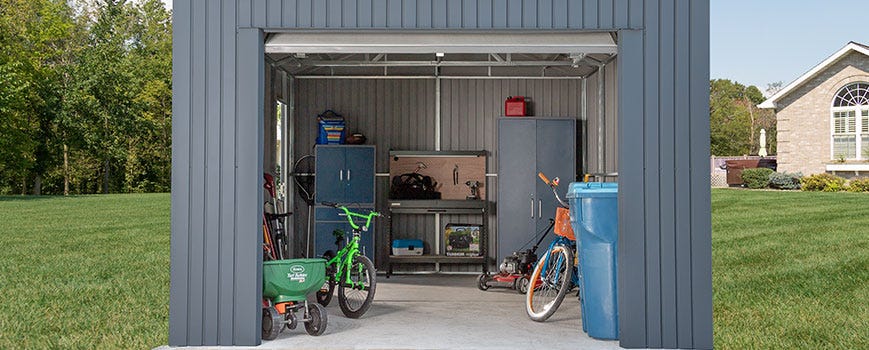 Explore Metal Prefab Garages at ShelterLogic
Whether you decide to use a
metal garage vs wood frame
one, these pros and cons will help you make the most informed decision. If you decide that our money-saving
metal garage kit
option is for you, start browsing our outstanding selection of durable metal prefab garages today.[/vc_column][/vc_row]