As soon as the temperature starts to rise, it's time to take advantage of outdoor activities and spending time with family in the sunshine. But with the extra fun comes increased risk of skin cancer. Sun protection is your best line of defense when it comes to skin cancer prevention. The American Cancer Society says staying in the shade can be one of the best lines of defense for your skin.
What is Skin Cancer?
What exactly is skin cancer? According to the Skin Cancer Foundation and 
Skincancer.org
, it is the uncontrolled growth of abnormal skin cells usually caused by overexposure to ultraviolet radiation. The CDC suggests someone is at a higher risk of getting skin cancer even from a few bad sunburns. There are multiple types of skin cancer, but here are the three most commonly diagnosed in the United States, according to the
Cancer Treatment Centers of America
:
Basal cell carcinoma: The cancer cells develop in the basal layer of the skin, hence the name. This type of skin cancer accounts for 80% of all diagnoses in America. This type of the least dangerous because it rarely metastasizes and grows slowly.
Squamous cell carcinoma: This is the second most common type of skin cancer. They develop from the flat squamous cells on the skin. Although they are more likely to spread than basal cell carcinoma, it is uncommon for them to metastasize.
Melanoma: This is a more aggressive and dangerous type of skin cancer that form in the melanocytes, or darker pigments of skin. Melanoma can form in parts of the body that aren't exposed to sunlight, and can metastasize. Melanoma can require intense treatment like chemotherapy, radiation, and surgery. To learn more about the four basic types of melanoma, click here.
Skin Cancer in America
Skin cancer is also the
most common
type of cancer in the United States. The American Academy of Dermatology reports 9,500 people in America are diagnosed with this type of cancer every day. When it comes to the most dangerous type of skin cancer, melanoma, research shows it has doubled from
1982 to 2011
and continues to rise. Here are some other
interesting facts
about skin cancer:
More people are diagnosed with skin cancer in the U.S. than all forms of cancer combined.
The annual cost of treating skin cancers is $8.1 billion
One in five Americans will develop skin cancer in their lifetime.
How to Spot Skin Cancer
The key to successful treatment of skin cancer is to
spot it early.
Doctors recommend you check your own skin once a month. In addition, you should aim for a yearly exam with a dermatologist, especially if you are predisposed to skin cancer or are exposed to the sun often. An easy way to remember how to look for skin cancer is by using the
ABCDE rule:
Asymmetry: If a mark or mole looks asymmetrical, that could be cause for concern.
Border: If the edges of a mole are ragged or blurred, get it checked out.
Color: If the color of a mole or growth is not uniform, or includes pink, red, or blue, it is a sign of skin cancer.
Diameter: If the size of the mole is larger than the tip of a pencil eraser, get it checked out.
Evolving: If the mark or mole takes on different shapes, sizes, or colors, it could be the sign of skin cancer.
Skin cancer can develop in areas of sun exposure, like the scalp, face, neck, chest, arms, hands, and legs. But it can also form in areas that are rarely exposed to sun, so it is important to check your entire body for changes.
Risks for Skin Cancer and Skin Cancer Prevention
While everyone is at risk for skin cancer no matter your skin color, there are some people who simply have a higher chance of being diagnosed based on these factors:
Fair skin
History of sunburns
People who are exposed to the sun often
Family history of skin cancer
Weakened immune system
Skin Cancer Prevention Options
Although most skin cancers are preventable, predispositions like having fair skin or a family history make it less avoidable. However, there are some common sense options to lessen your risk of being diagnosed with skin cancer.
Wear sunscreen every day. Just because it's cloudy doesn't mean the harmful UV rays aren't reaching your skin. Wear makeup with SPF in it, and apply sunscreen of at least SPF 30 every day you leave your home.
Cover yourself with proper clothing. Sunscreen does not block all harmful UV rays. While it may not seem that fun to wear a long sleeve shirt to the beach, it will make a big difference in your skin cancer prevention methods. In addition to covering your arms and legs, a hat that covers your entire face and neck is a good addition to your sun protection routine.
Avoid the outdoors during the peak of the day. According to Mayo Clinic, the sun is the most damaging between the hours of 10 a.m. and 4 p.m. Plan your outdoor activities either earlier or later to avoid the sun's most harmful hours.
Don't use a tanning bed. While it may seem like a golden brown tan is the perfect summer accessory, it is actually damaging your skin. A tanning bed uses UV rays that can cause skin cancer.
Stay in the shade. If you must be outside, stay in the shade whenever possible. The more reliable the shade, the better chance you have to avoid damaging rays.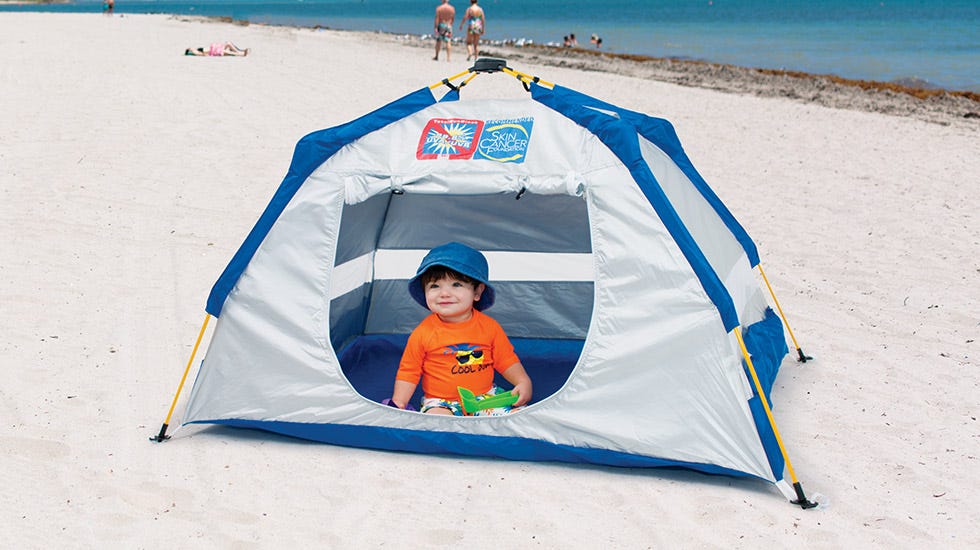 Protecting Against Skin Cancer: Summer Shade Options for Any Outdoor Activity
The bottom line is, it can be difficult to stay out of the sun completely. And why would you want to? Studies show sunlight can increase your vitamin D intake and perhaps even
lower blood pressure
. Finding the proper shade option for your outdoor activities can allow you to partake in the fun while decreasing harmful rays from the sun. All shade options are not created equal. ShelterLogic has created an array of summer shade solutions specifically designed to offer protection against the sun's most dangerous rays. For example,
Quik Shade
includes products made with Aluminex, which means you aren't just protected by an average piece of fabric. Aluminex is specially engineered to block 99% of the sun's harmful rays.
RIO Brand products
are another great tool to steer clear from harmful UV rays. In fact, the Skin Cancer Foundation recommends RIO products for ultimate sun protection. So whether you're planning a big pool party to kick off the summer season, or just a relaxing family barbecue, ShelterLogic Group brands offer a variety of shade solutions to fit your needs. Here are some popular choices for sun protection that will also look great in your outdoor space.
Protect Your Skin Under Backyard Gazebos
If you want a relaxing area to rest in the shade, choosing a backyard 
gazebo
for your backyard mixes style with function. Choose from hard and soft top models in a variety of different colors and styles. The
Phuket Soft Top Gazebo
from Sojag not only introduces a gorgeous piece to your backyard space. It also provides you and company shade for your outdoor get togethers and keeps you out of the intense sunlight in the summer months. When it comes to keeping the grill master out of the sun, there are grill gazebo options, too. The
BBQ Ventura Hard Top Gazebo
protects from the sun, and even comes with built in shelves to keep food and grilling accessories at arm's reach.
The Benefits of Shade Sails
For a simple and cost-effective way to keep kids out of the harmful sunlight, simply add a
shade sail
to their play area. Choose from triangle or square shaped fabric that is engineered to block 90% of the sun's harmful rays. You can select from different color options and easily attach these sails to a house, building, tree, or post.
Protect Against Sun Damage Under Our Party Tents
If you're having a larger gathering but don't have a place for everyone to relax in the shade, consider purchasing a
party tent
. Instead of renting one and using it once, for about the same cost as a rental, you can have this
UV treated option
to keep guests in the shade for years to come.
Easy and Portable Sun Protection with Pop-up Canopies
Pop-up canopies
are not only portable, they are incredibly simple to set up for a day at the beach. Keep you and your family cool and relaxed with options from Quik Shade and ShelterLogic. Quik Shade provides outdoor canopy choices with Aluminex, a material that provides 99% UV protection. The
Summit X Straight Leg
model offers reliable and sturdy shade with three different height options. This pop-up canopy also has an air vent for even better ventilation.
Get Beach Tents for Added Sun Protection
The beach is a perfect place to soak in the sun and relax by the waves. But you must take extreme care when it comes to sun protection. The sea breeze may make you feel like you're getting less sun, but the truth is you need to have summer shade options with you for every trip to the beach to ensure the best skin cancer protection. One way to enjoy the beach while staying out of the sun is to utilize a
beach tent
from RIO. This
Sol Cabana Beach Tent
will give you shade in minutes, and is large enough to hold multiple chairs. The windows allow for the sea breeze to flow in, while the protective undercoating is UPF 50+. It's also easily transportable with a travel bag already included. As an added bonus, it is even recommended by The Skin Cancer Foundation!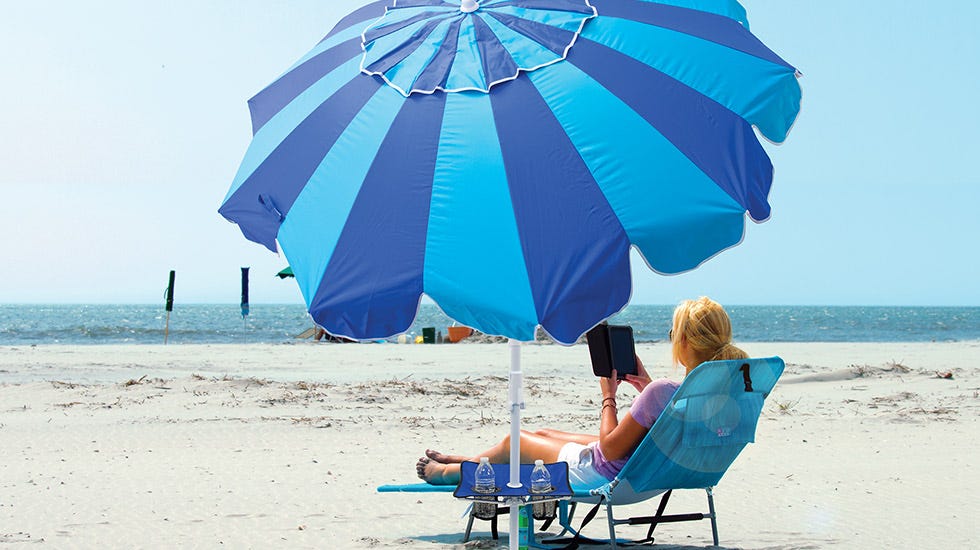 Sun Protection and Beach Umbrellas
Bring protection with a pop of color to any beach day with
umbrellas
by RIO. Choose from a variety of different models including this
6 ft. tilt model
with a UPF 50+ rating. For a little extra ventilation,
this umbrella
has a built-in wind vent so take in that gorgeous beach air. This 7 ft. model includes a fold out table with drink holders for maximum relaxation in the summer shade.
Seating and Shade All In One: Canopy Chairs
Laying on a towel in the sand is nice for a little while, but a comfortable chair is a must-have for any day trip to the beach. The sun can become intense, so It's important to find chairs with a built-in canopy, like this
Hi-Boy Aluminum Beach Chair
from RIO. The durable construction matched with the adjustable canopy will give you unmatched comfort with your toes in the sand. Quik Shade also has a
variety of chairs
with a canopy for supreme shade at the beach. Choose from models in an array of different colors with cup holders and even reclining options. You shouldn't just remember to protect yourself from the sun's harmful rays at the beach: we recommend sun protection while camping and hiking, too. Whether you're fishing or taking a hike through the woods, there are products you should always have with you for skin cancer prevention. Ensuring you have the proper shade options will not only shield your skin from harmful rays, but also keep you cool and comfortable.
Block Harmful Rays with Portable Canopies
Whether you need a quick and easy
pop-up canopy,
or a
larger outdoor canopy
for more shade, ShelterLogic group provides choices for any size camping trip. This simple
Quick Clamp Canopy
attaches to a picnic table for instant summer shade in no time. For larger camping outings, the
AccelaFrame HD
provides 200 ft. of shade in only 15 minutes. The ripstop tough fabric cover is UV treated inside and out with added fade blockers for durability.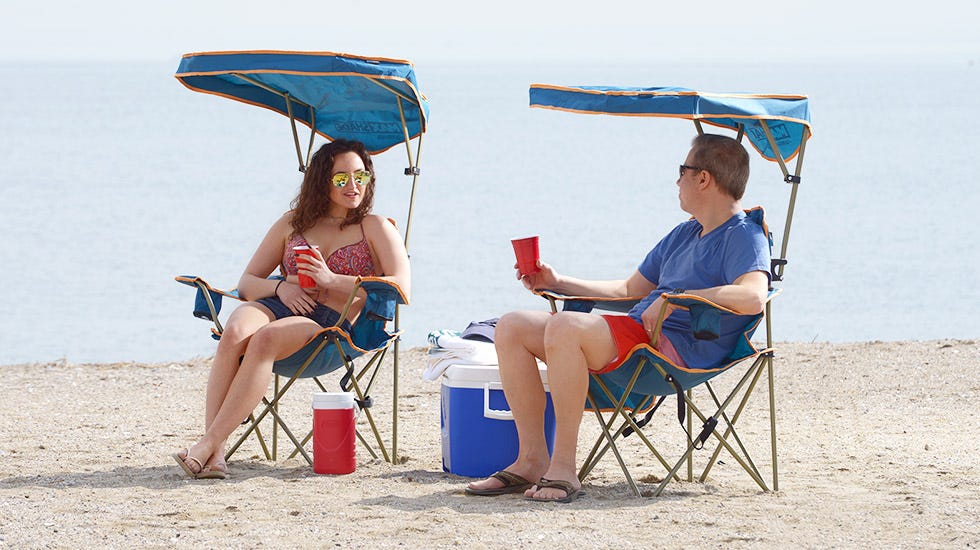 On-the-Go Protection Against Sun Damage with Shade Chairs
A comfortable place to sit is incredibly important on a hiking or camping trip. But making sure you have a safe place to sit out of the sun is also important to protect your skin. These
portable chairs
from Quik Shade are a great way to add seating and comfort for your entire group. Whether you're taking a break from your hike, or playing cards waiting for food to cook on the grill, these chairs will provide relaxation out of the sun. Choose from multiple seating styles with different colors to fit your style. This
high back
model has an adjustable canopy that will give you 99% UV protection.
Choosing the Right Option for Sun Protection
With so many options to choose from, think about how many people you'll need to provide shade for at your outdoor activity. From shade chairs for a small group to a large outdoor canopy, there are simple and cost-effective ways to provide sun protection and prevent skin cancer. Staying in the shade and consistently applying sun screen are two of the best ways to provide protection for your skin and
reduce your chance
of skin cancer. These stylish and affordable choices from ShelterLogic group will keep you cool and comfortable without breaking the bank.