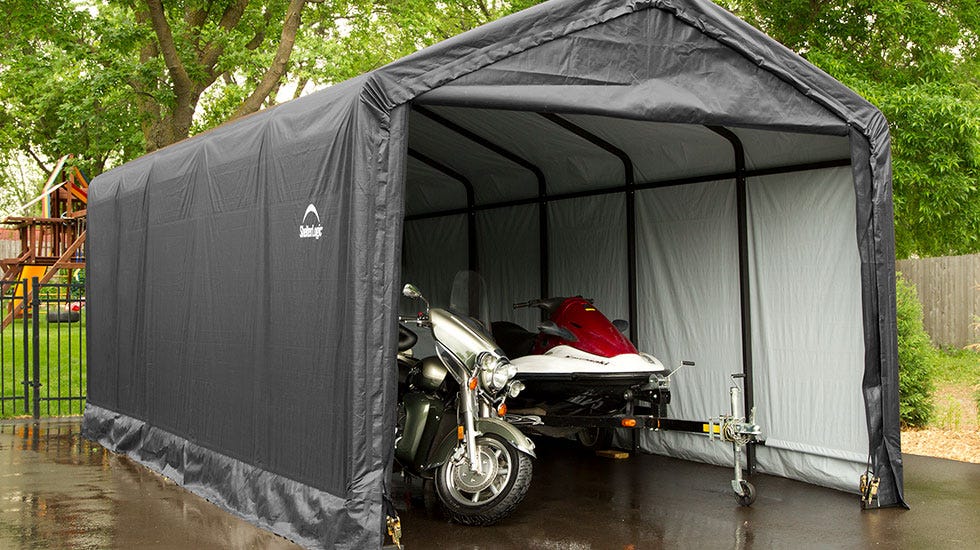 ShelterLogic backyard garages give you the means to maintain an outdoor lifestyle and protect the investments you can't take indoors. Depending on what you need in a backyard garage, i.e. the kind of vehicles or supplies you want protecting and how big of a space you need, the best product for you will vary.
Think critically about the capacity you would like to use this portable garage for, the kind of weather and climate it needs to stand up against, and the space you have for it before investing. It is an investment, both in the quality and aesthetics of your outdoor space, and the protection you provide for the things you value.
What is a Garage?
Most people imagine a garage as another part of a home. However, many homes don't have the space for storage. A garage is meant to store and protect your belongings, such as vehicles and other materials typically those meant for outdoor use.
Backyard garages are meant to shelter and stand up against high winds and large amounts of snow load. They are an investment for those items that you have already invested in, keeping them safe season after season and year after year.
ShelterLogic has a variety of garage options depending on the shape, size, and amount of protection you want. These include:
Autoshelter
Sheltertech
Accelaframe
Sheltercoat
ShelterTube
Shelterlogic Garage-in-a-Box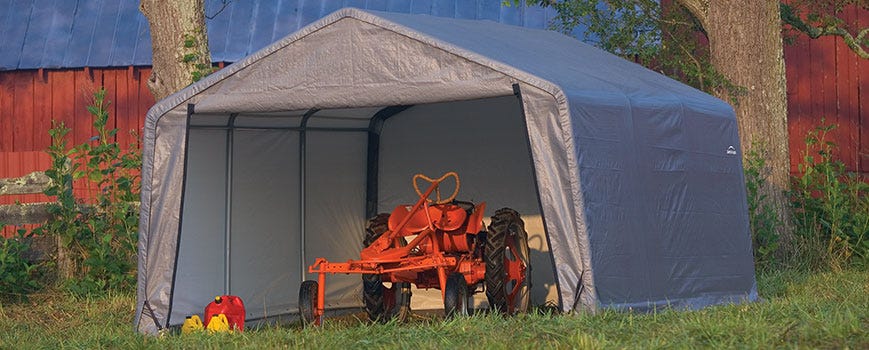 How to Use ShelterLogic Backyard Garages
The various types of ShelterLogic garages and storage buildings are meant to give everyone the most viable option for their needs. Being able to configure your garage to meet these requirements is the name of the game at ShelterLogic.
Depending on the amount of material you have to store and the object's size, you can get larger ShelterTech shelters, Sheltercoat, or ShelterTube. These three also have a sturdier steel frame construction and are meant to stand in the same place for as long as you need them.
Some of the frames for these backyard garages are meant to serve more temporary purposes and can go up and down with greater ease. The Accelaframe fits into this category well and can still be moderately configured for a better fit.
Finally, if you need a smaller garage and want it to fit into a budget, Autoshelter or the Garage-in-a-Box will probably be the way to go. They still fit the bill in terms of sturdiness but are also easier to set up and take down than most of the other garage options.
With any of these variations, consider the configuration of the roof's frame in reference to the height of your objects and the weather patterns in your area. Having a peaked or dome roof gives you more headspace, but it also allows snow to slide off and reduces the requirement for a snow load on the canvas.
Each of the garages below serves a different purpose or fulfills a different aspect of outdoor protection and shelter.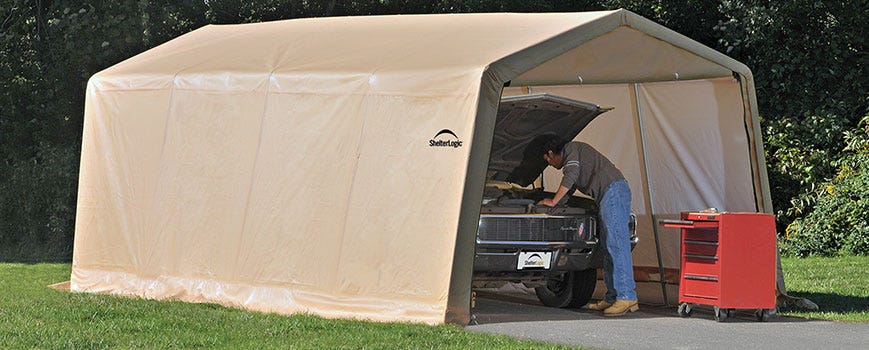 Autoshelter
Looking for a temporary car shelter that fits better into a budget? The Autoshelter is a good place to start.
Cover and Frame Material
Autoshelter is primarily a fabric structure made with an engineered triple-layer ripstop polyethylene that is UV-resistant and waterproof. This covering is laid over the top of an all-steel frame structure with a premium powder-coated finish steel frame 1-3/8 inch that helps prevent the wear and tear that comes from being outside in the elements.
Assembly and Construction
The primary advantage of the Autoshelter compared to some of the other offerings is its affordability and the ease it takes to set it up. When it is set up, the stabilizers make it rock solid and delivers a durable shelter. The Ratchet Tite covering keeps it as tight as a drum.
Best Uses
Autoshelter units are largely configurable for the various needs of a backyard shelter. They are made for ATVs, lawn tools, or boat storage among other things. It is a compact solution to storing a variety of outdoor vehicles and equipment or can be a shelter to bulk storage items when you need an extension from the home.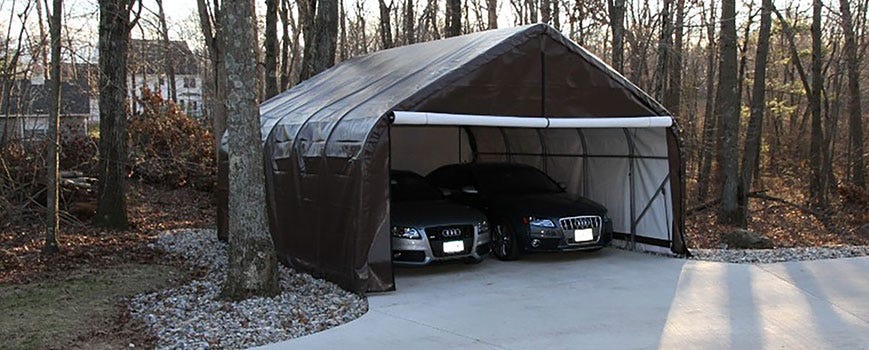 ShelterTech
ShelterTech helps to protect your expensive investments in your equipment and various outdoor vehicles. It is the premium backyard garage option from ShelterLogic. It is meant for year-round protection and is built to last. You can choose from a number of customizable building options to keep your vehicles protected from the elements throughout the year.
Cover and Frame Material
ShelterTech does this by using a U.S. certified galvanized steel frame that has undergone a hot-dipped galvanization process to make it entirely impervious to rust and corrosion. The fabric that covers the outside of the steel frame is a heavy-duty 14.5 oz fabric or an ultra-dry 21.5 oz fabric. Both of these options are rip-stop and treated with UV protection both on the inside and the outside.
Assembly and Construction
ShelterTech is made more secure by using a footplate on each pipe on the ground. This design allows it to be easily installed wherever you decide to set it up. The ShelterTech garages use a larger steel pipe diameter compared to most of the other garages to give it more durability against wind and snow during the winter. It has three rooftop configurations depending on what you need for storage. These include peak, round, and barn.
Depending on the durability of the cover that you choose, the accompanying warranty ranges from a 1-year prorated to a 15-year prorated.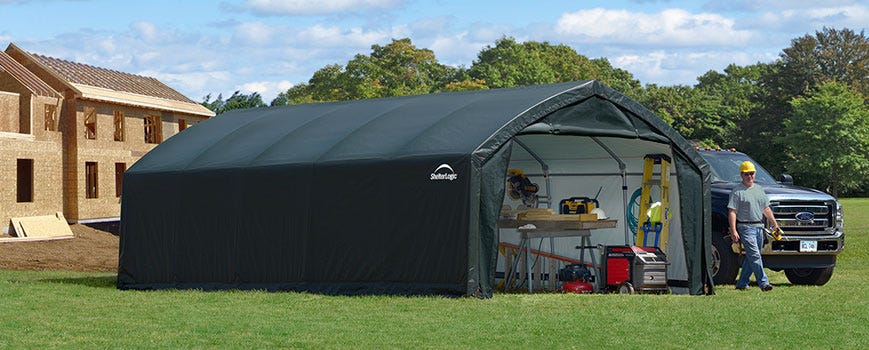 Accelaframe
Accelframe garages are a medium-grade solution that is meant to reduce the assembly time to 30 minutes and make assembly and disassembly convenient. Even if the setup is quick, that doesn't mean that it only lasts for a short amount of time. Accelaframe is known for being a frame that will last. The quick assembly is meant so that you can use your shelter faster in three easy steps.
Cover and Frame Material
The revolutionary rib system uses pre-assembled frame sections that can uphold right out of the box. Each frame is made from 1-5/8 inch steel pipe frame. It is coated so that it doesn't chip, corrode, or rust. The cover is made from a variety of different ripstop materials both in heavy-duty 14.5 oz and 21.5 oz durabilities.
Assembly and Construction
An Acceleframe garage has strong rib joints that are made with all-steel and zinc plated joints that are two times stronger than in other temporary car shelters. The joint pivots easily open and lock back into place for assembly. The warranty on the cover ranges from one to 15 years depending on the type of cover you use.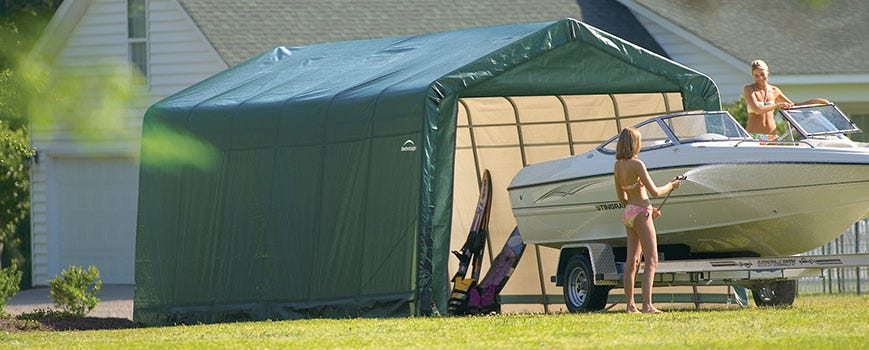 ShelterCoat
The ShelterCoat is a medium-grade solution to satisfy a variety of needs when it comes to standing strong in challenging weather patterns. It is customizable, allowing you to create your own to satisfy whatever your coverage needs are.
Cover and Frame Material
ShelterCoat buildings offer you a choice of three different cover grades. There are:
Standard
Heavy-Duty 14.5 oz
Ultra-Dry 21.5 oz
Each of the covers you can choose to fit over the steel frame are UV-resistant and waterproof and they come in five color options. The ShelterCoat garage from ShelterLogic has a larger steel pipe diameter compared to the other shelters, such as in-the-box shelters. They range from 1-5/8 inch to 2-3/8 inch depending on your choice of the configuration of your shelter.
Assembly and Construction
The ShelterCoat garage can be configured to be up to 28 feet wide and up to 100 feet long. They have three building styles: peak, barn, or rounded. Depending on what you need to store underneath, the variety of length and peak styles help to make every inch fit perfectly.
This shelter uses its ratchet tensioning system typical to its sturdy designs that ensure stability and long-term security.
Warranty Options
The price keeps it more of an affordable option for outdoor storage. However, the more that you invest in it, the longer the warranty extends to protect that investment. The warranty options that accompany it are typical for ShelterLogic's temporary garages. They are:
1-year prorated for Standard covers, panels, and frames
10-year prorated for heavy-duty 14.5 ounces, 3-years for panels, and 1-year for frames
14-year prorated for ultra-duty 21.5 ounces, 3-years for panels, and 1-year for frames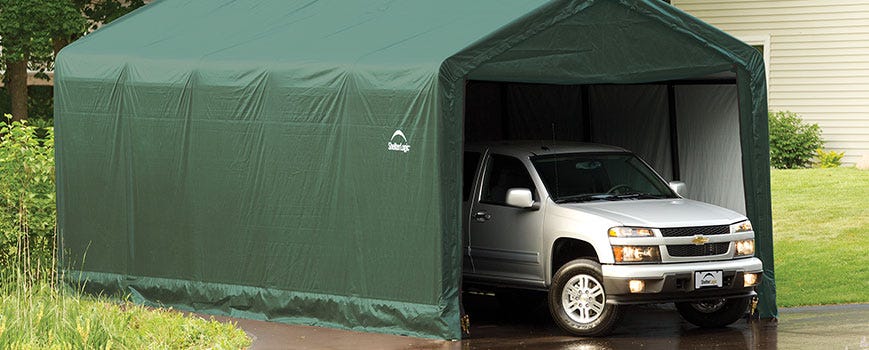 ShelterTube
The ShelterTube is the third medium-grade solution offered in the series of ShelterLogic backyard garages. It is made as a year-round unit, though.
Cover and Frame Material
It uses sturdier frames to keep it standing against high winds and large snow loads during the winter. It comes in three makes: standard, heavy-duty 14.5 oz, and ultra duty 21.5 oz. The covers each come with two double zippered doors as well as roll-up door kits that increase its overall functionality.
The entire frame is constructed from a durable two-inch square tube frame made with steel. The entire exterior of the frame is coated with a powder coating to prevent it from rusting or chipping during use.
Assembly and Construction
A ShelterLogic ShelterTube storage shelter is customizable along with the other options from ShelterLogic. They can be configured for up to 100 feet in length and are each 12 feet wide. This frame is what gives it the extra durability to rate higher for all-season storage.
Warranty Options
The warranty for each of these changes depending on how heavy-duty you decide you want your cover to be. From a standard garage that comes with a one-year prorated warranty to an ultra-duty garage with a 15-year prorated warranty, you will be protected according to your initial investment.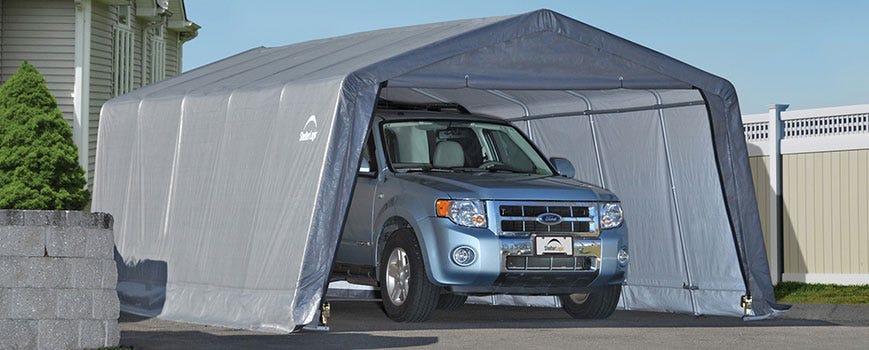 Shelterlogic Garage-in-a-Box
Finally, ShelterLogic offers a Garage-in-a-Box. It is an entry-level grade that has a smaller frame diameter than the other temporary garage products from ShelterLogic. They can be thought of as more portable garages than the others, even the Acceleframe. They are more lightweight and do not even need to be taken down entirely to be moved effectively.
Cover and Frame Material
The Garage-in-a-Box uses a triple-layer of rip-stop polyethylene fabric. This fabric is completely waterproof and UV-treated both on the inside and out to prevent deterioration. The frame is constructed with powder-coated steel to keep it strong and resistant to corrosion and rust.
Assembly and Construction
The assembly is quick and easy with enough fortifications that you can put in place so you don't have to be worried about it moving without effort. Once built, the patented ShelterLock stabilizers keep the frame in place for a stronger frame and more convenient installation.
Best Uses
ShelterLogic Garage-in-a-Box is the option for those that are looking for a simple temporary car shelter solution that gets them by without breaking the bank. These smaller garages are excellent choices for smaller pieces of equipment. They are often used for boat storage, lawn equipment, or tools, and supplies.
ShelterLogic Backyard Garages
Whether you need something that is built to last in the same place, standing against years of rough weather patterns and high-volume usage, or a smaller garage that will protect your family vehicle or lawn supplies, ShelterLogic has the backyard garages to match.
It helps that they are customizable and that there are a wide variety of options inside of each category. This way, whatever shelter you need, ShelterLogic has got you covered.