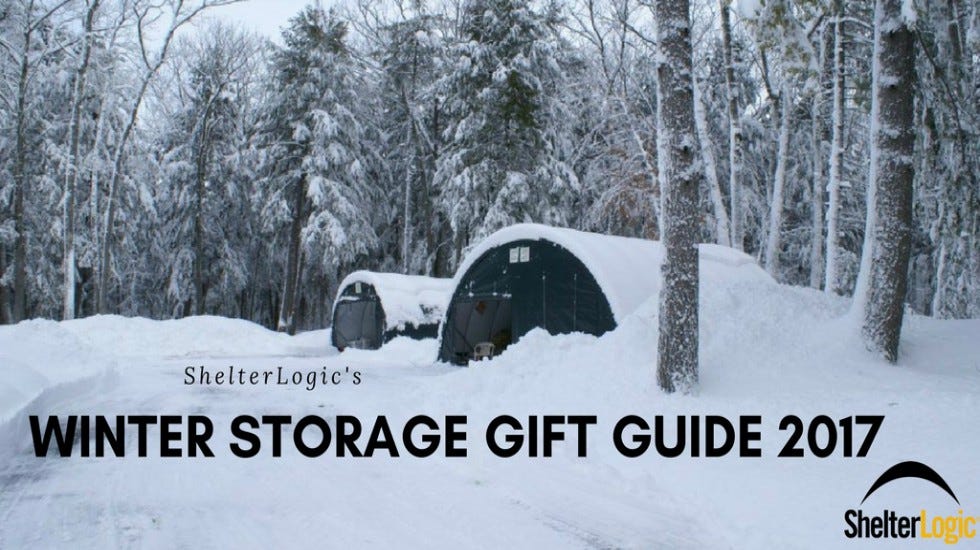 Winter is here, and if you haven't yet found the perfect storage unit to keep your items safe in the cool weather, now's your chance. At ShelterLogic we've got the perfect winter storage for RVs, boats, classic cars and more. Looking to tuck away expensive outdoor items from the elements? We've got the perfect winter storage option for you. In this gift guide, you'll learn about our unique shelter and storage solutions that provide the most reliable protection and the differences between them. Discover our range of shelter products from premium and customizable solutions to affordable pre-fab options. Choose the shelter that'll best suit your winter storage needs.
Premium Winter Storage Options
For tough weather ready buildings that are snow and wind rated, look no further than our premium ShelterTech garages and shelters. From businesses to residences, our 
ShelterTech SP Series
 offers a large selection of size options and 3 roof styles. With more choices, you'll have a better opportunity to create a unit for your specific application. To accommodate a variety of different needs, choose from buildings as long as 100 ft. and in 
peak
, 
round
 or 
barn
styles.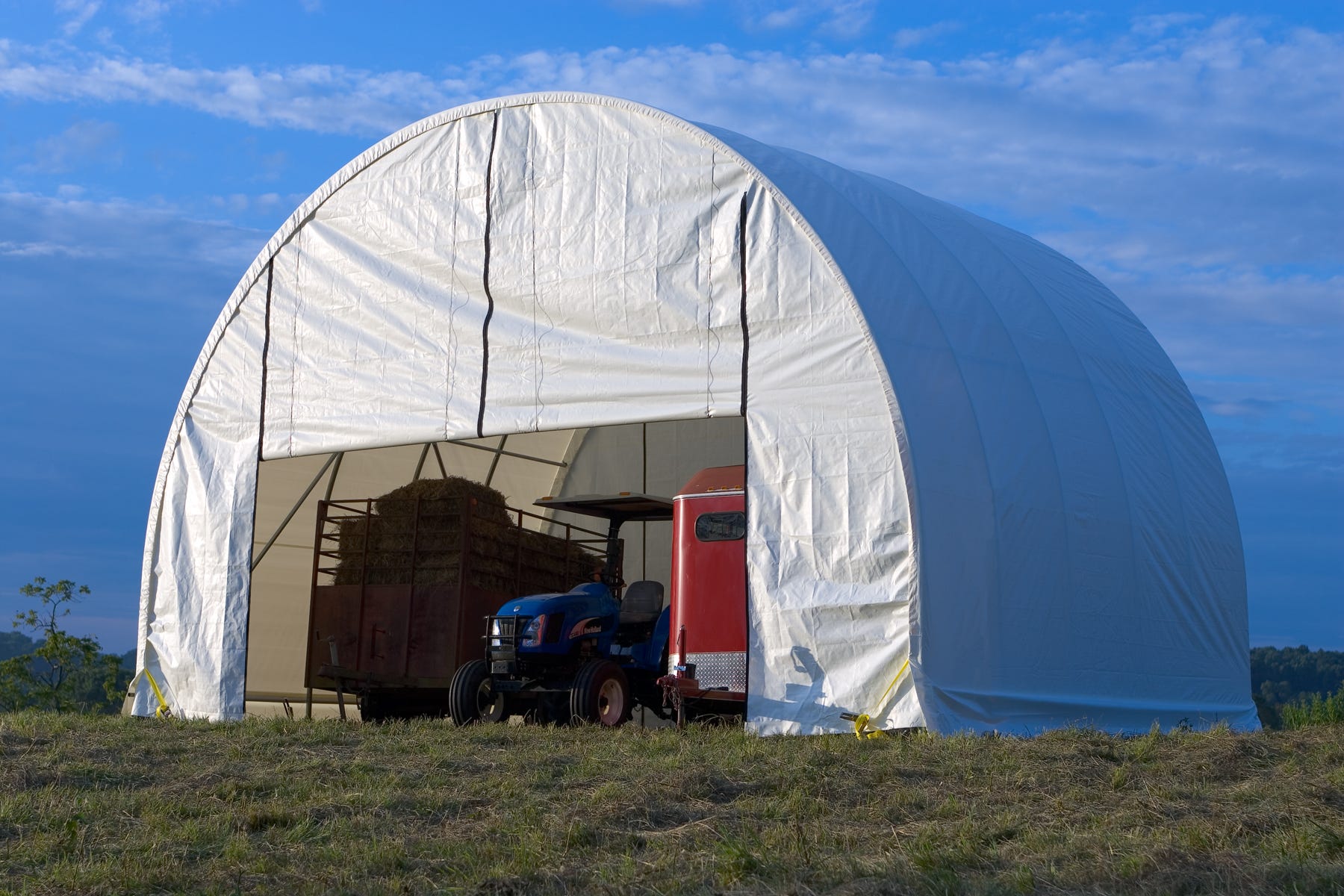 ShelterTech SP Series in Round Style, Starting at $1,860.81
The round style provides a great amount of width space and sheds snow the best out of the ShelterTech SP Series. This structure comes in 5' increments.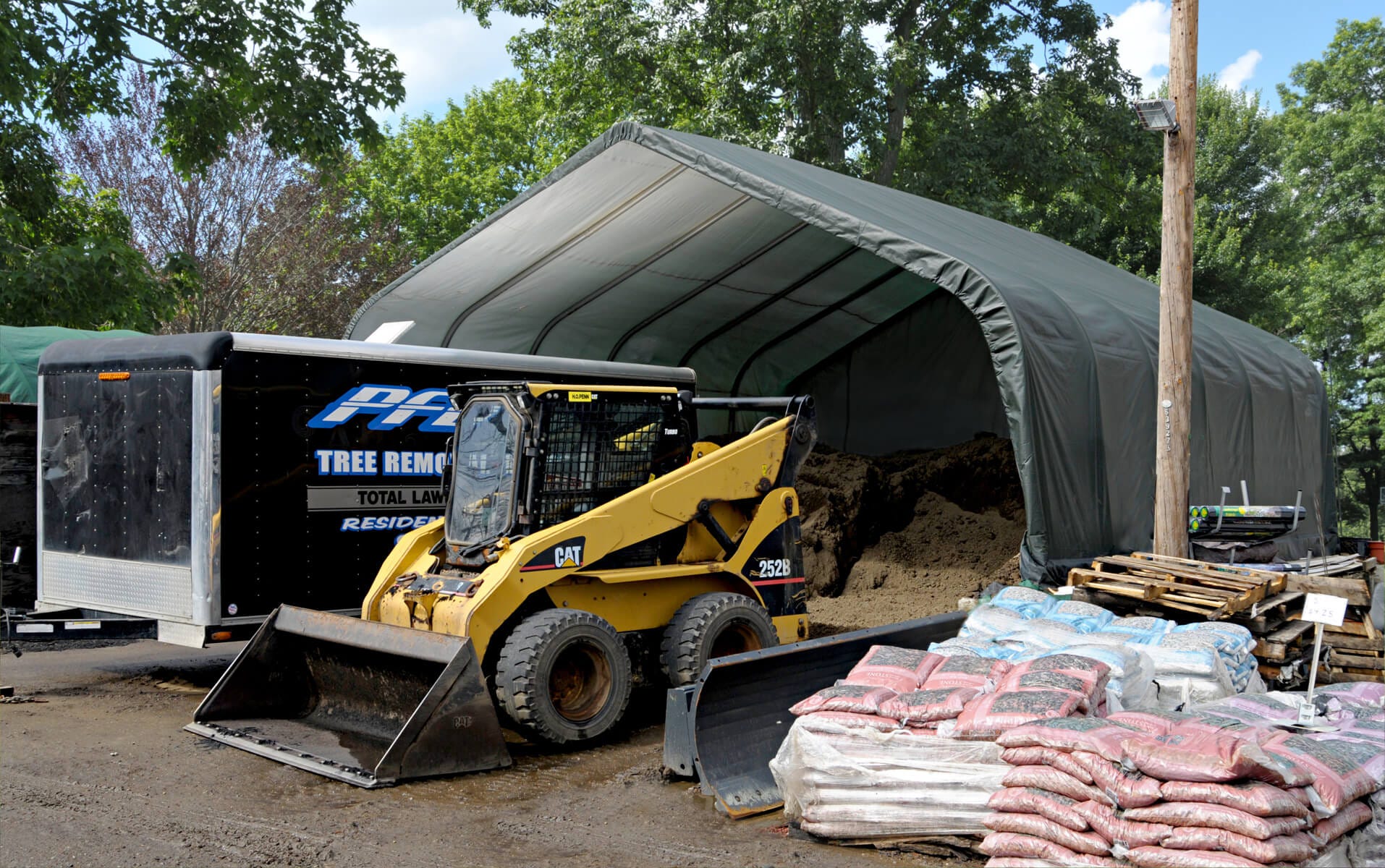 ShelterTech SP Series in Peak Style, Starting at $1,862.54
The peak style offers an easy installation process and more options for storage. This structure comes in in 4' increments.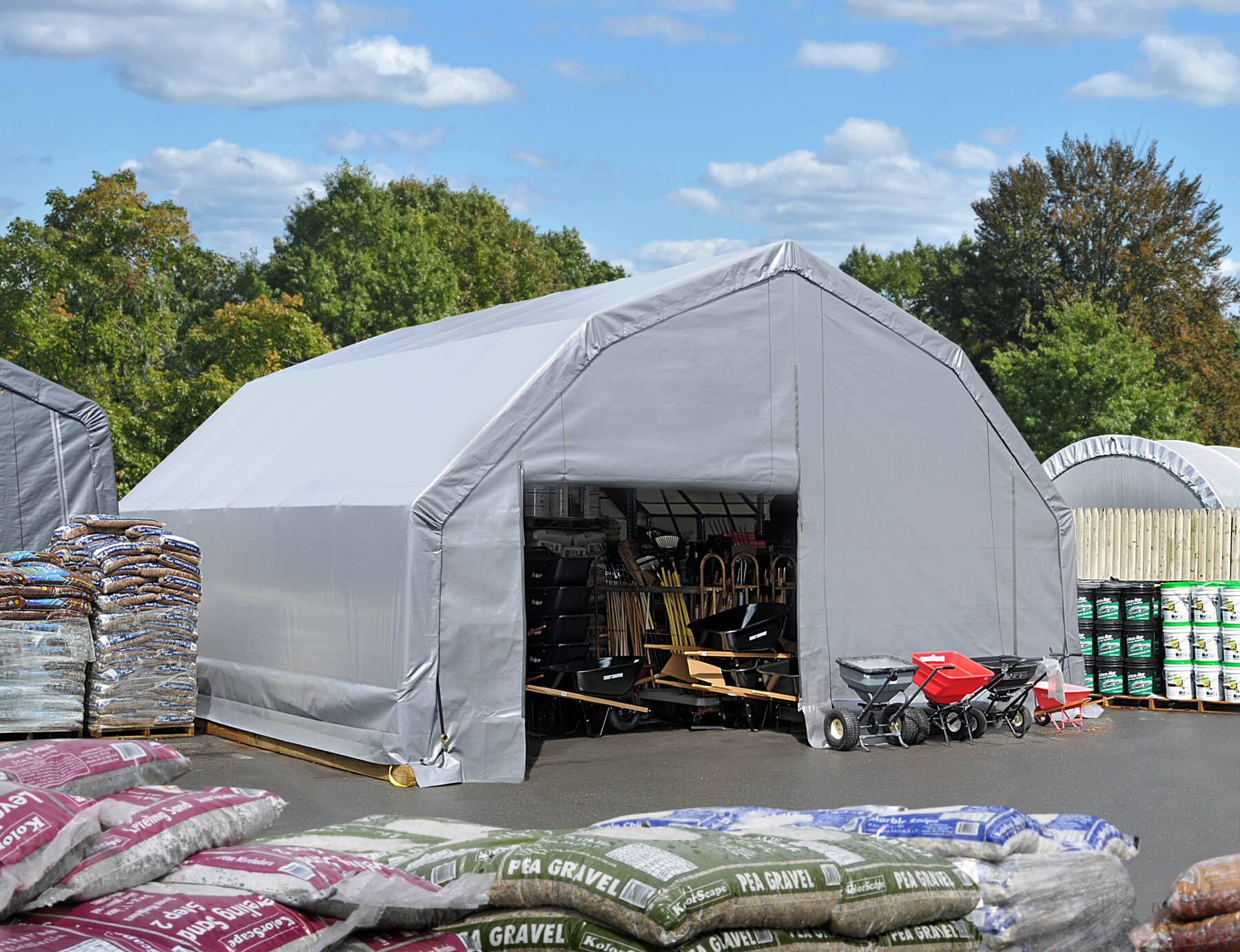 ShelterTech SP Series in Barn style, Starting at $2,002.46
The barn style offers an increase in cubic storage space up to 25 ft. and offers more usable headroom. You'll be able to get this structure in 4' increments.
Our buildings can be made large enough for loaders making them excellent for commercial salt storage and great for storing bulk items. Need something on a smaller-scale? If necessary, SP buildings can be custom built as small as 20ft. long, giving you the perfect amount of space for a portable one-car garage or extra storage for the yard. Made from 100% U.S. certified galvanized steel, ShelterTech buildings are some of the strongest in the market and come with up to a 15-year pro-rated warranty*.
Want to learn more about ShelterTech buildings?
Superior Winter Storage Options
For those looking for winter ready buildings at a more affordable price, we recommend
ShelterTube garages
. To help you feel more secure with unpredictable weather, our ShelterTube garages are snow and wind rated. Unlike most fabric garages and steel pipe shelters, its square tube profile provides added strength. These buildings can even be customized up to 100ft. long to hold a variety of different items. Be they large vehicles, bulk storage or simply a garage for year-long protection. To find the best fit for your storage needs, choose from three different fabric cover types:
Ultra Duty 21.5 oz Cover (Starting at 2,049.99) - The Ultra Duty is our toughest ShelterTube fabric cover for maximum coverage.
Heavy Duty 14.5 oz Cover (Starting at $1,799.99) - The Heavy Duty 14.5oz cover has mid-grade protection with a waterproof fabric cover.
Standard 9 oz Cover (Starting at $1,299.99) - The Standard cover has strong protection against the element and made with water-resistant fabric.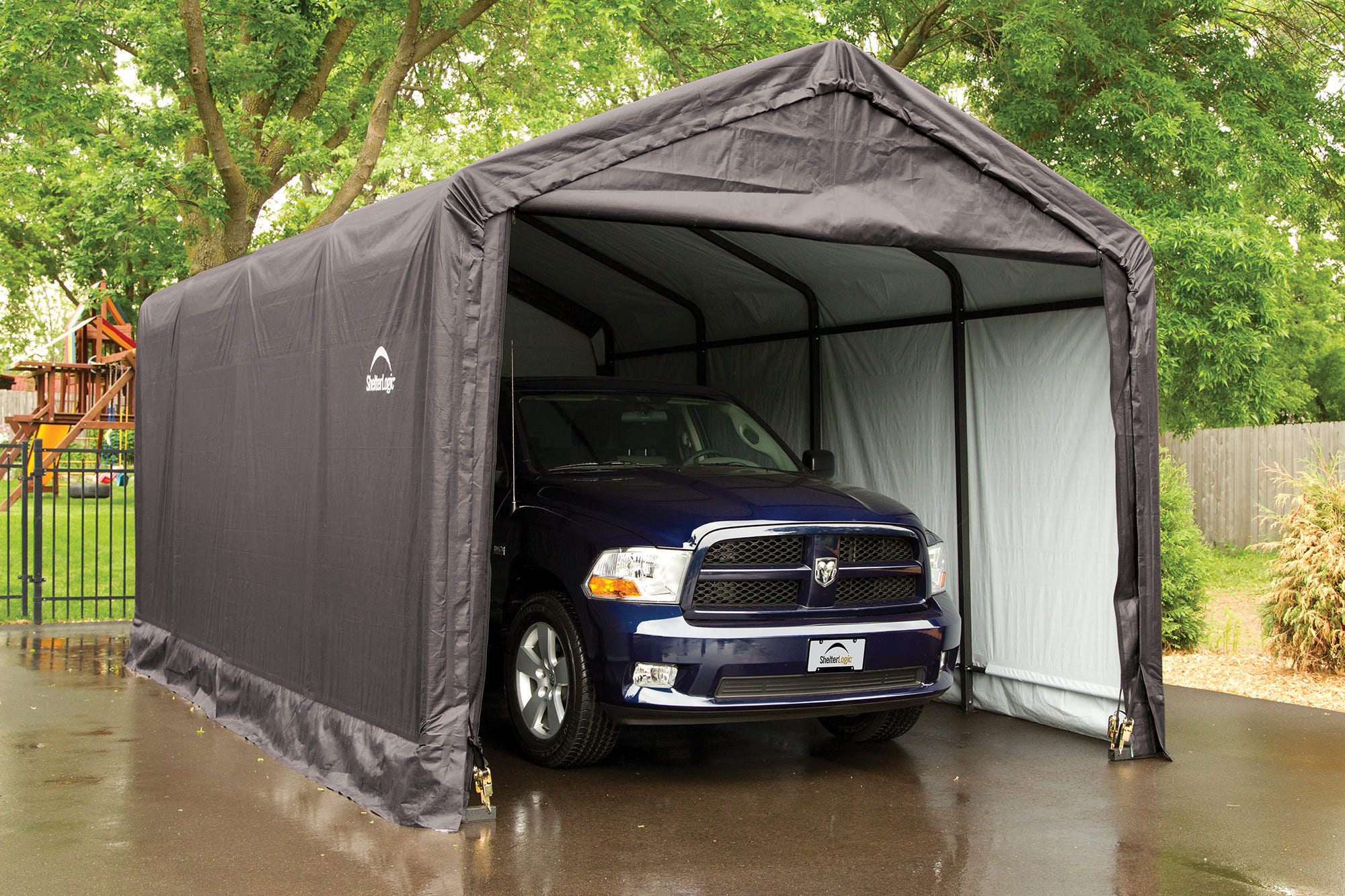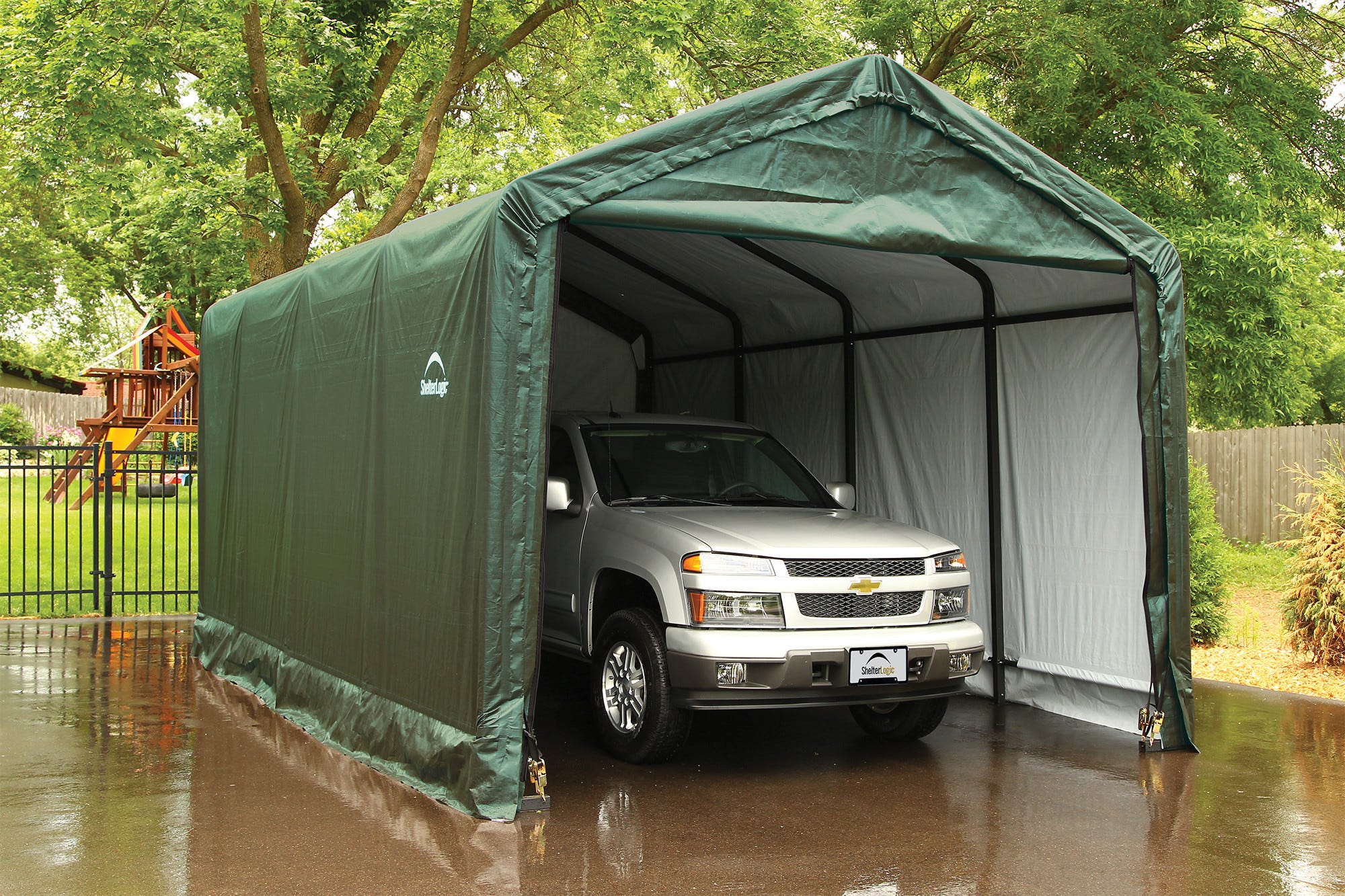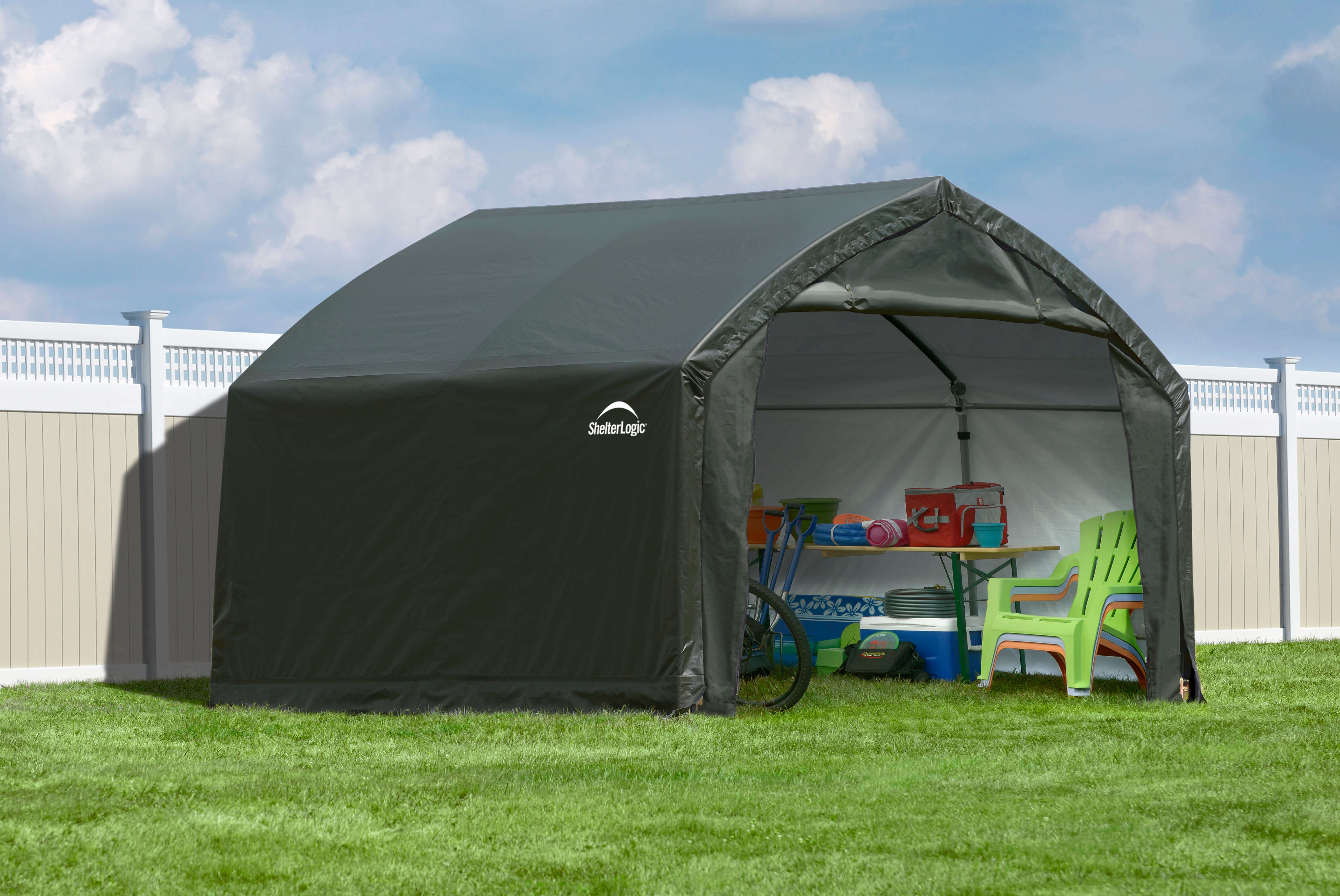 The smallest AccelaFrame Shelter 12 x 10 x 9 for $599.99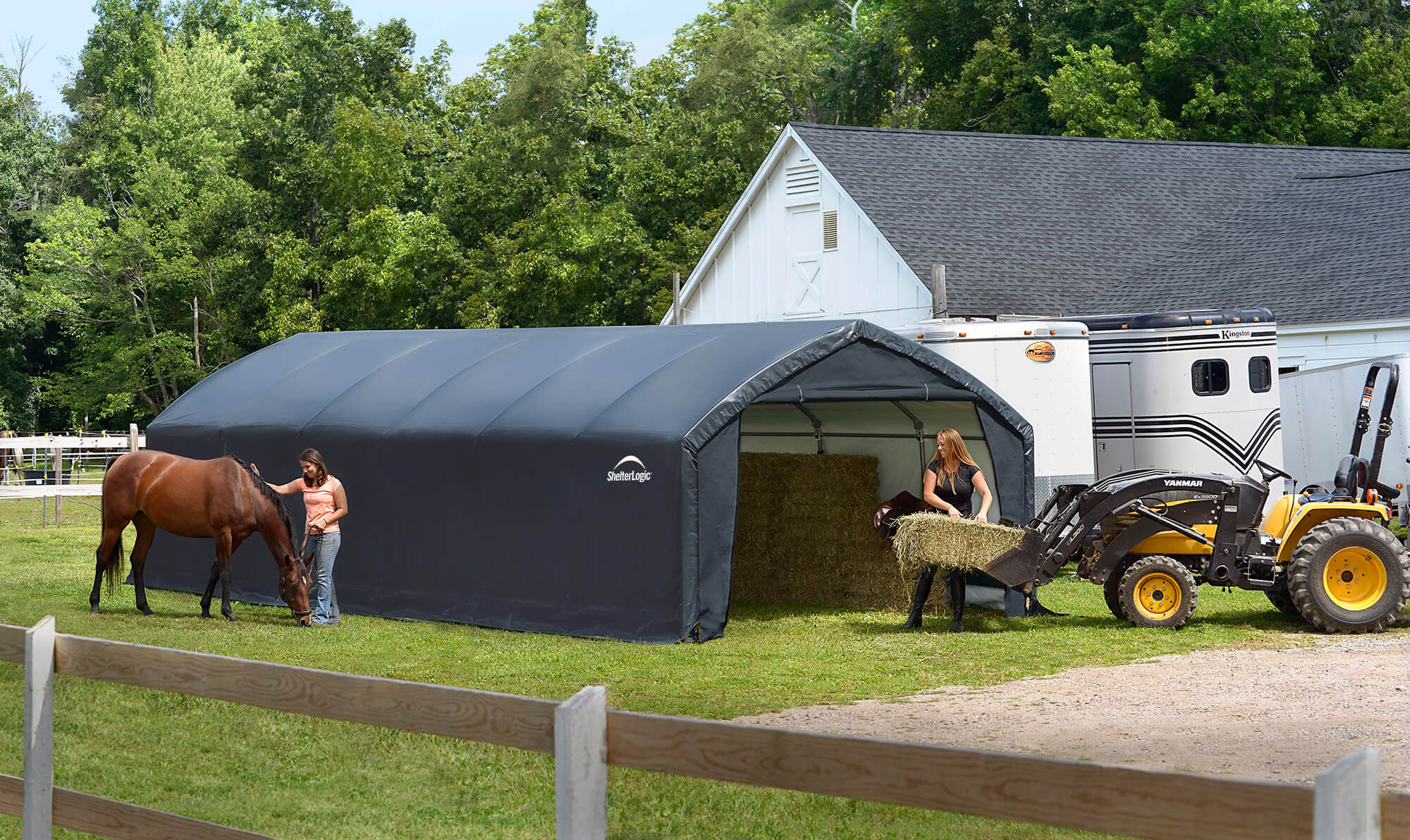 The largest AccelaFrame Shelter 12x30x9 for $1,399.99 
Imagine building a portable garage in as little as 30 minutes. Not hours or days- just minutes! What used to be inconceivable became possible when our engineers developed our
AccelaFrame series
. Not to mention, it's one of the only fabric custom quick assembly garages available in a large selection of size options. Choose from buildings as small as 10ft. long to buildings as large as 30ft long. With such a wide variety, you're more likely to find the best option for your specific application. Fewer parts mean faster assembly and less complicated instructions. With the AccelaFrame Garage Program, assembly is as easy as 1,2,3! Simply unfold the ribs, build the frame, and install the cover**. Once you've finished, you'll have a reliable, strong structure that can serve as storage all-year round.
Standard Winter Storage Options
For those with small yards or in need of seasonal storage, another option is our popular
Garage-In-A-Box
series. These economical buildings provide instant storage or shelter anywhere on your property. They also offer strong protection against the elements. You can store everything from tractors to bulk storage. To find the perfect fit, check out our four different options: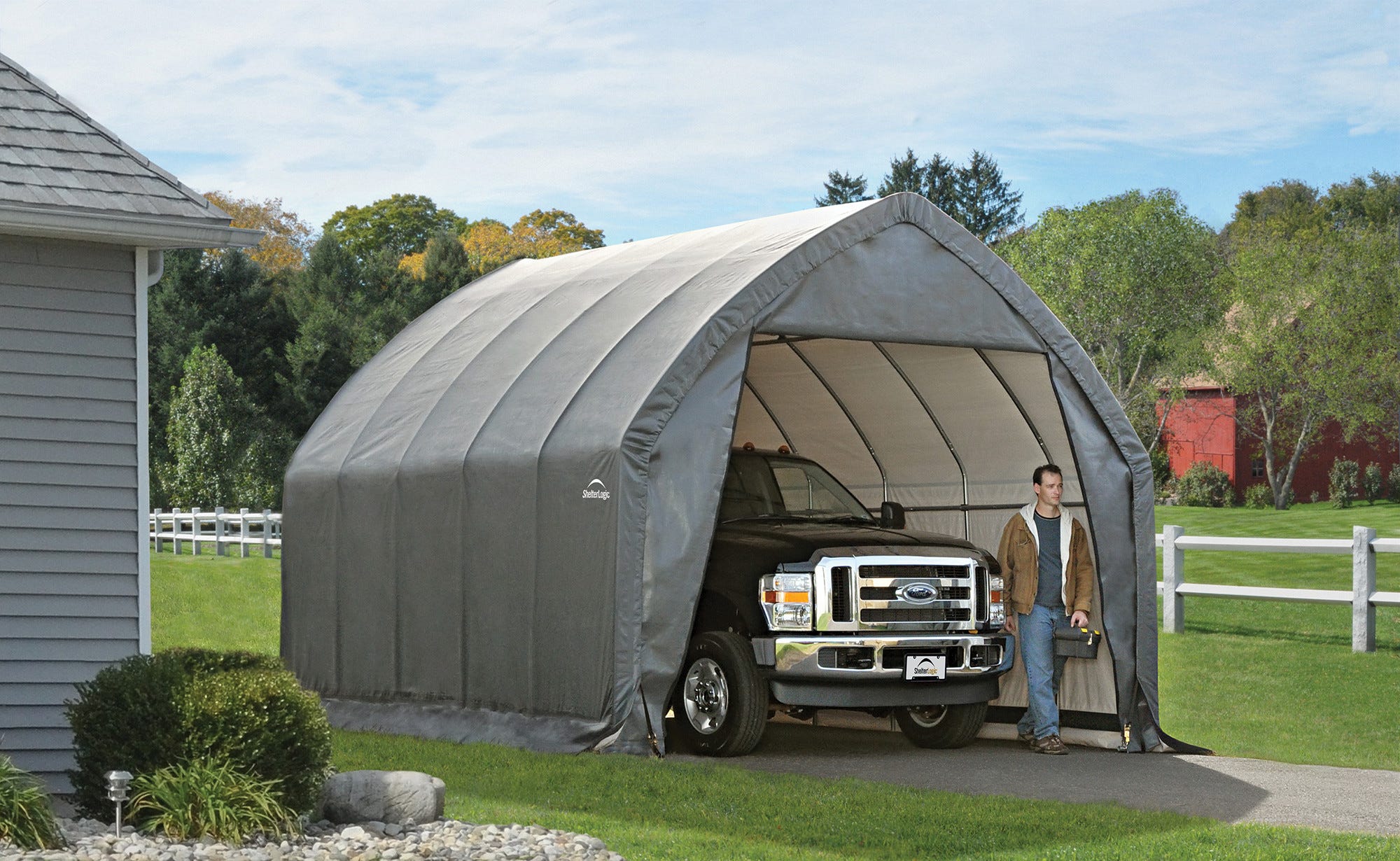 Garage-In-A-Box SUV/Truck for $579.99
Our largest option in the Garage-In-A-Box series, built specifically for SUV's or full-size trucks.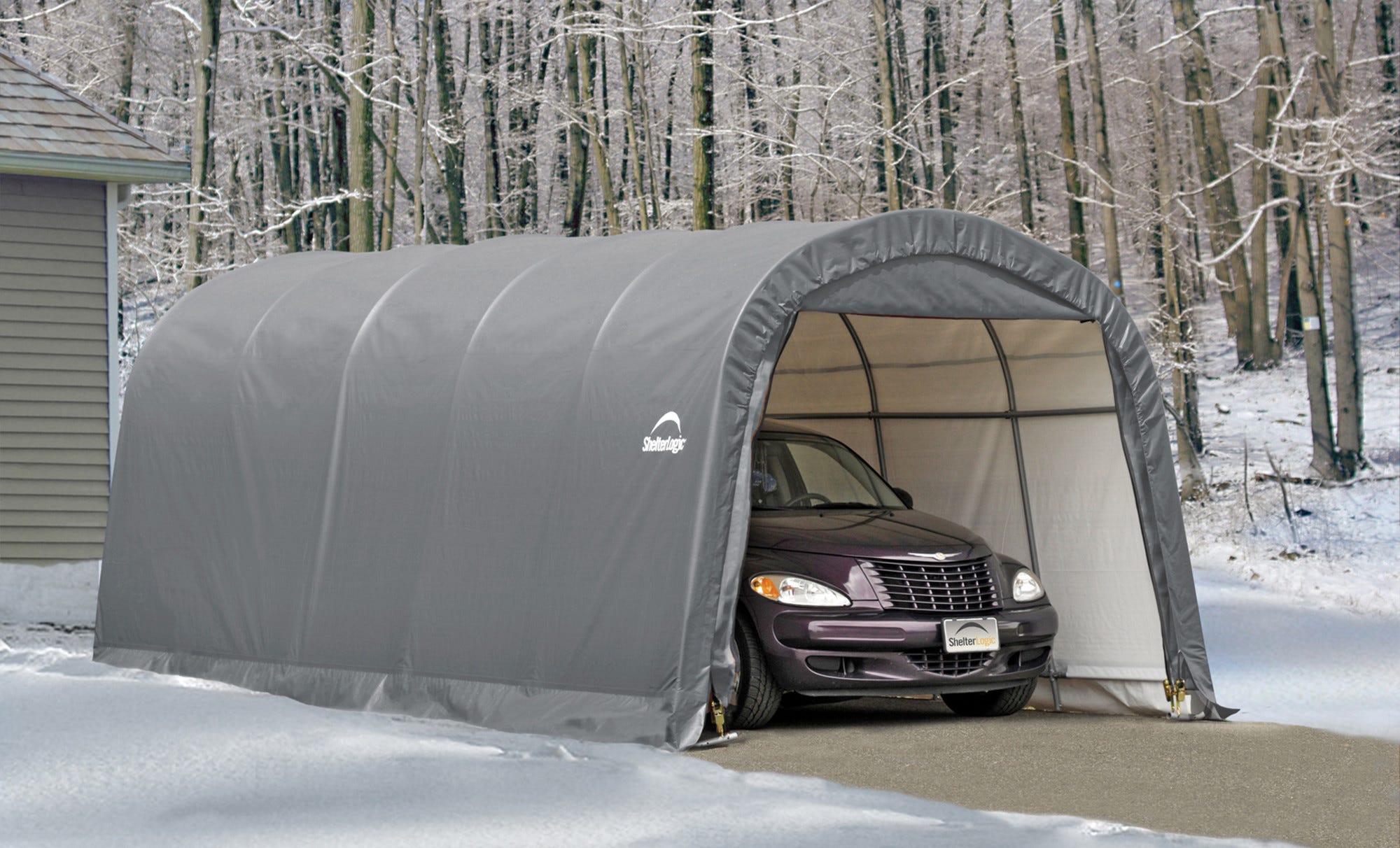 Garage-In-A-Box RoundTop for $469.99 The RoundTop style is affordable and a great design for shedding the elements.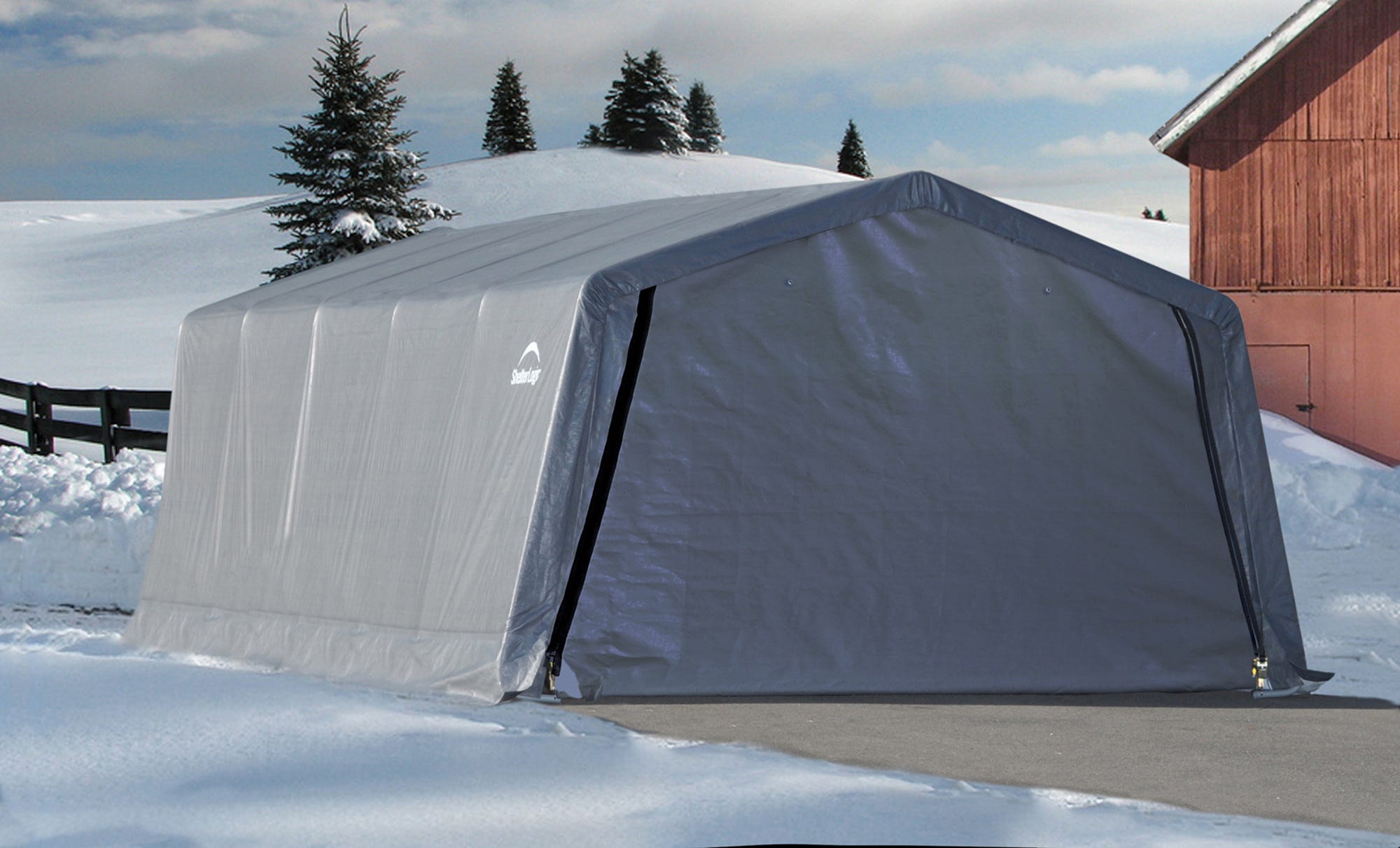 The Garage-In-A-Box 12 x 20 x 8 ft. ($419.99) provides year-round protection for cars, trucks and boats.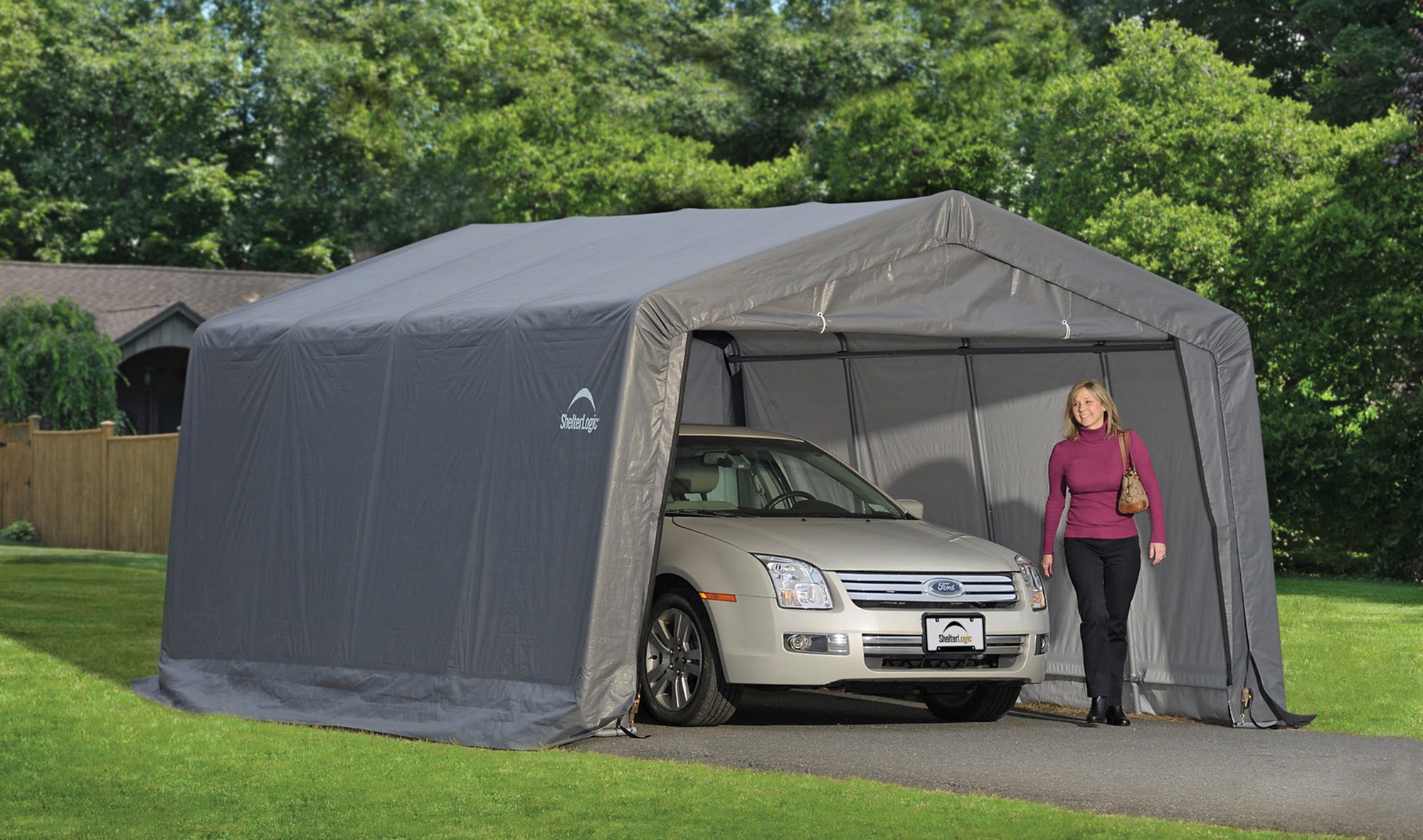 The Garage-In-A-Box 12 x 16 x 8 ft. (for $329.99) is an affordable option with a peak style roof. Perfect for mid-sized or small cars and trucks.
When the winter season is over, they're versatile enough to serve new purposes. After all, you'll need storage to keep items or equipment close-by or when your garage has reached its limit.
We hope that after reading our winter storage guide, you've found the perfect gift for this holiday season. If you have any questions about our storage or shelter solutions, feel free to comment below! You can also reach out to our customer service department directly by going here.
See all ShelterLogic Garages, Shelters, and Carports
*Ultra Duty covers on ShelterTech buildings come with a 15-year pro-rated warranty. For more information on ShelterTech products and warranty information, do not hesitate to
contact us
**We recommend properly anchoring all of our garages and shelter structures. For more information on proper anchoring,
see the ShelterLogic anchoring guide.