Gazebo curtains aren't just a convenient way to add privacy to your gazebo and protect you from the elements in rain or shine — they are your secret weapon to creating your very own backyard oasis with vibes reminiscent of a luxury hotel. Don't believe us? Google 
luxury hotel gazebo
, look at the pictures, and you'll see that the majority of them have curtains. It's not a coincidence, folks. Putting curtains on a gazebo is like putting curtains on windows, it helps define the space, and provides a sense of privacy. Plus, it's another tool to help capture the atmosphere you're after whether that's: luxury cabana, whimsical oasis, or all-season lounge. Are you ready to transform your gazebo into a stand-alone statement feature that makes you feel like you're at a five-star resort? Still, have questions about gazebo curtains and what all the fuss is about? We'll cover all that and more.
Benefits of Gazebo Curtains
If we haven't totally convinced you that you need to get your gazebo some curtains pronto, here are all the benefits that gazebo curtains can provide.
Weather Protection
One of the most useful parts of curtains is the additional weather protection that they provide. Most gazebo curtains, like all of
SOJAG's gazebo curtains
, have water-resistant material to shed rain. Plus, they can block harsh wind or harmful UV rays. In the summer, you can use the curtains to shield yourself from the hot sun and make sure your gazebo stays nicely shaded. Then, during the colder months, close off all the curtains, add a portable patio heater and you've got a cozy little area to spend time relaxing with friends and family.
Privacy
Curtains can let you turn your open-air (and open-view) gazebo into its own private lounge that keeps any curious eyes out. Especially in crowded cities or suburbs, it can be a challenge to find outdoor spaces that you can have all to yourself. Your backyard should be somewhere you can feel secure and sometimes even a curtain can make all the difference.
Mosquito Protection
Nothing ruins a blissful summer evening like mosquitos — that terrible buzz in your ear and the paranoia of feeling like you're constantly getting bitten. Then, of course, the incessant itching later on. Adding curtains or a 
mosquito net
 to your gazebo makes mosquitos and other flying insects less of a concern.
Style
Have we mentioned curtains look great? Whether they're open and anchored to each post or drawn together to fully enclose the gazebo, curtains can help you create the perfect vibe for your gazebo.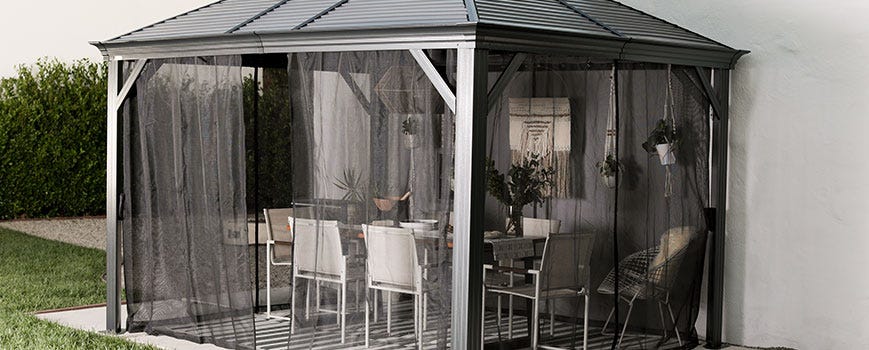 Types of Gazebo Curtains
There are a variety of different types and styles of curtains that you can add to your gazebo, but the two main types are solid fabric curtains and mosquito netting. Solid fabric provides full coverage for privacy and weather resistance to block rain, wind, and sight. Mosquito netting is mostly to keep bugs out, but it also provides a small amount of weather coverage and a slightly less obstructed view than curtains.
The Best Fabric for Outdoor Curtains
All of SOJAG's outdoor curtains feature water-resistant spun polyester fabric. Spun polyester is an all-weather fabric that has built-in UV light protection and is durable enough to keep outside. The fabric is easy to handle so you can easily install the curtains and take them down for washing or cleaning when you need them.
Mosquito Netting
Mosquito netting is a slightly different type of gazebo coverage. 
SOJAG's mosquito nettings
 feature a PVC-coated polyester netting that hooks onto the gazebo. These curtains are lightweight and help to keep flying insects out while still letting in the fresh air and letting you see outside.
Sizes
SOJAG offers curtains and netting for all different types of gazebos and gazebo sizes. Many curtains are designed specifically for the brand's matching gazebo. For the most convenient setup and a guaranteed fit, we recommend getting a curtain matched with the type of gazebo you have. For example, if you have a rectangular 
Sedona 10 x 12 ft gazebo
, you would want the 
curtains
 to match that specific gazebo. Similarly, if you have a more circular shape like the 
Komodo Hardtop 12 x 15 ft gazebo
, you would also want to get a 
curtain
 to match that.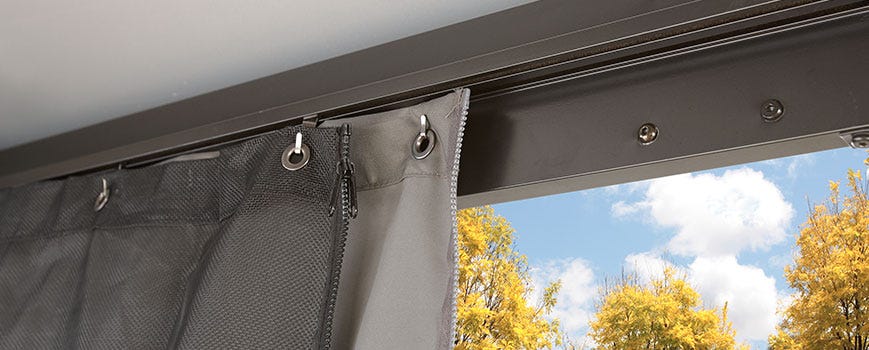 How To Put Curtains on a Gazebo in Four Easy Steps
If you go the DIY route for gazebo curtains, you need to buy the fabric, get all the measurements correct, install curtain rods, and add the attachment points for each curtain. Basically — this isn't a small job. On the other hand, if you buy a full curtain set like 
curtains for the Dakota Gazebo
, it comes with everything included and can go up within an hour. If you go this route, you can get your curtains up in just four simple steps.
Step 1: Assemble Supplies
Gather everything you'll need to set up your curtains:
A friend
Your curtains and included hooks
The gazebo
Step 2: Attach Hooks to the Curtain Track
If the hooks are already installed, skip this step. Otherwise, attach the hooks to the outer curtain track on the gazebo (the track closest to the frame, not the one closest to the inside of the gazebo — that's for the mosquito netting!). If you currently have mosquito netting installed on your gazebo, it may be easier to take the netting down and put it back up once the curtains are up.
Step 3: Attach Curtains
Connect the curtains onto the hooks from the left-most grommet, moving right and around the corner of the gazebo. Each of the four panels will go around each corner of the gazebo so the panels meet in the middle of each wall to zip together.
Step 4: Anchor Curtains Open or Closed
Once the curtains are in place, you can either decide to zip the curtains together to close off your gazebo, or you can use the provided straps to hold the curtains open and attach them to each corner post.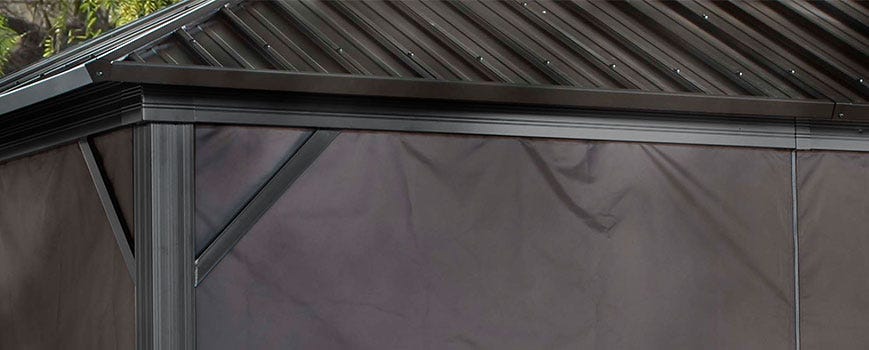 How To Stop Gazebo Curtains from Blowing
If you're using your curtains during windy conditions, you may be wondering how to keep the curtains from blowing all over the place. The curtains should be tight enough around the gazebo to not blow around too much once all zipped together, however, if you want to keep them from blowing around when open or partially open, here are a few solutions. One solution is to add weights to the bottom of the curtains to make them less likely to blow around. SOJAG's gazebo curtains already use heavy-duty fabric that should be able to handle light breezes, but if you need extra wind resistance, you can 
add extra weight to the bottom
 of the curtains in a few different ways:
Thread a steel straight link chain through the hem.
Attach fishing weights to the hem.
Sew heavy washers into the hem.
Use stone weights that clip to the base of the curtain.
Alternatively, you can opt for an ultra-secure solution by clipping them to the ground via a permanent attachment or stake in the ground. So that you can still move the curtains around when you need, use a removable bungee connector to attach the curtain.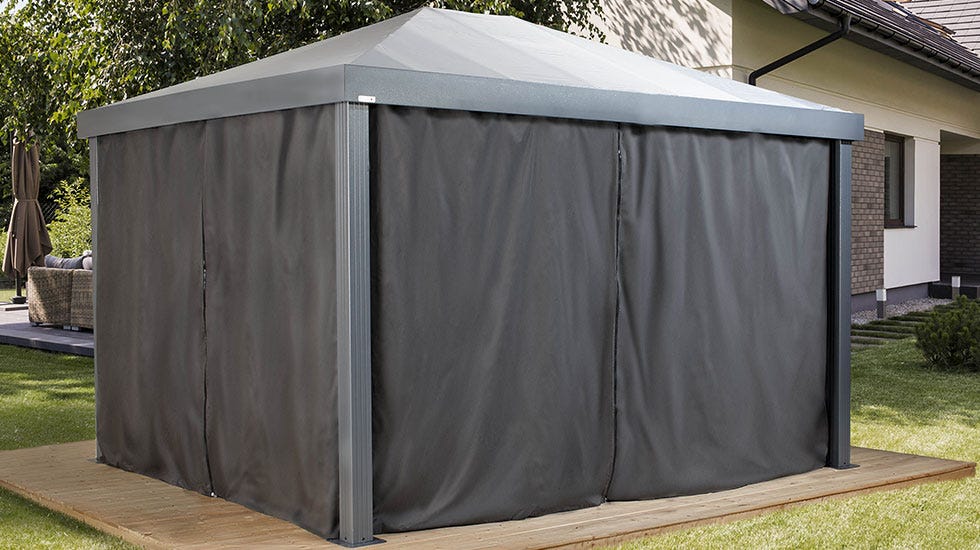 4 Ways To Use a Gazebo with Curtains
Now that you have these snazzy new curtains that make your gazebo an all-season sanctuary, you can decide exactly how you want to use this new space. The possibilities are endless! To get you started, here are four ideas for how to use the gazebo.
Lounge Area
Add in a hammock, some comfy lounge chairs, or a sofa plus a side table or two to hold drinks and you're ready to hit peak relaxation mode. For an extra cozy winter vibe, you can install a fire pit or patio heater to keep you toasty.
Dining Area
Outside dining is all the rage these days and it's not hard to see why. The cool breeze, the fresh air. Disconnecting from our phones and reconnecting with each other. By adding a dining table and some chairs under your gazebo, you can set the stage for either a romantic dinner date or a comfortable family meal.
Hot Tub Cover
Keep your hot tub sheltered and protected under a gazebo and even more so with the curtains drawn. Warm water, cool fresh air, and added privacy curtains are a great way to set the tone for a perfect spa day.
Kids Play Area
Give your kids somewhere to play outside even when it's rainy with a curtained gazebo. You can add a sandbox, slide, or arts and crafts station under the gazebo where they can go to have fun.
Get Your New Gazebo Curtains Today
Make the most of your gazebo through the rest of the winter and for years to come by installing a set of
SOJAG's durable curtains
.[/vc_column][/vc_row]