Portable outdoor sheds and tarp buildings are among the most versatile and functional features you can add to any outdoor space. Whether you want more storage, a storehouse for your livestock feed, an office space, or a portable garage, the possibilities are only limited by your imagination.
There are many different options on the market, but not all portable outdoor buildings are created equally and so in this article, we'll go over the best models and look at some great ways to use them to enhance your property.
Keep reading to learn:
Five great ways to use your portable outdoor shed
Why you should choose ShelterLogic Fabric Buildings and Sheds
The best outdoor shed and tarp buildings on the market
And much more!
Five Great Ways to Use a Portable Outdoor Shed or Tarp Building
There are dozens, maybe hundreds, of great ways to use your portable outdoor shed or tarp building. Some people dedicate their outdoor buildings to one purpose, such as a studio space or storage shed, but others prefer to use the space for different purposes depending on what they need it for at the moment; both options are nice to have. Although the possibilities are endless, let's look at five of the best and most common ways to use a portable outdoor shed or fabric building.
The best ways to use your portable outdoor shed or tarp building:
1. Use it to store cars
One great way to use a portable outdoor building is to use it as an extra garage. Some homes don't have garages, or they have more vehicles than they can fit in their garage, and so using a portable shed or tarp building is an ideal solution. Portable outdoor buildings also allow you to offer your guests a parking space in your temporary garage when your driveway is full, which is always nice, and they can also be used for storing your snowmobile or snow removal equipment during the winter months.
2. Use it to store landscaping equipment
Another excellent way to use your portable outdoor shed or tarp building is as storage for your landscaping equipment. Let's face it – tractors, mowers, and trimmers are big, and they take up a ton of space in your garage. By storing all of your landscaping equipment in a portable outdoor shed, you'll be able to access it whenever you want, without tripping over it, and you'll also be able to protect your gear from the elements, so it's a win-win.
3. Use it as a livestock feed storehouse
If you have livestock, then you know that storing feed can be an issue. A convenient solution is to store your livestock feed in a portable outdoor shed. By having a dedicated space for quick and easy access to your feed, you'll be able to keep your farm organized while increasing the aesthetic of your property.
5. Use it as an office space
Finally, why not use it as an office space? Portable outdoor office spaces are common on most construction sites and film sets because of their convenience. It's also nice to have a separate office outside of your home for when you want to focus on your work without being distracted by what's going on in your house. Outdoor offices are ideal when you need to make calls or video conference with clients, colleagues, and customers because you'll be able to attend to your business without worrying about any unexpected disruptions or distractions.
No conversation about portable outdoor sheds or fabric buildings would be complete without talking about ShelterLogic, the leaders in outdoor sheds and tarp buildings. So, let's look at some of the reasons for why you should consider ShelterLogic for your next new fabric building or portable outdoor shed.
The Features and Benefits of ShelterLogic Fabric Buildings and Sheds
There are a few different manufacturers of fabric buildings and sheds. But there are some advantages to choosing a high-quality shelter from ShelterLogic. To understand why ShelterLogic is the leader in portable outdoor buildings, let's look at some of their best outdoor sheds and tarp buildings and go over some of the features and benefits you can expect when choosing a new portable outdoor building from ShelterLogic.
The Best Outdoor Sheds and Tarp Buildings
Garage-in-a-Box
One of the best portable garages on the market, Garage-in-a-box, is one of the only temporary garages that can fit a large truck, or full-size SUV, making it the best choice for people who need extra vehicle storage year-round for their large vehicles. Some of the best features of Garage-in-a-box include:
A durable all-steel frame
A triple-layer, ripstop waterproof cover
A reinforced door
ShelterLock Stabilizers
And an easy slide cross rail system
Best of all, Garage-in-a-box is easy to set up, so you won't have to spend all day installing your new outdoor garage.
ShelterCoat
ShelterCoat shelters and garages feature a heavy-duty frame construction and come with a ten-year prorated warranty so that you can have peace of mind knowing that your outdoor building will serve you well for many years to come. Some of the best features available with ShelterCoat buildings include:
A heavy-duty frame constructed with 2-inch steel diameter
A powder coat finish that protects the frame from rust and corrosion
A Ripstop engineered polyethylene fabric cover that's been UV treated
Heat-welded seams that are 100% waterproof
ShelterLock stabilizers for stability and strength
A Ratchet Tite tension system with Easy-Slide cross rails
ShelterTech
The ShelterTech line of outdoor fabric buildings is among the very best available on the market and includes a number of advanced features designed to make sure that your portable building lasts long and serves you well. Some of the best features of ShelterTech outdoor portable building include:
An available 15-year prorated warranty
UV coating to protect from the sun's harmful rays
A 100% waterproof design and construction
ShelterTech buildings are expandable for future needs
Easy to assemble and dis-assemble
Designed to perform well year-round
ShelterTech portable outdoor buildings are available in all shapes and sizes, so adding on to your outdoor space is almost effortless when you choose a ShelterTech building from ShelterLogic.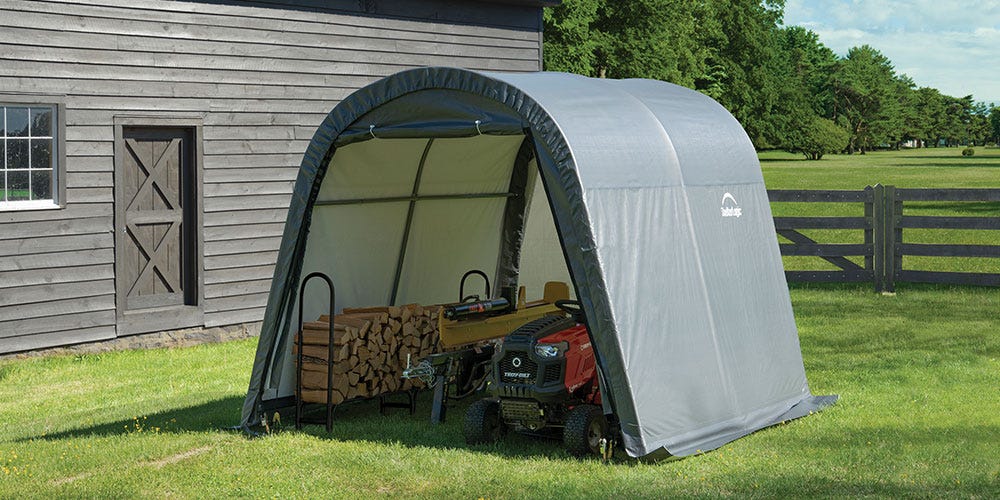 ShelterTube
ShelterTube features one of the best wind and snow ratings available on the market, making it an excellent choice for those who live in areas with less-than-ideal weather or where the winters are particularly wet and snowy.
AutoShelter
The AutoShelter is an excellent outdoor instant garage. With an all-steel frame, waterproof ripstop cover, quick assembly, easy-slide cross rail system, and ShelterLock stabilizers, it's easy to see why so many people choose to go with the AutoShelter from ShelterLogic to protect their vehicles.
AccelaFrame
Among the very best of the best portable outdoor garages and buildings, Accelaframe garage platforms are designed to last the longest and offer the best protection for your vehicles during the winter or when the weather conditions are wet and windy. AccelaFrame is the only patented, quick assembly, fully custom garage, making it the top-of-the-line outdoor solution for protecting your vehicles. Some of the best features and benefits of AccelaFrame garage platforms include:
The AccelaFrame can be assembled and disassembled in minutes
Built with a heavy-duty, reinforced high-grade steel frame
Galvanized steel joints for added stability
A variety of colors to choose from
Fully waterproof construction
If you want an outdoor garage that will last for years to come and provide you with the very best protection, then investing in the one and only AccelaFrame may very well be your best bet. Not only will a genuine AccelaFrame last a long time, but it will hold up in even the toughest weather conditions.
Portable Outdoor Sheds Extend the Functionality of Your Property
Portable outdoor sheds and fabric buildings allow you to extend the functionality of your property by adding extra storage, parking, studio space, office space, and much more. There are tons of ways to use your portable outdoor building, and there are tons of outdoor buildings to choose from, but some portable outdoor buildings are certainly better than others. ShelterLogic has some of the very best portable outdoor sheds, garages, and fabric buildings on the market, and most of their buildings feature high-grade, high-quality materials and come with long-lasting prorated warranties. For all of these reasons and many more, ShelterLogic is a leader in the portable outdoor shelter industry.