Imagine starting your day with a great cup of coffee in the shade of an outdoor gazebo. You can turn this dream into a reality with a stylish backyard gazebo from SOJAG, but how do you know which type of outdoor gazebos is best for you? A wall-mounted gazebo creates a protective cover over your back deck or patio. On the other hand, a freestanding gazebo will create a shady spot anywhere in your yard. Here's everything you need to know about outdoor gazebos to help you make the right decision.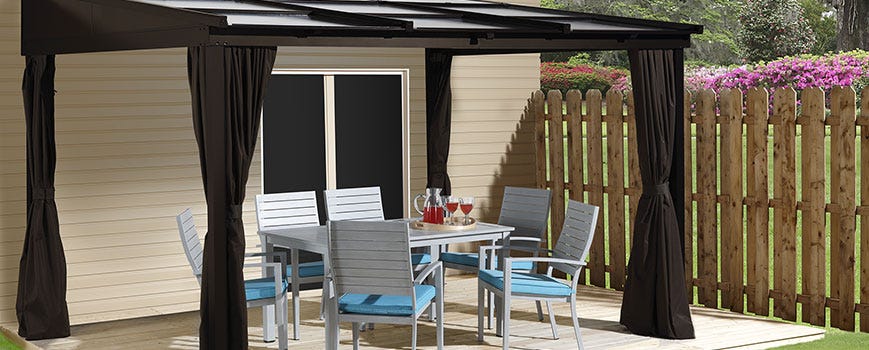 Wall-Mounted Gazebos
Wall-mounted gazebos are the perfect way to upgrade your backyard deck. As the name suggests, wall-mounted gazebos are attached to an exterior wall of your home. SOJAG wall-mounted gazebos have powder-coated aluminum frames that provide stylish support. The galvanized steel or polycarbonate roof provides protection from UV rays and heavy rain. They're also strong enough to withstand snowstorms in the winter. On hot days you can enjoy the cool breeze wafting through the three open sides of your wall-mounted gazebo. Then, on cool evenings, you can opt for added protection from bugs or cold weather by using mosquito netting or curtains. You can enclose the gazebo to create a sheltered space and extend your outdoor season well into the fall or winter.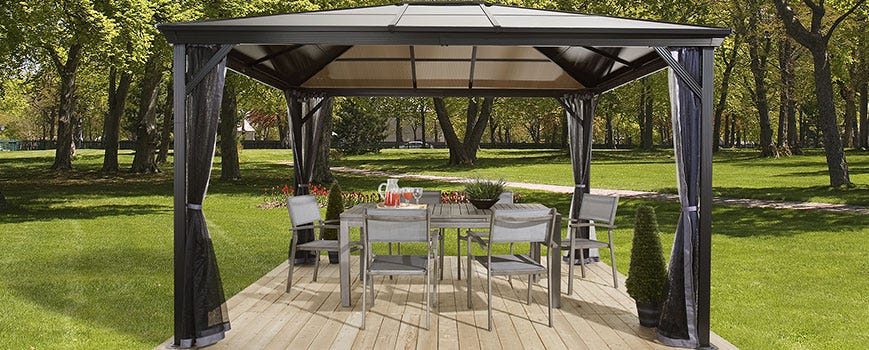 Freestanding Gazebos
Unlike wall-mounted gazebos, freestanding gazebos are completely self-supporting structures. This means you can place them anywhere in the yard. These outdoor gazebos are open on all four sides to give you an unobstructed view of your beautiful backyard space. Just like wall-mounted gazebos, freestanding outdoor gazebos have quality frames, as well as mosquito netting and curtains to provide the perfect amount of protection. Freestanding backyard gazebos can be installed on the patio or deck, on a concrete foundation, or even on a flat grassy area in your yard. Before installing your gazebo, use our anchor guide to find out which anchors will safely secure your outdoor gazebo. A backyard gazebo will add a touch of elegance to your backyard design and it will quickly become your family's favorite place to hang out.
Hardtop Vs. Soft Top Gazebos
Depending on your backyard design, you can choose either a hardtop or a soft top gazebo. Hardtop gazebos are durable and stylish structures. The galvanized steel or polycarbonate roof protects you and your furniture from the elements. Hardtop gazebos make great backyard grill covers, and you can use them for an outdoor workshop, or even an outdoor workout space. Soft top gazebos have a polyester fabric top, and an aluminum or steel frame. They're similar to a canopy, but the steel frame provides much stronger, and more reliable, support, allowing you to leave the structures up all year. Soft top gazebos provide the perfect cover for an outdoor dining room, a poolside shelter, or a place to relax in the shade.
Standard, Superior, and Premium Gazebos
When it comes to quality, all SOJAG gazebos are built to last. You can choose between three different quality levels to suit your outdoor needs and your budget. A standard gazebo combines quality and a great price. These structures have powder-coated aluminum supports and a steel roof that provides great backyard shelter. Ready to upgrade? A superior gazebo is made from either polycarbonate or steel. Superior gazebos are available in larger sizes and have additional features to make them really stand out. They'll give you a custom look, and you can use them as an attractive centerpiece in your backyard design. The premium gazebo collection from SOJAG features top-of-the-line gazebo models. These structures are made of galvanized steel and other top-quality materials designed with long-term durability in mind. Premium gazebos also have a variety of stylish designs, such as a double roof, that will transform the look and feel of your yard into something magical.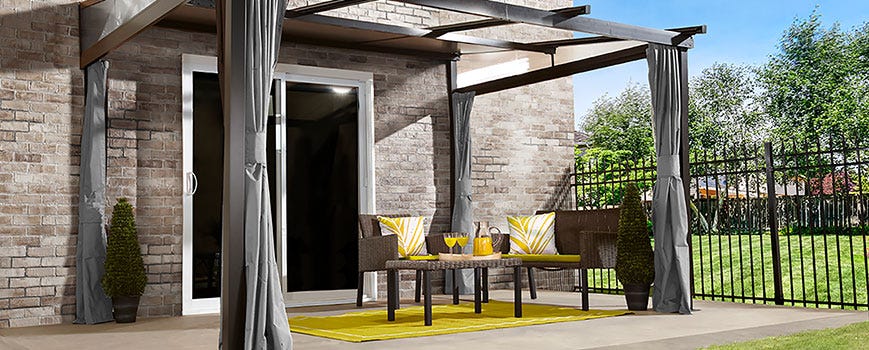 The Benefits of an Outdoor Gazebo
Both wall-mounted and freestanding backyard gazebos will help you maximize your outdoor space. You'll be able to make the best use of your yard regardless of the weather. Enjoy shade from the blazing sun, shelter from wind and rain, and even protection from mosquitos and bugs. There are a variety of great benefits offered by each style of outdoor gazebo.
Why Choose a Wall-Mounted Gazebo?
Wall-mounted gazebos are an ideal addition to any backyard with an existing solid structure already in place. Installing a gazebo on the side of your home helps you make the most of your backyard patio or deck. You'll create an inviting outdoor space that offers all the convenience of being close to the house. Wall-mounted gazebos will extend your indoor living space with great shelter right outside your back door.
Close to the Kitchen
Wall-mounted gazebos are perfect for hosting dinner parties or enjoying outdoor dining. With the gazebo just a few steps from your kitchen, you can have dinner outside every night without making numerous trips across the yard. They also provide the perfect shelter for your outdoor grill. You'll be able to enjoy outdoor cooking in the shade and can even fire up the grill when it's raining.
Plenty of Light
Wall-mounted gazebos give you a lot more options when it comes to lighting. Because they're close to the house you can easily light your gazebo with your patio light and enjoy a bright outdoor space in the evening.
Great for Smaller Yards
Wall-mounted backyard gazebos are a great choice for smaller yards. You can enjoy all the convenience of a sheltered outdoor space even if you don't have a large yard. Because they're mounted to the exterior of your home, they take up less space in the yard while still creating a versatile outdoor living space.
Stylish Addition to Your Home
Finally, wall-mounted gazebos look fantastic. You can choose from a number of styles to match the exterior or your home and create an outdoor space that's the envy of the neighborhood. SOJAG has a range of wall-mounted gazebos in several convenient sizes.
Why Choose a Freestanding Gazebo?
A freestanding gazebo is incredibly versatile. You can use a backyard gazebo to create the ideal space for you and your family. A freestanding gazebo will draw you out of the house and tempt you into spending more time in your backyard.
Endless Options
You can use a freestanding gazebo to design any kind of backyard space. They're ideal for creating an outdoor dining room, lounge room, or relaxation zone. These outdoor gazebos can be transformed into a children's playroom, a poolside cabana, or even a hot tub shelter. A contemporary gazebo from SOJAG is an incredibly versatile space that you can recreate as your outdoor needs change. This flexibility lets you enjoy your gazebo for years.
Privacy from the House
Freestanding gazebos are further from the house, so you'll have a sheltered outdoor area when you want to get away from your home. Whether you need a secluded meditation room, office space, or outdoor oasis, a freestanding gazebo can give you the privacy you need while being conveniently located right in your own backyard.
Great for Larger Yards
A freestanding gazebo adds architectural interest to the backyard while protecting you and your furniture from the elements. SOJAG has a range of standard, superior, and premium gazebos that are perfect for larger yards. You can incorporate them into your backyard design with an inviting garden path, place them by the pool, or find a quiet corner where you need a bit of extra shade.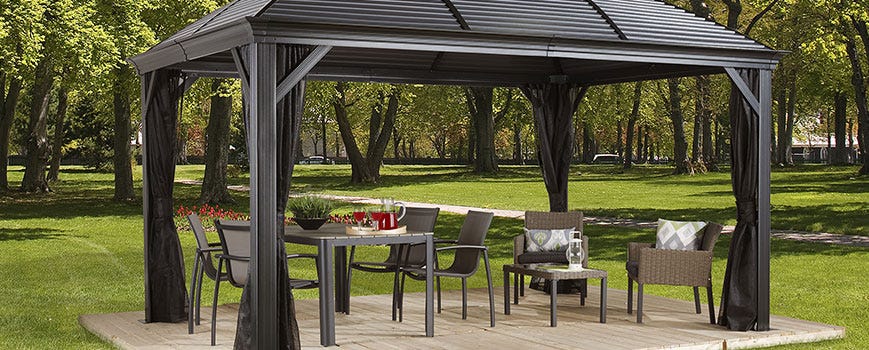 Choosing the Right Style for Your Home
Adding an attractive gazebo to your backyard will create a beautiful and practical outdoor space. To choose the right style for your home, ask yourself these questions:
How much do you want to spend? Wall-mounted gazebos usually have a lower price tag than freestanding gazebos, so they're a great option if you're on a budget.
Can you build a foundation? If you're adding a freestanding gazebo to your yard, you may have to build a foundation to create a stable base for your gazebo. Wall-mounted gazebos, on the other hand, can be placed right on your back deck or patio.
Do you want to customize your gazebo? Freestanding gazebos have a wider variety of design options than wall-mounted gazebos, allowing you to choose a structure that perfectly complements your backyard space.
How big is your yard? Freestanding gazebos are great for large yards, and wall-mounted gazebos are the perfect addition for smaller yards.
Is your yard level and flat? Both freestanding and wall-mounted structures should be installed on level ground. If you have a sloping yard, then a wall-mounted structure on your flat deck may be the right outdoor gazebo for your home.
Answering these questions will help you decide which gazebo is best for your home. Ultimately, both wall-mounted and freestanding gazebos can be a great choice for your backyard space.
Backyard Gazebos Provide Great Outdoor Living Space
Whether you choose a wall-mounted or freestanding gazebo, adding a gazebo to your backyard will give you all the flexibility and convenience of a sheltered outdoor space. SOJAG has a great selection of premium backyard gazebos at attractive prices. These durable, sophisticated structures will give you the perfect place to enjoy your outdoor living space all year round.[/vc_column][/vc_row]