Whether you plan to use your
pop-up canopy
at the beach, farmer's market, or in your backyard, it's important to ensure a sturdy and secure shade solution. Pop-ups are often made with very lightweight materials. While this provides hassle-free mobility and portability, it makes it a little easier for your canopy to fly away on a windy day. Secure your pop up so no matter where you put it, it's there to stay until you decide otherwise.
Securing Your Pop-Up During Assembly
When ensuring a secure pop-up canopy, start with proper assembly. Fortunately, pop-ups already come fully assembled and easily set up in 15 minutes or less. Like the name says, these portable canopy solutions are often as easy as opening the frame, attaching the fabric to it, and popping it up! To confirm a securely assembled solution, double check a few key aspects during assembly. Attach your fabric cover to the frame with included fasteners or Velcro, set all four canopy legs to the same height adjustment, and lock joints until you hear them "click". These simple steps help make sure your canopy stays "popped up" and properly erected. Visit our
manuals section
for more tips and instructions on assembly.
PRO TIP: Got missing or worn-out cover fasteners? Secure your pop up cover and re-up your fastener supply with our affordable and multi-purpose bungee fastener kit.
Secure with Tent Weights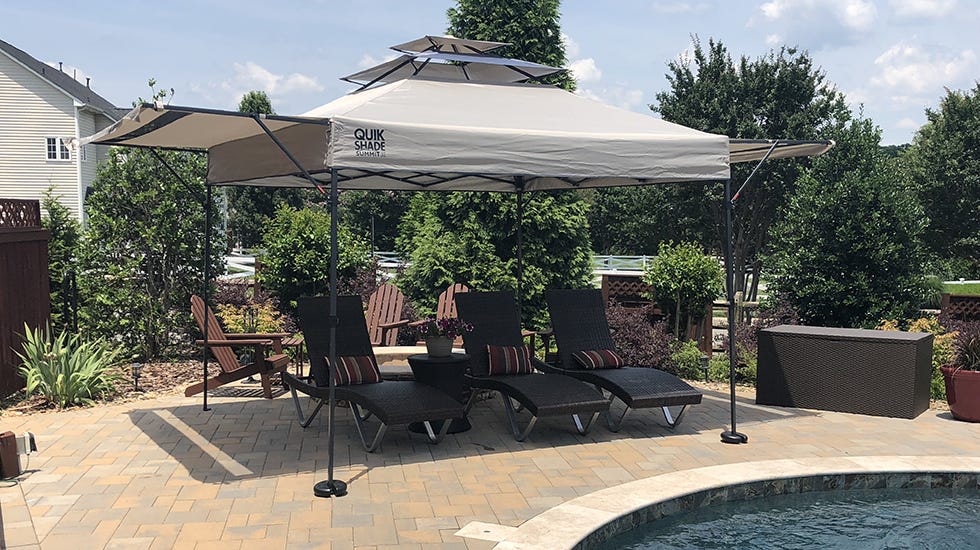 Canopy weights are the easiest and most common solution for securing your pop up. Because a pop-up canopy can be assembled on virtually any surface including grass, gravel, pavement, and even on wooden deck or stone patio, canopy weights add stability and security wherever you need shade. Here are a few canopy weight options for both
ShelterLogic
and
Quik Shade
canopies:
Canopy Anchor Bag - ShelterLogic anchor bags offer easy-to-use canopy stability weights. Simply fill each bag with up to 30 lbs of heavyweight materials such as sand or pebbles, attach to each leg with hook and loop fasteners, and voila! Your canopy stays put with plenty of added weight on every corner. It even features a spike anchor tab for additional anchoring if necessary. These anchor bags are reusable and fit both straight and slant leg canopy frames.
Pop Up Weight Plates - Quik Shade's weight plates are another simple stability solution when stakes or anchors aren't an option. Each pack comes with four 5 lb. weights made with heavy cement and a smooth black polyester coating. No need for assembly or any extra tools or materials: simply place the weight over your canopy's feet and you're done.
Secure with Anchors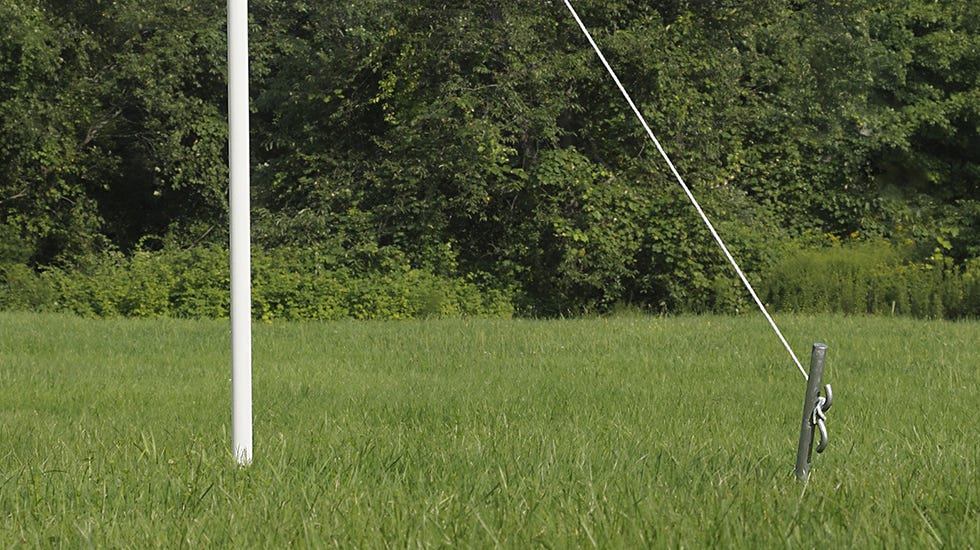 While anchors are more commonly used for canopies and other shelters, they can easily secure a pop-up. Many pop-up canopy options come with anchors already included. ShelterLogic pop-ups like the
HD Series
and
Alumi-Max
include spike anchors that help temporarily stabilize your structure. Note that these do not permanently anchor your pop up for an extended amount of time. Quik Shade options like the
Expedition
,
Weekender
, and
Solo Steel Series
include 4 steel ground stakes for anchoring as well. If anchors are not included, purchase an inexpensive and easy-to-use-and-reuse anchor kit like our
ShelterStake Anchors
. When utilizing anchors, keep these tips in mind:
Consider ground materials before deciding to secure your pop up with anchors. Obviously, you can't anchor your pop up to pavement or your patio, so keep where you'll place it in mind.
Assemble pop up and install anchors on an overall flat surface with added space that's free of rocks, structures, or other obstacles.
Fully insert and secure each stake into the ground before working on another.
Use a mallet to fully diverge anchors into the ground – they can slip out easily if they aren't placed deep enough!
Choose a Quality Shade Solution for Ultimate Security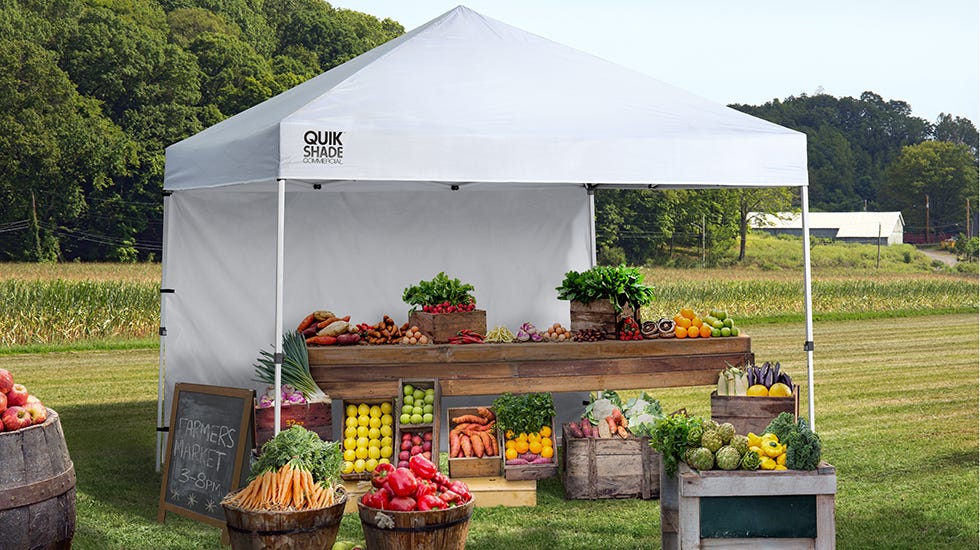 Overall, the best way to ensure a secure pop-up canopy is by investing in a quality shade solution. Luckily, we offer plenty of
Quik Shade
pop-ups with patented features that provide added stability and durability. Options such as the
Summit X Series
feature a patented double reinforced frame system, while others such as the
Marketplace Canopy
boast hardened thru-bolt assembly. Both include 300D polyester with Aluminex for superior coverage that shields and withstands rain and beaming sunlight.* Even our lightweight
Go Hybrid Series
and
Expedition Series
offer rigid patented overlapping eave construction for added frame stability. Pop-ups offer a fast, affordable, and easy-to-use shade solution that works for
plenty of uses
practically anywhere you need it. Use these tips to ensure your pop up is always safe, secure, and ready to use wherever you are. Shop more pop up canopies, party tents, and much more for shaded fun all season long.
* Not recommended cover protection during severe weather conditions (heavy rains, sleet, snow, strong winds, etc.).