Looking to store and protect cars, tractors, boats, and other valuable vehicles and equipment without too much hassle? A portable garage may be the perfect solution for you.
What's a Portable Garage?
A portable garage is a temporary outdoor structure that typically consists of just a steel frame with a fabric cover. They primarily provide reliable, low-maintenance storage space for vehicles of multiple sizes and styles. However, these structures can also store and protect large motor-powered equipment, bulk storage, and
more
for an easy-to-maneuver multi-purpose solution. So besides providing low-hassle storage, why should you buy portable instead of a permanent garage or long-term storage solution? We'll explain a few important reasons below.
Why Should You Buy Portable?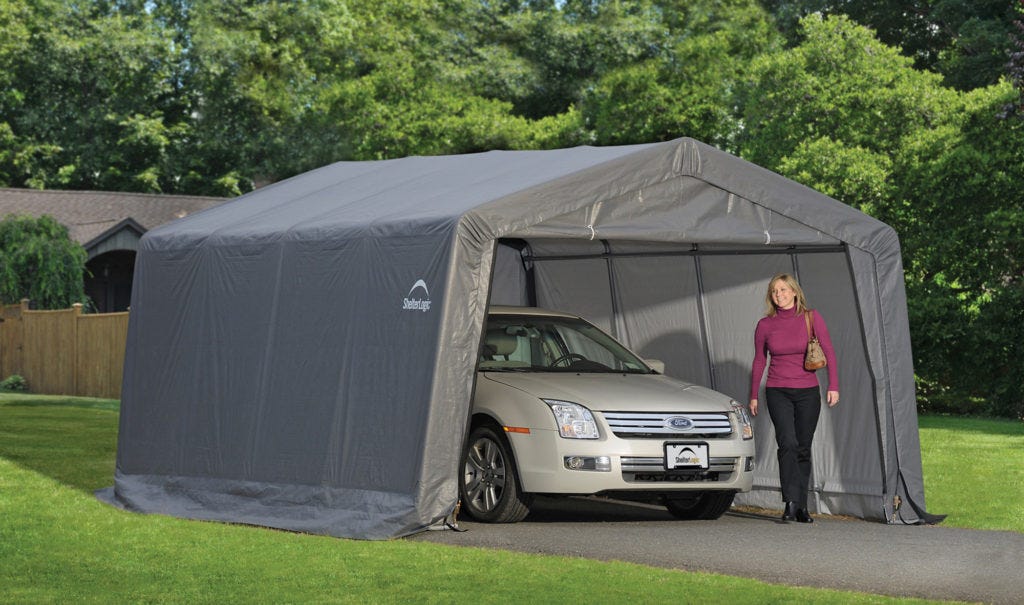 1. Effectively protect vehicles and valuables.
Vehicle preservation is typically the main reason for investing in any vehicle storage solution. Primarily, cars need some sort of weather protection in order to maintain both their interior and exterior quality. Rain, snow, hail, even sunlight compromise your vehicle. When storing your vehicle outdoors, you leave it exposed to any and all possible weather conditions that cause fading, rust, dents, and other damage. However, when stored in a quality all-weather garage, you easily protect your valuable investments. Portable garages typically feature an all-steel frame that is sturdy enough to withstand tough weather. The tough fabric covers attach easily to the steel frame, offering accessible and convenient coverage for your car or vehicle. You will no longer have to struggle with generic tarps that are difficult and clumsy to use. With a portable garage, you'll get the necessary coverage you need without handling a heavy tarp every time you need to store your vehicle. These structures provide a useful and easy-to-use barrier so no matter what the weather is, your car stays dry, covered, and protected. Another thing to consider: an unprotected vehicle is often more exposed to risks such as theft or vandalism. Any passerby can take notice of your valuables when it's stored in plain sight for anyone to see. When stored in a structure, you'll obtain more privacy from peering eyes and get more security for your valuables. A portable garage provides that added layer of protection and concealment that could save you a major headache later on.
PRO TIP: It's important to understand that different temporary structures provide different levels of weather protection. When shopping our garages, compare options to find the most suitable solution for your needs. We recommend the wind and snow rated ShelterTube or a custom ShelterTech for ultimate weather protection.
2. Utilize convenient storage virtually anywhere.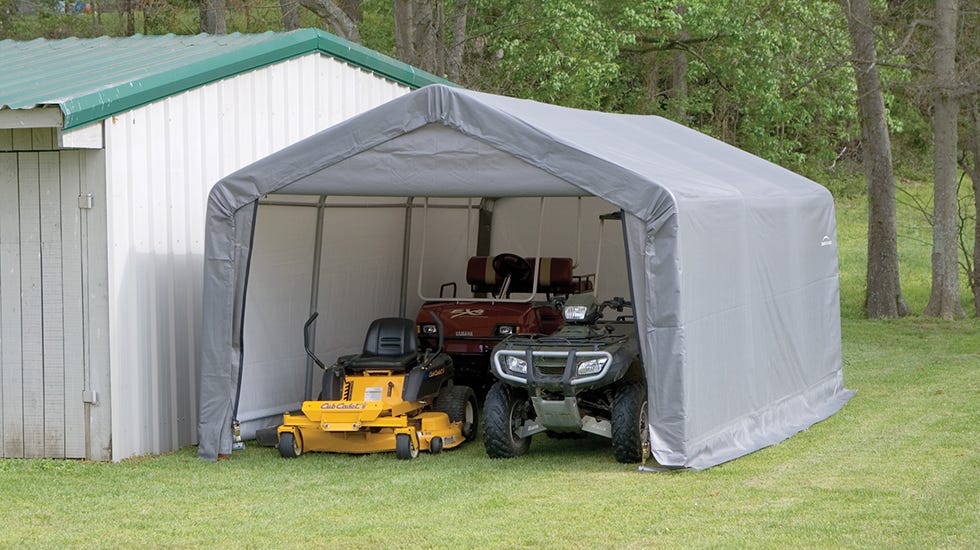 Portable garages are simple to set up and use virtually anywhere you need it. No foundation, ground excavation, or installation necessary. This allows for more accessible storage on multiple kinds of surfaces, including grass, pavement, gravel and more. Like many temporary structures, portable garages simply require an
anchoring system
and
proper assembly
 in order to effectively serve their purpose. Once you've correctly assembled your structure, it's there to stay until you decide otherwise. Whether you move away or need storage space elsewhere, portable garages are easy to maneuver, take with you, or relocate when necessary.
3. Save time and money with an economical storage investment.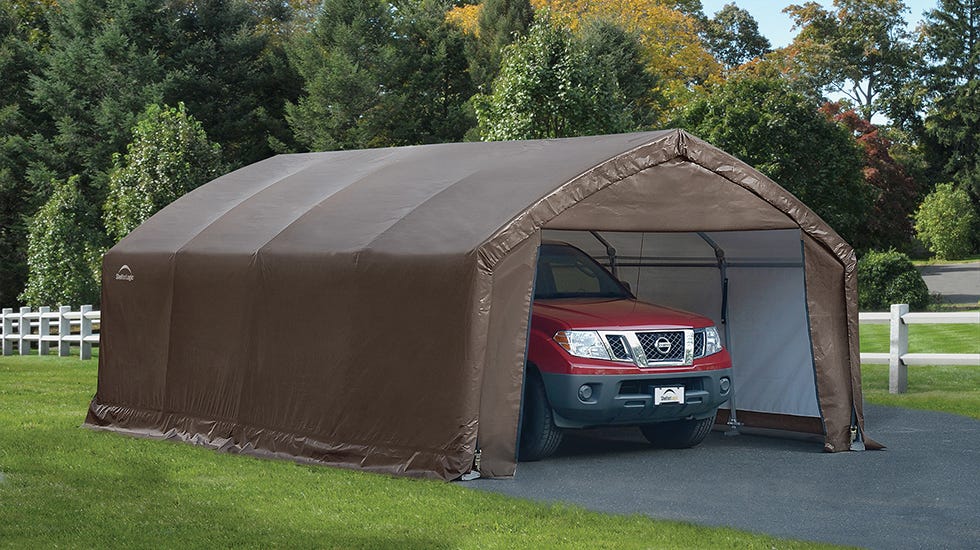 Compared to a permanent garage or storage solution, portable garages can be purchased at extremely reasonable prices. A permanent structure typically consists of heavier materials and requires more tools during assembly to ensure an immovable structure. This often increases overall cost, making it a serious long-term investment for most individuals. A portable garage's minimal tools and materials make it a virtually painless storage solution. They provide valuable, practical, and durable storage space for competitively affordable prices. Also, building permanent structures on your property or renting space at a storage facility almost always includes unwanted additional fees. Renovations, property taxes, or maintenance fees are just a few charges you could end up paying for alternative storage solutions. With a portable garage, there's no need to spend a fortune in order store valuables. You pay for your storage solution - that's it. These structures effectively store and protect without all the extra expenses.
4. Take advantage of a multi-purpose storage solution.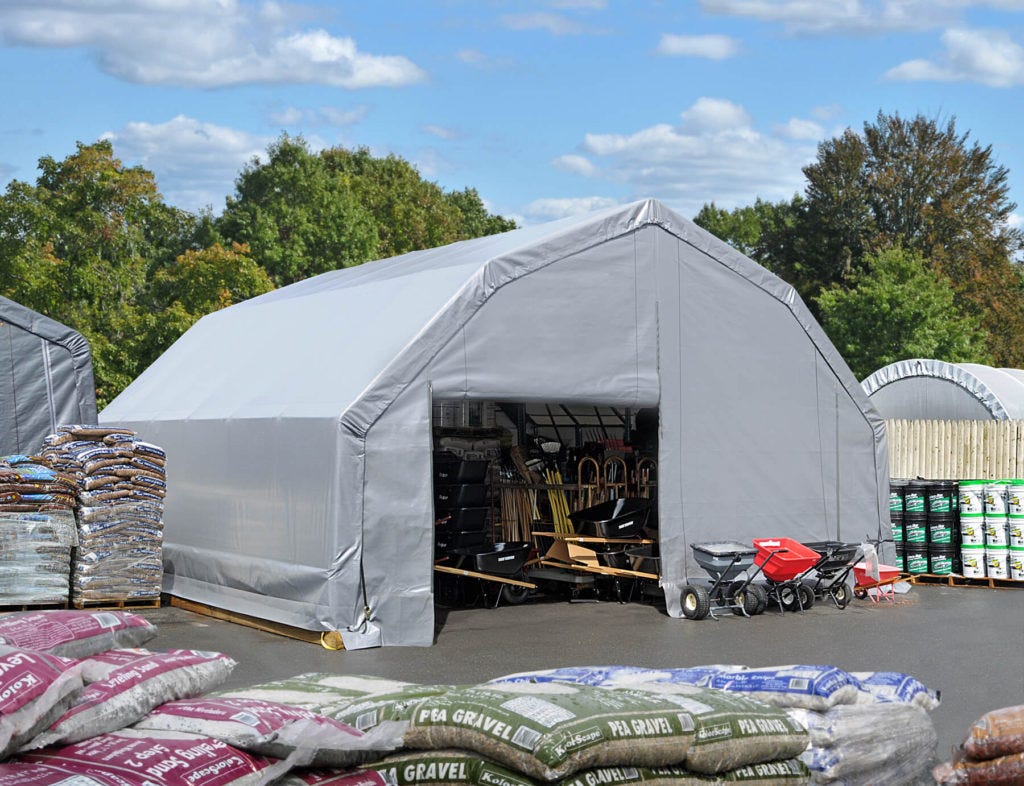 Portable garages offer versatile storage space that can serve many purposes. Whether it's used for commercial, municipal, or private use, these structures provide flexible and convenient storage wherever and however you need it.  A few ways you can use your portable garage include:
Personal Vehicle Storage. This is an obvious one, but a portable garage is perfect for this purpose. Use yours to store the car you commute with daily or extra vehicles you use seasonally.  A portable garage can be placed on most flat surfaces with minimal requirements to erect on your property.
Offseason Gear. Save space in your home's garage by storing seasonal equipment in an easily accessible and portable added storage space.Many portable garages even accommodate for smaller motor-powered items so you don't have to purchase a large vehicle-sized structure. Store items such as lawn mowers, ATV's, and snowmobiles with more compact options such as the ShelterCoat.
Municipal/Commercial Vehicles, Supplies, etc. With extremely durable and exceptionally spacious portable options such as the ShelterTech SP Series, you can easily store and protect whatever you need for your business or municipality. Provide ample space for company vehicles, bulk storage, or simply added workspace with a versatile and practical solution.
Portable Garages from ShelterLogic
FInd your ultimate portable garage for a useful, practical, and affordable vehicle storage solution. If you're just beginning your search, see 
these 5 tips
for more info on better vehicle storage. See our entire selection of quality
garages
to find the perfect portable garage for you.
Contact us
for more info on portable garages and other quality storage solutions.