Why Do You Need a Clean Hearth?
Few things are better than evenings spent around a toasty fireplace during the frigid winter months. But what happens when your hearth hasn't had a good cleaning in a while? Sparking fire after fire without cleaning or maintaining your fireplace not only aesthetically affects your hearth, but can also be quite dangerous. Consistent use causes creosote buildup, putting your health and home at risk. This oily, black substance is an accumulation of smoke, wood, tar, and other particles that are highly combustible if not taken care of. Without properly removing creosote and other dangerous buildups from your fireplace, you increase the risk of home fires, skin damage, and
more
. (See more info on
this
recent blog post). Essentially, a clean hearth ensures an attractive, and more importantly, a safe hearth. With these 6 tips of how to clean a fireplace hearth, you can continue to enjoy warm evenings by the fire worry-free, all winter long.
Tip #1: Have your fireplace professionally inspected annually.
Before your first fire of the season, get a professional inspection and cleaning of your chimney. This way, creosote and other buildups can be thoroughly detected and taken care of before you begin to burn fires regularly. Unsure if hiring an official chimney sweeper is necessary? Consider this: off-the-shelf chimney sweeping logs don't always guarantee complete creosote removal. Not to mention, they're not even recommended as a replacement for a professional chimney sweep. Your best bet is to find a credible chimney sweeper to ensure a thorough inspection and cleaning at the start of your burning season.
Tip #2: Know what kind of firewood you use.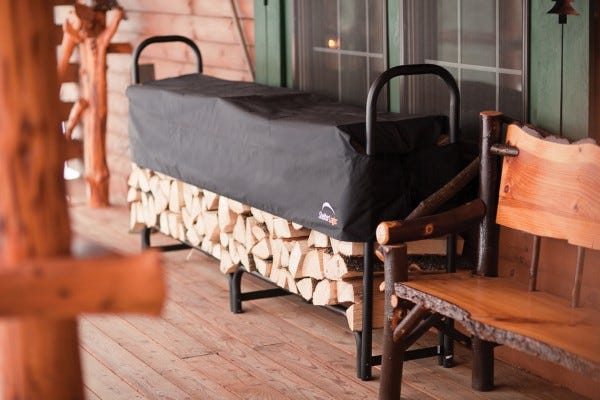 Wet or freshly cut firewood that contains higher moisture content creates more smoke and soot in and around your fireplace. To help keep your hearth clean and your fires safe, only use wood that is properly seasoned. Firewood with a moisture content of 20% or less burns more efficiently, produces less smoke, and creates less of a mess afterward.
PRO TIP: For safe and usable firewood that minimizes safety hazards, consider using a firewood storage rack or seasoning shed to keep your pile dry and protected outdoors. Prevent rain, snow, and moisture from the ground from creating soggy, messy, and dangerous logs with a well-ventilated and weather-resistant storage solution. When storing wood inside, keep it neat and tidy in a classic log holder such as this one. See more ways to improve your firewood storage here.
Tip #3: Tailor your cleaning methods to the type of fireplace you have.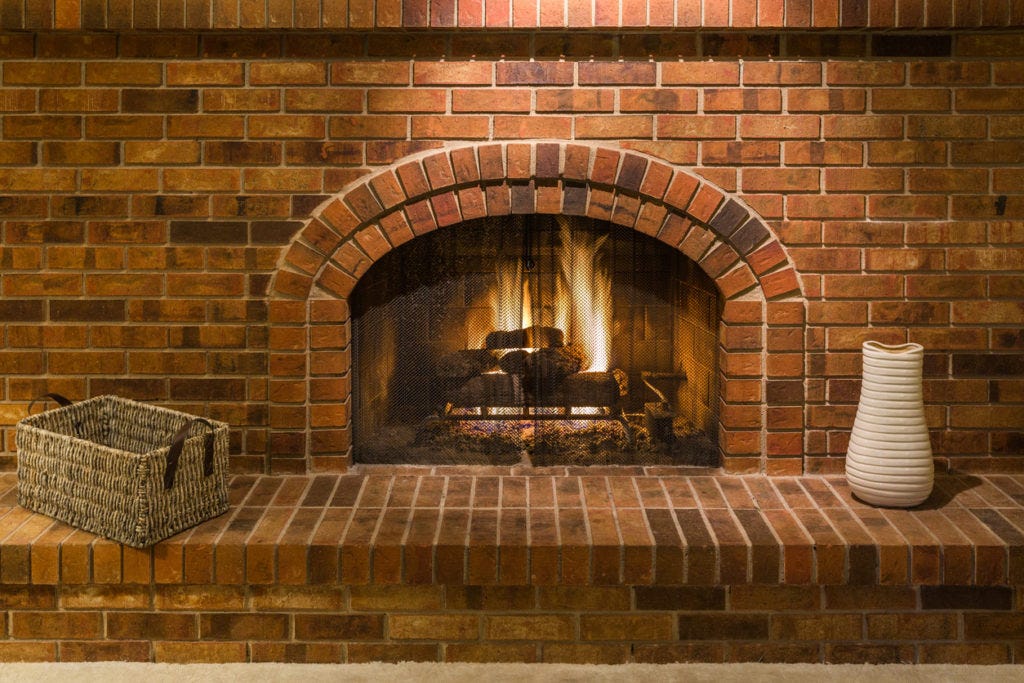 What is your hearth made of? Brick? Stone? Iron? First, understand the specific materials and characteristics of your fireplace. Then you can effectively tailor your cleaning methods to better manage surface flaws and prevent long-term damage. Here are few important things to note based on the material of your fireplace.
Brick: Brick is one of the most common fireplace materials. Compared to others, however, brick is most susceptible to stains. More routine maintenance and cleaning are required to prevent set-in soot and ash buildup.
Stone: Stone can be sealed for stain resistance. Once it's sealed, warm water is essentially all it takes to keep your fireplace sparkling.
Iron: An iron fireplace does not mix well with moisture. When cleaning, avoid using damp cloths like you would with the previous fireplace materials. A soft, dry brush or lint-free cloth will get the job done.
Marble: Like brick, marble is very porous, meaning it absorbs liquids that lead to stains. However, marble has a very delicate finish, and harsh scrubbing can ruin it. Use a microfiber cloth if possible.
Limestone, stainless steel, and concrete are just a few more eccentric fireplace exteriors. Be sure to read up on their care and maintenance before cleaning with a typical solution.
Tip #4: Choose the right cleaning solution.
There are plenty of options for tools and solutions you can use to clean your hearth. Many people simply use household items such as dishwashing detergent or a vinegar solution with a scrub brush or cloth. However, it's important to choose the right solution based on the severity of the stains, the material of your fireplace (see tip #3), and even the age of your fireplace. Such factors could determine whether your cleaning efforts actually damage or compromise the look of your hearth. Once you've considered these factors, choose between material-specific cleaning solutions, DIY natural cleaners, or tougher chemicals such as Tri-Sodium Phosphate to get your hearth looking spotless.
Tip #5: Maintain all parts of your hearth regularly.
While your initial professional cleaning and inspection should leave your hearth looking pleasant, simple maintenance will ensure it's looking its best throughout the entire winter season. Ash, wood particles, and soot will quickly accumulate in every space available. Make sure to clean ALL parts of your fireplace. This includes your flue, firebox, chimney, surrounding stone/brick/other exterior material, you name it! By regularly tackling those fresh stains in between fires, you help prevent long-term damage for an all-around clean hearth all the time.
PRO TIP: Keep the essential fire maintenance tools nearby with a 5-piece cast iron toolset or a fireplace coal hod from ShelterLogic. These tools make cleaning a breeze for hassle-free cleanup you won't mind doing after every fire (or two). Easily scoop out used firewood and ash, sweep away debris, and control your fires with a highly functional kit always within reach.

Ensure better and safer fires by keeping your hearth clean all year long. Check out more hearth products for your home at ShelterLogic.