What are Temporary Storage Solutions?
To put it simply, temporary storage solutions provide a portable, reliable, and low-maintenance storage space for your valuables and belongings. Unlike wood or metal permanent solutions, temporary structures consist of sturdy all-steel frames and durable fabric or tarp covers that typically don't require zoning permits or local building codes to adhere to. These structures provide heavy-duty protection and storage space for a wide range of needs without any long-term commitment or added prerequisites. So why should you choose a temporary structure over a long-term permanent solution? While location, storage needs, and property capabilities impact your storage structure options, we'll explain some key benefits to using temporary shelters for your needs.
6 Advantages of Temporary Storage Solutions
1. Versatility.
Temporary storage solutions offer spacious and easy-to-utilize protection that can be applied in a number of applications over time. Investing in these multi-purpose structures means getting equipment protection, bulk storage, vehicle preservation, and
more
(just to name a few). Not only are these structures versatile in purpose, but also in location! Temporary shelters are easy to erect virtually anywhere on your property and are practical enough to incorporate without looking too bulky.
PRO TIP: Want to know what we mean by versatility? The ShelterCoat Custom Peak Shed can be used to house lawn equipment or outdoor sporting gear nearby in the summer. Then, because of its premium durability, you can repurpose your shelter to store patio furniture or bulk items in the later seasons!
2. Portability.
As mentioned under versatility, portability is a major advantage of temporary storage structures. Since temporary buildings only consist of steel frames and a fabric covering, there's no permanence in location, and they can be maneuvered and reassembled whenever necessary. Whether you're moving to a new home or simply repurposing your shelter, you can easily take it where you need it so you never lose your investment.
3. A Wide Range of Options.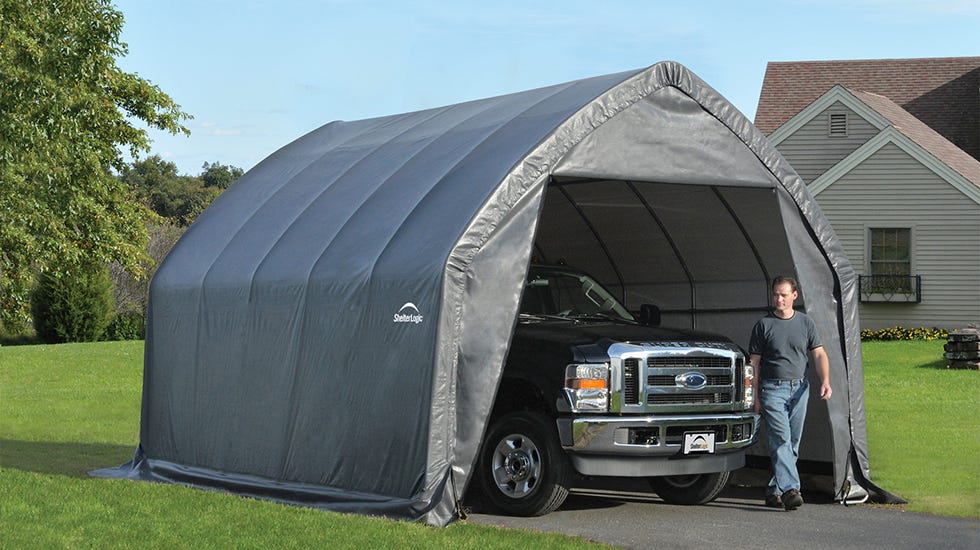 So we know you can use almost any standard temporary structure for a multitude of purposes. But do you know your options for temporary storage solutions? Regardless of which style you choose, be it
garages
,
sheds
, or even
firewood seasoning
or
equine
storage solutions, it's easy to find a temporary shelter that meets your unique and specific storage needs.
4. Easy Assembly.
Temporary storage solutions are rather simple to assemble compared to a permanent structure. It involves minimal tools and the materials of the structure are relatively easy to handle. And, a temporary solution typically doesn't require the ground excavation, property renovations, or added taxes and local restrictions to adhere to as constructing an additional permanent structure does. As long as you have a flat level surface, agreeable weather, and at least one extra person to help, you can erect your temporary storage solution in as little as a few hours. This makes for a storage solution that's quick, easy, and painless. You can see more on temporary structure assembly in our
How-To Videos
section.
5. Minimal Maintenance.
Once you have your temporary structure set up, maintenance and upkeep are fairly minimal. With a few extra precautions, most structures can hold up well for multiple seasons. It's important to note that
proper assembly
helps your structure maintain its quality. For example, water damage such as rust to your frame can be avoided by ensuring your structure is erected on a flat level surface with sufficient drainage. When attaching your cover, ensure it's sufficiently taut to help resist rips or tears in the fabric over time. Also, we recommend anchoring your structure in order to meet the wind and snow load rated expectations and further resist damage or maintenance needs. Different foundation types may call for different anchors, but you can refer to these
anchor guides
for more info. Once you correctly assemble your structure, use mild soap and water to clean your cover. Fortunately, the round and peak styles of temporary structures help keep precipitation from accumulating on the roof. But still, it's a good idea to regularly remove snow or other precipitation around your structure to avoid moisture build-up.
6. Affordable.
Permanent structures are a large, long-term investment. As mentioned earlier, a temporary structure doesn't require added expenses such as excavating for a foundation, zoning permits, and more. This greatly minimizes added costs in both construction and maintenance of your storage solution. When comparing the actual ticket price, temporary shelters are extremely affordable as opposed to permanent structures while still offering durability and quality. The minimal materials allow for prices that accommodate both personal and commercial use. Many options even included extended warranties so you get your money's worth.
Shop Temporary Storage Solutions Today
Utilize a temporary storage solution such as our quality
sheds
,
garages
, and more for whatever you need to be stored and protected.
Contact us
for questions, comments, or more information.