Looking for a low-maintenance, multi-purpose, and mobile backyard structure? Check out our selection of portable building kits for convenient and reliable storage, shelter, and more solutions to satisfy your needs.
Why Choose a Portable Building?
When searching for a shelter or storage structure, it's important to consider a few factors to determine the best option for your needs – one of those factors being portability vs. permanence.
Portable building kits provide a convenient and versatile space for a wide range of purposes. These structures typically consist of an easy-to-assemble frame with a fabric or tarp cover. Compared to permanent structures, portable solutions offer these benefits and more:
Both short-term and long-term usage capabilities.
Typically no building permits, added property taxes, or on-site renovations are required.
Portable buildings offer an affordable and low-maintenance investment.
Units are easy to assemble, disassemble, and move to repurpose when desired.
While permanent structures have their advantages too, these are just a few benefits when you opt for a portable building. For more reasons to choose portable over permanent, check out our
6 benefits to using a temporary storage solution
.
Portable Buildings Kits for Every Need
At ShelterLogic, we offer a wide range portable building kits for an easy-to-use storage, gardening, or work space. From seasonal to all-weather structures with plenty of styles and sizes to choose from, you can find the ultimate portable solution for your backyard.
Portable Sheds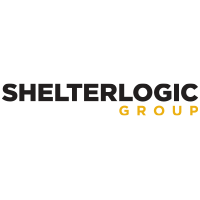 Shed-in-a-Box RoundTop 10 x 10 x 8 ft.
Our selection of quality
portable sheds
provides convenient and durable storage space that can be used virtually anywhere. Featuring a waterproof and UV-treated polyethylene cover and a premium powder-coated steel frame, our fabric sheds deliver competitive durability and coverage.
Use your portable fabric shed to store lawn equipment, outdoor furniture, bulk storage, and much more. Utilize options such as the easy-to-assemble
Shed-in-a-Box
or the customizable
ShelterCoat
series for your ideal level of protection. And, include
must-have accessories
such as
shelving
,
ventilation
, and
more
to maximize your structure's storage capabilities and longevity. Regardless which fabric shed you use, these structures deliver dependable multi-purpose storage every time.
Portable Garages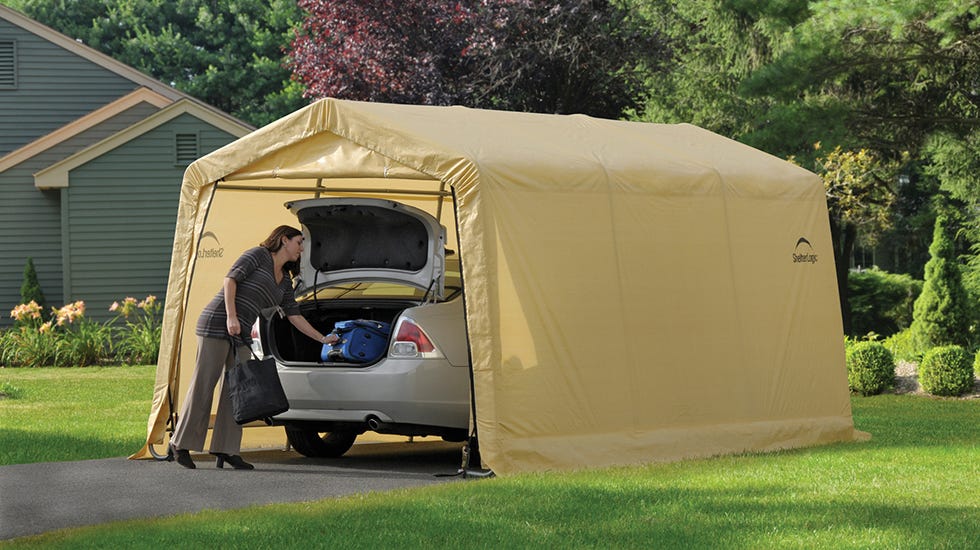 AutoShelter 10 x 15 ft.
Lack garage space or need additional vehicle storage? Don't expose your valuable investment to outdoor elements that contribute to fading, rust, dents, and other damage.
Portable garages
effectively protect vehicles from rain, snow, hail, even sunlight to preserve your car's interior and exterior season after season. Get faster-than-ever protection with the
AccelaFrame Garage Program
or safely store commercial vehicles including trucks and SUV's with the
ShelterTech SP Series
. Check out more
reasons to invest in a portable garage
and shop our entire selection of
garages
for a versatile and practical vehicle storage solution.
Portable Greenhouses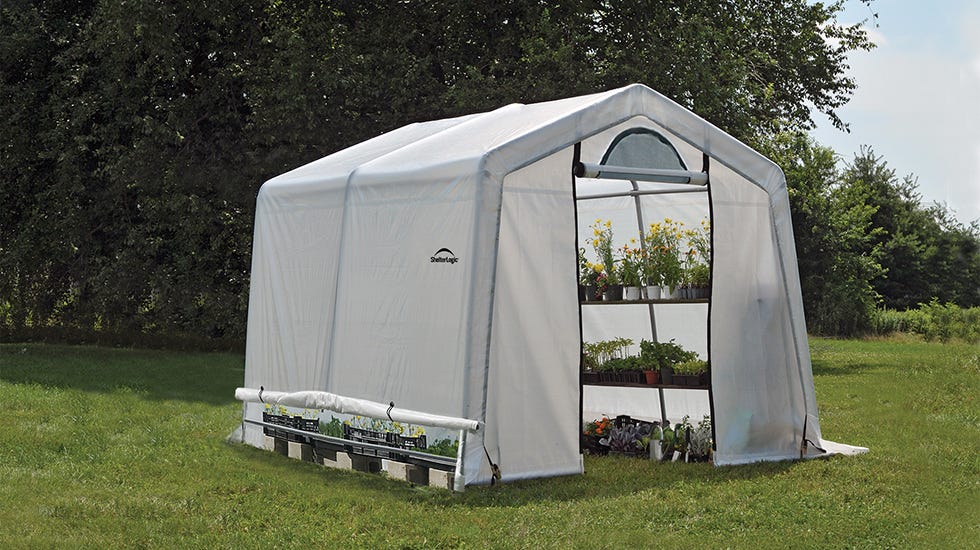 GrowIt Greenhouse-in-a-Box 10 x 10 x 8 ft.
Looking for portable building kits for something other than storage? Why not provide plants and produce from your garden with the ideal growing environment virtually anywhere? Whether you're or a gardening hobbyist or a professional planter, our
portable greenhouses
offer the perfect pop-up enclosure to protect plants and help maximize your harvest.
Options such as the
GrowIT Backyard Greenhouse
feature lightweight, translucent fabric that delivers effective insulation, optimal airflow, and UV exposure reduction to prevent over-heating and minimize water usage. Plants get quality protection and coverage in an easy-to-assemble solution you can maneuver whenever desired to maximize efficiency. More durable options such as the
GrowIT Heavy Duty Greenhouse
feature thick all-steel framing for a stable and durable portable greenhouse structure. Find out
what to grow in a greenhouse
all year long and check out our
greenhouse options
for your best planting season(s) yet.
Find More Backyard Buildings for Storage, Shelter, and More
Get convenient and reliable storage and shelter with ShelterLogic. Find options in a multitude of sizes and styles for both personal and commercial use. Maximize storage, organize your home, and provide quality protection with a ShelterLogic solution for your ultimate outdoor space.