Livestock farms, whether big or small, need the right tools and solutions for farmers to successfully care for animals. Consider utilizing additional storage, shade, and shelter that help make life on the farm a bit easier! Check out these helpful essentials for anyone raising livestock.
Animal Shelter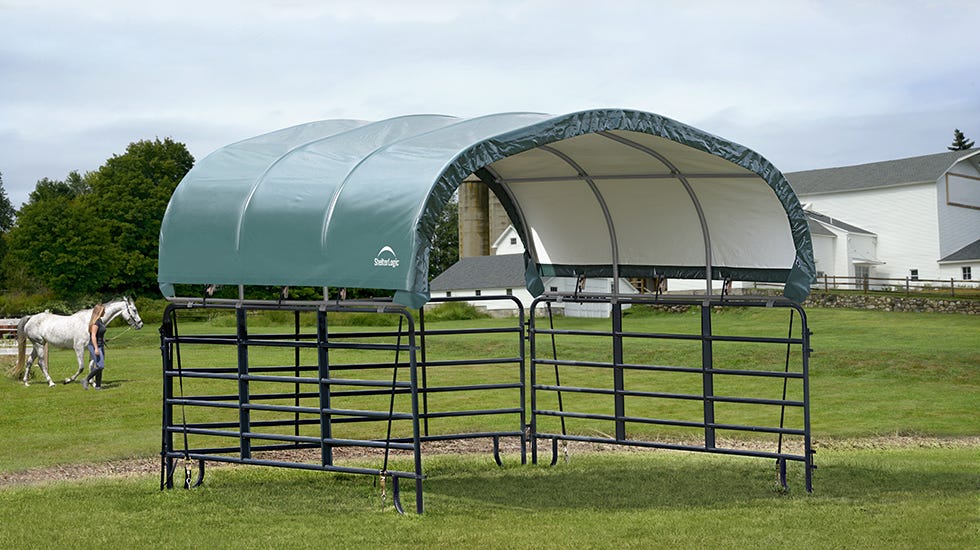 Livestock shelters
 such as
run-in sheds
and
corral shelters
offer accessible, open-style shade and shelter you can utilize virtually anywhere. As mentioned in our
horse health
blog, horses (as well as humans) cool down much more easily and effectively when out of the hot sun. In fact, temperatures can feel up to 15 degrees cooler under shade. Even on the hottest day, cooling down under shade effectively helps prevent animals from overheating. A corral shelter or run-in shed gives an easy-to-use shade solution to keep horses and other livestock cool. Set up on the field, beside the barn, or wherever your animals might enjoy some shade. These portable and easy-to-assemble solutions are essential for livestock farms. And unlike barns, while great for sheltering livestock after hours, these shelters provide relief from midday heat and sun without confining animals to stuffy and often unsanitary conditions. Check out a ShelterLogic
run-in shed
for a durable, waterproof, and UV-treated shade solution for horses and other livestock. Or, upgrade your corral panels by attaching a convenient and reliable
corral shelter
. Include an
enclosure kit
for added shelter and privacy!
Bulk Storage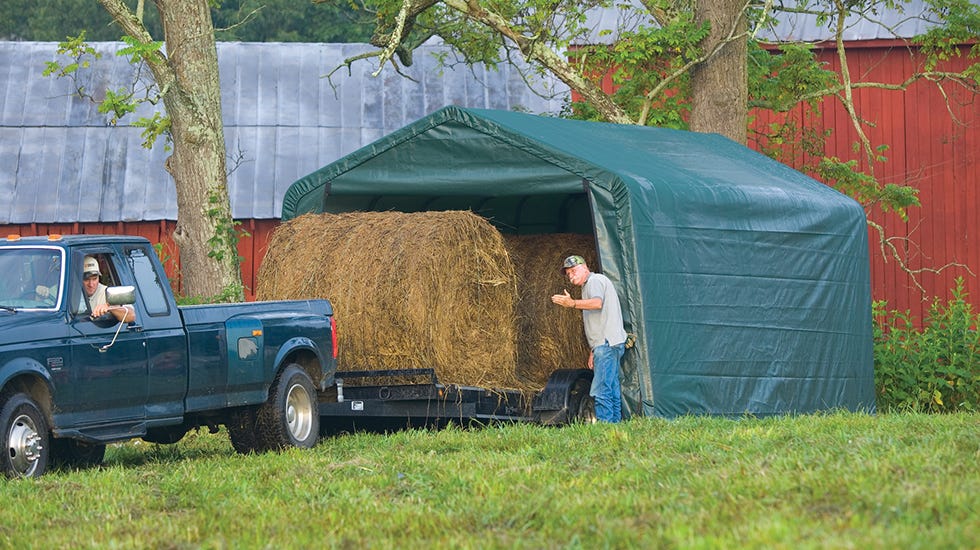 More often than not, livestock farms need large amounts of hay, feed, and other bulk supplies and equipment stocked. Where can you keep bulk items dry and stored year-round? For an affordable, portable, and reliable on-site storage solution, a
ShelterLogic shed
can easily house the items you need, big or small. These fabric structures come in a wide range of sizes and styles for your ideal size and level of protection. Check out options you can custom-build up to 100 ft. long such as the
ShelterCoat
or our
SP Series Shelters
!
PRO TIP:Want a suggested ShelterLogic shed that's perfect for bulk storage? Try the 12 x 20 x 8 ft. AG Series Storage Shelter. This ready-to-install structure features tough, waterproof, and UV-treated fabric and a premium powder-coated thick steel frame for maximum durability and quality 4-season performance.
Large-Scale Greenhouses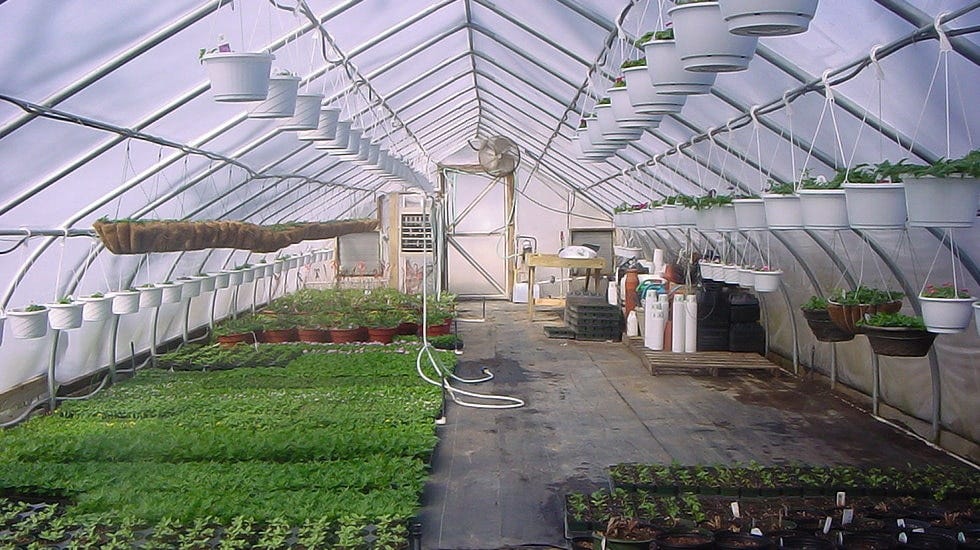 Growing produce on your livestock farm? Many farmers are increasingly combining horticulture and livestock farming in order to maximize profits, increase land space, and minimize waste. For example, manure often adds beneficial nutrients to plant soil, minimizing the need for the added expense of soil improvements. Such methods often "Make better use of agricultural inputs such as fertilizer and labor, which will help improve a farmer's bottom line." (Source:
UC Davis
) If you decide to include crops on your farm, utilize a high tunnel greenhouse in order to efficiently care for both produce
and
livestock. Our greenhouse covers have
proven more effective in growing plants and vegetables
than the competition, reliably retaining heat and requiring less water to maintain them. And with nutrient-dense fertilizer (animal manure) nearby, your plants get the best environment to flourish! These high-quality structures can be built to your exact specifications and ordered by the specific parts you need. Get a High Tunnel Greenhouse now to easily include plants and produce to your farming efforts.
Shop for More Solutions and Structures for Livestock Farms
Whether you own a small farm with a few animals or a large mixed crop-livestock system, get reliable storage, shade, and shelter with ShelterLogic. Find more
storage sheds
,
greenhouses
, and
livestock solutions
to store supplies, efficiently grow plants, and keep animals happy.
Contact us
for help finding your ideal solution!