Whether you are taking care of a farm, or working on a commercial job site, finding quality storage solutions can be tricky. You want durable options that can be used for bulk or even vehicle storage. Here are
outdoor storage and shelter solutions
that are ultra-strong and perfect for any type of outdoor work.
Outdoor Work Storage Made Simple
When you're in the market for a larger shelter or building that can be used for anything from  storing salt to commercial job site storage,
ShelterTech
SP Series is an ideal choice. Built to order and made in the USA, you will get the highest quality galvanized steel with wind and snow rated buildings. This top-of-the-line fabric storage solution is a fraction of the cost of a steel, wood, or concrete block structure. However, you are still getting a storage building that can stand up to the toughest elements, even with minimal foundation requirements. These buildings are even expandable! That means if your outdoor work suddenly needs more space, you can make that happen without work grinding to a halt. This solution is portable, too. It means once you erect the structure but your needs change, you can disassemble and move to another part of the property without too much hassle. These buildings can also be used for:
Job Site Storage
Equipment Storage
Landscaping Storage
Machinery and Tool Storage
Custom Workspace
Job Site Storage
These premium storage solutions even have a streamlined setup that means you will have storage for outdoor work in days, not weeks. The universal foot plate makes securing the structure simple, and is included with every ShelterTech single pipe building. This means easy installation on any surface. ShelterLock stabilizers add even more stability to the frame.
Pro Tip: Thinking about configuring your own ShelterTech building for vehicle storage? Read our past blog on why to choose the ShelterTech SP Series over other steel frame fabric structures.
BUILD YOUR OWN SHELTERTECH BUILDING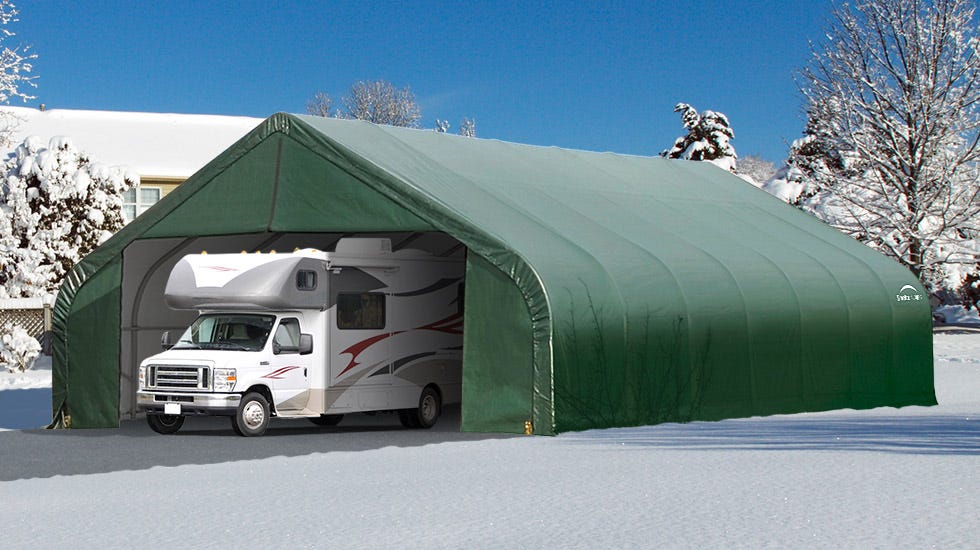 Customizable Options for Any Outdoor Space
There are so many different reasons why you may need a shelter or storage space for outdoor work. That's why ShelterTech SP Series is fully customizable to fit any space and budget. Start by choosing what roof style you'd like. You can choose from:
Peak Style: Made for easy installation
Round Style: Best in shedding the elements
Barn Style: Increase in cubic storage space
You can also choose your strength in fabric. Pick between the Heavy Duty 14.5 oz fabric or Ultra duty 21.5 oz fabric that is ripstop and UV-treated. You even have the option of changing your entryways to include extra zippers or cutout options. You can pick your width, as well as length of the building. Finally, decide from four different colors for your outdoor storage solution.
Pro Tip: To hear more from a satisfied ShelterTech customer on why this storage solution is a perfect answer for your outdoor needs, click here.
The bottom line is, when you are looking for something versatile for your outdoor work, you can't beat the ShelterTech SP series. It has a strong frame, and is wind and snow rated. That means no matter where you're working or what you're doing outside, you can be sure your structure will be safe from Mother Nature.