Finding a reliable solution for bulk storage doesn't have to be tricky. When looking for a place to safeguard your outdoor items, you'll want something that will hold up against tough weather and still keep your valuables safe and dry. But you also may want some flexibility if you need to move the shelter or garage to another location. Whether you're storing hay and fertilizer on a farm, goods for your business, or your backyard vehicle or power tools, here are 5 solutions you can rely on.
Bulk Storage That's Affordable
When looking for a dependable solution for bulk storage that won't break the bank, consider a 
Garage-in-a-Box
. Think outside the box for your bulk storage needs by storing wood or even feed in this easy to assemble, reliable and affordable
outdoor garage
. With its powder coated steel frame and strong rip-stop fabric cover, you'll have easy access to your valuables whilst keeping them safely stored away. If you like the idea of a garage for your bulk storage, but want a larger option, consider the
AccelaFrame Garage
. With its patented quick assembly system it gives you the option of configuring the size that you want, with options up to 100 ft. long. Not only that, but a standard size garage can assemble in just an hour. Simply unfold the ribs, and attach the frame. Adjust the cover onto the frame and you're good to go.
Customizing Your Space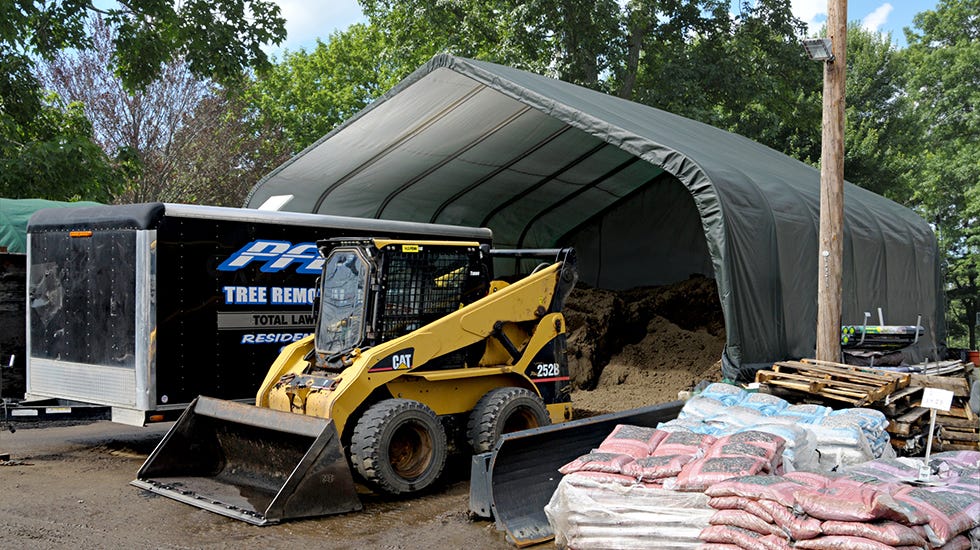 If you need versatility in your shelter, why not look into one of our 
custom garage
options? Whether you want dependable backyard storage for your car, boat or RV or you need a shelter solution for your business needs, the ShelterTech SP Series may be just what you've been looking for. The 
ShelterTech SP Series
is built to order and units are manufactured in the U.S.A. This shelter series offers some of the largest number of size options available. Choose from three styles and configure your own building with ease. Choose from:
Peak style: Designed for ease of installation
Round style: Most effective in shedding the elements
Barn style: Overall increase in cubic storage space
Installation takes days, not weeks. Great for agricultural industries, construction sites, salt storage, and general vehicle and equipment storage.
Tough Weather Ready
The ShelterTube
is another storage solution that allows you to choose the size of your shelter. These 12 ft. wide shelters can be ordered up to 100 ft. long. You also get to choose from standard, heavy-duty, and ultra-duty covers. This wind and snow rated building is durable and sturdy, ready to take on tough weather conditions. The two zipper doors and an 8 ft. door opening height are included along with roll-up door kits. You can rest easy knowing what you're storing is safe from the elements during any season.
A Variety of Options
For literally thousands of different ways to store your bulk items,
ShelterCoat's custom shelters
are bound to give you exactly what you need. Bolt-together hardware at every connection point means maximum strength. All covers are waterproof and UV treated, and you even get to choose from 5 attractive colors. This option also includes:
Frame constructed of heavy-duty steel
Ratchet Tite tension system
Universal steel foot plates