Looking to store and protect your vehicles without constructing an add-on garage to your home? A carport may be the perfect solution for you.  But what is a carport? We'll break down everything you need to know about these useful and versatile structures.
What is a Carport?
To put it simply, a carport is a semi-covered fabric or steel structure that provides shade and weather protection for vehicles, boats, tractors, and more. They typically consist of a roof supported by posts and are either free-standing – meaning you can assemble it anywhere in your outdoor space – or attach it to your home or building. Depending on the material of your carport, these structures help offer a level of protection against rain, snow, ice, and UV-exposure.*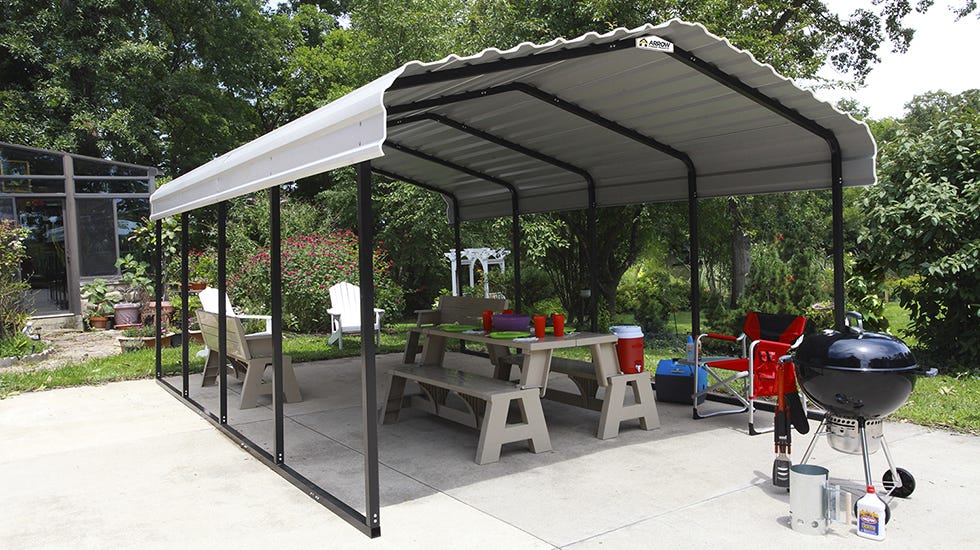 What Can You Use a Carport for?
Carports effectively store and shelter vehicles, boats, tractors, and more. A carport can be placed in your driveway or somewhere on your property as a way to help shield your vehicle from harsh elements when you don't have an indoor vehicle storage option. Instead of exposing your vehicle to ice, rain, snow, and UV-rays that result in rust, dents, and other exterior damage, a carport easily provides extra coverage for your high ticket items.
Carports can provide an attractive shade or awning over your deck, patio, yard, and more. These structures are versatile and attractive enough to incorporate into your outdoor space without looking too bulky or unnatural.
Carports can be utilized for shade and shelter in public areas and municipalities. Some of the largest U.S. cities including Tampa, Houston, and Las Vegas experience temperatures surpassing 90 degrees a large portion of the year. (Source: 247WallSt) A carport could provide much-needed shade for both vehicles and individuals at parks, apartment complexes, and more in your municipality.
What Kind of Carports Are There?
There are a number of materials a carport can be made of, particularly the roof. Different carports made from different materials offer specific levels of protection against rain, snow, ice, and UV-exposure. See a few types below.
Polyethylene Fabric and Steel Carports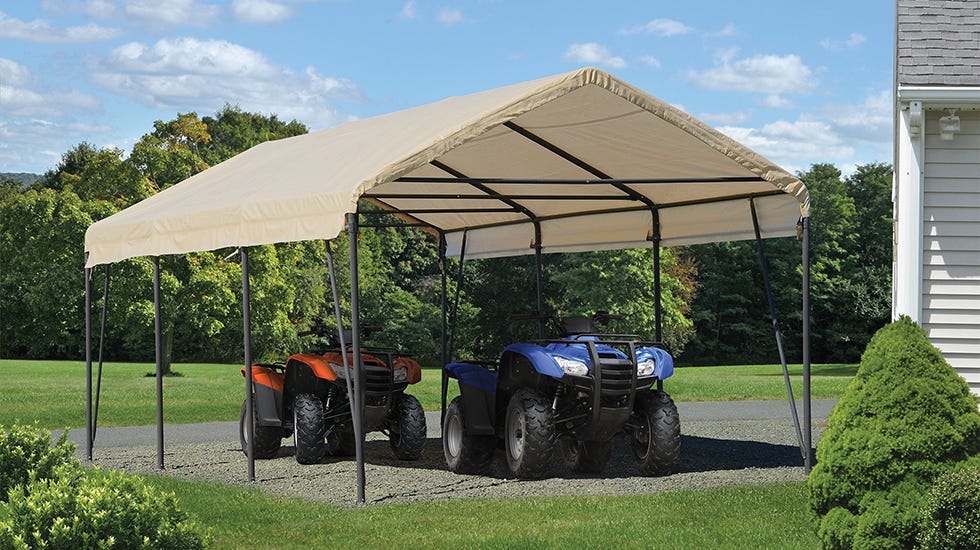 A fabric carport provides practical and functional seasonal vehicle protection. These structures include a fully UV-treated and heat-sealed instead of stitched polyethylene cover for a 100% waterproof and fade-resistant cover. The heavy-duty steel frame also resists chipping, peeling, rust, and corrosion for plenty of use. Include an easy-to-assemble fabric carport for vehicle protection that offers strength, durability, and simplicity.
Galvanized Steel Carports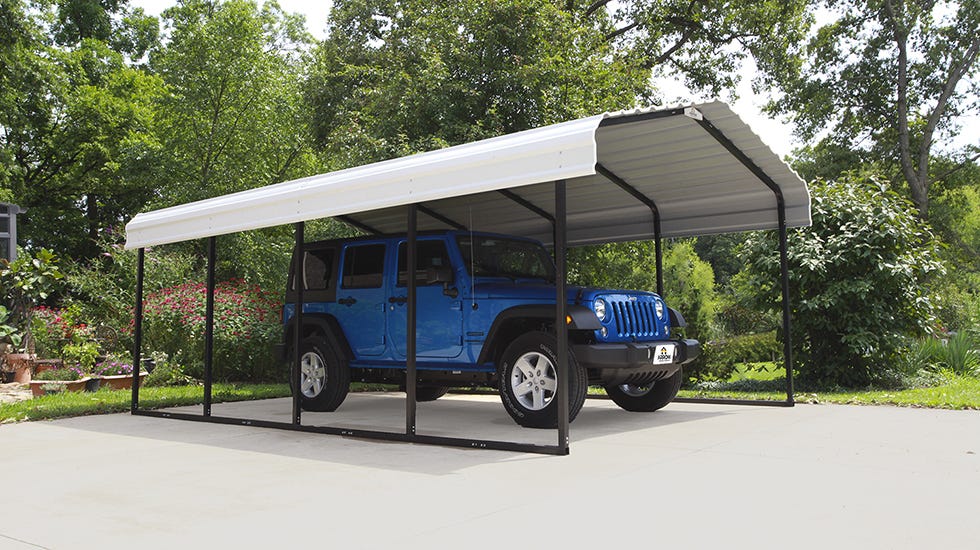 Galvanized steel carports effectively resist corrosion, chipping, and rust.  Our Arrow Carport includes an industrial grade steel frame and 29 gauge galvanized steel roof to effectively shed outdoor elements for year-long use. Not to mention, these carports feature self-drilling screws and an innovative slip-fit frame connection for easier assembly. With a 35 PSF snow load and 100 mph wind speed rating, these carports ensure reliable shade and shelter.
Galvanized/Hot Dipped Galvanized and Vinyl-Coated
A carport with an added vinyl coating provides ultimate durability and strength in your structure. Long-lasting vinyl-coating over galvanized steel has 5 times the coating thickness than standard steel buildings. This helps resist scratches, rust, corrosion, and ensures the highest level of weather protection, all while adding a luster to your carport's exterior. These high-quality carports come in both freestanding and attached styles for even more versatility and options.
Carports are worth the investment because of their valuable versatility.
Carports offer high-quality, long-lasting, multi-purpose use, making it an innovative and versatile outdoor structure. Not only do these practical structures store, shade, and protect valuable equipment and vehicles, but they provide attractive and comfortable shade virtually anywhere. Consider these reasons for investing in one: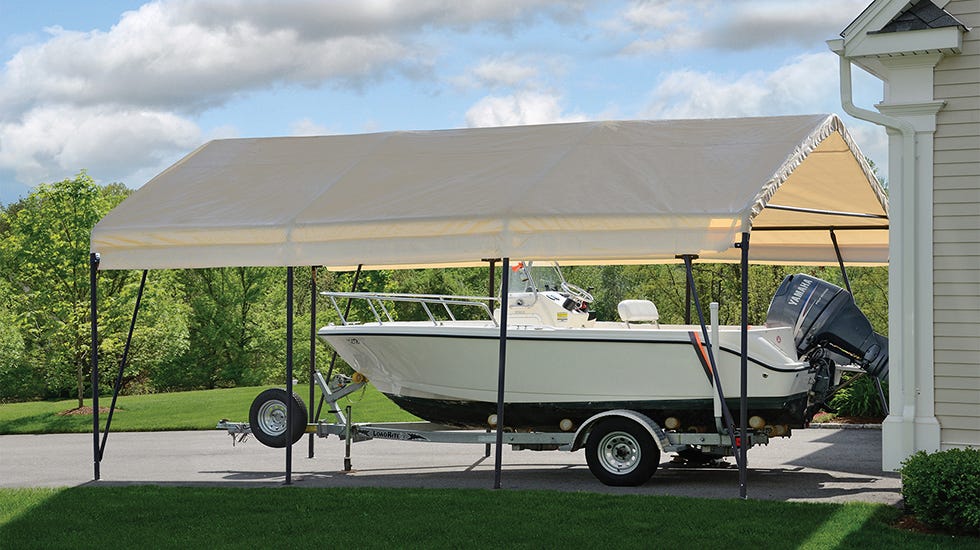 Protect your other investments. Consider how much you paid for your car, boat or tractor. These high ticket items merit protection – and a durable, versatile carport could be an excellent solution.  High sun exposure fades car paint, rainfall increases rust, and other weather-related damages compromise the value of your vehicle if it is not protected. A carport provides a simple solution for protection if your vehicle is always outside.
Increase the aesthetics of your outdoor space. Whether you utilize a carport for shielding vehicles or for added shade on your property, a carport will only add to the aesthetics of any outdoor space. Place these open-style virtually anywhere, and make spending time outdoors a little more enjoyable under relaxing shade. Their simple design and quality materials effortlessly complement any home, park, or community property.
For all your vehicle storage and protection needs, see our entire selection of garages and carports. Contact us for more information.
*Our carports require an anchoring system in order to meet the wind and snow load rated expectations.