What do you get the man who has it all? How about something he didn't even know he needed! This year, skip the typical last-minute gifts and get dad useful outdoor items just in time for summer.
Help Dad organize his tools, protect his car, or take shade wherever he needs it with a few products he'll truly appreciate this season.
Check out our Father's Day Gift Guide to find the ultimate present for the man who does it all!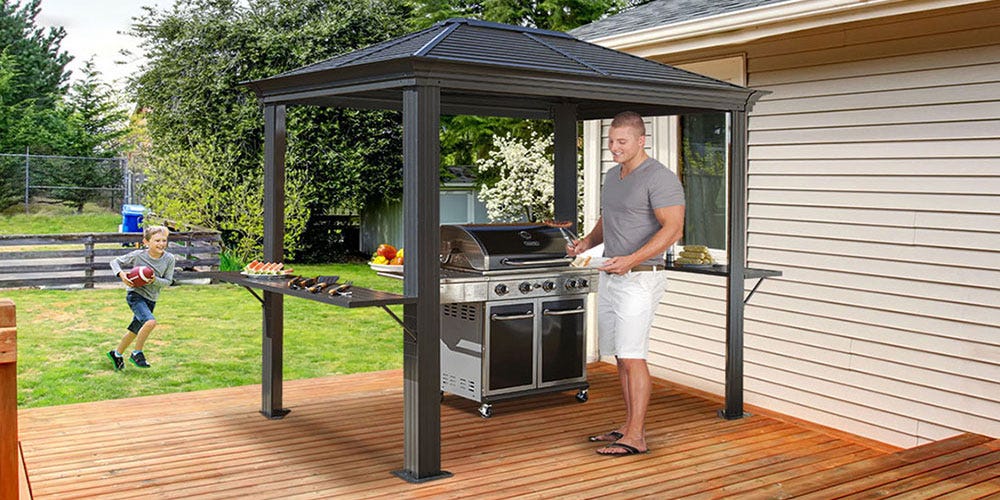 Don't Roast Dad: Get Him a Grill Gazebo
For some Dads, grilling has practically become a way of life. Even if he won't admit it, there's nothing worse than burning up while he's cooking out. Get Dad a functional, stylish grill gazebo and protect him from the elements: it will become the pride and joy of Dad's backyard!
SOJAG grill gazebos offer a stylish and functional way to open your backyard space up for gatherings while maintaining a sophisticated and cozy vibe. A hardtop metal roof grill gazebo canopy takes the style of a gazebo and adds additional functionality.
Grill gazebos feature a strong galvanized steel roof that offers protection from the wind, rain, and harmful UV rays. The galvanized and powder coated frame and roof prevents corrosion and rust, so your gazebo will look great season after season. The unit features two shelves on either side, offering an added layer of convenience and prep area.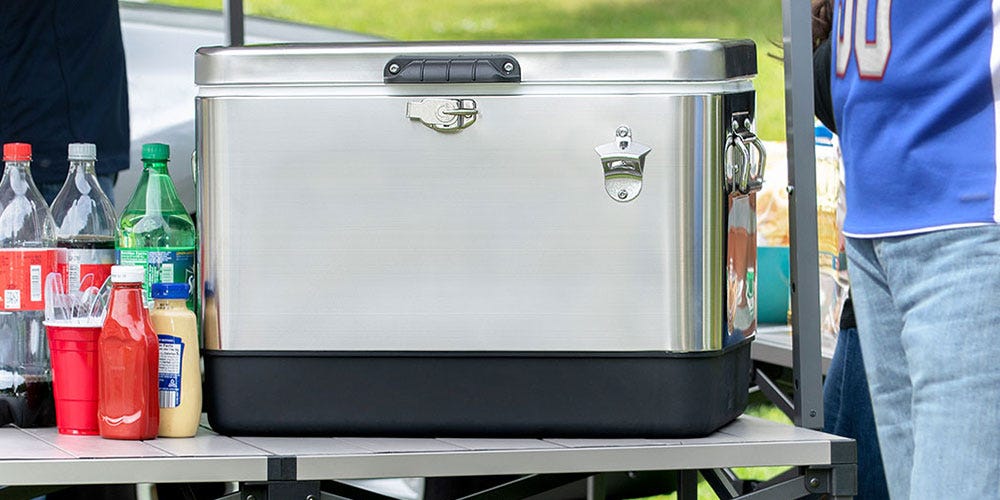 Make Dad "Cooler" Than Cool
The perfect outdoor activity is not complete without cold drinks to keep Dad cool all day and night. Knock your next adventure out of the park with a spacious metal cooler from RIO.
Metal coolers from RIO have just as much beauty as they have brawn. The timeless stainless-steel aesthetic adds a touch of class, but also rugged durability. A metal cooler can easily stand up to Mother Nature, with rust and corrosion proof construction. The rust-proof drain cap adds another layer of convenience when it's time to drain the metal cooler and head home. What's more, it'll keep Dad's drink cold for hours!
No matter what Dad's next outdoor adventure is, he'll be guaranteed icy cold beverages even when the sun is beating down overhead. These attractive coolers will make every get together more enjoyable.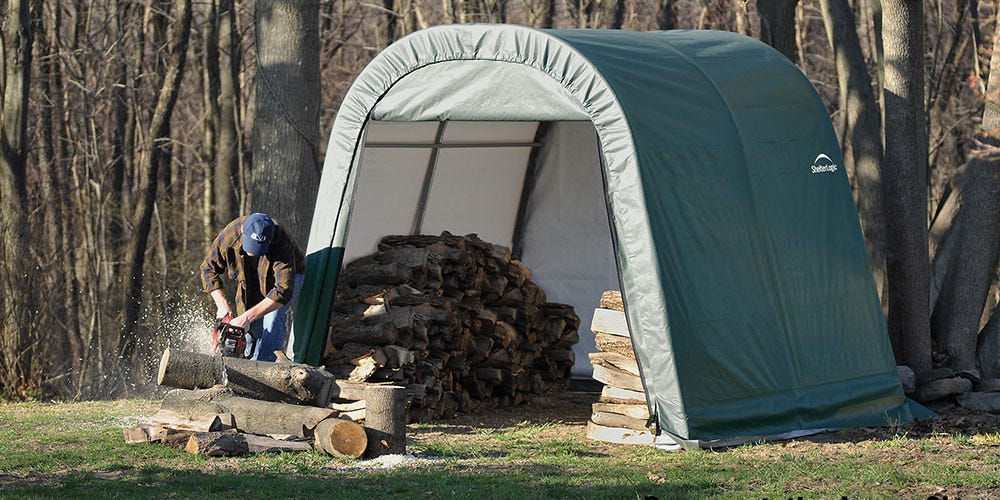 Garage for Dad's Ultimate Man Cave… or Storage
No space for Dad in his own castle? Take it outdoors! Whether he wants to use it to store his vehicle or boat, as a workshop or just a manly retreat, he's sure to enjoy a ShelterLogic portable garage!
Having a portable garage that can move around your space if needed is both useful and convenient. They are durable, easy to assemble, and ensure your vehicles and belongings are safe. Additionally, Dad can use a portable garage as a workshop or a man cave!
Fabric garages are constructed with steel frames and ripstop tough covers that are built to last. You can get Dad this type of durable fabric garage if you're looking for quality with a small footprint and minimal setup.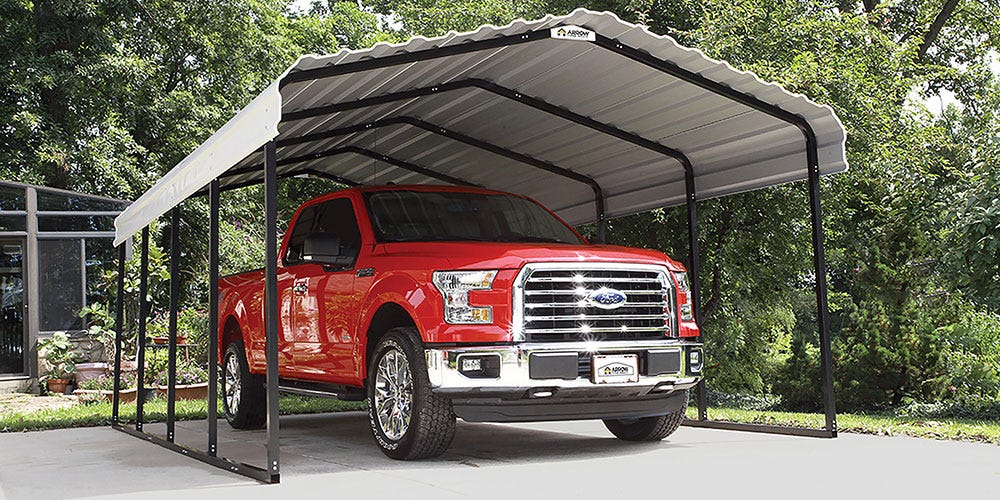 A Carport for Dad's Prized Ride
Keep Dad's prized ride protected and out of the elements. An Arrow Carport is a practical solution for storing anything from cars to boats and anything in between.
Just like Dad, an all-steel Arrow Carport is tough and good-looking. It can withstand 100 MPH winds and a snow load of 35 PSF, and has a powder coated finish that withstands rust, corrosion, chipping, and peeling. It also has either an attractive eggshell or charcoal finish, which will complement most homes.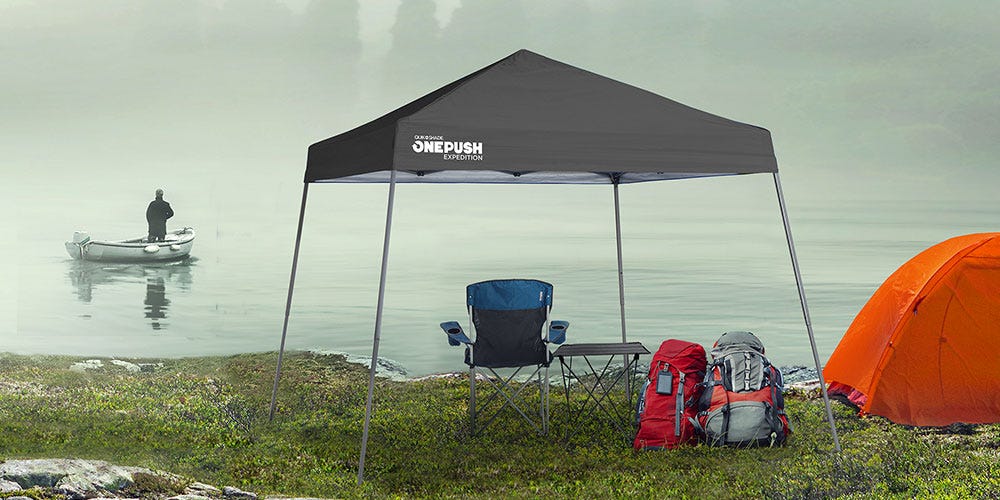 A Pop-Up for Pops
Does Dad need lightweight, reliable shade when he's home or on the road? Then a pop-up canopy could be the perfect gift for Pops! He could use it in the backyard, or take it with him when he's going camping, fishing, to the park, the beach, and anywhere else that portable shade is a must.
Pop-up canopies assemble in just minutes. They have adjustable steel frames with a powder coated finish, and a waterproof fabric cover that will keep Dad protected from the sun's harmful UV rays. They also come with a convenient rolling carry bad that makes it easy to store and transport.
Both ShelterLogic and Quik Shade offer multiple styles that are both attractive and reliable for anywhere you need extra shade and protection. Whether you are looking for a straight or slant leg option or in a specific size or color, you will find the perfect easy-to-assemble choice.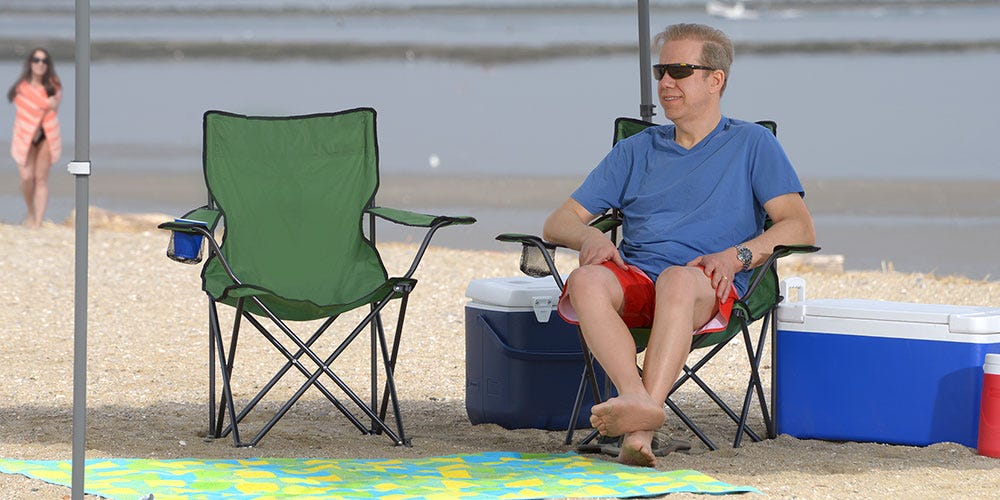 Grab a Seat for Dad
Folding chairs will help Dad stay comfortable when he's on the go. Whether he's heading to the beach or cheering on his favorite team, a folding chair will keep him relaxed. Choose from various colors, styles, and sizes and get Dad the folding chair he'll love at a great price.
Lightweight and simple to transport, portable chairs are an ideal choice for anything from a large gathering to a quiet day fishing. Both Quik Shade and RIO offer sturdy and durable seating solutions for any event.