GrowIT® 4-Tier Mini Growhouse
calcPageSize())">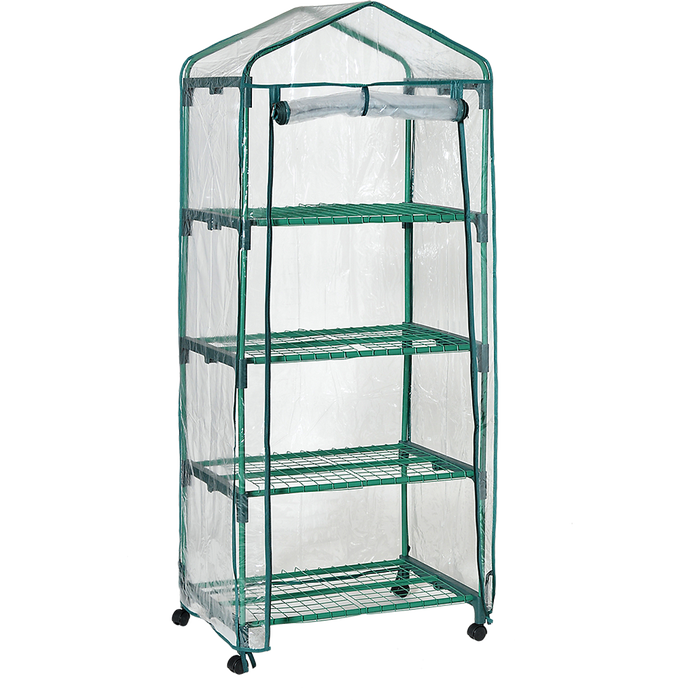 Model #: 70517
Start seedlings or extend your growing season with the GrowIT® 4-Tier Mini Growhouse. This easy-to-assemble, compact greenhouse is constructed with a high-grade steel tubular frame. The clear PVC cover allows a significant amount of light to reach the plants, while reducing the amount of harmful UV light. This means less damage to plants as well as reduced fungus and harmful insects.
Warranty: 1 Year Limited
A Compact Grow House with Maximum Results
A grow house is an impactful tool whether you are a farmer looking to extend the season, or you want to create a small garden in your back yard. A grow house or greenhouse helps to control the temperature to create ideal conditions for plants to thrive no matter the season. A grow house can grow stronger plants faster. Greenhouses can range in size from large scale options to compact depending on the number of crops you are looking to grow.
When space is at a premium, a mini greenhouse can be a simple addition to your yard or farm in order to ensure ideal conditions and better crops. A Grow-it 4 tier mini greenhouse is a compact option that delivers big results, offering more protection for plants when temperatures outside may not be cooperative. Designed to fit just about anywhere, this grow house offers convenient vertical growing ideal for any back yard or porch area.
Benefits of a Mini Greenhouse
A grow house can have a variety of benefits for your property, your wallet, and even your health. When investing in a mini greenhouse, you will enjoy a number of benefits to include:
· Regulate temperature: One surefire way to grow stronger crops is to create the best possible environment for them to grow. Sometimes, the climate where you live might not allow for optimal results. That is why a grow house is so helpful for controlling the temperature. Whether shielding plants from extreme heat or cold, this 4 tier mini greenhouse provides enough light to the plants without exposing them to damaging temperatures.
· Protection from pests: Pests can wreak havoc on your crops no matter where you live. The strong PVC cover keeps pesky bugs from ruining plants and provides sturdy protection from animals that may otherwise feed on your plants.
· Compact footprint: Whether you are using this mini greenhouse on a large farm to start seedlings, or keeping them on a back porch for your very own urban greenhouse, you don't need much space when committing to a grow house like this one. This 4 tier mini greenhouse is small enough to fit on a parch while still providing plenty of space for your crops.
· Affordable: This grow house is extremely affordable on just about any budget. This mini greenhouse offers big protection at a fraction of the cost of a larger greenhouse. These
are especially useful when you have plenty of vertical space to utilize to grow the plants you need.
· Portable: A mini greenhouse can be moved from one part of your property to another, or even to an entirely new home altogether. And because plants grow in pots inside this grow house, they can also be moved around when needed. You can reposition crops based on the amount of light they are getting in order to reap the most benefits.
· Durable: This grow house is constructed with high-quality materials that stand up to Mother Nature. From the frame to the PVC cover, your crops will have superior protection thanks to sturdy construction.
· Simple assembly: When you invest in a mini greenhouse, you won't need to have any special tools or assembly skills to start using your grow house. This 4 tier mini greenhouse is created with simple assembly in mind to give you crop protection in a snap.
· Customizable: You can add and remove shelves to curate the perfect grow house to fit your unique needs. You can shift crops and even the position of the entire grow house in a moment's notice.
· Weather protection: The ultra-sturdy cover offers enough protection to stave off rough weather while also allowing in plenty of sunlight your plants need to thrive.
· Convenient: With a mini grow house, you always have access to nutritious fruits and vegetables whenever you need them. Even if you are in an urban area, this greenhouse provides a simple way to have a small garden at your fingertips.
What to Grow in a 4 Tier Mini Greenhouse
The types of plants you choose for your grow house likely depends on where you live. Especially if you are a novice gardener, it's a great idea to figure out the plants that will thrive in your climate. Some plants are ideal for growing year-round, while others you may want to save for certain seasons, and some may not be ideal to grow in your area of the world. Here are some ideas to think about when it comes to filling your mini greenhouse with crops that best fit your needs.
· Winter: Depending on your unique climate, frost-tolerant plants are a simple addition to any grow house. Spinach, cabbage, broccoli, and lettuce are good examples of crops that can handle chillier temperatures. Whether you growing these plants in your mini greenhouse for the entirety of the season, or transporting them to your garden, choosing hardier plants like these are a good bet.
· Spring: Once the weather begins to warm up, the environment inside of your grow house will as well. Crops such as melons, cucumbers, and squash will thrive as long as they are not subject to any colder temperatures. As the weather begins to warm, ensure you provide your crops proper airflow.
· Summer: It's time to sow your heat-loving plants in the summer, such as tomatoes, peppers, and eggplants. Think about the perfect options for fresh summer salads.
· Fall: When the heat begins to dissipate, it's time to start thinking about wrapping up the summer crops. You can either start your winter crops earlier, or try kale, snow peas, or turnips.
A Mini Greenhouse with Incredible Features
This 4 tier mini greenhouse has all the benefits of a larger grow house without the need for extra space. This grow house is packed with features including:
· PVC cover: This ultra-strong cover protects your plants from pests while simultaneously allowing plenty of light in for your crops. This will keep your plants strong and also shield the crops from wind and even unwanted animals who may try to snack on the plants.
· Steel frame: This grow house is small but mighty, constructed with a 5/8 in. high-grade tubular steel frame with a powder coated finish. This ultra-strong frame is also rust and corrosion resistant.
· Shelving: The mesh shelves offer ultimate organization and customization. Remove the shelves to allow for taller plants, all while providing ample space for any crops you are growing inside.
· Double zipper door panels: These doors provide easy access when you need it the most. This feature also helps with controlling the temperature. If you need to promote increased airflow, easily roll up the door.
Small Investment, Big Results
The 4 Tier Mini Greenhouse is an incredibly affordable way to grow your own back yard garden, or create a safe space to begin crops in order to move them to your garden at a later time. The portability offers flexibility, allowing you to move crops toward the sun when needed. The ultra- strong frame will last season after season, and the reliable PVC cover lets just enough sunlight in while still offering incredible protection to your plants. For a nominal investment, you'll receive a huge payback with stronger crops using a 4 Tier Mini Greenhouse.
Features and Benefits Include:
5/8 in./ 1,6 cm high-grade tubular steel frame with powder coat finish resists chipping, peeling, rust, and corrosion
Fitted clear PVC cover with integrated tie-downs
The clear fabric allows a significant amount of light to reach the plants, while reducing the amount of harmful UV light
Sturdy wire mesh shelves can be removed to accommodate taller plants and accessories
Double zipper door panel rolls up allowing easy access to plants and seeds
The greenhouses can be assembled in about 15 minutes with quick snap assembly, no tools required
Assembly Manuals
Additional Resources
More Information
Product Details
SKU
70517
Specifications
Assembly Manual
Download (PDF)
Details
Brand
ShelterLogic
Series
GrowIT
Style
Peak
Color
Clear
Frame Color
Green
Door Type
1 Front Double Zippered Door
Assembly Required
Yes
Dimensions
Width
2 ft.
Length
5 ft.
Height
1.5 ft.
Size
2 ft. x 5 ft. x 1.5 ft.
Total Storage Area
2.76 sq. ft.
Total Storage Volume
11 cu. ft.
Rib Tubing Diameter
0.63 in.
Assembled Exterior Dimensions Width
23 in.
Assembled Exterior Dimensions Depth
17.25 in.
Assembled Exterior Dimensions Height
57 in.
Assembled Interior Dimensions Width
21.74 in.
Assembled Interior Dimensions Depth
15.99 in.
Assembled Interior Dimensions Height
56.37 in.
Door Opening Width Top
15.75
Door / Entrance Width Bottom
15.75 in.
Door / Entrance Height Outside
47.5 in.
Wall Height
50.38 in.
Peak Height
6.63 in.
Warranty/Certifications
Warranty
1 Year Limited
Waterproof
Yes
Water-Resistant
Yes
Proposition 65
No