Summers are finally here, and it is the perfect time for that outdoor BBQ party or a beach party you have been planning with your friends. Maybe you could go camping and spend a night under the skies.
Whatever your hangout choice might be, one thing that you will most definitely need is the best camping chair.
What is a Camping Chair?
Camping chairs are foldable, inflatable, or collapsible chairs with a backrest. This is why they are also called backpacking chairs.
Camping chair comes in all styles and sizes. It is different because it is collapsible and can fit into your vehicle. It is simply an outdoor chair meant to rest at the beach, park, tents, etc.
The History of the Camping Chair?
Now a common household item, the camping chair had a humble origin. Archaeologists found out that it was first used in Mesopotamia some 4500 years ago. However, it did not have a backrest.
Tutankhamun's ceremonial throne is the oldest folding chair with a backrest that archaeologists found. What is interesting about this history lesson on camping chairs is that camping chairs are still designed based on the folding principles of Egyptian folding chairs.
In the West, it was not until the 19th century that the camping chair, as we know it today, emerged. Then, industrialization rose, and people started going to the countryside via the railways and needed chairs and other camping furniture.
Why Do You Need a Camping Chair?
Camping chairs seem to be the most versatile furniture items out there. So if you are thinking about whether you need one or not, the answer is you do!
Are you going to the beach? Take the chair with you, and you can chill by yourself on the chair without worrying about all that sand and planning a camping trip. Instead, you can lay down on the campsite chair and stargaze. Or you can watch the sunrise and the sunset from your sweet spot.
Maybe you are tired and need to take a breath during the hike. Take out your lightweight and compact chair from your backpack. Has the summer sun drained you out of all your energy? Get a drink and take your chair to sit in the shade. Can't find a nice spot to sit in a crowded public space? Take that chair out!
And even if you want to enjoy the rain from your patio or have a cup of tea in your backyard, a camping chair is the correct answer.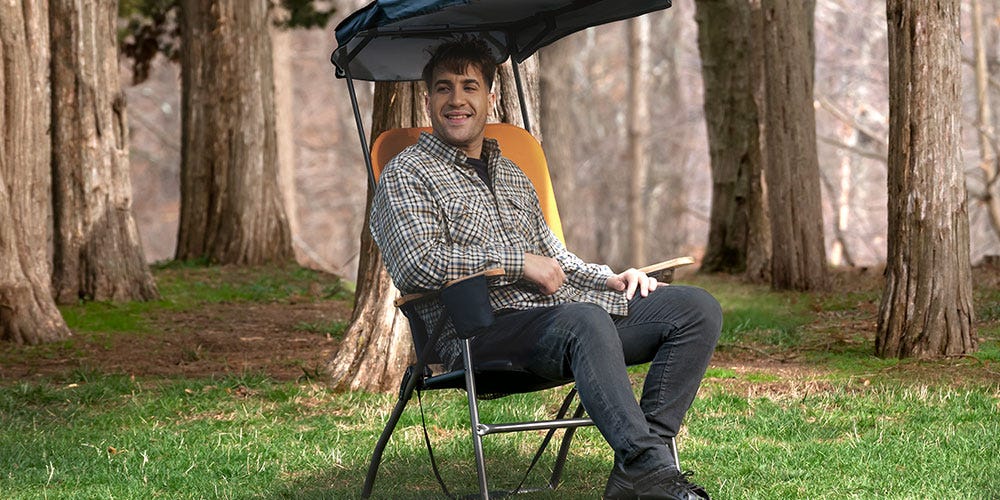 How Does a Camp Chair Differ from a Beach Chair?
A camp chair and beach chair are designed differently mainly because of the ground they are placed on. The beach chair has to have zero gravity features, a drink holder, and a shade canopy. And therefore, a beach chair cannot be used as a camping chair.
However, nowadays, the best camping chair is also designed to be used as a beach chair. These chairs are very efficient and cost-effective.
The major difference between the two chairs is that a campsite chair does not have zero gravity features. However, it is portable, lightweight, and collapsible.
On the other hand, a beach chair has to have a shade canopy, broader legs, zero gravity, a broad area for legs, and a beverage holder.
Frame Styles
Apart from these fundamental differences, one of the main differences is the frame style. Both chairs have a different frame style because beach chairs are more flexible. Before buying a beach chair, check the several tilt positions it offers.
Materials
Campsite chairs feature durable materials so that campers can use them in harsher conditions. In comparison, the beach chairs have to be as comfortable as possible. So if you plan one chair for both trips, make sure the material provides a sweet balance between strength and comfort.
Folding Style
Different designs of chairs have different folding styles. For example, Beach chairs fold up, while camping chairs fold inwards. This is because the best camping chair has to be more compact than beach chairs transported in a vehicle only.
Before buying a camping chair, you need to conduct research and understand what features it offers.
What are the Features of a Camping Chair?
We have evaluated a list of some of the must-look features of the camping chairs. This can enhance or ruin your overall experience of not just the chair but also the destination.
So, take a look at these features:
Portability
The most basic feature you must be looking at is the chair's portability. Some camping chairs can be folded down into a backpack. And that makes the chair a good purchase.
A portable chair will also be exceptionally lightweight. It serves quite flexibly when you have to move the chair around here and there. A heavier chair will be difficult to carry from one place to another.
Comfort
This would depend on the nature of your trip. For example, a slightly uncomfortable campsite chair might still work camping.
However, at a garden or a beach, you would prefer a highly comfortable one. This way, you can stretch your legs and enjoy the sunset and the summer breeze - or chill with a good read and your favorite drink.
Make sure you sit and visualize your camping trip or outdoor adventure before buying the best camping chair. But if you are a first-timer at purchasing a chair, here are a few tips to know if your chair is comfortable.
Sturdy legs
The best camping chair will be taken to the beach, mountains, and campgrounds. So the legs should be sturdy but also lightweight.
Aluminum is a great option because of its high strength-to-weight ratio. Even at smaller weights, it will have great strengths. And this is exactly what you must look for in a camping chair.
Weight Capacity
To make sure that the chair is sturdy and durable, check its weight capacity. Most chairs have the upper limit of the weight capacity mentioned. On average, the maximum weight capacity is 500 pounds.
To be safe, go for a weight capacity that is twice your weight.
Length & Width
If you know your height and width, you can quickly figure out if the chair will be a good fit for you. Measure the chair's dimensions, and if it is more than your height and width, you are good to go! Do not also forget to check the chair's footrest.
Flexibility
A flexible backrest can change your camping chair experience. If you can stretch your budget, go for the chairs with the reclining backrest. This way, you can lay down on the chair and relax at the beach. Or lay down on the chair and stargaze.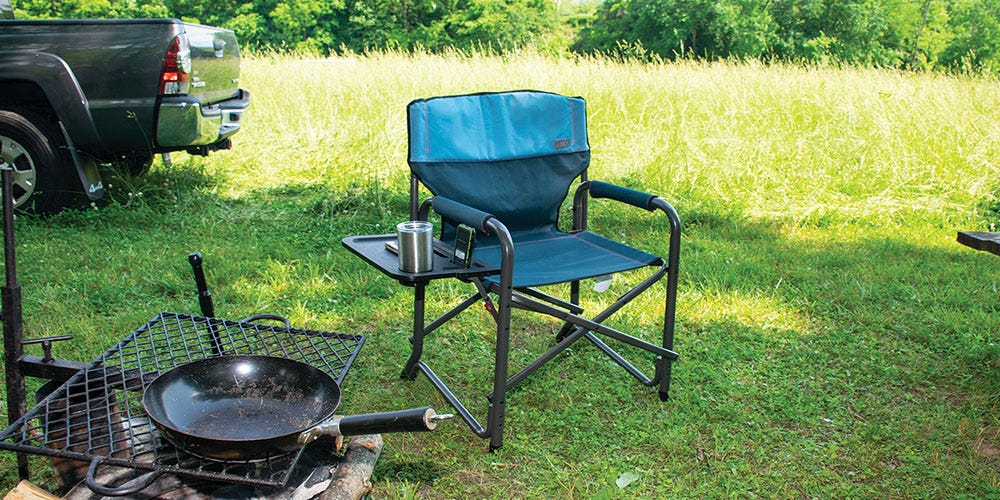 What are Different Types of Camping Chairs?
Camping chairs come in different shapes and form, hence their names. Below we have listed five different types of camping chairs:
Quad Chair
These are collapsible chairs with a cross-legged design and have heavy-duty camping chairs look. The back is straight, and the seat is comfortably flat. Quad chairs are available in various styles, forms, and designs.
Backpack Chair
A type of collapsible chair that doubles as a backpack. This will allow you to pack essentials and snacks in one convenient place. Backpack chairs are recommended for short day trips as they are lightweight camp chairs. Again, they are available in various styles, designs, and forms.
Since it is a lightweight item, it can be easily ordered from online shops and websites.
Folding Chair
It simply means a chair that can be folded. It collapses to a smaller size and be stored away easily. Or very comfortably carried on vacation.
Rocker
As the name suggests, rockers rock back and forth. This happens because the rocker touches the ground on only two points. The user can shift their weight to rock the chair.
Traditionally rockers are made of wood and are pretty bulky in their design. Some rockers can even fold.
Lounger
Loungers are designed to be in a lying position permanently. They are sued for lounging and leisure and not for work. It can be the perfect relaxation spot in your house, especially for old aged people and mothers of newly born.
Choose the Best Camping Chair for Your Needs
If all this information has only gotten you more confused, we have got you! There is a range of camping chairs that you can find in the market. As the demand has increased, the designs have diversified.
First, there are incredibly lightweight choir models. Chairs with shades and canopies are also a relatively new thing. And lastly, the rocking chair but for when you are camping.
The invention of more intelligent materials has also had an impact on this. Materials with a more excellent strength-to-weight ratio have allowed the emergence of highly functional yet comfortable camping chairs.
What is more to come? We all wish for the best and wait for this. But one thing is for sure - it can only get better from here onwards.