The investment in metal sheds could prove ideal for anyone that is tired of having their lawn mower stored in their garage. You need to use it each week during the warmer months, but having it take up space in your garage or storage shed is not ideal, especially as it often brings in plenty of dirt and debris with it. Metal sheds can prove to be an excellent alternative. They provide the protection the mower needs while designating a place in your yard for its storage.
What Is a Lawn Mower Shed?
A lawn mower shed is simple, a place to store your lawn mower that is outside of your garage, barn, or any other structure. It is large enough to hold the type of mower you have and any other items that you may need for mowing. Generally speaking, you can choose a size that works for your needs, which may include space for trimmers and edgers if you like. The key goal is to have a place to put your lawn mower and other summertime tools you likely need to have accessible to you.
Take a moment to create a list. What items are you hoping to put into your mower shed? List specific items so that you can determine the type of shed and the amount of space you need for it later. Consider gardening items, weed eaters, trimmers, and the other equipment you use during the summer months frequently.
Where Do I Put a Lawn Mower Shed?
One of the key questions many people have is where they could put a lawn mower shed. Having one sounds like a great idea, especially since it allows you to move it out of the way right now. However, placing the shed is an important decision.
When choosing a location for your lawn mower shed, consider several things. First, how much room do you need for the lawn mower? That is not just the amount of room needed for the shed itself but also the room necessary to navigate around the shed with the riding mower to get to the front of it.
Also, consider what else is in your yard. If your yard has a lot of open space, you don't want to put your shed right in the middle of it and take up space that could be used for many other purposes. You may want to tuck it into a corner of your backyard out of the way and where you can easily access it when you need to do so.
Keep in mind the area where you place the shed should be level and as dry as possible. You may want to ensure that your shed is away from power lines as well as property lines. If you live within an HOA, it is a good idea to reach out to them to determine where your shed can be laced and any other rules regarding its positioning.
It's important to ensure you purchase a quality product, too. You do not want your shed to look like an eyesore in your backyard. At the same time, you need to ensure you install it properly, maintain it as needed, and update it when necessary. That ensures that your shed does not take away from your property value or that of your neighbors'.
How Do I Find the Right Size Metal Shed?
There are a lot of options to think about when it comes to selecting metal sheds for lawn mowers. Size is one of the most important things to get right. The right size needs to ensure that you can use the shed as you intend and that it fits any restrictions placed on you by the local HOA. You can find sheds of a variety of sizes that may work well for your lawn mower needs. At the same time, you may not want to purchase a shed that is too large, as that may mean it takes up a lot more of your yard space than you need to use for it. Finding the right size is important. Here are a few things to keep in mind as you consider which shed size is best suited for your needs.
You have options when it comes to these sheds. For larger spaces, backyard sheds can be ideal as they offer more space. Look for these to be 6 ft. x 6 ft. at their smallest. This is generally enough space for a push mower and may be enough for some smaller riding mowers. An 8 ft. x 8 ft. is enough space to fit most riding mowers with extra space.
Lean-to-sheds are another option. These range from 4 ft. x 7 ft., with larger models offering 4 ft. x 10 ft. These may accommodate most needs. It's a good idea to have a bit more info to help you choose a metal shed for your needs.
Measure Your Yard
Take a few minutes to measure your yard. Keep in mind that you want to be sure that the shed you purchase is large enough for your needs but that it also fits within your yard comfortably. Once you measure your yard, you know what the limitations are in terms of overall size. For those who have a very small yard, shed size is critical.
Now, take the time to dedicate a portion of that yard to your shed. It could be the corner of it, against a fence, or even near the home. Measure out where the shed could be positioned. That gives you some indication of the maximum size that you want to dedicate to a shed. You can then get more specific insights, but you want to visualize the shed in that space to ensure there's ample room for it and that you like the look of it.
Do You Have a Walking Mower or a Riding Mower?
The next consideration is what you need to put in your metal sheds for lawn mowers. Do you have a riding lawn mower? If so, it may have a specific turn radius that you need to keep in mind when choosing it. This is the amount of space that you have to maneuver into the shed. You also want to consider if you plan to do any work on the mower while it is in the shed space, such as adding fuel or oil or cleaning the base of it. That may mean you need a bit more room at the front and back of the shed to accommodate those needs.
If you have a walking mower or a push mower, you still need to measure the amount of space it needs. Some have handles that fold down, which could mean more compact storage is an option. If not, be sure to measure from the front wheels and base to the very furthest length of the handle to ensure there's ample length to accommodate the mower. Also, consider the base of the mower and the amount of space you need to service it if necessary.
Is a Metal Shed for Lawn Mowers Better Than a Fabric Shed?
The next consideration is whether metal is the right option for you. The lawn mower shed you select may be any material that works for your needs. Fabric sheds can prove to be beneficial in some situations. They tend to be less watertight than metal sheds. However, one core advantage of fabric sheds is that you do not have to leave them up all year long. If you want to take them down for any reason, it is a lot easier to remove these than it is to remove a metal shed. They may not be the best long-term storage option for harsh winter weather either.
Metal storage sheds are an important investment for many reasons. They are more watertight and can provide better protection in high-wind areas. You may want to consider metal sheds when you are looking for a long-term permanent solution. Though they may cost a bit more, they can be an excellent overall investment for those looking for a lawn mower shed that does more – including providing storage for many other items. Yet another benefit is that they are easier to secure, which means people are less likely to be able to take your mower from your property.
Does a Metal Shed Require a Foundation?
The investment in metal sheds is a significant one. The ultimate goal of them is to provide a very stable place for you to store a valuable piece of equipment. Generally speaking, having a foundation of some type for the shed makes sense. It creates an even, level surface for the mower to sit on and helps minimize many risks to that equipment. A foundation can also help with ensuring that the shed is more watertight. Most often, this can help with improving the durability of the shed in thunderstorms and high wind events as well.
Adding a foundation to a metal shed does not have to be a challenge. You will find that foundations need to be placed properly, according to the manufacturer's instructions, to ensure that they provide the moisture protection needed. That helps to minimize the risk of your lawn mower and other items suffering from rust or mold growth over the year.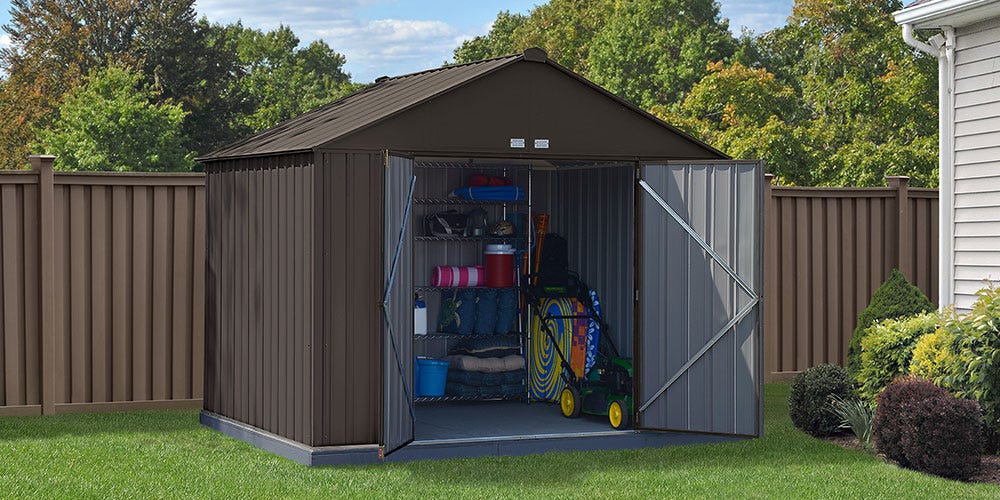 How Do I Anchor a Metal Shed?
Investing in a shed means creating a stable place to store your items. It may be beneficial to anchor your shed to do this. Anchoring helps to minimize the risk that the shed will blow over in the wind or otherwise suffer damage. You can find the anchoring components you need available to you here.
You can purchase anchors for most types of soil. That includes concrete anchor kits as well as those that are placed into the dirt. In either case, kits are the easy option for choosing to secure your metal shed since they come with everything you need to complete the process quickly.
Can I Store Lawn Mower Fuel in a Metal Shed?
It's always a good idea to consider chemical storage in sheds carefully. If you purchase a metal shed, it can be one of the best places to store any type of chemicals, including lawn mower fuel. That's because it is watertight, and it is located away from your home (in most cases). That helps to minimize the risk to your home from fuel spills or even a fire.
If you plan to store fuel in your shed, be sure you do so safely. Keep it off the ground and away from anyone that may wish to enter the shed. It is critical to place a lock on the shed, too, as this helps to minimize the risk of a child entering that space and accessing the fuel. You can also use your metal shed for other chemicals, including oxidizers, chlorine, and other pool chemicals and fertilizer and pesticides as well.
Do Metal Sheds Require Maintenance?
It's a good idea to look at your shed as an extension of your home. If you invest in routine shed maintenance, you eliminate the risk of the shed failing too soon. Many times, this means tightening it up each year and ensuring there are no gaps. You also want to be sure the roof is in good condition and that the foundation remains secure.
You can also work to prevent rust on your metal shed. The key here is to stay on top of it. Proper finishes and paint can help to reduce the risk that you will need to paint your shed every year.
The right shed for your lawn mower is an important decision. With a lot of options in size and style, you can be confident that you will finally get your lawn mower stored away properly so that it is no longer taking up room in your garage. Check out all of the shed options out there to find one right for your needs.